I always love to see what other moms are reading! If you're the same, today I'm sharing what's on my 2017 book list.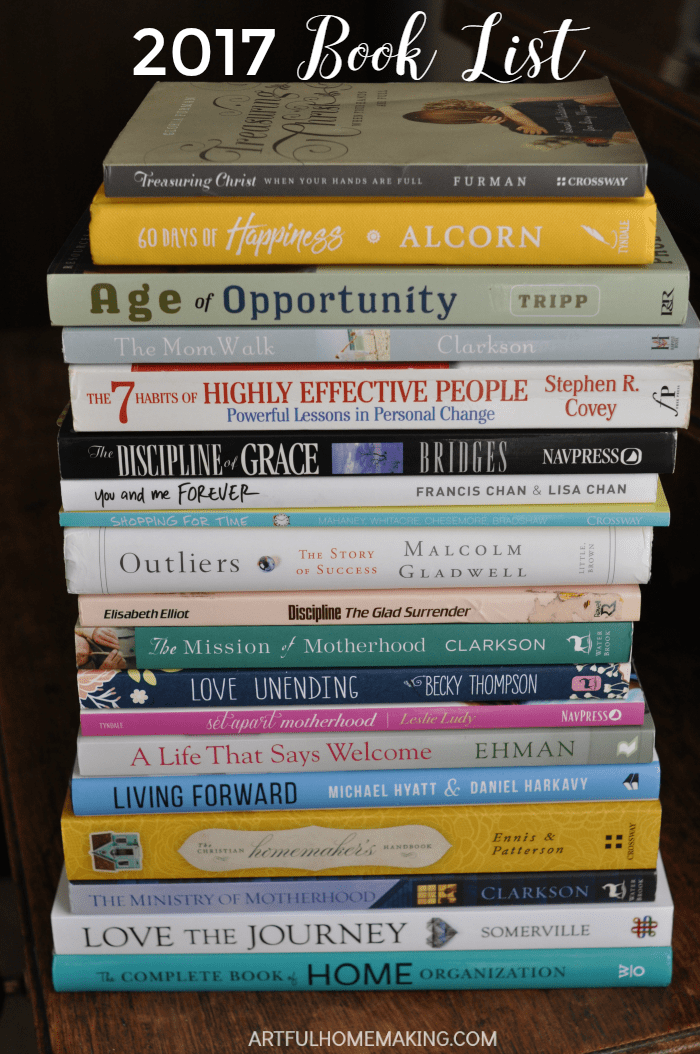 I haven't shared a book list in awhile, and I've received some reader questions about what I was planning to read this year. So here's my list!
You won't find any fiction on my list. That's not because I have anything against fiction, but I find I read so much of it with my children for our homeschool studies that I just don't feel a need to add to it during my personal reading. 🙂
Quite a few of these books I already owned, and I was feeling a desire to reread them. For some of them it's been a few years since I last read them. Two of them are books I was sent to review.
2017 Book List
So far I've finished reading four of the books on my list (Living  Forward, Love Unending, A Life That Says Welcome, and Set-Apart Motherhood). And I've started several others. (Yes, I'm one of those people who have several books going at the same time!)
Why I Picked Them
You might notice that I have quite a few Sally Clarkson books on my list (four, to be exact!). That's because I just love Sally's books! Sometimes I like to pick one author to focus on for the year, and Sally is my author for this year. I've already read all but one of them, so they're mostly review, but they're so full of encouragement that they're worth a reread!
I've also read 7 Habits and Discipline: The Glad Surrender before, but they also warranted reading again.
Since 2017 is my "Year to Cultivate," I tried to pick books that would encourage and help me in all the areas I'm hoping to grow.
My list is heavy on the motherhood books, and that's because I'm in the very busy and sometimes daunting season of younger children, pre-teens, and teenagers all at once! I need advice and encouragement!
What Are You Reading?
So, that's my current list for this year. I often end up adding to it as the year progresses. What are you reading this year? I'm always looking for book suggestions!
Related Post:
This post contains my affiliate links. Read my disclosure policy here. Sharing here.