Is math a struggle in your homeschool? It used to be a struggle at our house, but then we found Teaching Textbooks! Here's my teaching textbooks review.
We've been homeschooling for almost fifteen years. The first couple of years math was pretty simple, because it was just basic math.
But it was easy for us to get behind since it seemed like I was often sick in bed with my severe morning sickness. I would have my children bring their books to my bedroom and they would sit on my bed while I tried to teach math and keep from vomiting and mediate a sibling argument all at the same time.
It didn't work well.
After struggling along for years with several well-known math programs, we finally found the answer to our dilemma: Teaching Textbooks.
Teaching Textbooks Review
Teaching Textbooks was everything I was hoping for. (Just so you know, I was hoping for someone else to take over the teaching of math in our home!)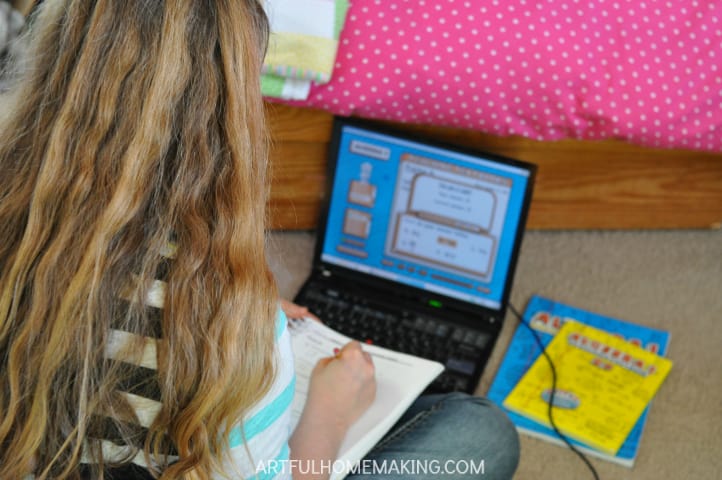 My husband  and I are both educated people (my husband even got his Master's Degree and graduated with a 4.0 GPA), but neither of us are what I would call "math people." It just never came easily to either of us, and even though we could pass our math tests, we found it difficult to teach. We especially dreaded having to teach upper-level math.
About five years ago, a friend recommended Teaching Textbooks to us. I had been hearing about this curriculum for several years, but I hadn't taken the plunge and tried it yet.
After hearing my friend's glowing review, I decided it was time to try it.
I think at the time we bought Teaching Textbooks math for grades 3, 5, and 7. Since then, we've used all the grades all the way up to Algebra.
My younger children especially love their math. They actually look forward to doing it!
I can't say that my older girls enjoy Algebra, but that's just because it's Algebra and we don't tend to be math people. 🙂 I'm loving them using Teaching Textbooks for Algebra because that means I don't have to teach it!
How it Works
We always use the complete set, which includes a textbook/workbook, answer key and test book, and the interactive teaching/lecture CDs.
The student watches the lecture on the computer, works the problems in their consumable workbook, and then types their answer into the computer. The computer then grades the problem. If the student needs help, they can watch the problem being worked on the screen.
Why We Love It
I love it because I no longer have to worry about math! But that answer may be too simplistic. Here are some of the features of the program (and the reasons why we love it).
Encourages independent learning
Animated "buddies" keep things fun as they cheer the student on
Automated grading
Designed for homeschoolers
The One Constant in Our Homeschool
Year after year, when it's time to make decisions about which program to use for certain subjects, I don't even have to think about math. I know we'll continue using Teaching Textbooks for the long haul. It's just a perfect fit for our family!
Sharing here.