These Autumn Sugar Cookies are the perfect fall cookie recipe! We make these every year as soon as the season changes from summer to fall.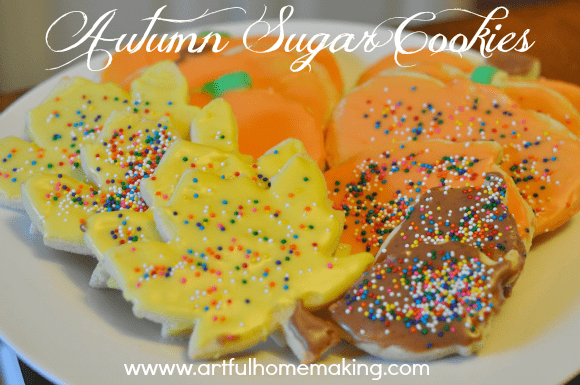 Autumn Sugar Cookie Tradition
Years ago I started a tradition of making cut-out cookies at the change of each season.
Spring, summer, fall, and winter cookies were always very much anticipated by my children.
Now my older daughters initiate making these each year. My children made these all by themselves, and they turned out beautiful and delicious!
We have cookie cutters in the shape of pumpkins, apples, acorns (that's what the small brown cookies in the above photo are supposed to be), and leaves.
They look so festive and taste delicious if you like sugar cookies (my husband never eats a single one—he prefers chocolate!).
Autumn Sugar Cookies Recipe
Here's the recipe we use for our fall cutout cookies. We never deviate, but just keep using the same recipe year after year! It's the same one we use for our Christmas Sugar Cookies.
Ingredients:
2 cups all-purpose flour (and a bit extra for rolling out)
1/2 teaspoon baking powder
1/4 teaspoon salt
1 stick (1/2 cup) butter, at room temperature
1 cup sugar
1 large egg
1 1/2 teaspoons vanilla extract
Directions
Mix together the flour, baking powder, and salt, by hand, in a medium mixing bowl.
In a large bowl, beat the butter and sugar with an electric mixer for about 3 minutes, until creamy.
Add the egg and vanilla and beat on medium speed until blended.
Add the flour mixture to the wet ingredients.  Mix on low speed just until blended.
Divide the dough into half.  Press each mound of dough into a flat disk.  Wrap each disk with plastic wrap and refrigerate until well chilled, about 1 hour.
Preheat the oven to 350 degrees.  Grease baking sheets with butter.
Sprinkle your work surface with some flour.  Unwrap 1 chilled disk of dough and place it on the floured surface.  Sprinkle the top of the dough with a little more flour.
Roll out the dough with a rolling pin until it is about 1/4″ thick.  Sprinkle more flour under and over the dough as needed so it doesn't stick.
After rolling out dough, cut out shapes, and place the shapes on cookie sheet.
Bake the cookies for 10-12 minutes, until light brown around the edges.
Let cool on the cookie sheet set on a baking rack for 15 minutes, and then transfer the cookies off of the cookie sheet and onto the cooling rack and let them cool completely.
Icing Recipe
2 cups confectioner's sugar
2 tablespoons plus 2 teaspoons warm water
1 tablespoon light corn syrup (we use honey, since we don't keep corn syrup on hand)
food coloring and sprinkles, if desired
Directions for Sugar Cookie Icing
In a medium bowl, use a wire whisk or an electric mixer on medium-low speed to beat the confectioner's sugar, warm water, and corn syrup until smooth.
Add the food coloring if you're using it.
Decorate the cookies. (The decorating icing hardens eventually.
Related Posts:
Pin This Post for Later