Teaching Textbooks is the best homeschool math for busy moms! It has literally been a lifesaver for us, especially during times of trial and illness. Keep reading to find out why!
Challenges for Homeschool Moms
For many homeschool moms, one of the most difficult aspects of homeschooling is the struggle to balance all the things.
Juggling homemaking, homeschooling, and all the other parts of life can be a huge challenge.
Homeschool moms are some of the busiest women I know. Multitasking is part of pretty much every homeschool mom's day! At any moment she may be nursing a baby, keeping an eye on the toddler, and teaching her older children all at the same time!
Believe me, with five children, I've had many days just like that.
Some days were such a struggle that I wondered how I would make it. And even though I've always had a strong commitment to homeschool my kids, some days are just hard.
Homeschooling Through Trials
I've mentioned before that there have been many trials we've had to walk through during our 16 years of homeschooling.
There have been difficult pregnancies, moves, and health crises. There were days when I had to teach while lying on the couch because I didn't feel well. But through it all, we continued to educate our children at home.
However, those difficult times often caused me to reevaluate our educational choices. Especially in the case of math, I really needed a curriculum that would basically teach itself!
Best Homeschool Math for Busy Moms
When a friend told me about Teaching Textbooks, I was immediately interested. At that time, teaching math was one of my biggest homeschool struggles.
I was already overwhelmed with homeschooling 5 children, trying to keep the house running smoothly, and dealing with health issues.
But then we also had to add upper-level math into the mix. It was way too much, and I didn't know what I was going to do!
My friend's Teaching Textbooks recommendation couldn't have come at a better time. I was elated to find a math curriculum that would remove the burden of teaching math from my shoulders.
Why Teaching Textbooks is a Lifesaver
I truly feel that Teaching Textbooks is the best homeschool math for busy moms. It has literally saved my sanity!
Here's why we love it:
It was designed with homeschoolers in mind
My kids can do their math independently
Automated grading
I don't have to teach high school-level math!
I love that I don't have to worry about teaching math to my kids once they reach about 3rd grade. This frees me up to focus on teaching other subjects, and the automated grading means I don't have to grade math papers!
If I'm not feeling well or I haven't had time to do a lot of lesson preparation (due to a busy weekend), my kids can carry on with their math without me. It's the one subject I don't have to worry about making preparations or plans for!
And even though it's only one subject, not having to plan for or teach math to all my children is a huge help to me. It removes so much of the burden just knowing math is going to be taken care of each day without any effort on my part!
Now, my children can do their math each day with very minimal involvement from me.
They simply turn on the computer, watch the lecture, work the problems, take their tests, see what grade they got, and they're done for the day!
For me as a busy homeschool mom, struggling to balance homemaking and home education, Teaching Textbooks has been the best math curriculum for the past 6 (going on 7) years. I already know we're planning to use it again this coming school year!
More Benefits
In addition to the benefits I listed above, here are a few more reasons to check out Teaching Textbooks:
It works on mobile, which will allow your kids to have access to their math when you're away from the computer (go here to find out more).
There's a large family discount plan available, which will help you save on your math curriculum if you're buying for several children.
You can try it out for free (see below)!
Try Teaching Textbooks for Free
If you're a busy homeschool mom struggling with math (or you're just looking for a great homeschool math curriculum), I'd encourage you to check out Teaching Textbooks. You can even try it out for free!
With the free trial, you can try the first 15 lessons of any level of Teaching Textbooks (and, you're allowed to try out more than one level—there are no limits to the amount of products you can try!).
Click here to sign up for a free trial (or click on the graphic below).
Related Post:
Pin This Post for Later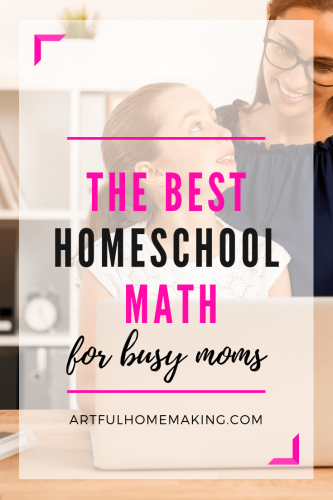 Disclosure: This post was sponsored by Teaching Textbooks. This is a program I've shared about and loved for years, and this post contains my honest thoughts. It has literally saved my sanity! Read my full disclosure here. Sharing here.