How to needle felt, with a simple tutorial for beginners! If you're new to needle felting, this post will show you how to get started!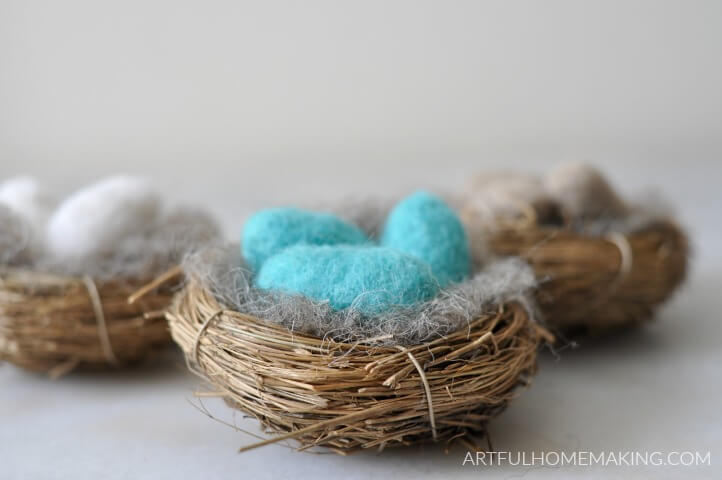 We love all things crafty at our house, especially if wool is involved! So it was a natural thing for us to pick up needle felting.
What is Needle Felting?
As this article states:
When you felt wool, you're agitating the fibers so they bond together, creating a solid fabric. If you've ever felted any of your knitting projects, you're already familiar with the process — except that you probably used a washing machine with really hot water to get the fibers to bond. Needle felting mimics that process, but instead of agitating the wool with hot water, you're doing it with an extra-sharp needle.
I was surprised at how simple needle felting actually is. It looks and sounds like it might be a complicated process, but it's actually really very simple.
P.S. Kids can learn to needle felt too, but I'd recommend you get a pair of leather finger cots to protect fingers, because the needles are sharp! Kids should always be closely supervised with sharp objects such as needle felting needles.
Needle Felting for Beginners
We started with a simple needle felting kit, which made it so much easier. Kits are wonderful because they include everything you'll need to complete the project.
Needle felting kits also usually come with all the instructions you'll need, which teaches you the basic skills to take on other projects.
Our first project was these simple needle felted acorns a couple autumns ago: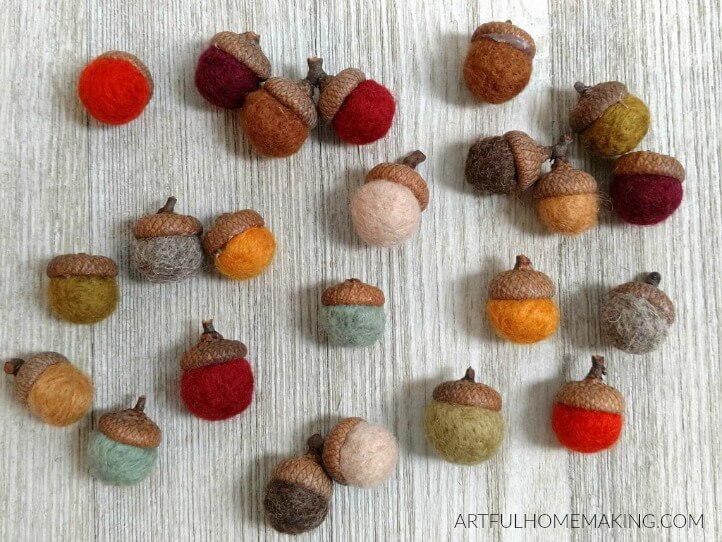 Aren't they adorable?! You simply felt the wool into a little ball shape, and then glue an acorn cap on the top.
They were such a hit that we followed them up with these spring eggs: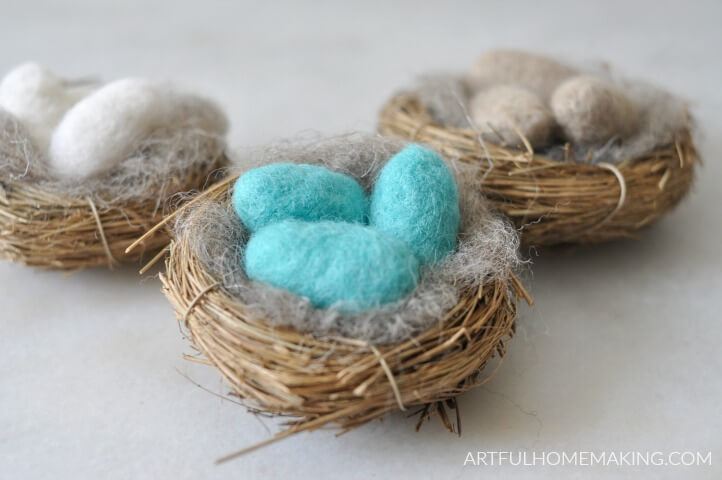 These felted eggs are perfect for spring! The blue ones are my favorite.
Supplies Needed for Needle Felting
As I mentioned above, the easiest way to get started with needle felting is to start with a kit. This will teach you the basics of how to needle felt, while completing a simple project at the same time!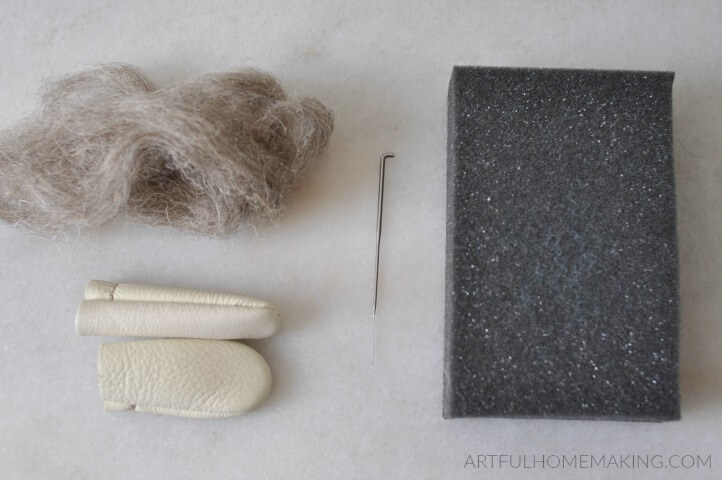 This post contains affiliate links, which means I may make a small commission at no cost to you. Read my full disclosure here.
Here are the basic supplies needed for beginner needle felting:
And that's all you'll need to get started!
How to Needle Felt
To get started with needle felting, if you want to make a round shape (like for acorns or eggs), first tear off a small piece of wool roving.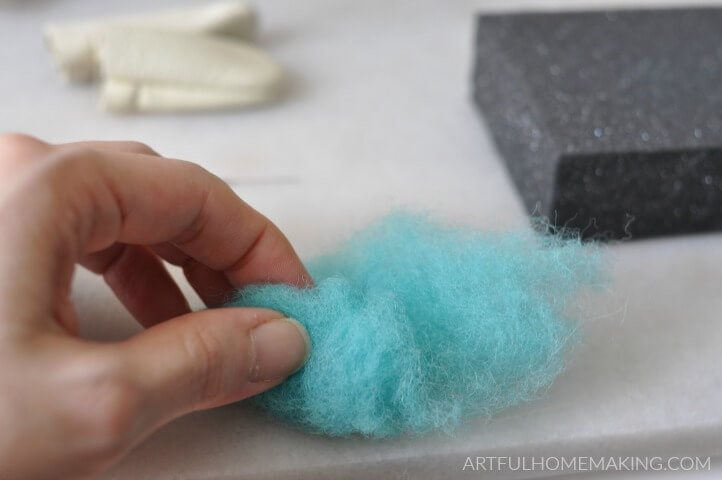 Next, roll the wool into a tight ball, tucking the ends in as you go.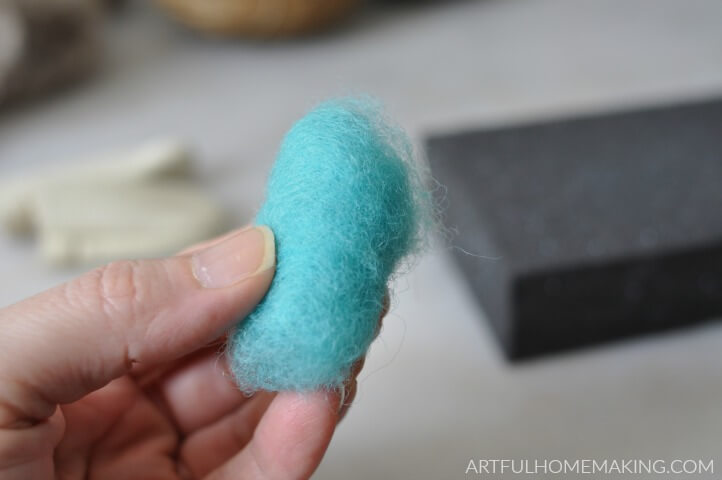 Place the wool ball onto the foam pad, and poke the needle into your ball about halfway.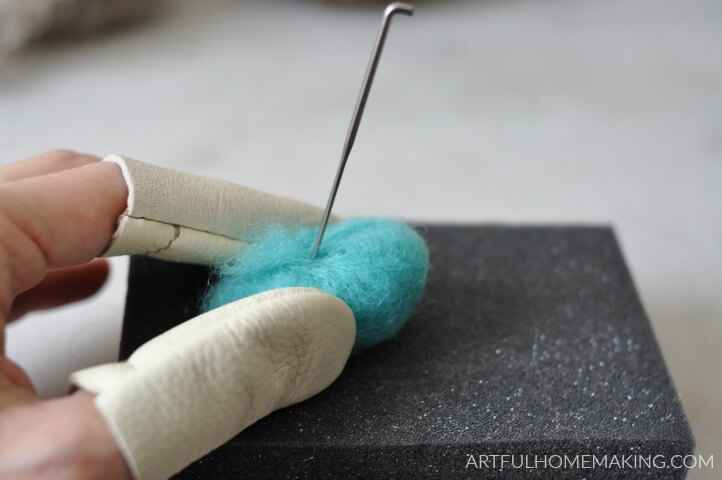 Turn the ball as you continue to poke the needle into it, and it will begin to start firming up.
In these photos, I'm trying to turn my ball of wool into an egg shape, so I poke the needle into the wool at various points. Sometimes I even use my hands to roll and press the wool into the shape I'm trying to get.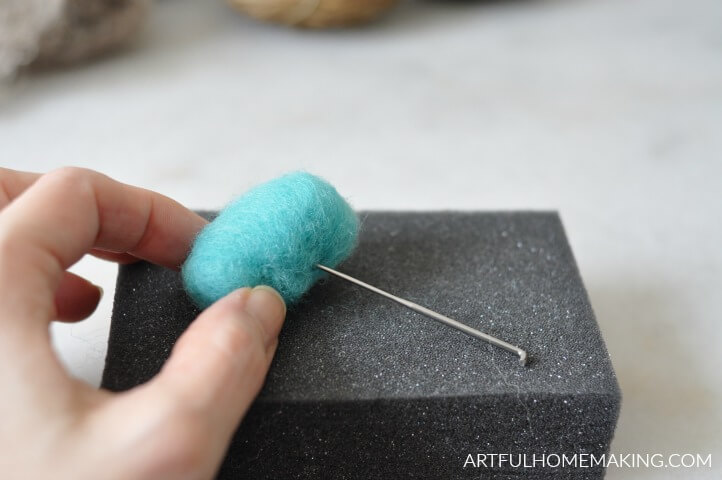 Continue the needle felting process, poking the needle into the wool about halfway, until your ball (or egg) becomes as firm as you want it.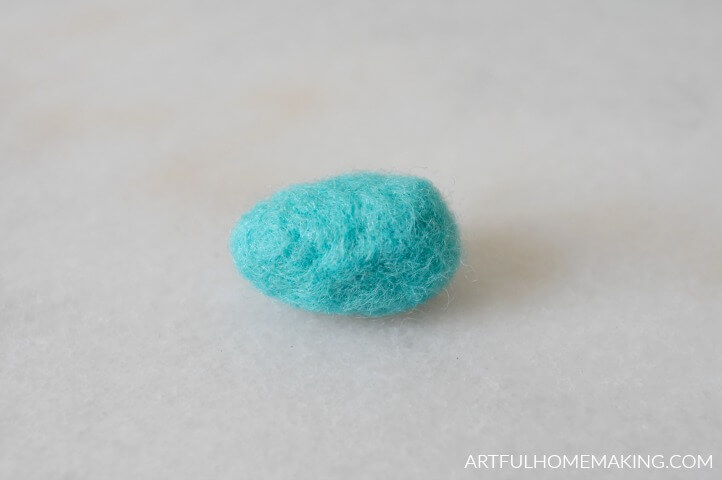 And, that's it! It's really a very simple process.
Needle Felted Wool Eggs and Nest
I just love the way my needle felted wool eggs turned out!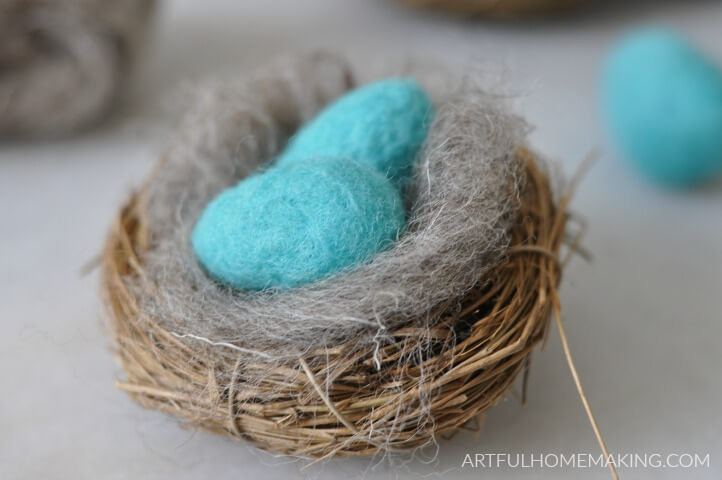 My youngest son helped me work on these eggs during read aloud time. He loves the process of poking the needle into the felt.
I don't worry about him using the needle as long as he wears the finger cots to protect his fingers and sits next to me while he works.
Thanks so much for stopping by, and I hope you'll try this simple craft!
Shop This Post
Related Posts:
Pin it for Later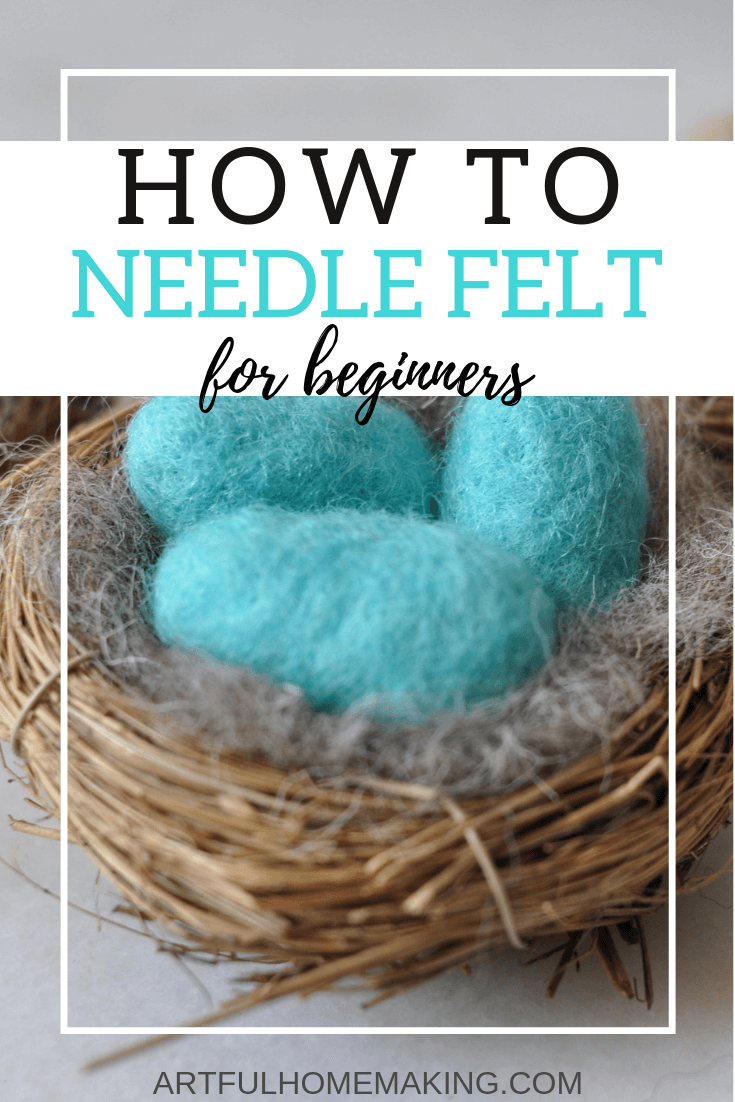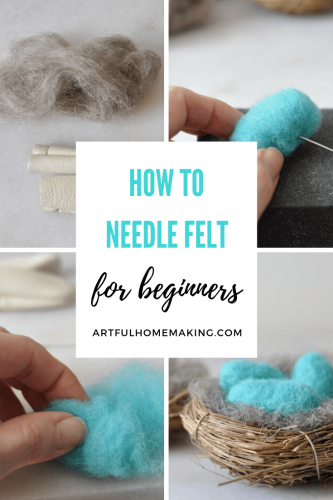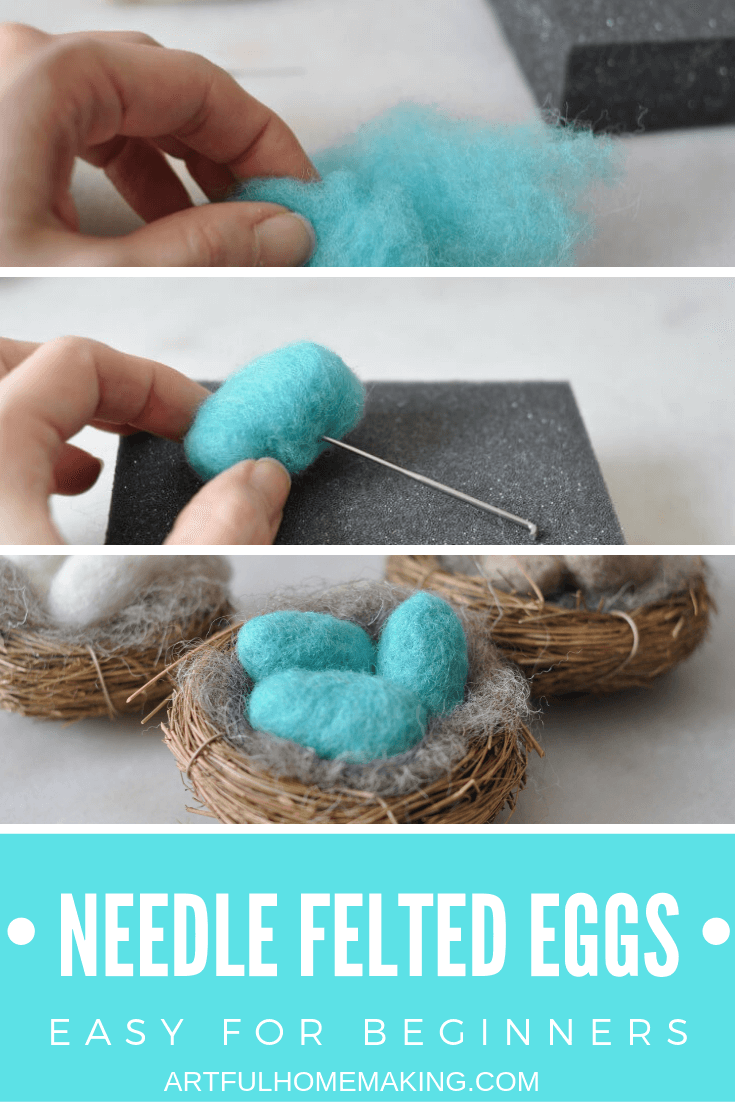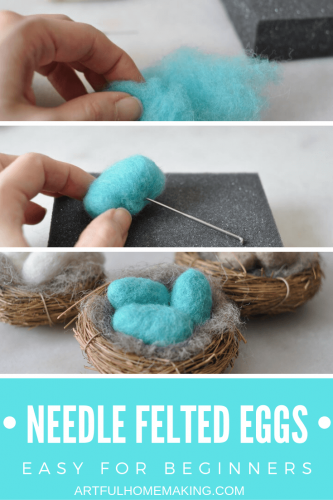 This post contains affiliate links. Read my disclosure here. Sharing here.