At the beginning of July, we started Blueberries for Sal.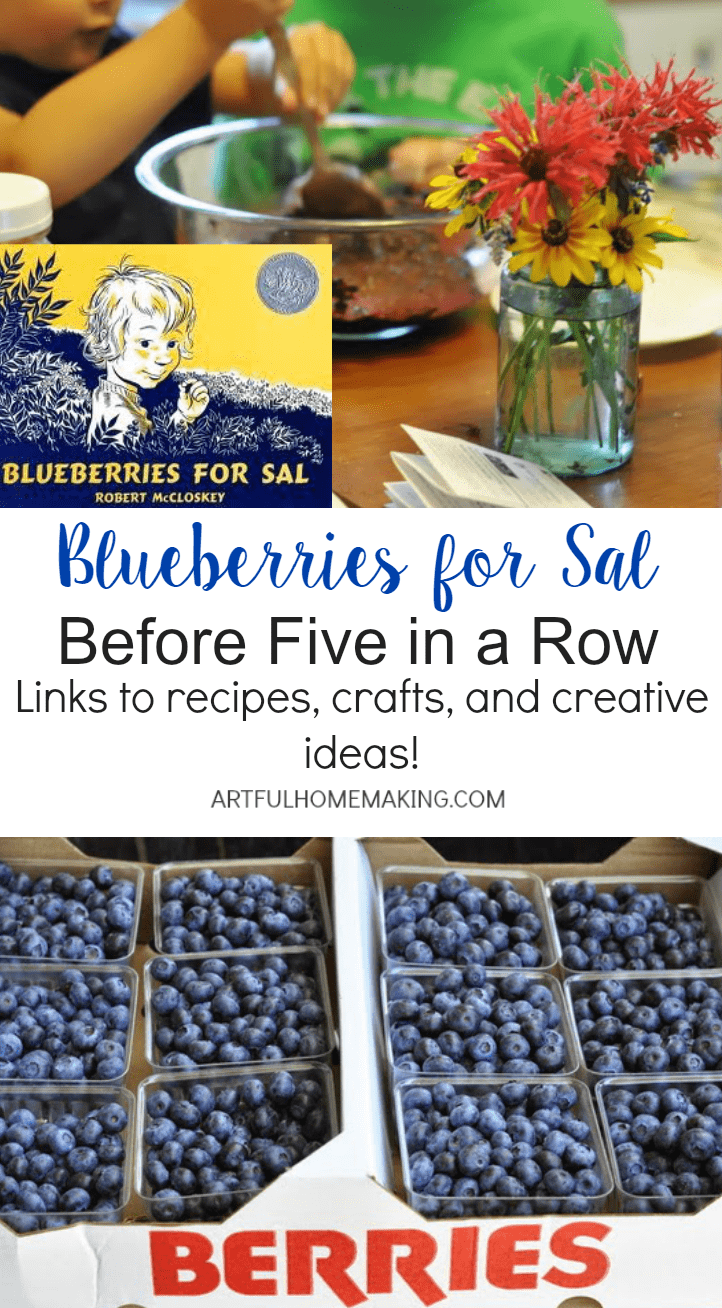 This has long been a favorite book at our house, but our original copy had completely worn out, and our youngest didn't remember ever reading it before, so it was a new story to him.
We loved sharing this story together!  He loved Little Sal, he loved Little Bear, and the whole book just made us both smile! 🙂
One of the reasons I chose to do this book when I did, was because the blueberries were in season here! We enjoyed eating lots of blueberries.  We also had wild blackberries that were ripe, and the children had a great time going out to the woods behind our house and picking them.
Since we were reading a book about blueberries and making jam, I decided we simply had to include jam-making in our learning experience.
But jam-making for me is something I have to concentrate on, and I wanted this to just be fun for my little one.  So, I decided to make freezer jam.
First we warmed up the blueberries a bit (since they were still partially frozen), and then I let him mash them up with a potato masher.  He really loved that!
Honey Cinnamon Blueberry Freezer Jam
Ingredients:
4 cups mashed blueberries
1/4 cup lemon juice, optional
1/2 – 1 cup honey (I think we used closer to 1 cup)
1 teaspoon cinnamon
3/4 cup water
3 teaspoons Pomona's pectin powder
4 – 12 teaspoons calcium water (comes in the pectin box)
Directions:
We left one out to eat immediately with butter on our sprouted whole grain bread, and we froze the other one for later.  Yum!
You can find more Before Five in a Row posts here:
Planning for Before Five in a Row
Resource Links:

Delightful Learning
Homeschool Creations
Five in a Row
Linking to:  BFIAR Link-Up, A Wise Woman, Raising Arrows, Raising Homemakers, Tot School Gathering Place