Cheap easy meals to make when you don't have a lot of money! When you don't have a lot of time to cook, and you don't have a lot of money to spend, give these frugal meals a try!
With many of us looking to save time in the kitchen and save money on our grocery bill, I wanted to share this list of cheap easy meals that will help you with both of these objectives.
Cheap Easy Meals
These meals are ones we have used through the years when we needed to get food on the table fast.
The recipes rely heavily on this list of pantry staples. These staples are things I always try to keep on hand so we always have a quick meal available.
RELATED POST: Pantry Staples to Always Keep On Hand
Bean and Cheese Burritos
I can't tell you how often we have bean burritos for lunch and dinner! It's such an easy meal, and we always have tortillas and refried beans in the pantry. Just heat the beans and spread on a tortilla, sprinkle some cheese, and add salsa, diced onions, and sour cream if you have it.
Egg Burritos
Scramble some eggs and add to a tortilla with cheese.
Spaghetti
This is another meal we have regularly, especially when I'm feeling uninspired or unprepared for a more elaborate meal. We like spaghetti best with a meat sauce, but it's also possible to make a meatless sauce if you don't have ground beef available. All you have to do is heat up your sauce and serve over cooked spaghetti noodles (other pasta works too).
Chicken Salad
Chicken salad can be served on bread (as a sandwich), or you can also just eat it without the bread (or on lettuce) for a lower carb version.
It's super easy to make, and you can also substitute canned tuna for the chicken.
Just mix together cooked or canned chicken, mayonnaise, a bit of salt and pepper, and celery and onion if you'd like. So easy and delicious! We don't usually follow measurements, we just add all the ingredients to a bowl and get it to the flavor and consistency we want.
Egg Salad Sandwiches
Egg salad is made like the chicken salad, above.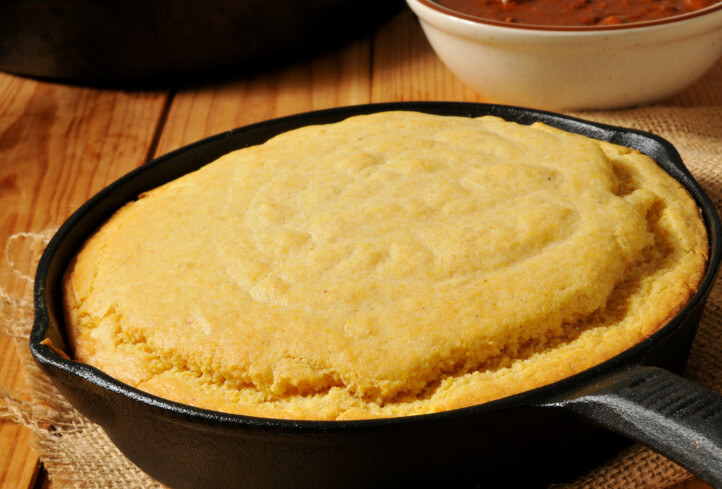 Chili
If you always keep canned chili in your pantry, this meal will be very easy. We usually prefer to make our own homemade chili. To make chili, just brown 1 pound ground beef and 1 chopped onion together (you can also add 1 clove of minced garlic). Then add a can of diced tomatoes (undrained), a can of tomato sauce, about a tablespoon of chili powder, 3/4 tsp cumin, 1/4 tsp salt, and 1/4 tsp pepper and 1 can of kidney or pinto beans. Simmer for 1 hour (makes 4 servings).
Baked Potatoes
One of our favorite cheap easy meals to have is a baked potato bar. We bake a bunch of potatoes, heat up some canned chili, and add toppings like cheese, sour cream, diced onions, and chives (fresh chives from the garden are amazing!).
If you keep canned chili in the pantry, this is super easy. It's also easy to make your own chili with canned beans, canned tomatoes, and chili seasonings (using the simple recipe above).
Chicken Soup
We try to always have homemade chicken stock in our freezer (here's how to make it in the crock-pot). But you can also use canned chicken broth to make a simple chicken soup. You can either cook your own chicken and keep portions of the cooked meat in the freezer, or you can also use canned chicken.
Here's an easy recipe for chicken soup from the pantry:
Heat 3 cans chicken broth  in a 4-quart Dutch oven or stock pot, with 2 sliced carrots, 2 stalks of sliced celery, and a small onion, chopped. Add enough water to the broth to measure about 5 cups. If you don't have fresh vegetables, you could also use canned or frozen. Heat to boiling. Reduce heat to simmer. Cover and simmer for about 15 minutes until the vegetables are tender. (You may need to adjust cooking times if using canned or frozen vegetables.)
Add 2 cups cooked chicken (or a couple of cans of cooked chicken) and about 1 cup uncooked noodles (or 1/2 cup uncooked rice) if desired. Simmer about 7-10 minutes or until the noodles are tender. (If you added rice instead of noodles, simmer covered for about 15 minutes or until the rice is tender.) Season as desired.
RELATED: Easy Instant Pot Bone Broth Recipe
Sloppy Joes
Sloppy Joes are another classic idea for cheap easy meals. We usually make ours from scratch with ground beef. But if you don't have beef, you can easily use canned sloppy joe topping.
Salmon Loaf
We often use this recipe for salmon loaf, another cheap easy meal idea. In a large bowl, mix together 1 can salmon, 2 slices of bread, crumbled, 1/3 cup of minced onion, 1 clove of minced garlic, 1/4 cup milk, 2 eggs, and 1/4 tsp pepper. Mix well. Add salmon mixture to a greased loaf pan, and bake at 350° for 45 minutes. Serve with a salad or other vegetables.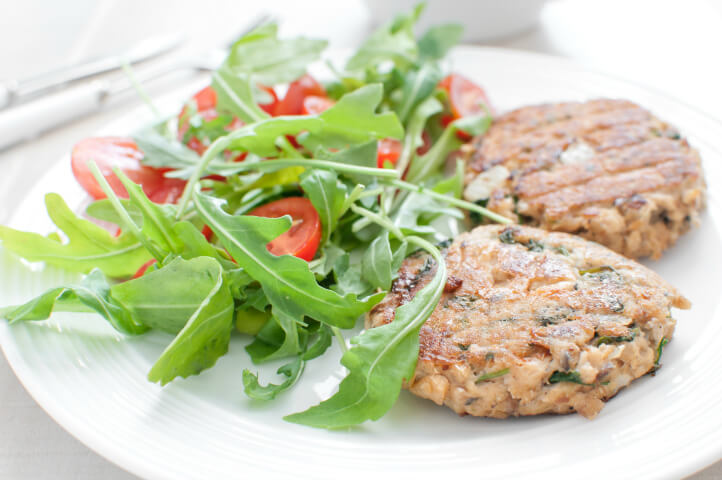 Salmon Patties
I grew up with this frugal recipe. To make salmon patties, beat 1 large egg and 2 tablespoons milk together in a medium bowl. Stir in 1 can salmon (drained, skin and bones removed, if you prefer), 2 green onions, chopped, 1 cup bread crumbs, and 1/4 tsp salt. Heat 1 tablespoon oil in a large skillet over medium heat. Cook patties in the oil for about 8 minutes, turning once, until they're golden brown.
Grilled Cheese
My kids love having grilled cheese for lunch, but we sometimes have them for dinner. You can accompany the sandwiches with soup and salad or some fruit, if you have it available.
Beans & Rice
There are so many variations of bean and rice recipes out there. This recipe for Caribbean Beans and Rice is our favorite. Even my kids who don't love beans enjoy this tasty recipe.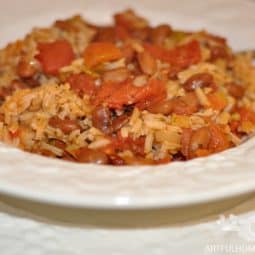 Print Recipe
Caribbean Beans and Rice
This is our favorite way to eat beans and rice!
Ingredients
2

cups

dry pinto beans

6

cups

water

1

tbsp

salt

2

tbsp

oil

(we use expeller pressed coconut oil)

4

cloves

garlic, minced

1

bunch

green onions, chopped

1

tbsp

dried parsley

1/4

tsp

pepper

1/8

tsp

ground cloves

2

cans

diced tomatoes

2

cups

rice
Instructions
Rinse and soak pinto beans in water overnight.

In the morning, drain the beans. Add the beans, 6 cups of water, and salt to a large pot (I just use the pot I soaked the beans in).

Bring beans to a boil, then reduce heat to simmer. Simmer for about 40 minutes or until beans are tender. Drain beans and reserve the bean liquid.

When the beans are almost finished cooking, add the oil, garlic, onions, and seasonings together in a skillet. Saute for about 5 minutes.

Add the sauteed vegetables, 2 cans of diced tomatoes (with the juices), and 2 cups of rice to the pot with the beans in it. Add 4 cups of the reserved bean liquid (add water if necessary to make about 4 cups).

Bring to a boil, cover, and reduce heat to simmer. Cook 20-25 minutes without stirring so the rice will cook properly.

That's it! Serve this with a green salad for a complete and delicious meal.
Quesadillas
Quesadillas are another cheap and easy favorite meal idea. These can be made in a skillet on the stove top or baked in the oven. For the oven version: Add the desired amount of tortillas to a baking sheet. Sprinkle each tortilla with shredded cheese and any other toppings you'd like (cooked chicken, cooked black beans, or assorted vegetables). Place another tortilla on top. Repeat with all tortillas. Bake in an oven preheated to 350° for 10-15 minutes, or until cheese has melted.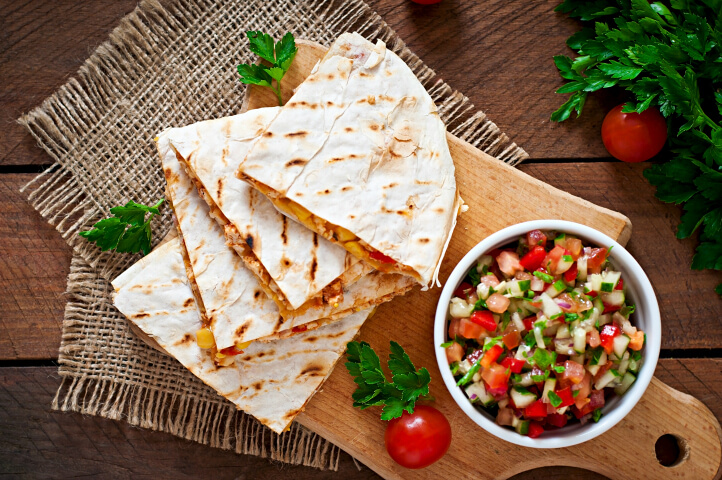 Goulash
I remember my mom making goulash regularly when I was growing up. Usually, it's just a mixture of ground beef, onion, canned tomatoes, and Italian seasoning mixed with cooked macaroni noodles.
Split Pea Soup
Sort and rinse 1 pound (2 1/4 cups) dried split peas. Add split peas, 8 cups water, 1/4 tsp pepper, 1 chopped onion, 2 medium chopped celery stalks, 1 ham bone (optional), and 3 carrots (sliced small) to a 4 quart Dutch oven and heat to boiling. Stir, reduce heat, cover and simmer for 1 1/2 hours. Remove ham bone and let cool. Cut off meat and stir back into pot.
More Cheap Easy Meals
Here are some additional cheap easy meals to make when you're broke:
Tuna Melts
Peanut butter and jelly sandwiches
Lentil Soup
Fried Rice
Potato Soup
Vegetable Soup
Macaroni and Cheese
Tuna Casserole
Breakfast for Dinner (eggs, bacon, sausage, pancakes, waffles, etc.)
Related Posts
Pin This Post for Later