Azure Standard has been our family's favorite source for natural groceries and bulk whole foods for over ten years now.
Before that, we were part of a different natural food co-op. We've been buying healthy, natural food this way for over twenty years!
Through the years, I've seen questions about what Azure Standard is, how to find or establish a drop, and what to order.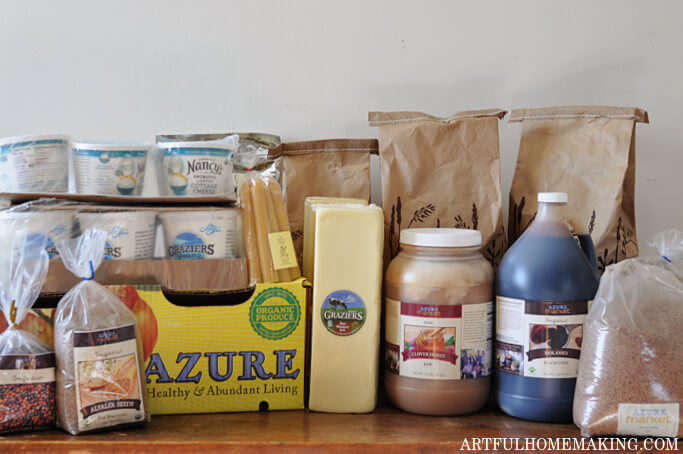 In this post, I'll share all about how Azure Standard works, why we choose to order from them, and exactly what we order each month!
The links below are my referral links.
What is Azure Standard?
Azure Standard is a family-owned company providing high quality, affordable, organic, natural groceries. They also carry health, household, and garden supplies.
Azure specializes in providing quality bulk and natural foods.
You can often save money on your grocery bill by buying items in bulk. This is why we started buying many of our groceries through Azure Standard.
Rather than buy a small bag of wheat berries or oats, for instance, we buy 50 pounds at a time, which saves money in the long run.
It also helps stock my pantry so that I always have the basics available to make a meal, even if we haven't been to the grocery store recently.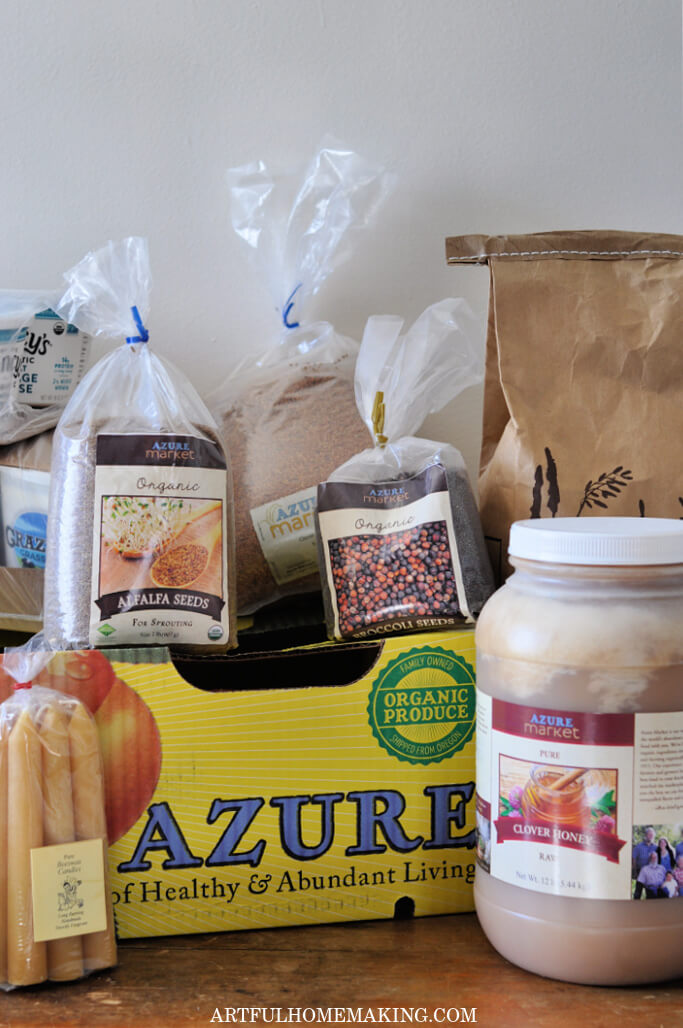 However, if you'd prefer not to buy such huge bulk quantities of an item, they also carry smaller sizes. For instance, you can buy various dried goods in 5, 10, 25, or 50 pound sizes.
For other items, you can order them by the case (if you use a lot of the item, this can be a great idea), or you can order an individual item if you only need one.
You can join a delivery drop with others, but you can also just place an order and have your groceries delivered directly to you.
We're part of a local drop that one of my friends started. This just means that our order comes on a truck and we meet the truck at a previously set place when the truck shows up.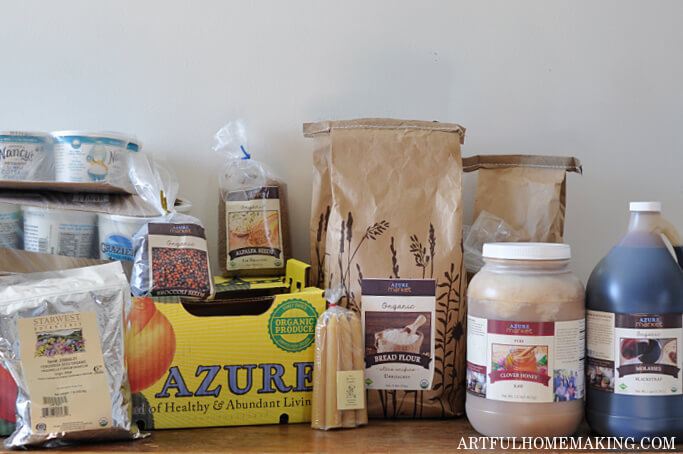 How to Get Started with Azure Standard
Getting started with Azure Standard is easy! Here are the basics of getting started.
Join a delivery drop local to you.
Place your order on the website.
Meet the truck on the designated delivery day.
Pick up and take your items home.
It's that simple!
Alternatively, you can also place your order online and have your order delivered directly to you. The only downside of this is that you have to pay shipping, but it's still a great option to consider.
How Do Azure Standard Drops Work?
In order to find a drop near you, there's a page on the Azure website called "Find a Drop." When you open this page, you'll see a map with little location dots on it.
Zoom into your state and then choose the drop location that's closest to you. You can also search by city, state, or zip code.
When you click on the drop in your area (each drop has a blue dot you can click on), a little window will open up with more information and a way to contact the drop coordinator.
Don't see a drop in your area? You can also create your own drop! The information for setting that up is on a page called, "Start Your Own Drop."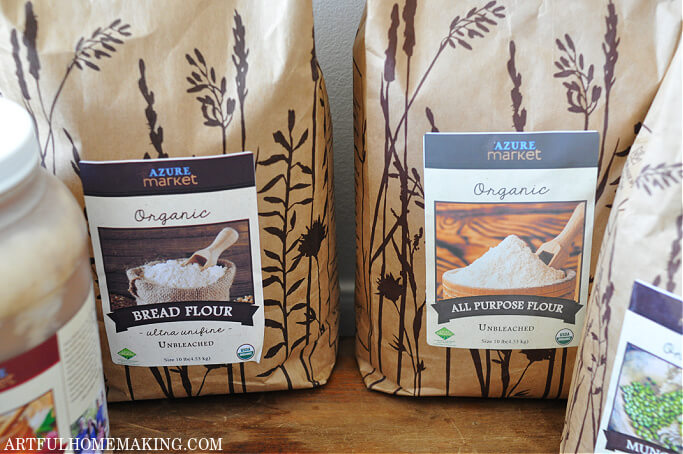 What to Order from Azure Standard
There are so many things available to order on Azure Standard's website! Here are a few of the things we've ordered through the years.
Grains
Whole wheat grain (we usually order the 50-lb bags)
Soft white wheat
Spelt grain
Unbleached bread flour
Einkorn flour
Organic popcorn
Oats
Rice
Quinoa
Baking Supplies
Baking powder
Salt
Rapadura
Cane sugar
Honey
Maple syrup
Molasses
Coconut sugar
Apple cider vinegar
Spices
Dried herbs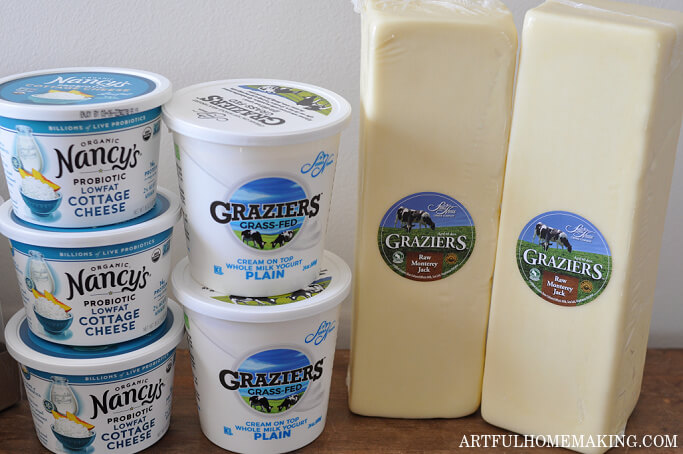 Dairy Products
Raw cheese
Yogurt
Milk
Butter
Cream cheese
Cottage cheese
Sour cream
Produce
We usually buy whatever is in-season and on sale. You can often get a great deal on "seconds."
Apples
Pears
Peaches
Ginger
Garlic
Carrots
Potatoes
Onions
Etc.
Oils
Coconut oil
Olive oil
Ghee
MCT oil
Nuts and Seeds
Walnuts
Pecans
Cashews
Almonds
Sprouting seeds
Legumes
Black beans
Pinto beans
Great Northern beans
Lentils
Dried Fruit
Dates
Figs
Raisins
Cranberries
Cherries
Coconut (shredded)
Frozen Foods
Blueberries
Raspberries
Strawberries
Broccoli
Butternut squash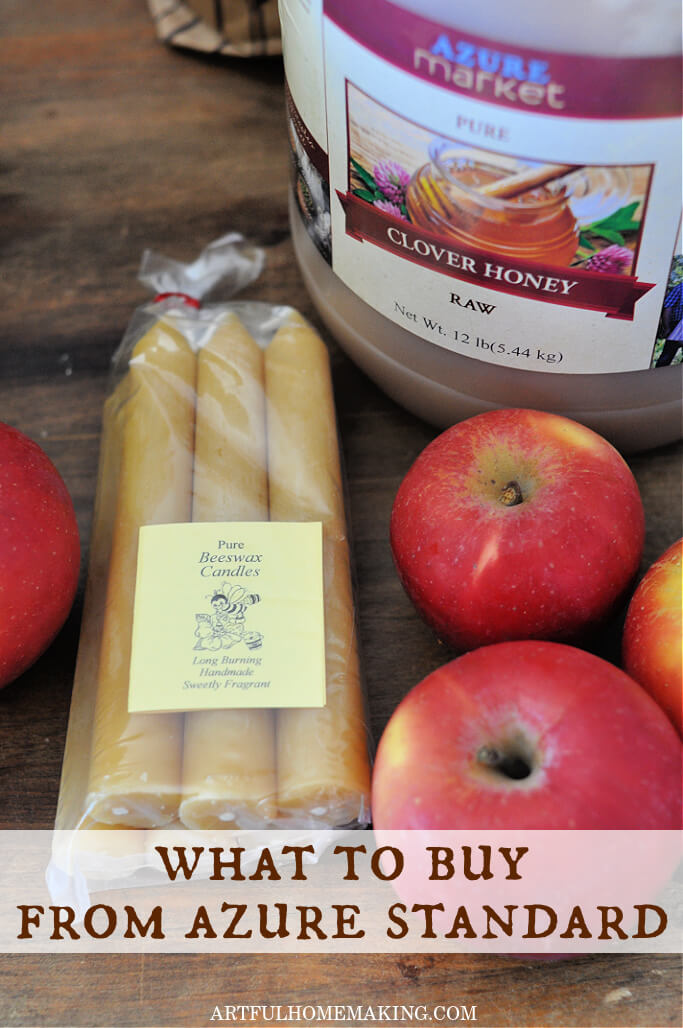 Home Goods
Cleaning supplies
Beeswax candles
Chicken Feed
Scratch & Peck
Chicken wheat
Grubs
This is just a small sampling of the products they carry. There are so many other items available that there are too many to list here. Check out the website to get an idea of what is available!
Our Usual Azure Standard Order
Since we've been ordering from Azure Standard for so many years, our orders have varied through the years depending on our needs at the time.
Also, since we buy grain in bulk, we don't need to order it every time. So our order varies from month to month.
But here's what we regularly order from Azure Standard:
Unbleached flour
Bread flour
Raw honey
Yogurt (goat milk and whole milk grass-fed)
Cottage cheese (probiotic)
Raw cheese
In-season fruit
Frozen blueberries
Chicken feed
As mentioned above, we will also add wheat berries, oats, or other bulk items if needed when the order is due. But since we purchase these in bulk, we don't need to order them monthly.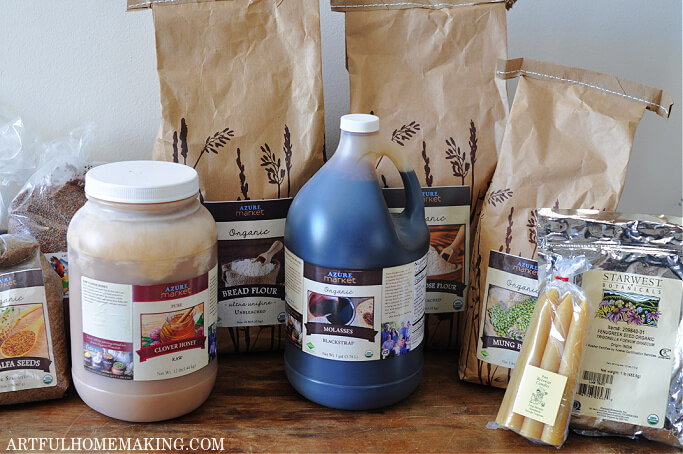 Azure Standard Review
Our experience with Azure Standard has been positive, and we're so thankful to have this option to purchase healthy, natural food without driving to the city (an hour and a half away).
Since we live in a rural area, finding natural, organic groceries (that are affordable) can be difficult.
Of course we try to purchase as much locally as possible (we're often able to find honey, molasses, dairy products, free-range chickens, and other items from local farmers and Amish and Mennonites).
But sometimes we can't obtain what we need locally, especially finished products like raw cheese, yogurt, and grains and flours.
Azure has been a lifesaver for us! I honestly can't imagine life without this company since we've been ordering from them for so many years.
If you haven't tried Azure Standard yet, I highly recommend it! Check out the website and get started here.
Read More Pantry Ideas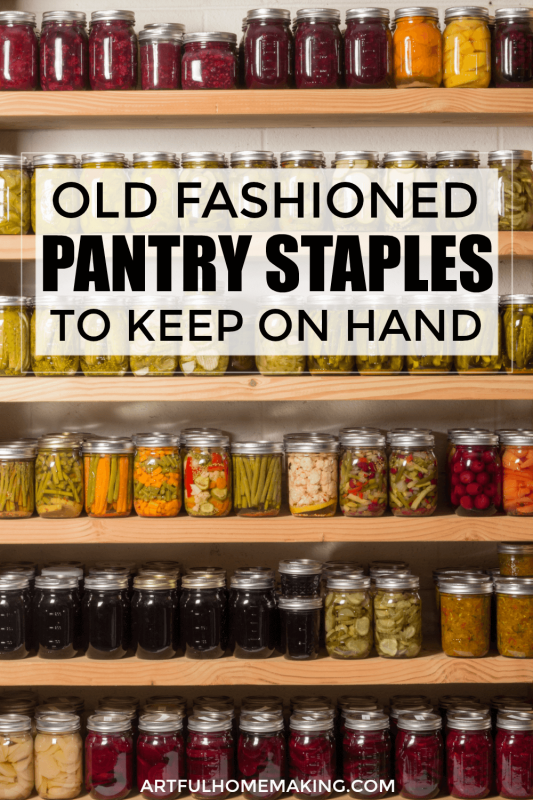 Pantry Staples to Keep on Hand