How we cut our grocery bill in half and greatly reduced our spending in the grocery store.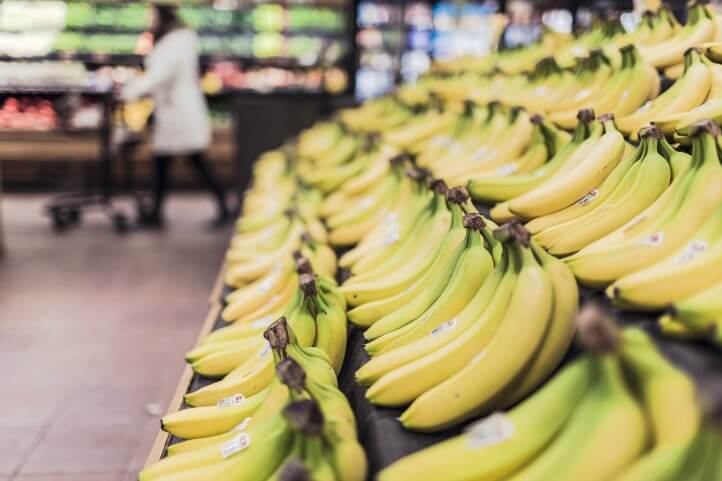 How We Cut Our Grocery Bill in Half
Last year my husband and I decided we needed to reduce our spending. We looked over our budget, and since we're already pretty frugal, we couldn't find much to cut.
The one area that we felt we had some control over was food. With rapidly increasing inflation, watching expenses has become even more important.
We have always tried to be as frugal as possible when it comes to groceries, but we realized that we could be spending less.
Having enough food on hand for our family of 7 (including three teenagers) can be a challenge. But even more challenging is trying to make sure that the food we eat is budget-friendly and healthy all at the same time.
This can be a huge challenge, but it's not impossible!
I will admit that when we are able, we would probably end up spending more money so that we could buy organic, real food ingredients more often. Even though we haven't been able to eat everything we'd like, we have tried to stick to healthy, real food as much as possible even while on a budget.
How to Spend Less on Groceries
Affiliate links included below. Read my disclosure here. 
With diligence and some hard work, we were able to cut our grocery bill in half, without using coupons! Here are the key steps we took to lower our grocery spending.
1. Follow a Meal Plan
This is probably an obvious step to most people, but I've found we tend to spend more at the grocery store when I don't have a plan.
You don't have to make this complicated. Even if you just keep a simple meal plan in your head, this will go a long way towards helping you save money on food.
For instance, we tend to eat the same simple meals over and over most of the time. So, if we find ourselves in the grocery store without an official list, we know we'll be okay if we buy a few basics like eggs, cheese, lettuce, a whole chicken, etc.
With these basic ingredients on hand, we can get by just fine even if I didn't have time to create an elaborate meal plan.
If you need help with planning meals, I highly recommend $5 Meal Plan.
2. Keep a Well-Stocked Pantry
The secret to being able to go to the store without a list is to keep your pantry well stocked with some basic items.
We always try to keep our pantry and freezer stocked with things like oats, gluten-free or whole-grain flour, baking supplies, frozen vegetables, and other staples. That way, we know we can make a meal with just a few items from the store.
We buy some of our pantry staples in bulk from our food co-op, and others we pick up when we see them on sale.
3. Buy Produce in Season
It's sometimes tempting to buy produce when it's not in season (especially strawberries in February, for a Valentine's dessert!), but you won't get the best price (or flavor) that way.  Wait until fruits and vegetables are in season for the best deal.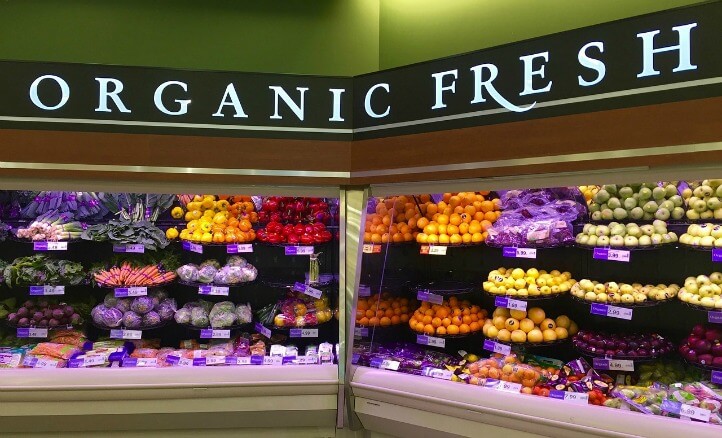 4. Shop Discount Grocery Stores
I've mentioned before that we like to frequent discount grocery stores. One of the main keys to how we cut our grocery bill in half was not being loyal to one store.
Our local grocery store has very high prices (because it's the only grocery store in town), so we regularly shop at a discount store and visit cheaper stores like Aldi whenever we can. Our closest Aldi is about 45 minutes away, but we try to make it there once a month.
5. Shop Sales
Even though our local grocery store is generally more expensive, we do shop their sales. Whenever we see that they're having a sale on meat, for example, we'll stock up.
When the weekly sales flyer comes out in our town's free newspaper, we check to see what's on sale and we'll take advantage of lower prices if it's something we can use.
6. Local Farmers
Since we live in a rural area, there are many local farmers around. They're a great source for fresh eggs, milk, and free-range chicken and beef.
Whenever we can afford it, we love to get our food from local farmers. For years we bought milk from a friend, and we also buy chickens from the Amish.
Our discount grocery store carries eggs from a local farmer, and we prefer these since they're fresh and a good price.
7. Include More Meatless Meals
One of the ways we were able to cut our grocery bill in half was by including more meatless meals. Yes, this meant eating more beans!
We already had a bulk supply of beans in our pantry/food storage, so this was a fairly simple way to cut our spending.
I would be lying if I said everyone looked forward to beans once a week, but we have found a few recipes we like, such as Caribbean Beans and Rice and Instant Pot Black Beans.
8. Keep Meals Simple
Even though I love making casseroles and meals with lots of ingredients, these are often more expensive than simple food.
Our weekly dinner meals might look something like roasted chicken , basic quiche, or a simple stir-fry. We also enjoy baked chicken thighs and sweet potatoes or chicken soup made with bone broth.
9. Cook and Bake from Scratch
Baking your own breads, muffins, granola, and snacks can save a lot of money. You can also save by cooking many other foods from scratch.
Instead of buying lunch meat, buy a whole turkey when it's on sale, cook it, and use that for sandwiches or other meals.
You can also make your own mixes and seasonings.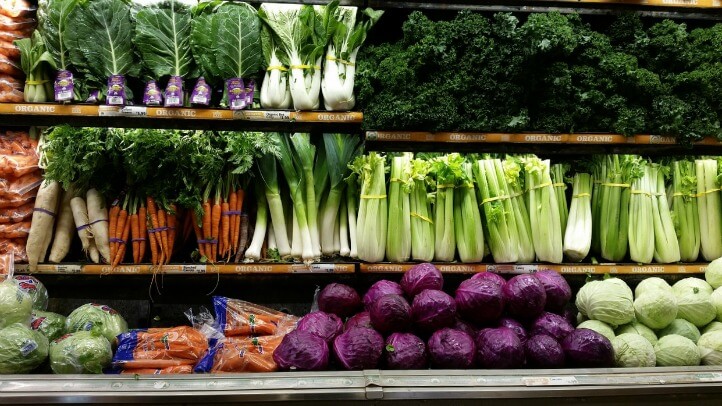 10. Create a Stockpile
Whenever you see something on sale that you regularly use, stock up! Buy enough to last until the next sale.
This applies to discount grocery stores, too. Sometimes we find such a good deal on items at our discount grocery store that we will buy a full case.
How Much We Spend on Groceries
How much you spend on groceries will depend on many different factors. Family size and food prices where you live will play a big part in how much you spend, as well as individual dietary needs and restrictions.
For our family of seven (including four teenagers), we were spending almost $1200 per month on groceries. With careful planning and shopping, we were able to get our grocery bill down to $600 per month.
And that was without using any coupons!
I think a lot of our success in lowering our grocery bill was due to having a stockpile of food to work with. We already had a supply of dried beans, rice, whole grains like oats and wheat, and a few canned vegetables like tomatoes. I also always have homemade chicken stock in the freezer.
Whenever we see a sale on food, we stock up if we can afford it. We also continue to shop discount grocery stores and eat simple food.
Now that it's gardening season, we can save even more on produce!
Learn How to Cut Your Grocery Budget in Half
If you need more help to learn how to save money on groceries, I highly recommend this Grocery Budget Makeover course.


I took this course last fall, and I learned so much! Erin was a great teacher and such an encouragement in my journey to cut our grocery bill in half and save money at the grocery store.
She helps you examine your unique family and situation, and determine how much would be a good amount for you to spend on groceries. Not everyone needs to cut back this much, and the total amount spent per month will look different for everyone.
The key is to look at your grocery spending and figure out how you can spend even less on food (if possible).
Since we were in a season of needing to reduce our spending, we were thrilled to be able to cut our grocery bill in half!
Do you have any tips for saving money on groceries?
Pin this post: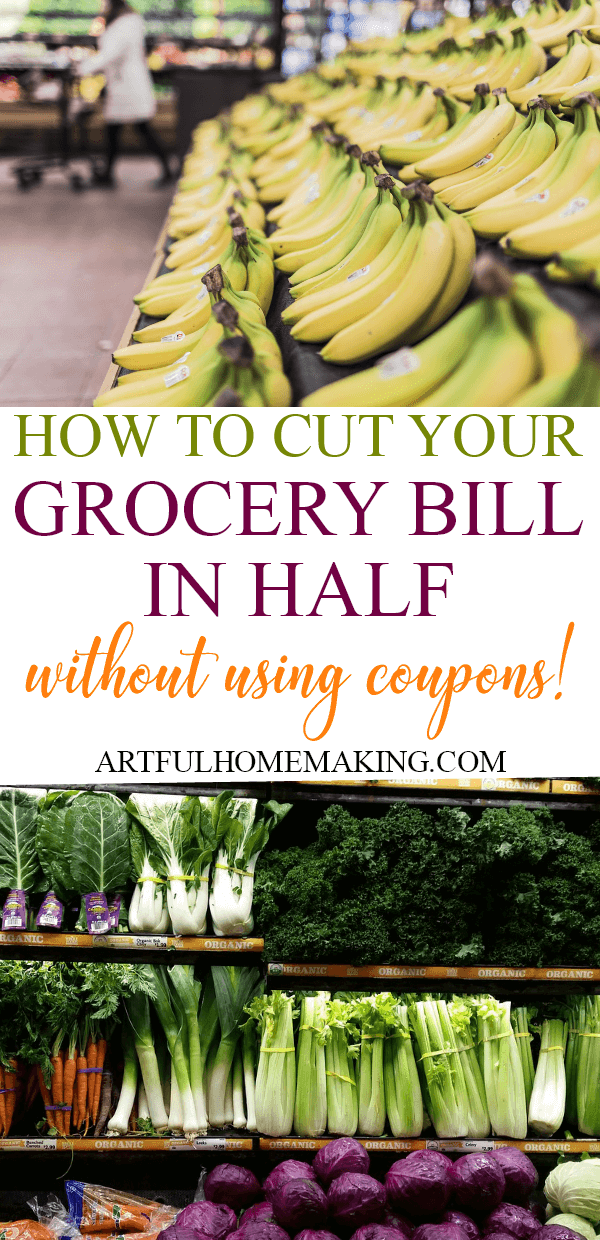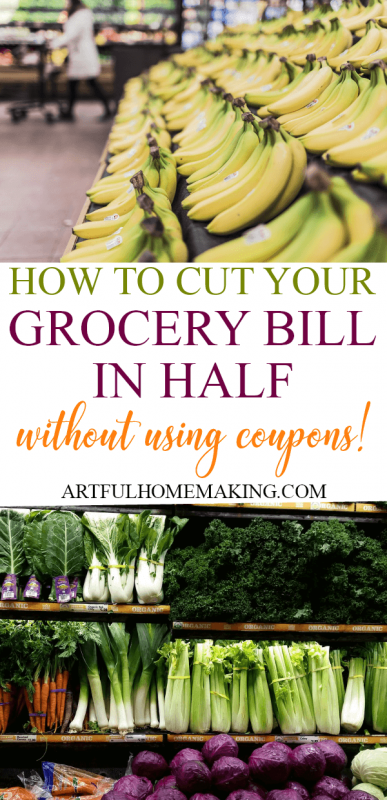 Disclosure: This post contains affiliate links. Read my full disclosure here. Sharing here.