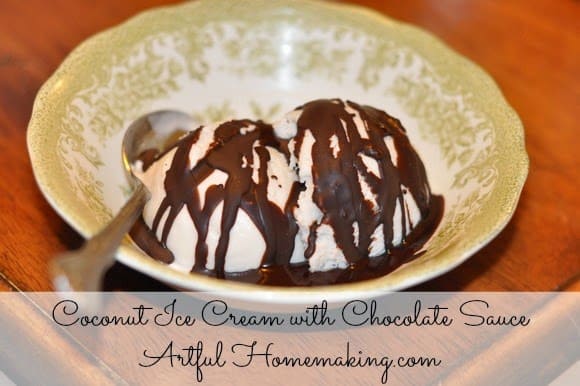 This is a perfect treat for someone who needs a dairy-free ice cream. Since we had several children with congestion, I was trying to avoid dairy and unnatural sweeteners. This ice cream is nourishing and yet still tastes like a dessert.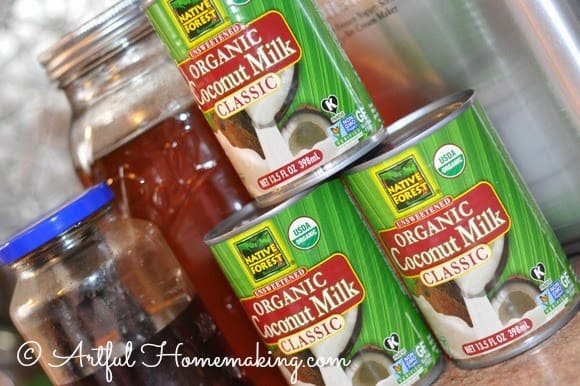 Coconut Ice Cream
(Note: This amount fits perfectly in my 2-quart ice cream maker.)
3 cans (approximately 14 oz. each) of coconut milk (full fat)
1/2 cup honey (my dear friend Sarah and her family shared their delicious honey with us!)
3 Tbsp. vanilla extract
Pour coconut milk into a large mixing bowl, and add honey and vanilla. Whisk all ingredients together until well blended.
Following the instructions that came with your ice cream maker, pour the mixture into the bowl of the ice cream maker and make into ice cream. (We have a Cuisinart ice cream maker that we got for an anniversary gift a year or so ago, and it's so easy to make ice cream now. It uses no salt or anything complicated–totally simple!)
Store ice cream in the freezer for an hour or so to let it "ripen."
Here's the mixture added to the ice cream maker and beginning to get bubbly and frothy.
Everyone waiting impatiently…
Finally, it's thick and beautiful!
Everyone wants a taste…
After a couple of hours in the freezer, it looks like this:
It looks just like vanilla ice cream. But it does have a coconut-y flavor.
And now, for the chocolate sauce! A few years ago, I discovered (by accident) that chocolate fudge made with coconut oil turns solid on ice cream. Just like magic shell!
Chocolate Sauce
1/4-1/2 cup cocoa powder (if you're using Stevia to sweeten, you can use 1/4 cup, but if you're using honey, you may want to add a bit more cocoa powder to achieve the right consistency.)
1/2 cup coconut oil, liquified
1/4 cup honey (add more or less, depending on how sweet you want it)
Put cocoa powder and coconut oil in a bowl, and mix together with a fork.
Add the honey to the bowl and mix all ingredients together. You can also adjust the amount of honey depending on how sweet you want it. You can also sweeten with stevia. Just add enough to reach your desired sweetness.
Drizzle the warm chocolate sauce on the cold ice cream and enjoy! It will begin to harden immediately, and it makes a wonderful treat, especially for those who are avoiding dairy products.