Cozy home ideas for when you're on a budget and you can't spend a lot of money on home decor. Make your home feel warm and cozy with these simple tips!
You don't have to spend a lot to get a cozy home. In fact, some of the best ways to add warmth to your home are free or very inexpensive.
In this post, we'll talk about easy ways to turn your home into the inviting haven you've been dreaming of!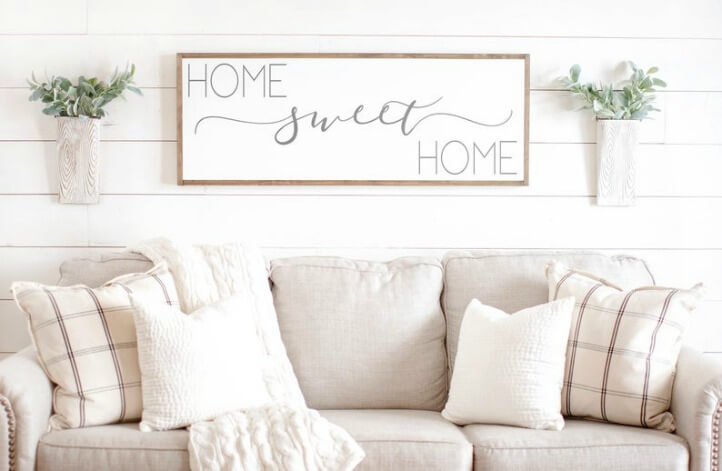 Photo Source: Home Sweet Home Sign by Rooted + Grounded Home
Cozy Home Ideas
In addition to creating a joyful home, one of my main goals as a homemaker is to create a cozy home. I want my family and friends to feel warm and cozy in our home, especially during the fall and winter months.
But a cozy home isn't just for the cooler months! I also try to create this feeling of homeyness and comfort throughout the whole year.
To me, a cozy home is one that's focused on warm feelings, good smells, comfortable furniture, and delicious food.
Most of these things don't require much of a financial investment to make them happen. There are so many things you can do to turn your house into a home and make your space feel more cozy.
How Do I Make My House Feel Cozy?
When I think about the coziest homes I've visited through the years, there are several elements that seem to always be present.
Here are some of the things that make a house feel cozy:
Soft, indirect lighting
Comfortable furniture
Throw rugs
Pillows
Cozy blankets
Candles
A fire in the fireplace
Plants or flowers
A welcoming scent
As you can see from the above list, most of these ways to make your house cozy don't cost a lot.
Some of these items you probably already have in your home!
Photo Source: This is Our Happy Place Pillow by Rooted + Grounded Home
How Do I Make My House Cozy on a Budget?
When I'm trying to add warmth to our home decor, I start by shopping my house. That's the best way to make your house cozy on a budget. Use what you have!
First, I get out all the cozy blankets and pillows. I choose lightweight cotton or cotton blend blankets for the summer (I have this one), and warmer textures for the cooler months.
Then I might move some of the furniture around, to make the room arrangement feel more intimate. Both of these things don't cost a thing!
Lighting candles, gathering fresh flowers from the yard or flowering bushes, and baking something delicious in the oven are other inexpensive ways to cozy up your space.
Keep reading for the easiest and cheapest ways to get a cozy home without spending a fortune!
Good Lighting
One of the main ways to make your home feel cozy is with good lighting. Avoid harsh, glaring overhead lighting. Instead, try softer, indirect lighting to make your rooms feel more cozy and comfortable.
You can do this with lamps (like this set), which can be found in home goods stores or thrift stores. Some of my favorite lamps were purchased secondhand, at garage sales, flea markets, and thrift shops.
Pillows
Nothing says coziness like soft, plump pillows! For an instant injection of comfort in your living room or bedroom, add a few cute throw pillows.
These usually don't cost much, and you can often change out the covers to change looks for the seasons. And all for a reasonable price!
Try linen look pillow covers like these for the warmer months, and velvet covers like these or sweater knit pillow covers like this one for the cooler months.
Photo Source: Velvet Throw Pillows by Burk Home
If you sew, pillow covers are easy to make yourself. And, it's a simple sewing project that doesn't require much fabric. You can often find inexpensive fabric at thrift stores and yard sales to use for pillow covers or other home decor items.
Cozy Blankets
Throw blankets are another way to make your home feel warm and inviting. Throw one casually over the arm of a chair or sofa.
Photo Source: Ruffled Cotton Throw by Simply French Market
You can also add a pile of old quilts to a chair or the top of a dresser for a cozy farmhouse look.
Candles
When you want to add instant warmth to a room, light a candle or two! These can be found inexpensively at dollar and discount stores, or you can make your own (try my tutorial here).
Photo Source: The White Cottage Co.
RELATED POSTS:
House Plants
Houseplants add a wonderful homey look to any house, and as an added bonus, they can also help purify the air.
I try to select hardy varieties that are easier to care for and that won't die as easily. My favorite plant is the Pothos, which is the perfect houseplant for beginners. We have one that my husband had before we were married, and it's now over twenty years old!
If you don't want the hassle of caring for live houseplants, you could also add some realistic faux plants (like this set of three) to get the same look.
Fresh or Faux Flowers
I love decorating with fresh flowers. Since I can't afford to regularly buy fresh bouquets from the store, I've planted a few varieties in our yard that are perfect for cutting.
These days, you can also find faux flowers that look very realistic for decorating your home.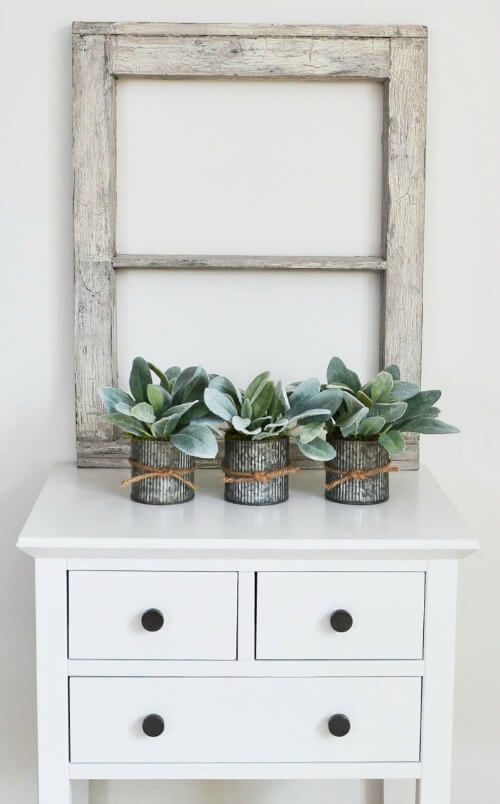 Photo Source: Galvanized Pots of Lamb's Ear by Lemon Leaf Market
Scent
Another simple way to improve the atmosphere of your home is to simply make sure that it smells good!
In addition to making sure to regularly take out trash and stay current with the cleaning, you can also add inviting scents to your rooms. This is easy and inexpensive to do.
In the winter, scents like cinnamon, orange, and clove are super cozy. In the spring and summer, try citrus and more floral scents.
You can use scented candles, add essential oils to your diffuser, or try a simmering potpourri recipe like this one.
RELATED POSTS:
Rugs
Especially if you have wood or tile floors, consider adding large or smaller area rugs to make the room feel cozier.
We have a rug like this one, and we love it.
Framed Family Photos
There's something so cozy and personalized about having framed family photos in your home. Try a gallery wall (here's how to create a gallery wall the easy way) or just add framed photos to a bookshelf or table.
RELATED POST: How to Hang a Gallery Wall the Easy Way
Cozy Home Resources
You can find so many resources for creating a cozy home at the dollar store (candles, faux plants, frames, etc.) and thrift stores (pillows, blankets, frames, and more!).
And, you can even shop your own house! Sometimes just moving things around can make a huge difference.
If you have the funds to buy something new, here are the links to the resources shown in this post:
I hope this post has given you some ideas for ways to make your home feel cozy!
Pin This Post for Later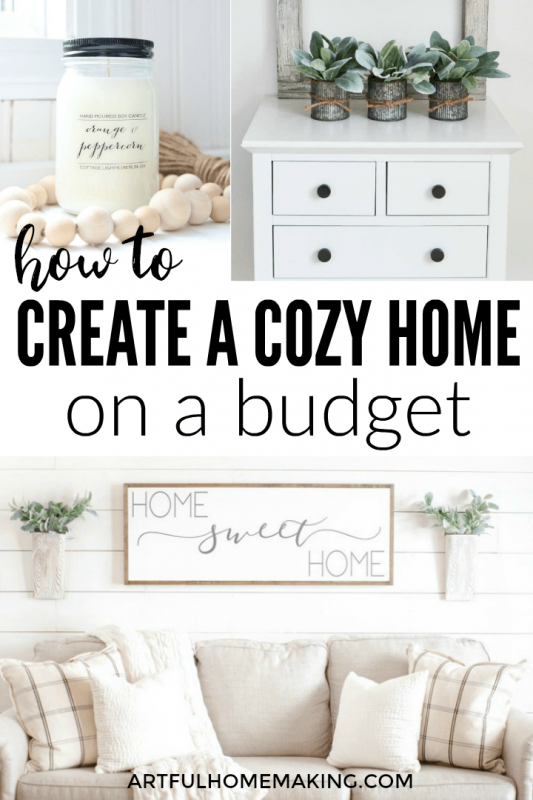 Disclosure: This post contains affiliate links. Read my full disclosure here. Sharing here.