Ideas for cultivating a peaceful heart this Christmas.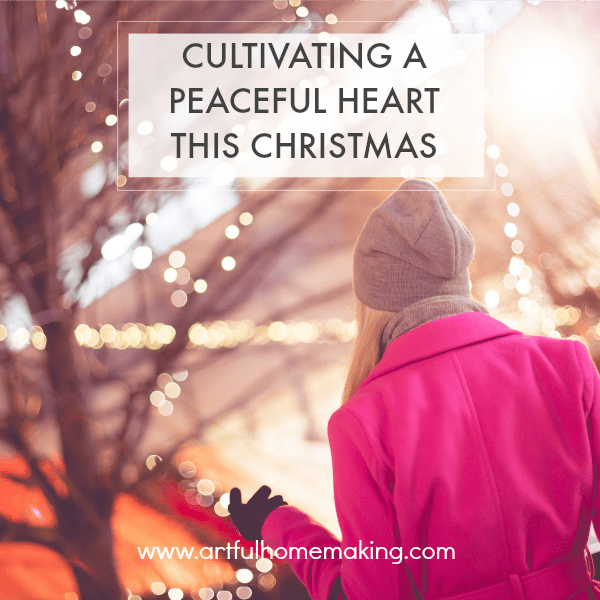 This year I did something I always said I would never do.
I went Black Friday shopping. 🙂
Our Crazy Shopping Experience
We had driven to the city to see family for Thanksgiving, and they live just about two minutes from the mall. As we left their house to head home (around 9:30 pm), we had to drive right past the mall. The parking lot was full, and we wondered what it would be like to take advantage of all those great deals we had heard so much about.
Curiosity got the better of us, and we found ourselves piling out of our van and walking briskly through the cold night air and into JCPenney.
Just inside the door, several tables were piled high with women's boots, on sale for just $19.99! The tables were a cluttered mess, and a huge group of women were pushing and shoving, knocking boxes off of the heap on the table and onto the floor.
Several frazzled employees were trying unsuccessfully to organize the cluttered mess of boxes and boots.
The boots were one of the main reasons I had come. My old pair were worn and falling apart, so it seemed like a good idea to look for some new ones on sale. The only problem was, it was a struggle to try them on and to think clearly in such a chaotic environment!
I did eventually find a pair of boots, but I did not enjoy our crazy, chaotic Black Friday shopping experience. I prefer to shop online in peace!
What I Learned
That frenzied shopping experience made me realize how easy it is to get caught up in busyness and stress during the holiday season.
We can't always control all the busyness, but we can cultivate a peaceful heart in the midst of it. We can have a heart that nurtures and blesses those around us.
Cultivating a Peaceful Heart This Christmas
We must be proactive if we're going to stay peaceful and intentional with our time this month. Here are a few ideas for how to do that.
Refresh Your Spirit
Even if it's just fifteen minutes, don't neglect time in the Word and prayer. This is number one because it makes such a big impact!
Whenever I make my relationship with Jesus a priority, everything else falls into place and I can have peace. Even when the busyness or stresses are still there, when I fix my eyes on Him, I'm able to keep an eternal perspective and be at peace.
Create a Peaceful Haven for Yourself
Recently, I rearranged some of the furniture in our small bedroom to create a peaceful little haven for myself.
My little space simply consists of a hand-me-down chair from my mother-in-law, an old dresser from my mom (a garage sale find 25 years ago), and a lamp from the clearance aisle at Walmart. I keep candles and family photos on top of the dresser.
Inside the dresser drawers I keep my Bible, journal, planners, pens, and inspiring books I'm currently reading.
Whenever I wake up in the morning, after my shower, I sit in my peaceful spot to read my Bible, pray, and make plans for the day.
I also love to come here in the afternoon with a cup of tea, to read. I'll light my candle, savor my tea, and revel in the  PEACE and quiet. As an introvert, this time spent alone, nurturing my soul, really recharges me.
Get Outside and Enjoy The Season With Your Kids
There's something about being outside (especially in cooler weather) that can really clear the mind and create a more peaceful heart. Even if you only have time to walk around the yard or down the street, getting outside for awhile can really be energizing.
Say Yes To Family Traditions and No to Random Busyness
One of the loveliest things about December is the opportunity to create so many beautiful family memories.
I try really hard to keep our holiday schedule open enough that we have time to spend enjoying our own special family traditions (making gingerbread houses, making cookies and other baked goods, reading our favorite Christmas books and watching Christmas movies, etc.).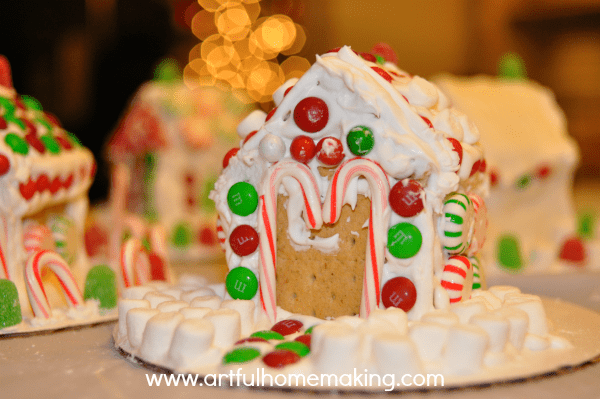 Our Gingerbread House Tradition
This means we simply won't have time to attend every party and every activity. We have to be selective. As much as possible, we try to choose things that will be meaningful for the whole family.
It's okay not to do everything! I always hate to miss out on any of the fun, but it's much better if we don't try to do too much.
Working to cultivate a peaceful heart will be well worth it, as we reap the benefits of sweet Christmas memories this year.
"Let the peace of Christ rule in your hearts…" ~Colossians 3:15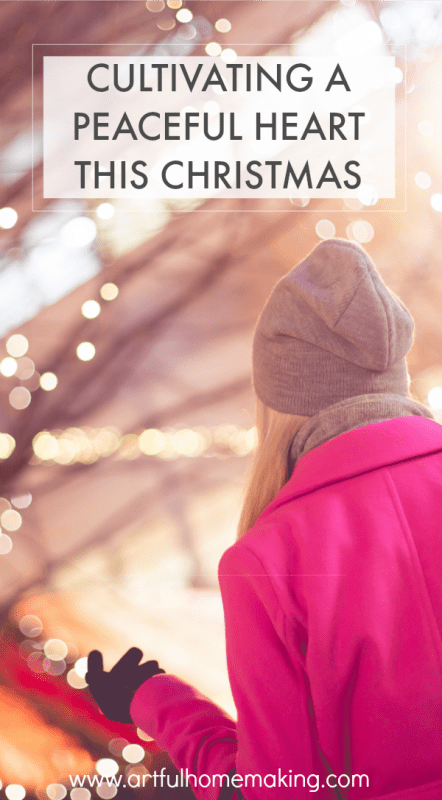 Sharing this post here.