These Easter basket ideas will inspire you to make it a fun and special day for your kids!
Many families have cherished traditions at this time of year. In my family, the Christian message of Easter is heavily emphasized and incorporated into our traditions.
Giving our kids baskets on Easter morning is another of our longstanding traditions. Baskets and Easter gifts are a great way to help the whole family celebrate the day!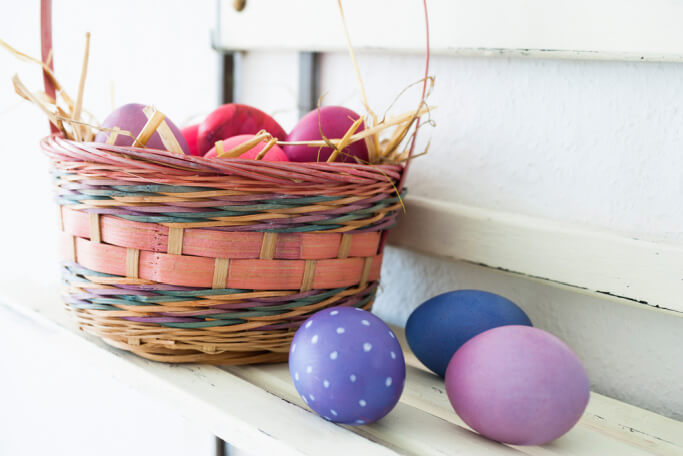 When our kids were little, we made simple baskets with small toys and plastic Easter eggs. We also included some sweet treats like a chocolate Easter bunny and jelly beans.
Now that we have older children, it's a little more challenging to find Easter treats and egg stuffers for their age group. Toys that interest a little kid aren't as interesting to older kids.
That's why I've put together this list of creative DIY Easter basket ideas for all ages!
This list includes Easter basket ideas for babies and toddlers and toy-themed baskets for boys and girls.
You'll also find Easter basket ideas for big kids and teens, and baskets for kids with special dietary needs.
These are some of my very favorite Easter basket ideas!
Affiliate links included below, which means I may make a small commission at no extra cost to you. As an Amazon affiliate I earn from qualifying purchases. Read my disclosure here.
Easter Basket Ideas
Your family may have only little kids at this time, or a combination of young and older ones.
Either way, this list of creative Easter basket ideas for kids of all ages will give you some inspiration!
This list includes some all time favorites that parents enjoy giving to their kids. Easter baskets make a great addition to an already festive day!
You may end up mixing and matching from different basket ideas. That's totally fine as you will find some great options listed under each of the different categories.
I've broken down the ideas into age groups and different basket types. If you don't see one right away that looks like a good match for your kids, just keep scrolling until you find the perfect fit!
Easter Baskets for Babies
If you have a baby and want to celebrate in a fun way, then baby Easter baskets could be just the thing!
It goes without saying that very young children should never be given small objects that are potential choking hazards.
There are so many fun ideas for including in an Easter basket for babies.
To make your own baby Easter basket, first you'll need a cute Easter basket. An animal-themed basket would be really cute!
Or you could opt for a
personalized Easter basket
for that extra-special touch.
Here are some great ideas for items to put in an Easter basket for a baby:
Boards books (
this one
and
this one
are two of our favorites)
If your baby is teething, this stacking ring could be just the thing you need!
A small toy like rattles are perfect for older babies.
No matter what you end up including, I know you'll have lots of fun putting together a basket for your baby's first Easter!
Easter Baskets for Toddlers
Once your child reaches the toddler stage of 12 to 36 months, they'll be up and about and so curious about the world around them.
This can be a very fun but challenging age as your child explores and ask questions about just about everything!
Some of the items recommended in the Easter baskets for babies category would also work for toddlers.
But toddlers will also be interested and able to handle more advanced toys that would be unsuitable for babies.
Although this basket doesn't have the traditional Easter basket appearance, it would still be a good choice for toddlers.
You could also choose a personalized beautiful basket like
one of these
.
Here are some great ideas for items to put in a toddler's Easter basket:
Activity books or Coloring book
(You can check out my Easter coloring pages here!)
Board books (my kids could never get enough of
Eric Carle books
!)
Whether you have a little girl, little boys, or a combination, your toddler will be thrilled to receive their very own Easter basket!
Kids' Easter Baskets
Before you know it, your kids move out of the toddler stage into the preschool and elementary age ranges.
With kids in these age ranges, you can look at their unique interests and talents to find creative and fun Easter baskets ideas.
Does your boy enjoy building? A Lego-themed basket may be just the thing!
Does your girl enjoy cooking? A junior-chef Easter basket may be a great idea!
In this section you'll find lots of fund Easter basket ideas for boys and girls.
Easter Basket Ideas for Boys
When putting together an Easter basket for a boy, think about the kinds of things your son enjoys.
Just a few possibilities include building activities, car or vehicle toys, and science-themed ideas.
Lego-Themed Easter Basket
My boys (one of them in particular) loved building things. We got him several Lego sets that he would spend hours putting together.
Legos come in all different themes and complexity levels.
In a day when many kids spend so much time on electronic devices, it's healthy to "unplug" and do something quiet and creative.
I've divided up the list below into ages 4-7, 8-12, and 13+.
Lego Easter Basket Ideas Ages 4-7
Lego City Police Car
Lego Easter Basket Ideas Ages 8-12
Lego Speed Champions
Lego Creator Surfer Beach House
Lego Easter Basket Ideas Ages 13+
Lego Bonsai Tree
Lego Architecture New York City
Building toys are wonderful for boys of any age (and of course, girls as well, although my girls never showed an interest in Legos).
Hot Wheels Easter Baskets
Another fun Easter basket idea for boys is one featuring Hot Wheels toy cars.
Both of my boys just loved playing with Hot Wheels. I don't know how many they accumulated over the years, but it's definitely in the dozens!
Here are some great items to include in a Hot Wheels themed Easter basket:
Hot Wheels Track Builder
Playing with toy cars is such a fun thing for boys to do!
A Hot Wheels themed Easter basket would be a great idea for a boy's basket.
Easter Basket Ideas for Girls
While girls certainly aren't limited to only traditional "girl stuff," I found that my girls naturally gravitated towards things like cooking, crafts, and more similar interests.
If you have a girl who enjoys cooking or baking, a "young chef" type of basket might be the perfect choice.
For girls who enjoy arts and crafts, a craft-themed basket could be the way to go.
Young Chef Easter Basket
While all of my girls enjoy cooking, one in particular just loves to spend time in the kitchen whipping up tasty things to eat.
If your daughter has an interest in cooking-related activities, then here are some ideas for her Easter basket:
MasterChef Junior Cooking Essentials Set
MasterChef Junior Breakfast Cooking Set
Easter Cookie Cutter Set
Childhood is the perfect time to start learning cooking skills. Kids love helping family members in the kitchen.
These junior chef themed Easter basket ideas for girls are a fun way to introduce and encourage girls to this part of homemaking.
Crafty Easter Basket
Many girls enjoy doing craft projects.
As a girl, I know I would have been excited to receive craft supplies in my Easter basket! I was always attracted to bright colors, tissue paper, and fun activities like sticker books.
Here are some art and craft supplies to put in your budding artist's basket:
Sidewalk chalk
Watercolor paint set (and don't forget the paint pad!)
Any young artist will be thrilled to get craft supplies in her Easter basket!
More Easter Basket Ideas for Kids
The next two categories of Easter basket ideas for kids include items that could be of interest to both girls and boys.
Science Easter Baskets
If you have a future scientist in your household, then a science-based Easter basket would be a real blast!
Here are some suggested ideas for science-related items:
National Geographic Magic Chemistry Set
A science-themed Easter basket could be just the thing to inspire your young future scientists!
Games Easter Basket
Another really fun idea for an Easter basket is filling it with an assortment of games.
Games and puzzles are some of my favorite Easter basket stuffers, and here are some of my top recommendations:
Guess in 10 Animal Planet
My family has enjoyed played a lot of games over the years. I'm sure you'll find some fun ones to include with your Easter games basket!
Easter Baskets for Teens
Once kids get older, they aren't usually as excited by an Easter egg hunt or other activities that appeal to younger kids.
It can be a little more difficult to find gift ideas suitable for a teen Easter basket.
In thinking about what my teens would enjoy, here are some suggestions that would be a good option for many teens:
Water bottle
Specialty Easter Baskets
Some kids have special dietary needs like eating gluten-free or low-sugar.
We always looked for more natural options when putting together our kids' Easter baskets.
Here are some Easter basket ideas for kids on special diets (or if you just prefer to minimize gluten and sugar in your family's diet).
Gluten-free Easter Baskets
If you're looking for gluten-free treats to include in your child's Easter basket, here are some items that are all advertised as being gluten free:
Hershey's Kisses
Low-Sugar and No-Sugar Easter Baskets
Many families want to lower their kids' sugar intake. This is important for overall general health as well as helping to prevent tooth decay.
Here are some great low-sugar and sugar-free candy options for Easter baskets:
Sugar-free chocolate Easter bunny
Sugar-free lollipops
Sugar-free dark chocolate candies
Need more non-candy Easter egg filler ideas?
Do you have any other favorite ideas for Easter baskets? Feel free to leave a comment below.
Happy Easter!