A reader requested the recipe we used for the blackberry cobbler I mentioned in my last post, and I'm happy to share it with you! This recipe is very versatile, as you can use pretty much any kind of fruit, and it's a great way to use up an abundance of fresh fruit in season.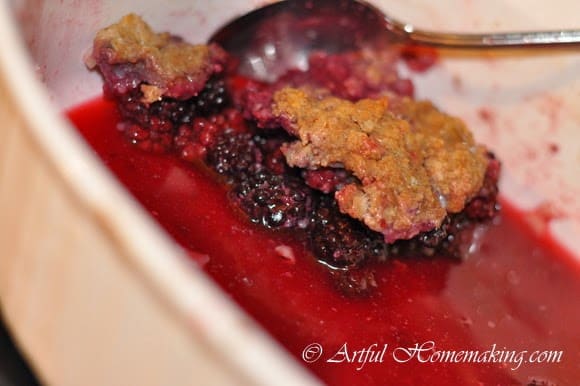 I was unable to get a photo of the whole dish…there was only one piece left by the time I decided to take a picture of it!
Ingredients:
1/3 cup honey (we used honey, but you can also use sugar)
1 T cornstarch or arrowroot powder (we used arrowroot)
1 cup water (if using canned fruit, use the drained juice + water as needed)
3 cups sliced fresh fruit or whole berries, OR 2 1/2 cups canned fruit (peaches, apricots, apples, berries, pitted pie cherries)
1 T butter
cinnamon (sprinkled over the top)
1 cup whole wheat pastry flour (soft white wheat), or whole wheat flour (we used freshly ground whole wheat)
2 tsp rapadura (you could also use raw sugar or white sugar–we used rapadura)
1 1/2 tsp baking powder
1/2 tsp salt
3 T soft butter
1/2 cup milk
Directions:
Preheat oven to 400 degrees. In a saucepan, blend honey and arrowroot powder and gradually whisk in water or fruit juice. Bring to a boil, stirring constantly with whisk until clear and thickened.
Remove from heat. Put fruit into a 1 1/2 quart casserole dish, and fold arrowroot powder and honey mixture into the fruit.
Dot with 1 T butter and sprinkle cinnamon over the top.
In a separate bowl, blend the flour, rapadura, baking powder, and salt together.
With a pastry blender or two table knives, cut 3 T butter into flour mixture to make crumbly meal the size of small peas. Stir milk into the flour mixture just until mixed. Do not overmix.
Drop dough by spoonfuls over hot fruit. Bake uncovered in preheated oven at 400 degrees for 25-30 minutes or until fruit is tender. Serve warm with milk or whipped cream. Makes 8 servings. Enjoy!