This strawberry pie sweetened with honey is so good, and good for you! If you're looking for a healthy strawberry pie recipe, give this one a try!
This naturally sweetened strawberry pie is made with basic ingredients. Fresh strawberries, whole grain flour, cinnamon, honey, vanilla extract, and butter.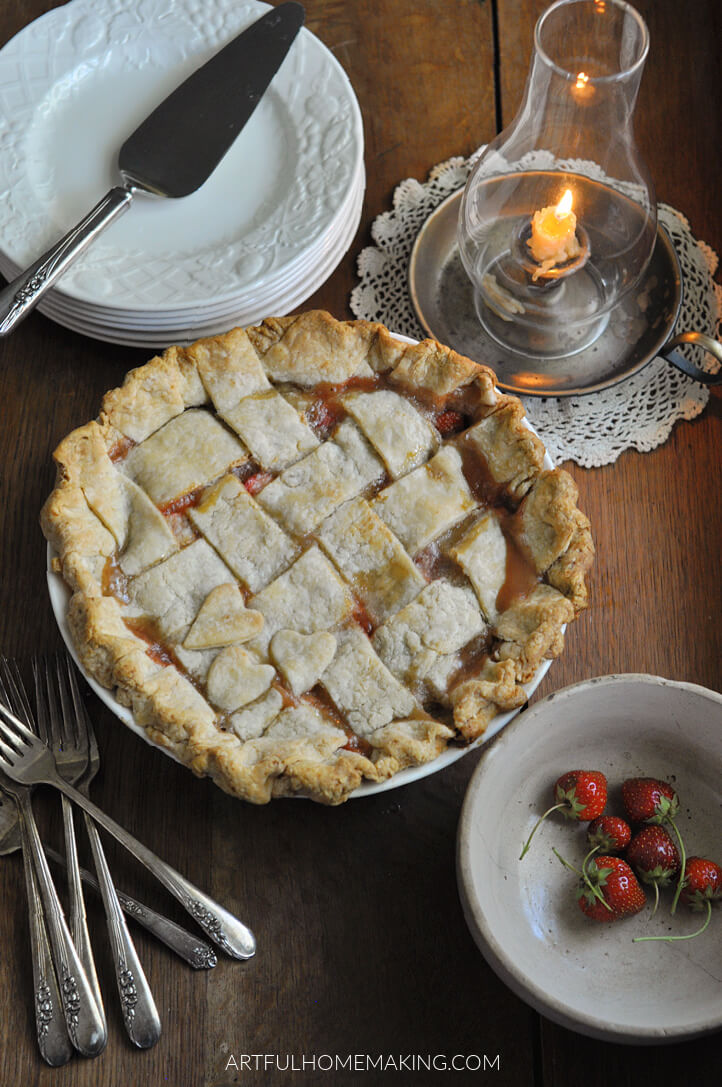 Strawberry Pie Sweetened with Honey
Every year when the strawberries begin to ripen, I start craving strawberry desserts. But I'm always on the hunt for healthy strawberry dessert recipes.
This strawberry pie recipe is sweetened with honey, one of my favorite natural sweeteners. The honey in this recipe gives the pie a mildly sweet flavor that our family finds delicious!
I'm calling this recipe "rustic," because the end result is a very rustic, homey-looking pie!
I was busy having a conversation with one of my children while I was forming the crust and lattice. My lack of attention caused it to be a bit less-than-perfect, but still beautiful in a rustic sort of way!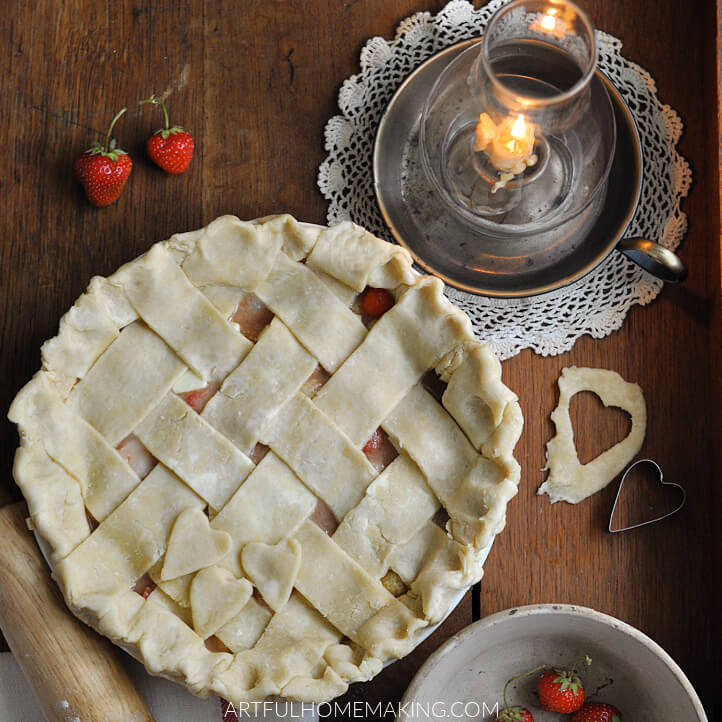 We have two raised beds filled with strawberries. One raised bed is filled with regular red strawberries, and the other raised bed contains pineberries. Pineberries are a type of white strawberry. The  pineberries worked well for this pie, but plain red strawberries are my favorite.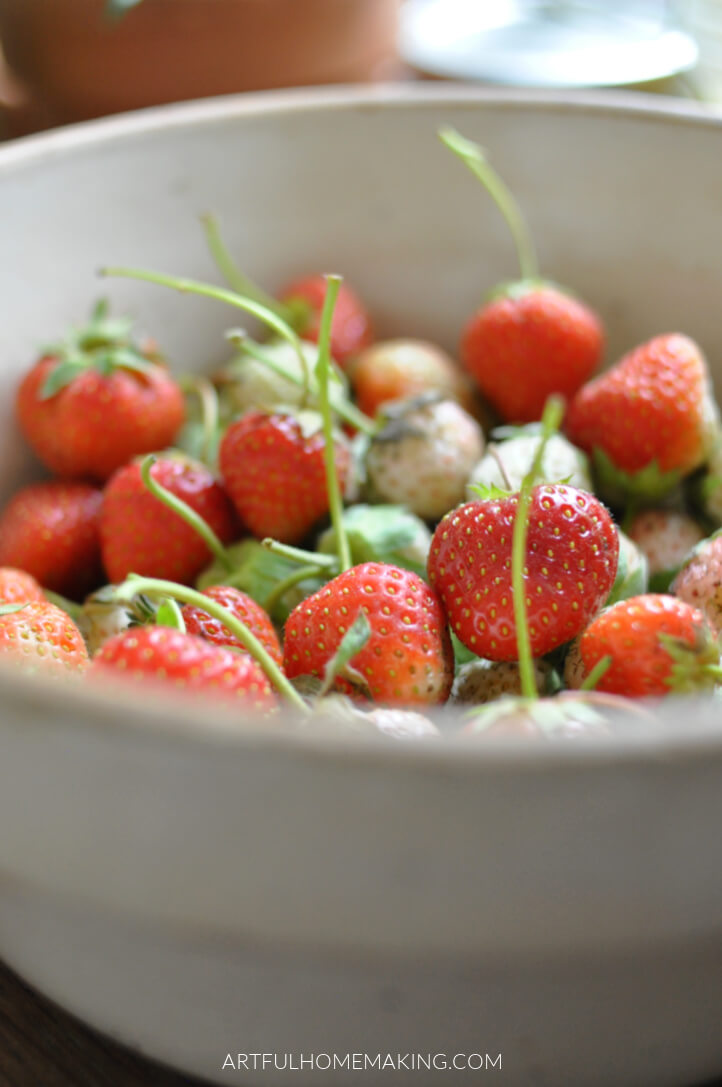 How to Make Strawberry Pie Sweetened with Honey
Here's how to make this easy strawberry pie sweetened with honey.
First, I mixed up the pie crust. For this pie, I just used a regular double pie crust made with unbleached flour. You could also use your favorite gluten-free pie crust. Any pie crust recipe will work here.
While the crust was chilling in the fridge, I went out to the garden to pick some fresh strawberries. We already had some in the fridge, but I needed about 6 cups for this recipe, so I went to pick another cup or two.
Then, I washed and hulled the berries, and set those aside.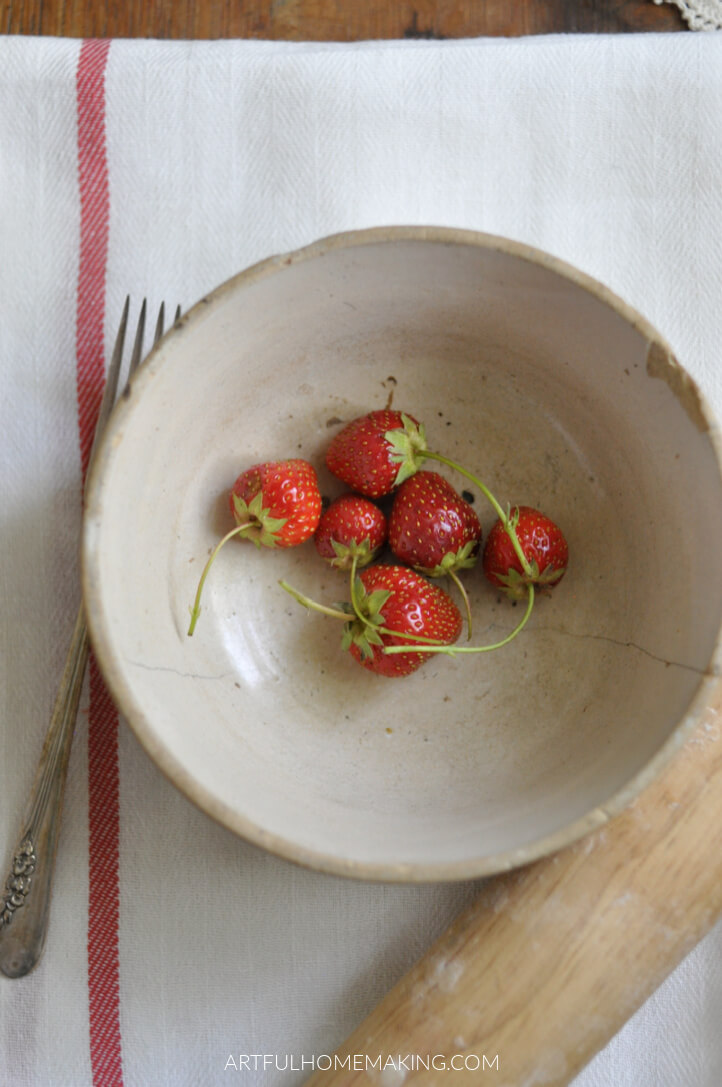 After that, I removed one disk of pie crust from the refrigerator, and rolled it out into a circle. Then, I placed it in the pie dish and set that aside.
After the bottom crust was prepared, I rolled out the other half of the chilled pie crust dough, and cut it into lattice strips.
Next, it was time to mix together the strawberry pie filling.
And finally, I poured the strawberry pie filling into the prepared pie crust and topped it with the lattice and placed it in the oven to bake!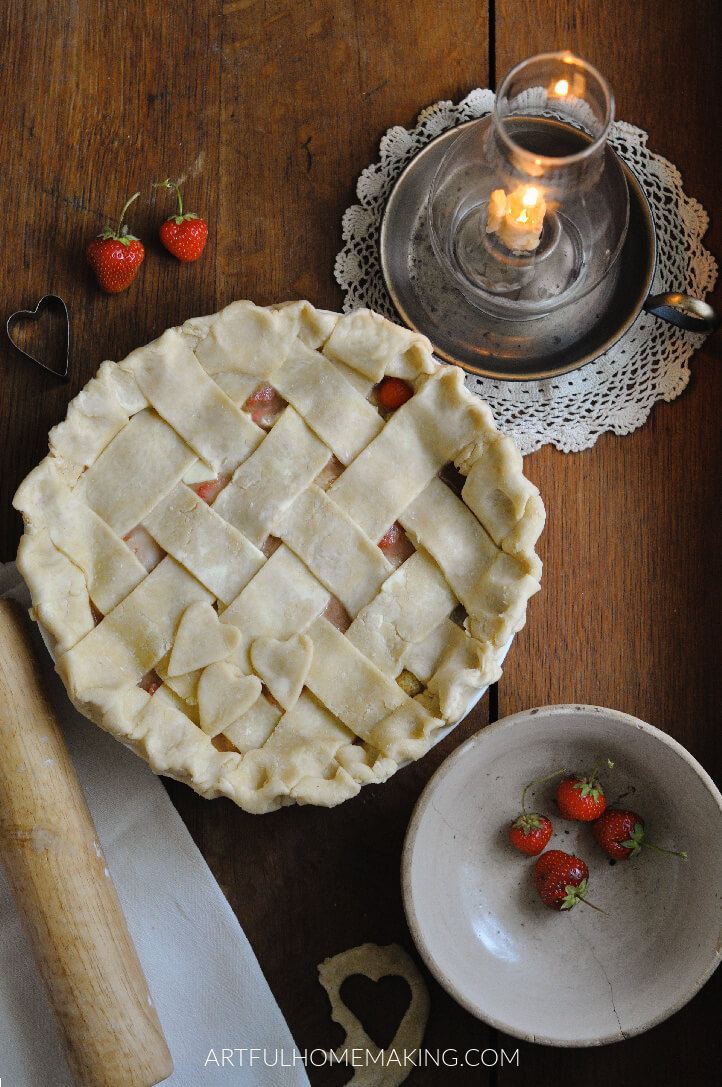 Ingredients Needed for This Recipe
Here are the ingredients you'll need to make this pie:
6 cups fresh strawberries
1/3 whole wheat flour or whole wheat pastry flour
1/2 cup honey
1/2 teaspoon vanilla extract
1/2 teaspoon cinnamon
1 1/2 tablespoons butter
Unbaked double pie crust (use your favorite pie crust recipe!)
I have a pie crust recipe that I usually use for pies, which I hope to share here in the future.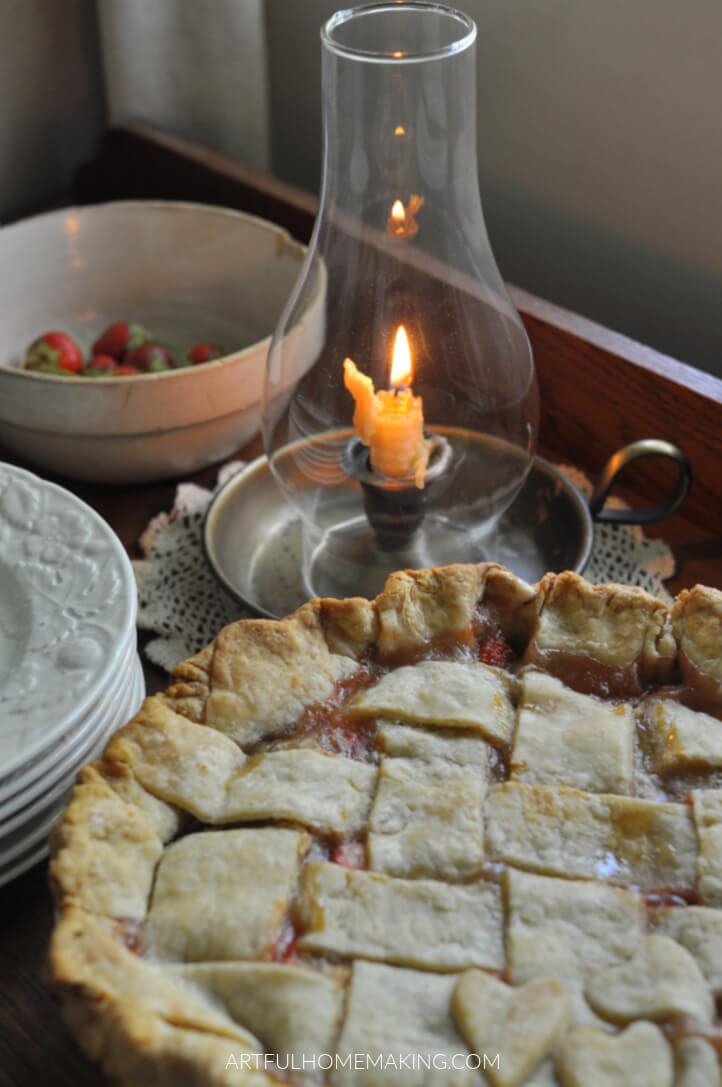 Affiliate links included below. Read my disclosure here. 
Supplies Needed for This Recipe
Measuring spoons
Measuring cups
Pie dish (I have and love this one)
Rustic Strawberry Pie Sweetened with Honey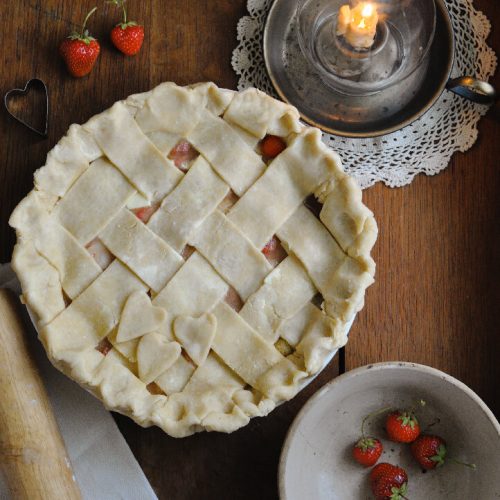 Print Recipe
Rustic Strawberry Pie Sweetened with Honey
This strawberry pie sweetened with honey is so good, and good for you! If you're looking for a naturally sweetened strawberry pie recipe, give this one a try!
Ingredients
6

cups

fresh strawberries

1/3

cup

whole wheat flour

(or other whole grain flour)

1/2

cup

honey

1/2

tsp

vanilla extract

1/2

tsp

cinnamon

1 1/2

tbsp

butter
Instructions
Prepare your favorite double pie crust recipe and chill in refrigerator.

After pie crust has chilled for at least 30 minutes, roll out the bottom crust and put in a pie dish. Prepare the top crust by rolling out and cutting into lattice strips, if desired. Set aside.

Preheat oven to 350 degrees F (or whatever temperature your pie crust recipe calls for).

Wash and hull strawberries. Cut strawberries in half.

Combine pie filling ingredients together in a mixing bowl. Add strawberries, flour, honey, vanilla, and cinnamon and stir together.

Pour filling into unbaked pie crust, and dot with butter.

Add the top crust (if you made lattice strips, arrange these over the top of the pie) and crimp edges.

Bake pie in preheated oven at 350 degrees for 45-50 minutes (or follow the baking instructions for your particular pie crust).

Allow pie to cool before slicing.
I hope you enjoy this naturally sweetened, healthier strawberry pie!
Related Posts