This easy homemade vanilla ice cream is the perfect treat for a special occasion or dessert.
With just five simple ingredients, it comes together quickly and then the electric ice cream maker does the rest.
This is our family's favorite recipe. My kids think it's one of the best homemade ice cream recipes ever!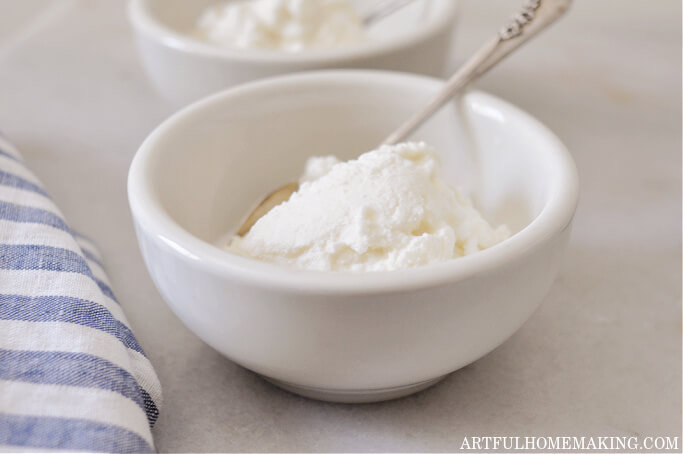 Easy No-Cook Homemade Vanilla Ice Cream Recipe
I have a confession to make. I LOVE vanilla ice cream!
If I could only choose one ice cream flavor, I would just choose plain vanilla (even though I've never tasted an ice cream I didn't like!).
As a child, I have happy memories of my mom making vanilla ice cream for special occasions.
But back then it was a much more involved task. We had to drag out the large ice cream maker and the rock salt.
And then we had to wait patiently for the old fashioned ice cream maker to turn the custard into ice cream.
We like this simple method much better.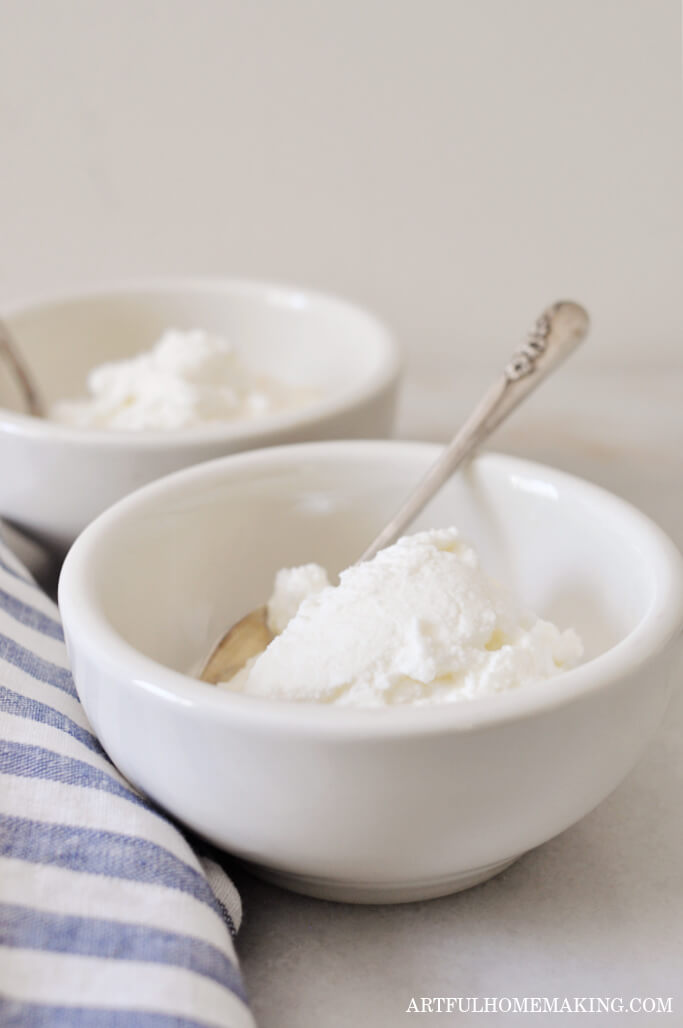 It only takes a fraction of the time to make this easy homemade vanilla ice cream.
You literally just mix the five ingredients together and then throw it into the ice cream maker bowl!
And honestly, our family thinks this no-cook method makes some of the best vanilla ice cream we've ever had.
Why You'll Love This Recipe
There are quite a few variations on homemade classic vanilla ice cream recipes.
Some recipes involve having to cook several of the ingredients such as raw eggs.
This is basically the old-fashioned way of making ice cream that involves making a cooked custard base for the ice cream.
And while a custard-based recipe that involves cooking can make some very delicious ice cream, I honestly prefer the no-cook method.
It's quite a bit more work to have to cook the base for your ice cream.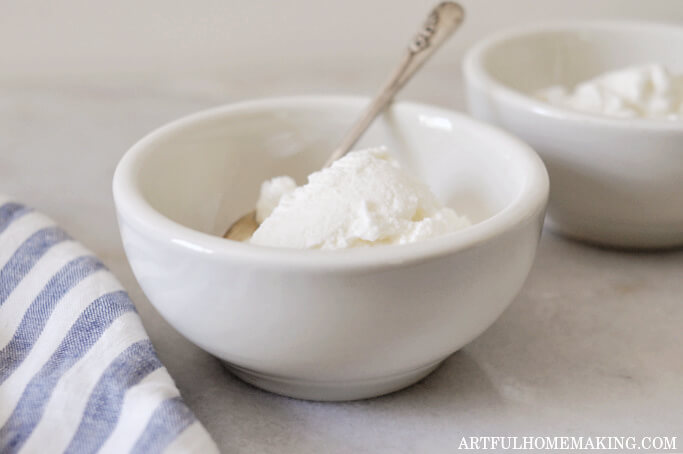 It's just so much easier to combine all of the simple ingredients and then dump them into your ice cream machine.
And since this no-cook recipe uses only five basic ingredients as the ice cream base, it really couldn't be any easier.
Another reason to love it is simply the taste. Homemade ice cream is just so much better than store-bought ice cream.
It has a smooth, creamy texture with a flavor similar to a high-quality soft serve ice cream.
This is truly one of the most delicious recipes for old fashioned ice cream.
I've been making this family recipe for around ten years now, and it has become our go-to recipe.
Whether it's a dessert for family gatherings, a birthday party, or just because, old fashioned vanilla ice cream is always a hit!
Homemade Vanilla Ice Cream Notes
This recipe uses whipping cream and half and half rather than whole milk. The higher fat content makes for a creamy consistency and helps prevent ice crystals sometimes seen when milk is used.
Use a high-quality vanilla extract for the best vanilla flavor.
Follow the specific instructions for your ice cream freezer for the recommended length of freezing time.
If the ice cream isn't firm enough straight from the machine, place it in an airtight container in the freezer to ripen (firm up) for a few hours.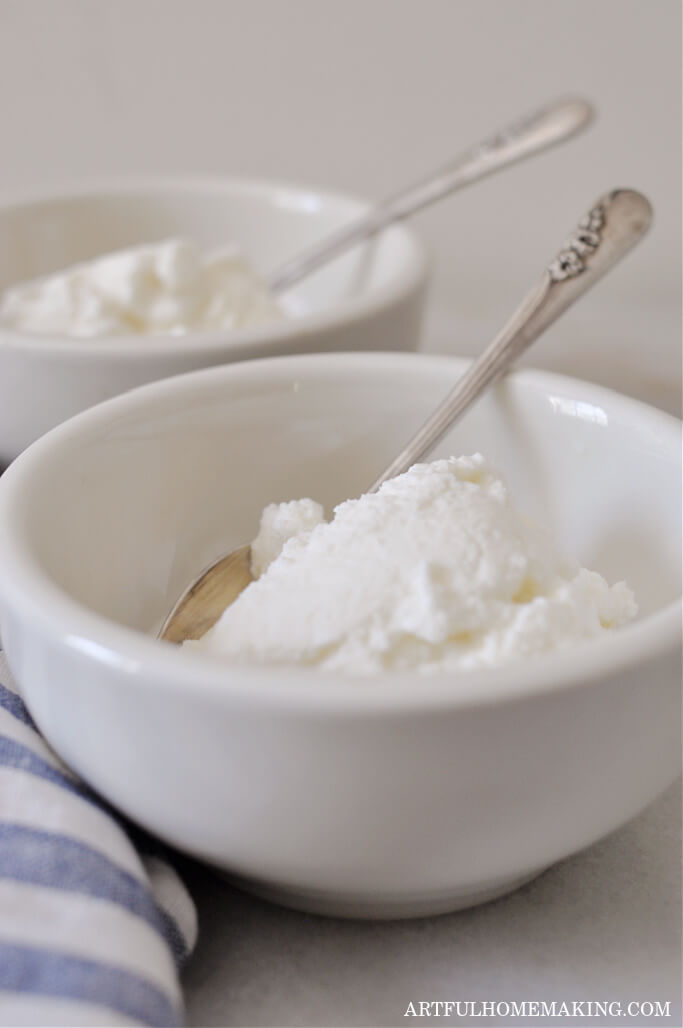 Supplies Needed for This Recipe
Affiliate links included below, which means I may make a small commission at no extra cost to you. Read my disclosure here.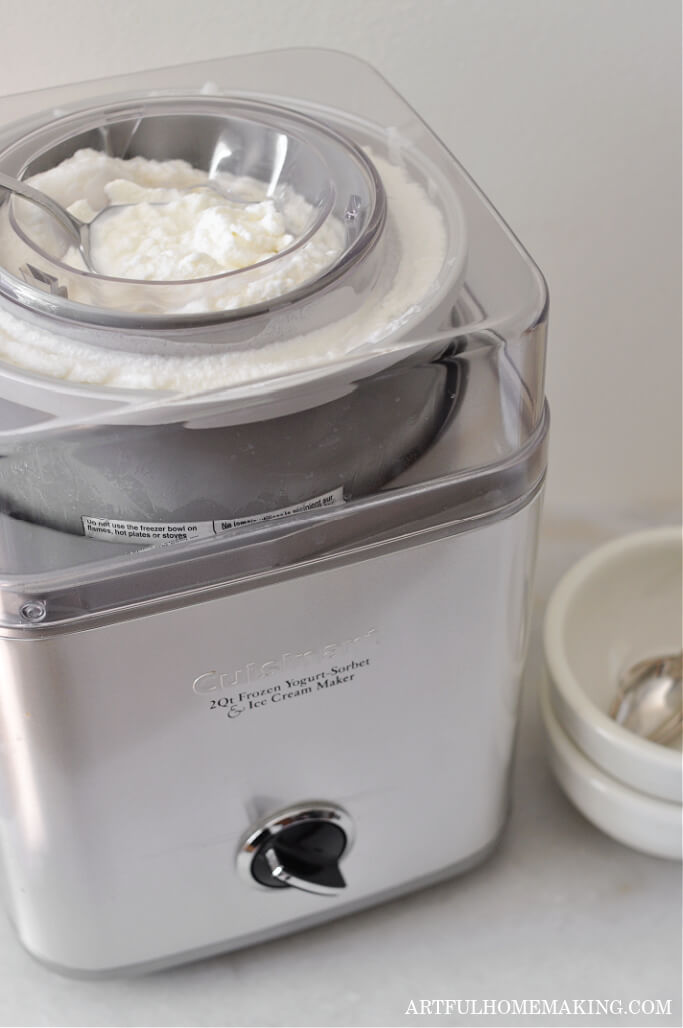 Ingredients
You can find the full ingredients and instructions in the printable recipe card at the bottom of this post.
How To Make Homemade Vanilla Ice Cream
1. In a large bowl, combine all the ingredients.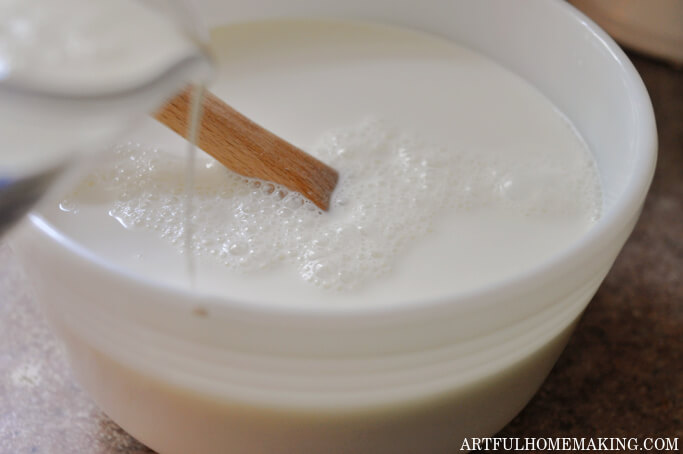 2. Stir or whisk well, until the sugar has dissolved.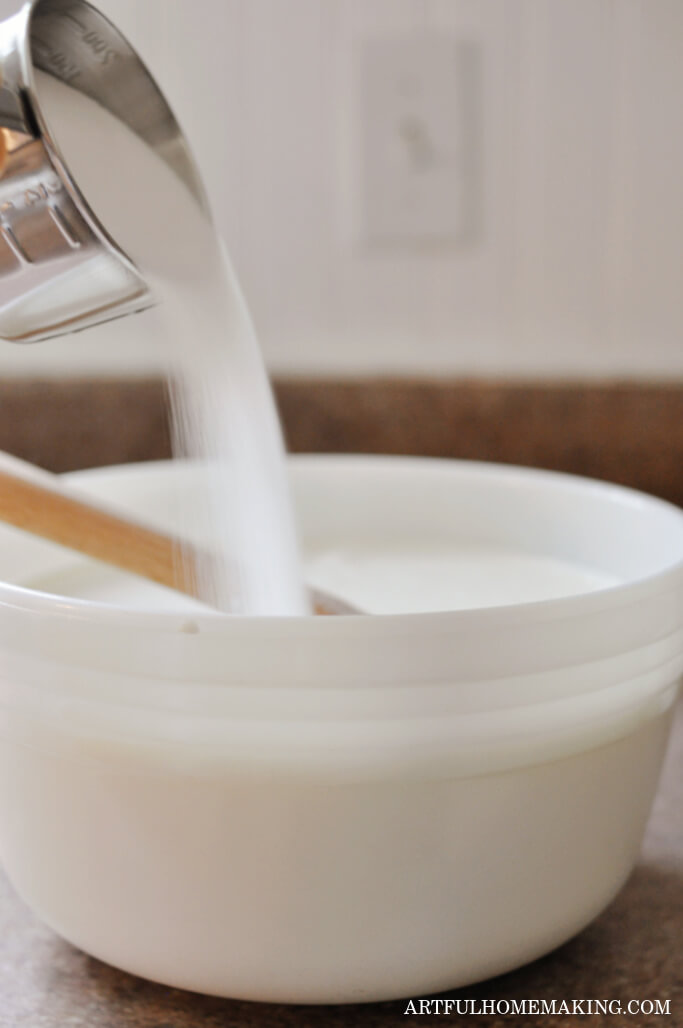 3. Pour the ice cream mixture into an ice cream maker and freeze according to the ice cream maker instructions (usually about 25-35 minutes).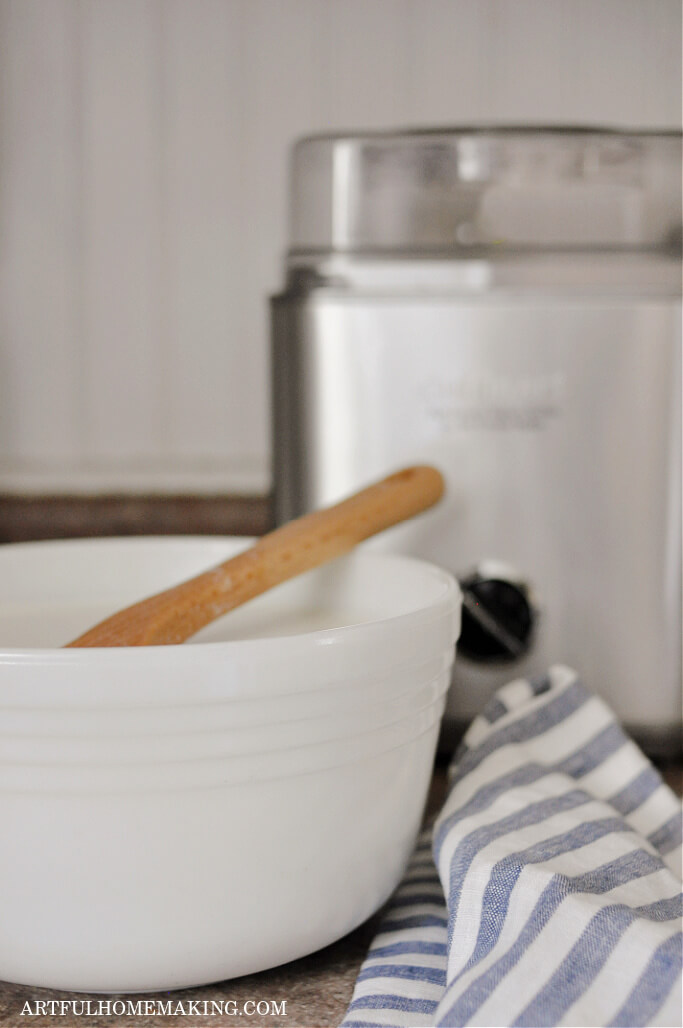 4. Once done, you may serve the ice cream immediately or transfer it to a tightly closed container and put it in the freezer for several hours to ripen.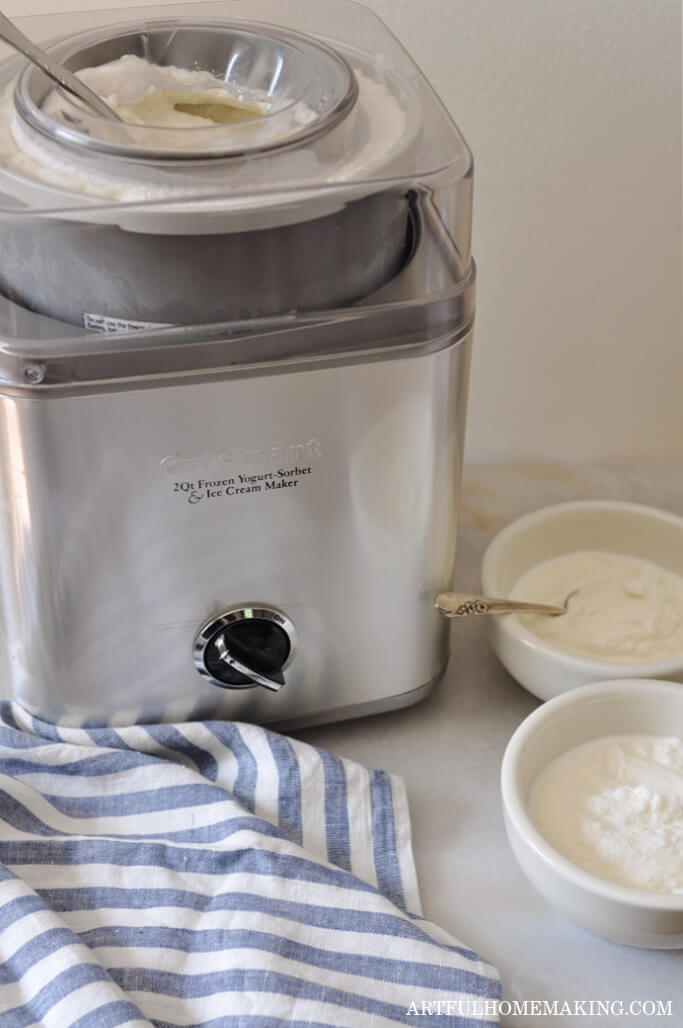 You can see in some of the above photos that the ice cream started melting a bit while I was taking pictures.
It was a super hot day, and I was slow getting all the pictures taken!
While it's delicious straight from the ice cream maker, if you put it in the freezer and allow it to firm up, it won't melt as fast.
It's still more of a soft-serve consistency rather than the thicker custard consistency of a cooked ice cream recipe.
How to Serve Homemade Vanilla Ice Cream
If you're like me, you'll sometimes want to just enjoy the plain ice cream without anything extra.
But sometimes we like to add some favorite toppings such as hot fudge sauce, caramel sauce, or fruit spread.
This creamy ice cream would also be delicious served with other favorite desserts such as apple pie or apple crisp.
No matter how you eat it, I think you'll love this delicious homemade ice cream recipe!
More Homemade Dessert Recipes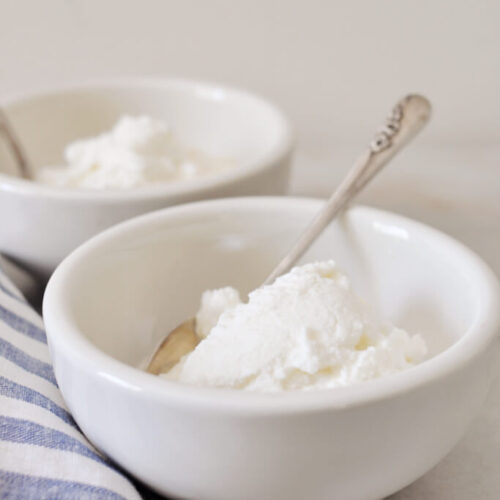 Print Recipe
Easy Homemade Vanilla Ice Cream Recipe
This vanilla ice cream recipe is simple to make with just five basic ingredients. It's delicious and has a creamy consistency.
Ingredients
1

quart

half and half

1/2

cup

heavy whipping cream

3/4

cup

sugar

2

tsp

vanilla extract

1/8

tsp

salt
Instructions
In a large bowl, combine all the ingredients.

Stir or whisk well, until sugar is dissolved.

Pour mixture into 2 quart ice cream maker and freeze according to the specific maker's instructions (usually 25 to 35 minutes). Add 5 to 10 minutes if not adequately thickened.

May serve immediately or transfer to a tightly closed freezer container. Put in freezer for 2 to 4 hours to ripen.