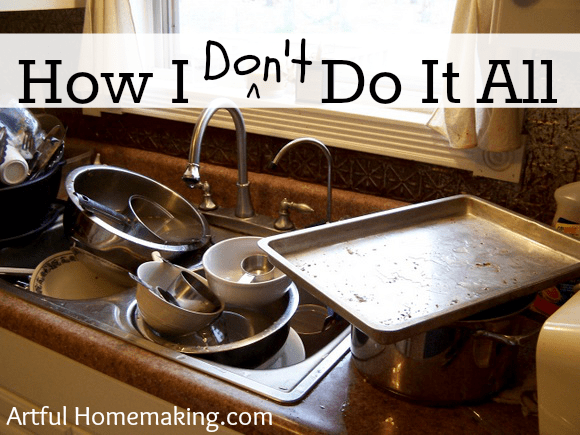 Blogging is strange. On a blog, you can share whatever you want and omit what you don't want others to know about you. You can "stage" a room to make it look perfect, while just outside the picture there's a huge mess. (Not that I know anything about that, but just saying!)
My husband and I have a joke between us. Sometimes when there's a mess somewhere, my husband will say, "Blog this!" Ha ha. I always tell him that no one wants to see that! But sometimes I think it's healthy to show the "real" side of life. I know when I've read posts by other bloggers about how they're going through something difficult or just sharing about their own humanness and personal struggles, I actually feel closer to them.
Every once in awhile I receive an email from a reader wanting to know how I "do it all." They see the projects or photos I share and they assume that I must have it all together or be more organized or a better homemaker than they are.
The real truth is that I don't do it all! There's so much that I don't do.
The things I share here are the things that actually got done and that I was happy with and thought it would be fun to share. But that doesn't mean that my laundry is always caught up or that there aren't dirty dishes soaking in the sink or a mess in the bathroom!
I'm just like you. I've had disappointments, discouragements, set-backs, joys, sorrows, happiness, fear, and pain. Our circumstances may not be identical, but we all experience a measure of these things in life.
One of my main desires for this blog is that you would leave here inspired and encouraged. I don't want anyone to feel bad or inadequate or like you just can't measure up.
For quite some time, what I've been longing for this blog is that there would be a sense of community and openness. And that requires some vulnerability on my part.
So today, I thought I'd share a few things that I don't do, just as an encouragement to those of you who may be struggling and feeling discouraged.
I don't do our grocery shopping. My husband does it all, and he has for years. He is very good at it, he enjoys doing it, and I'm happy to let him continue. 🙂
My husband also places and picks up our monthly Azure Standard co-op orders.
My husband occasionally cooks, especially when he can tell I'm feeling overwhelmed (have I mentioned that I LOVE my husband?!).
I only have five children. Some of you have housefuls of children (which I always hoped for, but that's not my reality at this point).
I don't have any babies or toddlers right now. Toddlers and babies require lots of extra energy!
My oldest daughter (age 14) makes breakfast every morning. My 12-year-old usually makes lunch. I make my lunch and my husband's, since we have different dietary needs than our children.
My husband works from home. We have made many sacrifices in order for him to stay at home, and there aren't a lot of perks (insurance, paid vacation, or sick leave), but it is nice to have another adult in the house!
I keep our meals very simple, usually rotating through the same basic recipes (I like to have a seasonal menu plan that stays the same each month–for instance, lots of salads and fresh produce in the summer, and more soups and comfort foods in the fall and winter.)
I encourage my children to do a lot of their schoolwork independently, especially as they get older.
I don't usually draw, paint, crochet, etc. The only time I knit or do embroidery or cross stitch is when I'm in the van with my husband driving. Projects get completed very slowly, since this only happens about once a month.
I don't fold laundry. I wash it all and my daughters fold it. I have a shelf in our basement by the washer and dryer, and keep laundry baskets on the shelves. As I wash, I just put the clean clothes in the baskets on the shelves. After they're all full, the girls have a laundry folding time in the afternoon.
I stay home all week. We only have church one day a week (Sunday morning), and we're not part of any other activities outside of that. We aren't members of a homeschool co-op or any other groups that require being away from home during the week. This allows lots of time for working on projects at home.
These are just the things that came to mind that I don't do. Some of you probably do many or all of these things yourselves or without help! Maybe you have a larger family or more outside-the-home activities. But then you might also have some advantages that I don't have, such as household help, a regular babysitter or "day off," or a higher income. The idea is that we all have different life circumstances that we have to deal with, and no one's life is perfect.
Most of all, I want you to feel welcome and encouraged here!