***
Sometimes I long for enough money to redecorate. But it seems like it's never in our budget. Especially with 
unemployment looming over our heads
, I don't even want to admit that sometimes I allow myself to think discontented thoughts. I
pin decorating ideas
,  hoping that one day I'll be able to use some of them. But even though some of our furniture may not be "my ideal decorating style," I'm still thankful for it!
I'm thankful for this chair in the corner of our bedroom, where I have my morning Bible study and prayer time. My husband's parents gave it to us when they moved into an apartment and had to downsize. It's just the right size for me (smaller), and I think it would be so cute with a neutral-colored slipcover.
The end tables we got from a co-worker of my husband's about 12 years ago, and the lamps are from the dollar store. My husband bought the bed from a local artisan as a wedding gift for me. I made our curtains about 12 years ago, and someday I'd like to switch them out for neutral ones. I got this knit pillow from
Zulily
last year for free, with referral credits.
We've had a crib in the corner of our room for almost our whole married life. And then, suddenly (or maybe not so suddenly) my baby grew up and moved into a big-boy bed. Finally, we found ourselves with a grown-up bedroom! I decided to move some things around and add a few small touches here and there.
First, I moved the chair from the living room into the corner of our bedroom. I thoroughly cleaned and decluttered the whole room, eliminating anything that was unnecessary. That included my sewing machine. I had moved it in here for various reasons, but all it did was clutter up our room!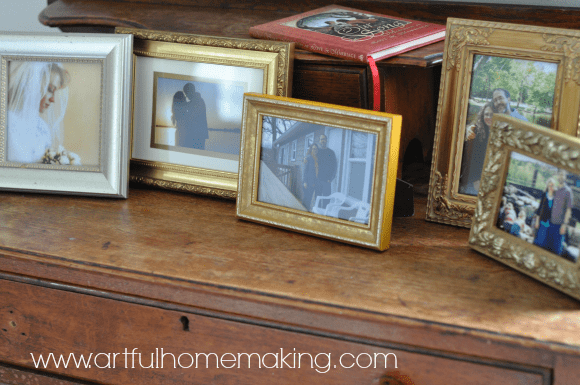 I had a handful of frames that I've been collecting through the years, and I finally put some photos in them. Awhile back I got a coupon for 40 free prints from York photo (if you sign up here you can get 60 free prints–after clicking the link you'll see a coupon code to get 60 free ones).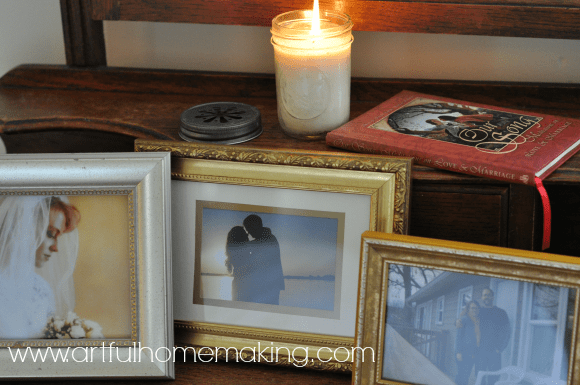 I love using candles in our bedroom. They create such a warm and cozy atmosphere. This is one of
my handmade candles
, but you can find very inexpensive ones at the dollar store.
A sweet friend from church gave me this book full of quotes about marriage and meditations on the Song of Solomon.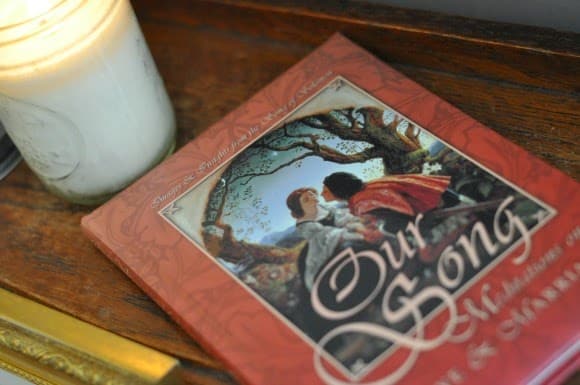 One of the main ways to make your bedroom a haven is simply by removing all the clutter and keeping it clean! It makes such a huge difference. And it doesn't cost a dime. Also, making the bed does wonders for a bedroom.
"There is something in the human soul that longs for beauty beyond necessity. Of course it is easier not to make the bed. But there is a substantive difference between turning down a neatly made bed in the evening and lying down in a mess of sheets left from the night before. To be beautiful, a home need not be luxurious in size or contents. The beauty of a well-kept home may arise simply from structure and ritual and attention to detail, things that can be present even in the most modest of homes." ~Margaret Kim Peterson, Keeping House: The Litany of Everyday Life
So, to make your bedroom a haven without spending a dime, follow these four simple steps:
remove clutter
keep it clean
make the bed
shop around your house for items to beautify your bedroom
Whenever I think about simplifying, it helps me to start in my own bedroom. Somehow if this room is clean and orderly, that sense of peace tends to flow over into the rest of my life. And I think having an orderly, peaceful home is one of the keys to living on a very tight budget.
Do you make your bed every day? I have to admit that sometimes I don't, but I love it on the days when I do! I'm trying to make this a habit that I do every single day.