Sourdough pancakes are the perfect healthy breakfast idea! They're easy to make and also a perfect beginner sourdough recipe. If you're new to sourdough, give these pancakes a try as one of your first recipes.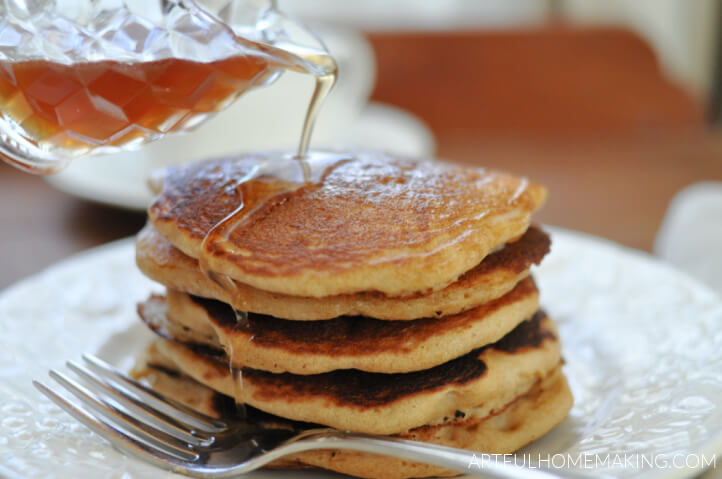 What makes this sourdough pancake recipe so great for beginners, is that your sourdough starter doesn't need to be in its active state.
You can simply pull your sourdough starter out of the fridge (if that's where you keep it), feed it, and it's ready to use in this recipe.
This is also a great recipe for sourdough starter discard.
Need a sourdough starter? Learn how to make your own homemade sourdough starter from scratch here.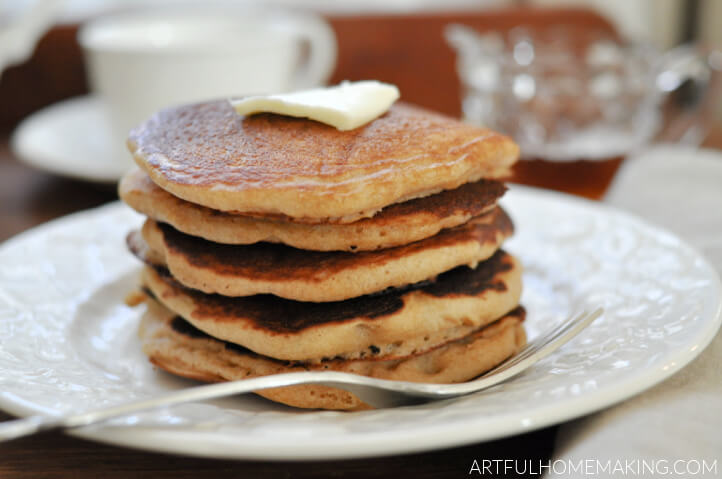 How Do You Make Sourdough Pancakes From Scratch?
Pancakes are one of my family's favorite things to have for breakfast. And this recipe is a gentle introduction to sourdough. Everyone loves how delicious and fluffy these are!
Here's how to make homemade sourdough pancakes.
Feed Your Sourdough Starter
To make sourdough pancakes, you'll want to make sure you have enough sourdough starter (2 cups) for the recipe.
Since I store my sourdough starter in the fridge, I like to take it out the night before and give it a good feeding.
Although this recipe doesn't require your starter to be in its active state, I usually feed it the night before anyway. If you don't have time to do this, just make sure your starter was fed within the previous 12 hours.
Affiliate links included below. Read my disclosure here. 
Gather the Following Supplies
You'll need the following basic supplies for this recipe:
large mixing bowl
small bowl
measuring cups and spoons
mixing spoons
spatula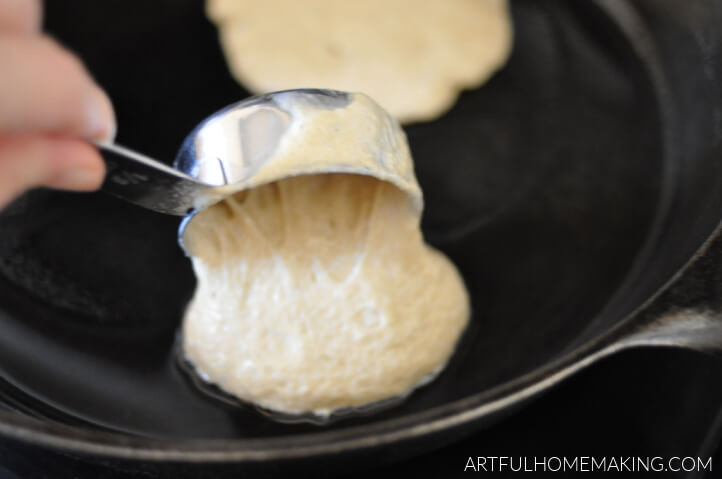 Mix Together the Ingredients
The following morning (or whenever you're ready to make the pancakes), mix together the following ingredients:
2 eggs
4 tablespoons butter (or coconut oil), melted
2 tablespoons honey (or maple syrup)
1/2 teaspoon salt
2 cups sourdough starter
1 1/2 teaspoons baking soda
Then add baking soda to the pancake batter, and stir gently The batter should foam up, and this will make the pancakes lighter and fluffier.
Cook the Pancakes
After preheating the skillet or griddle with 1 tablespoon of butter, ladle the pancake batter onto the skillet about 1/4 cup at a time.
Turn the stove down a bit so that the pancakes don't burn, but cook through in the middle.
When the bubbles have popped on the top of the pancake and the edges are firm, flip it over and cook the other side for a minute or two.
Repeat for the rest of the pancakes.
Sourdough Pancake Serving Ideas
There are so many ways to enjoy these delicious pancakes! Top them with butter and maple syrup, drizzle a fruit syrup over the top, or serve with fresh berries and homemade whipped cream. These don't last long at our house!
More Sourdough Recipes
Sourdough Pancakes Recipe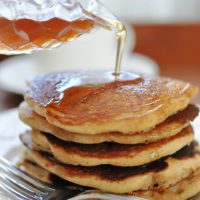 Print Recipe
Sourdough Pancakes Easy Recipe
This easy sourdough pancakes recipe makes the perfect healthy breakfast!
Ingredients
2

eggs

4

tbsp

butter or coconut oil

melted

2

tbsp

honey or maple syrup

1/2

tsp

salt

2

cups

sourdough starter

1 1/2

tsp

baking soda
Instructions
The night before you want to make pancakes, feed your sourdough starter, making sure you'll have enough starter (2 cups) for the recipe.

The next morning, whisk together the eggs, melted butter, honey, salt, and sourdough starter in a large bowl.

Lightly grease the surface of a skillet or griddle (I use two skillets to make the process go faster). Heat your skillet or a griddle on medium heat.

While the skillet is heating, pour the baking soda into the pancake batter, and stir together gently (making sure to incorporate the baking soda evenly throughout the batter).

Pour the pancake batter onto the preheated skillet (I use a 1/4 cup measuring cup for this, but only pour about 1/8 cup onto the skillet for each pancake), and allow to cook. Turn the stove down a bit so the pancakes don't burn, but cook through. When the bubbles have popped on top of the pancakes and the edges are firm, flip them over to the other side and cook for a few minutes until done. Repeat for all remaining pancakes.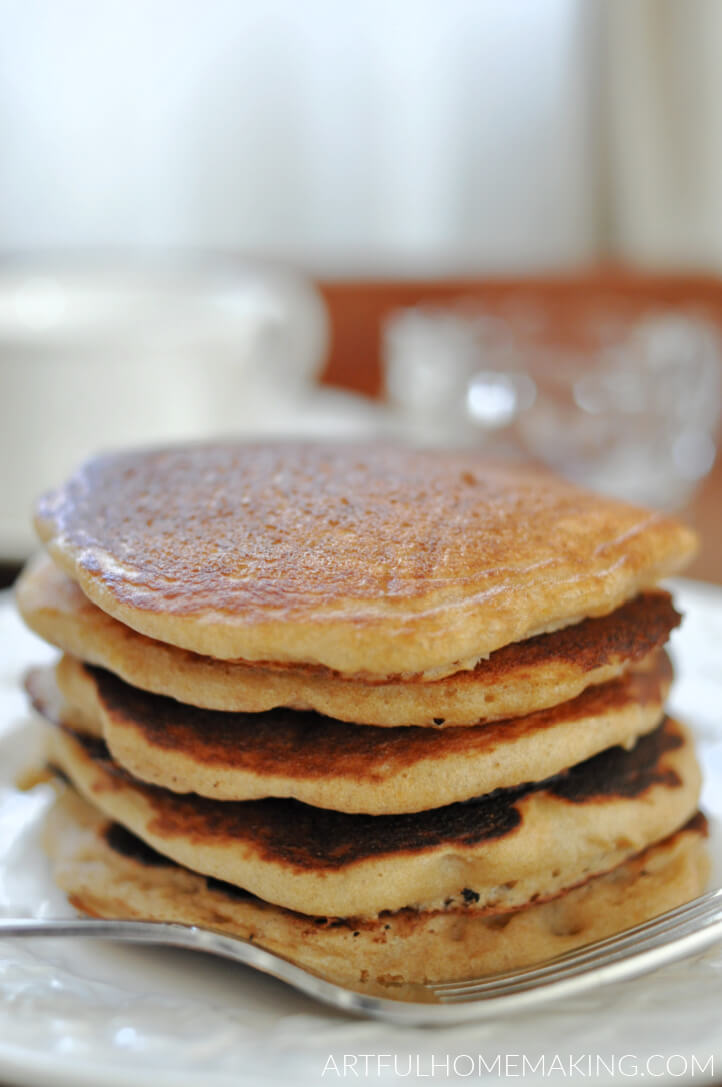 This post contains affiliate links. Read my full disclosure here. Sharing here.