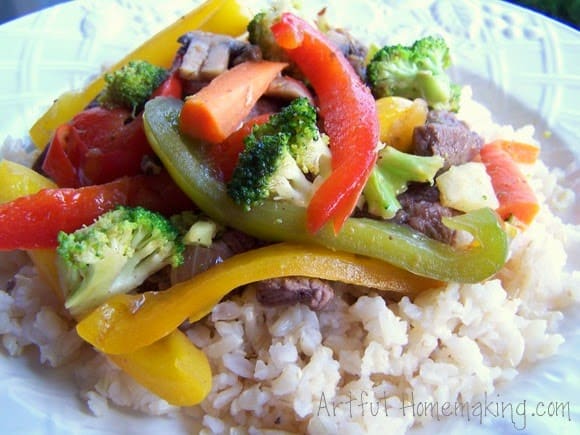 Here's a delicious but simple meal idea. Enjoy!
Ingredients:
6 tbsp coconut oil
1 lb beef, sliced into thin strips
1 tsp ginger root, thinly sliced
1/2 cup onion, sliced small
1/2 cup beef broth
2 tbsp soy sauce (I use Bragg Liquid Aminos)
2 tbsp sherry, dry wine, or gourmet vinegar
Pinch of raw sugar, Rapadura, or stevia leaf
green, red, or yellow bell peppers, cut into long, thin strips
1 cup mushrooms, sliced
1 medium carrot, sliced into thin spears
broccoli (add as little or as much as you like)
sea salt, to taste
Directions:
Cut beef into thin strips (I use my kitchen shears). Cut all vegetables and set aside.
Heat 4 tbsp coconut oil in a wok or pan. Fry beef until browned. Remove and drain.
Leaving the juices in the pan, add 2 tbsp coconut oil. Stir-fry ginger and onion in coconut oil for 1 minute.
Add beef broth and stir. Simmer for 2 minutes.
Season with soy sauce, sherry, and stevia leaf (or other sweetener).
Add peppers, mushrooms, carrots, and broccoli, stirring constantly until crisp. Add salt to taste.
Serve while still hot. I like to serve this over a mound of cooked brown rice.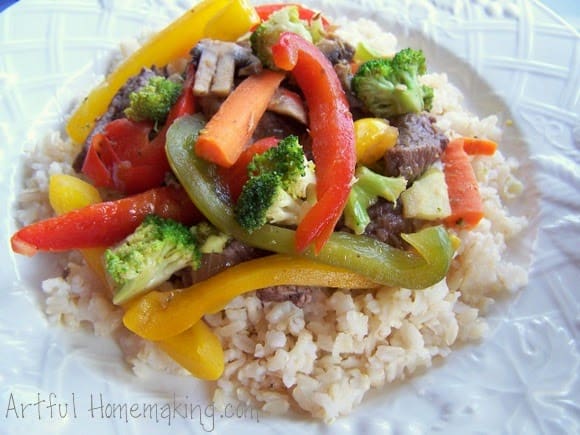 This recipe was inspired by one we found at Tropical Traditions. I changed some of the ingredients and instructions, and the photos are mine. If you place an order through my coconut oil link and you have never ordered from Tropical Traditions before, you will receive a free book on Virgin Coconut Oil, and I will receive a discount coupon for referring you. Thank you!