Happy Monday! Since my husband is self-employed, today isn't a holiday for our family, but we are planning to have a special meal this evening.  This is going to be a super busy week for us with the start of piano and gymnastics, but I'm still hoping to accomplish some goals here at home, too. Sometimes it helps with accountability if I share my weekly goals, and just for fun I thought I'd throw in my menu plan as well. 🙂
Goals for This Week
Finish sewing a dress for my daughter
Organize my desk
Make bread
Have a tea party with my kids
Make salt dough maps
Finish reading one book (during my personal reading time)
I'm keeping my goals very simple since I already know we're going to be busy!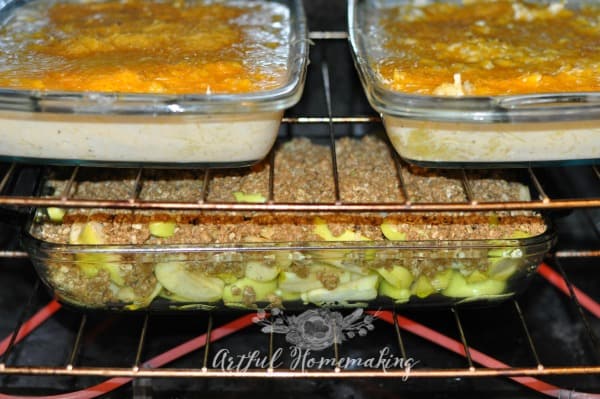 Menu Plan
I'm still working on cooking from what's in the pantry and freezer (as I mentioned here), but we reached a point where we did have to get some groceries to round out what we already had. I made a full menu for this week, complete with snacks! Since I'm trying to get back to Trim Healthy Mama, all of the things I have planned for myself and my husband are on-plan. The kids are eating many of the same things with modifications (like having granola with their oatmeal, baked potatoes for lunch, regular bread, etc.).
Some of the recipes below are from the Trim Healthy Mama Cookbook, some are from Build a Menu, and I've linked to the ones that are available online.
And I'm using my favorite menu planning sheet, which you can download for free here!
Breakfast:
Yogurt with Granola
Pumpkin French Toast Bake
Scrambled Eggs and Toast
Make Ahead Yogurt Parfaits
Zucchini Chocolate Chip Muffins
Lunch:
Waldorf Cottage Cheese Salad
Sandwiches
Salad in a Jar
Baked Potatoes (kids) Waldorf Cottage Cheese (me)
Sandwiches
Roast Beef Rollups
Tuna Apple Salad
Dinner:
Grilled Turkey Burgers with Coleslaw
Beef Stew
Cornbread Crusted Mexican Pie
Lazy Lasagna
Crockpot Turkey Chili
Cheapskate Soup
Snacks:
Cheese Sticks
Cinnamon Apple Snacks
Popcorn
Cheese and Fresh Veggies
Yogurt Bark
Spiced Popcorn
What do you have planned for this week? What's on your menu? I'd love to hear!
Note: This post contains affiliate links. Read my disclosure policy here. Thanks so much for your support! Sharing here.