We've been homeschooling for almost fifteen years now. Homeschooling has become such an integral part of my life that it's not even something I ponder. It's just the way it is. It's a way of life for us. Recently, we met a very nice older couple who asked us lots of questions about homeschooling, and that inspired me to revisit the topic of why we homeschool.
How It All Began
When I was seventeen or eighteen (almost twenty-five years ago!), I met an amazing family in a Christian bookstore. They introduced me to the idea of homeschooling, which was something I had never heard of before. There were three children in the family, and the oldest one was a teenager about my age. The children were polite and kind, and their whole family seemed to exude peace and happiness.
The thing that amazed me about their children was that they could actually carry on an intelligent conversation. And they seemed to get along well with each other. They were very interesting people, full of life and fun. They didn't look or act "weird." They seemed to be well-adjusted, intelligent, and well-spoken.
My Background
I attended public school from the time I was in kindergarten until I was about fifteen. I had been getting into some trouble in school (after being a straight A student in my younger years) because I fell in with the wrong crowd. My parents and I thought it might help if I switched from public school to a private school.
First I tried a private Baptist school for awhile. But I couldn't seem to fit in there, and we couldn't afford it.
Next, I received a scholarship to attend a Catholic college prep school. I wasn't Catholic, but they accepted me anyway. I liked this school quite a bit, since they had a classical education focus. But then we moved, and it was back to public school for my sophomore year.
The public school I attended was an inner-city school, and the academic program was a joke. Drug deals were conducted right in the classroom, and my algebra teacher had a nervous breakdown that year because of the stress of teaching there.
I was threatened by a girl I didn't even know, just because she felt like fighting with someone.
I wanted to get away from the partying and drug atmosphere, and I was now fearful for my life because of the mean girl who wanted to fight me (she would corner me in the hallway and try to get me to fight until a teacher would come along and rescue me).
Homeschooling Myself
I had never heard of homeschooling before, but the year that I was sixteen, I decided to leave public high school and teach myself at home. I finished my education and was able to pass the GED test without difficulty.
College While My Friends Were Still in High School
I started taking some college courses at a local community college. I thought it was amazing that I was able to leave high school early, finish my high school education on my own, get a full time job, and take college courses while some of my friends were still working on high school.
Enter Homeschooling
So around this time I met the aforementioned homeschool family in a bookstore. When they started telling me about homeschooling, I was tremendously excited. I didn't know such a thing even existed! Right then and there I decided that any future children I had would be homeschooled. Why would I want to put them through what I had gone through in public school?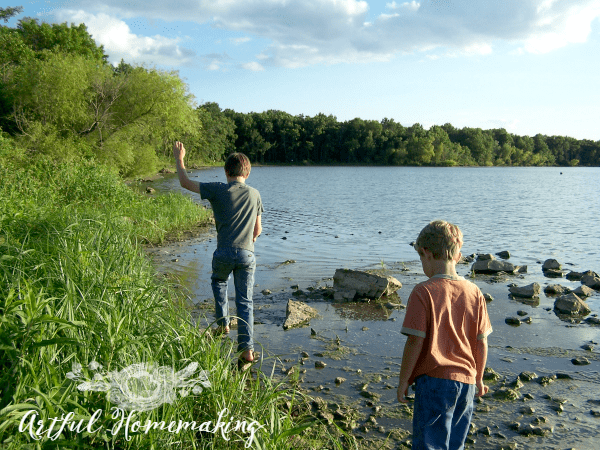 *I do want to interject here that not all public schools are equal. I had an amazing kindergarten experience. We only went half a day, and it was largely centered around play. I couldn't wait to go to school each day! My teacher was wonderful, and I wrote her years later, when I was in my teen years, just to thank her, and we corresponded for a time.
*I also want to mention that I'm not saying everyone should homeschool. Of course I think it's the best option for my family, but I'm not here to pass judgment on anyone or to claim that everyone should do as we have done. 🙂
One of My Prerequisites for a Husband
I knew I wanted to homeschool my future children if I was blessed to become a wife and mother. But the problem was, how would I ever find a man who also wanted to homeschool? I began praying about it.
On the first date I ever had with my husband (before I knew he was going to be my husband), I found out that he wanted to homeschool his future children. And not only that, but he just happened to attend a church that contained lots of homeschooling families! He was one step ahead of me. 🙂
A Deliberate Decision
Even though we had already decided that we wanted to homeschool, we still spent a lot of time researching and studying the idea before we dove in. This was back in the days before there was anything on the internet (and we hardly ever used it), so I turned to friends from church and books for information. I read every homeschooling how-to book I could get my hands on!
Why We Homeschool
So this brings me to our reasons for homeschooling. There are so many reasons! But I'll just stick with the main ones.
We believe God called us to homeschool. The way the Lord brought together two people who had already decided they wanted to homeschool before they met seems pretty miraculous considering this was in the early 90's and homeschooling wasn't as popular back then.
We love spending time with our children. This is a huge motivator for me. I really love each of my children, and I wanted to be there for all the important moments. I was the one who taught them all to read. What a privilege! I was there when they took their first steps, said their first words, learned to ride a bike, and made each new discovery.  I LOVE THIS! One of my favorite things about homeschooling is just getting to spend so much time together.
We get to choose the curriculum. I love curriculum. I love books. And I love choosing the books and methods that work best for each of my children.
When one of my children struggled to learn to read following the method I'd used with my older three children, I was free to search for another method for teaching reading. Which led us to All About Reading, which was just what that particular child needed! I love being able to tailor the curriculum to each individual child.
I also love the freedom to pray and talk about God, and to nurture my children's Christian faith.
Wonderful memories and beautiful family relationships are built as we live and learn together. Of course it's not all sunshine and rainbows, but I believe being together all the time creates lasting bonds between parents and children and between siblings.
We have the freedom to set our own schedule. If something comes up, we can be flexible with our schedule. It's wonderful to be able to set our own hours and take off when we need to. And if we're really into a certain book we're reading, we can keep going if we want to!
A Decision I've Never Regretted
Choosing to homeschool our children is a decision that I've never once regretted or wondered about. I've never wondered if we made the right decision. I've never had doubts. It was just something I knew I wanted to do, even on the hard days. And there have been hard days, believe me. But this is one decision I've never wavered on. Not even one little bit.
Next year my oldest child will graduate. And I feel a bit sad that she won't be part of our homeschool anymore. But I'm also excited for her and what lies ahead. And I'm so thankful for the privilege of learning together and all the memories we've made through the years. ♥
Do you homeschool? If so, why did you choose that path?