4th of July flag cake made with your choice of cake mix or a from scratch cake recipe.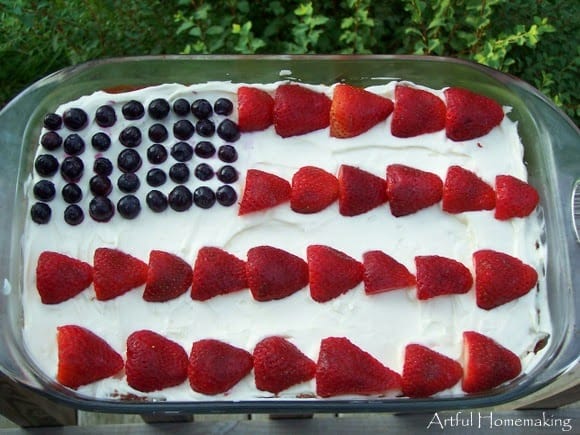 4th of July Flag Cake
For several years I've been making a special 4th of July flag cake to celebrate Independence Day. I love how festive it is!
You can really use any cake recipe you want.  You can make a cake from scratch, or you can use a boxed mix.
I wanted to make it a bit healthier, so I went with a cake recipe that has become a family favorite in the last 10 years.  I'll share the recipe here in case someone would like to try it. 
Whole Wheat Pineapple Cake
1-15 oz can crushed pineapple, undrained
2 eggs
1 cup honey
2 cups whole wheat pastry flour
2 tsp baking soda
1/2 tsp salt
Mix all ingredients well.  Pour into greased 9×13 pan.  Bake at 350 degrees for 30-35 minutes.  Frost with cream cheese frosting.
Note:  I have used a small can of pineapple and added other fruit, and  also chopped apple added to the pineapple juice works.
Cream Cheese Frosting
1-8 oz package cream cheese, softened
4 tbsp butter, softened
1/2 cup honey
1 tsp vanilla
Mix in mixer until well blended and spread on cooled cake.
To Make the Flag Cake
Arrange blueberries and strawberries to resemble the flag.
Cake must be stored in the refrigerator because of the cream cheese frosting, and on a summer night it tastes very refreshing cold.  Enjoy!