Use this love Bible verse heart printable to decorate for Valentine's Day or anytime! This free printable includes a Bible verse from 1 John on the first page, and the second page features a heart pattern template in three sizes.
I printed my love Bible verse on brown Kraft paper, which gives it a rustic look. You could also use plain white paper or any color you choose.
The Kraft paper looks great with twine and rustic aged brass clips.
I also added some heart shapes that were cut from an old quilt. This may be hard to find (I started looking early this year!), but paper hearts would also be cute!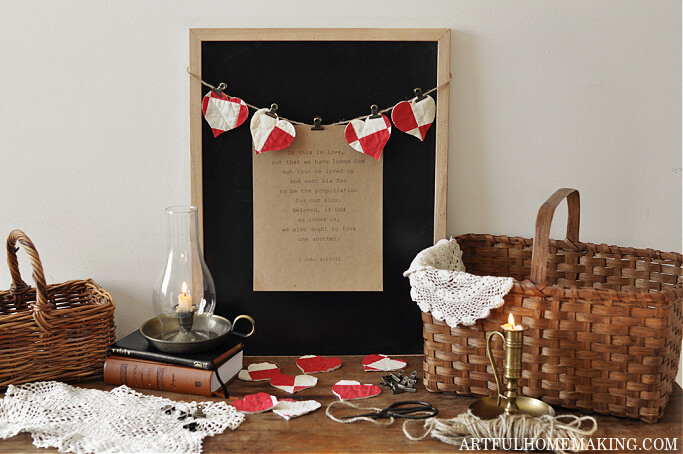 Love Bible Verse Heart Printable
I made this love Bible verse heart printable specifically as a Valentine's Day decoration. It's so simple and yet I think it turned out so cute!
Valentine's Day is a great time to focus on loving others.
I especially love focusing on the love of God during this season, but it's also great to be reminded that we are also commanded to love others because He loved us.
In this is love, not that we have loved God but that he loved us and sent his Son to be the propitiation for our sins. Beloved, if God so loved us, we also ought to love one another. —1 John 4:10-11
There are so many other Bible verses that are great to memorize and remember as we focus on love, but this one is one of my favorites, since it emphasizes that God's love for us comes first, and because of this, we also should love one another.
Related: 10 Valentine's Day Bible Verses and Free Printables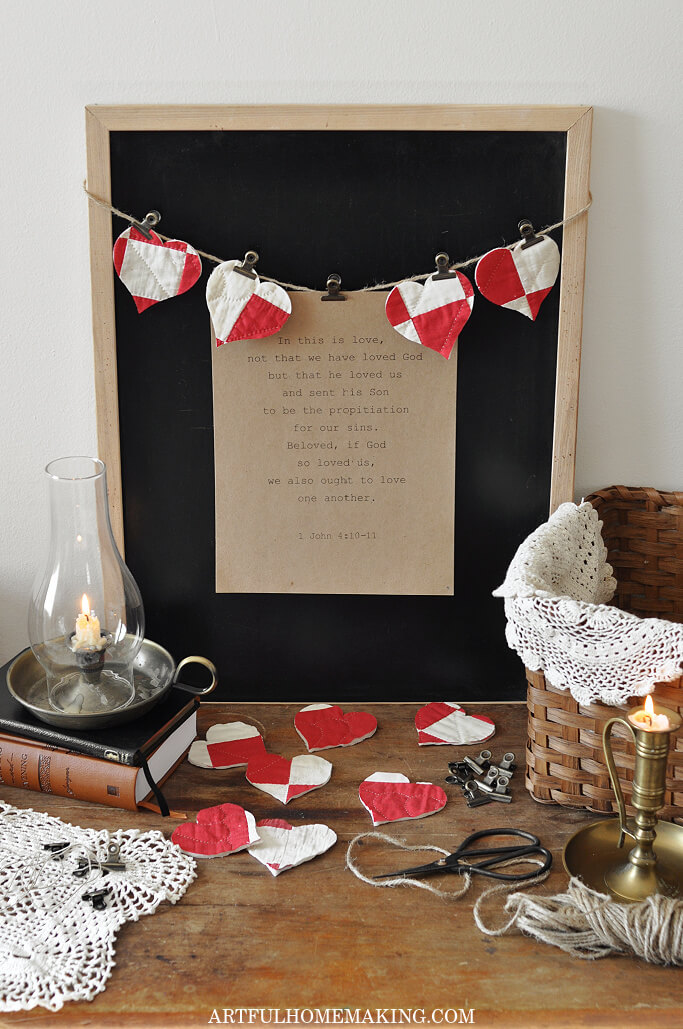 Supplies Needed for This Craft
This post contains affiliate links, which means I may make a small commission at no extra cost to you. Read my disclosure here.
To make your own love Bible verse display with hearts, here are a few things you will need:
Related Post: Valentine's Day Coloring Pages with Bible Verses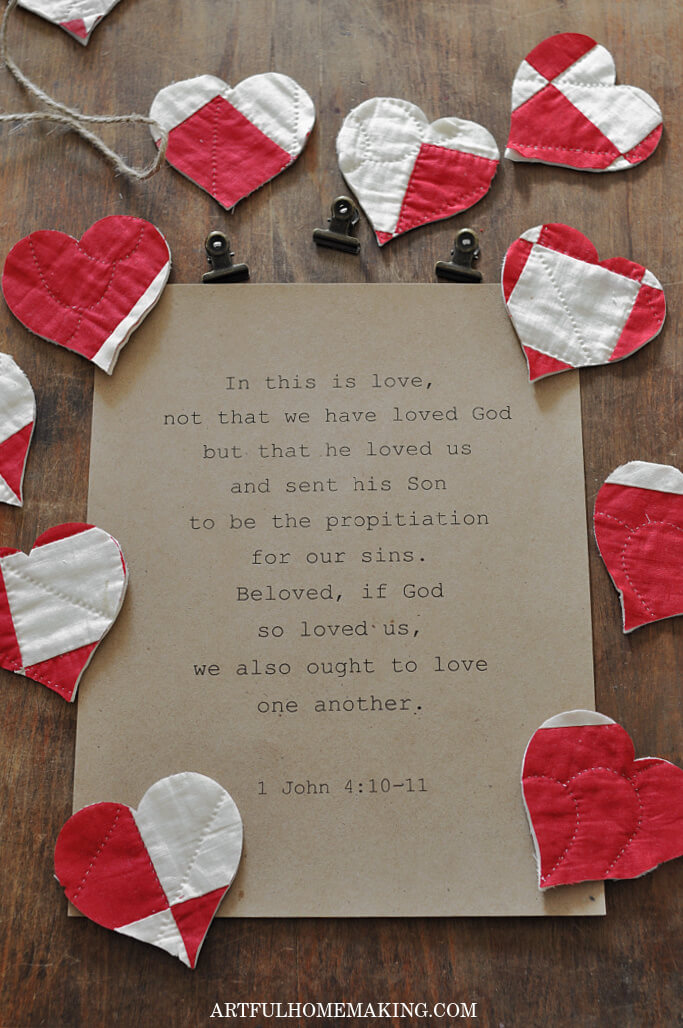 Love Bible Verse Heart Tips
Here are a few tips to consider as you make this:
Use white paper instead of the brown Kraft paper I've suggested. Or choose any color!
Print on white paper and have your kids decorate the Bible verse page.
Print the hearts on white paper and have your kids decorate the hearts any way they like.
Use small wood clothespins instead of the metal clips I used.
Use ribbon instead of the twine to hang.
How to Make Your Own Love Bible Verse Display
First, gather all the supplies you'll need, listed above.
Next, print off the free printable Bible verse printable. Decorate if desired.
Hang a ribbon or a piece of twine wherever you'd like to display your printables.
Cut heart shapes out of paper, fabric, felt, an old quilt, or whatever you like.
Use metal clips or small wood clothespins to hang verse printable and hearts.
Find More Valentine's Day Ideas
Get Your Free Printable Here
Once again, here's a link to the love Bible verse heart printable.
I hope you enjoy this simple Valentine's Day craft project!