This taco seasoning recipe makes a large batch so you can mix it up in bulk and always have some on hand!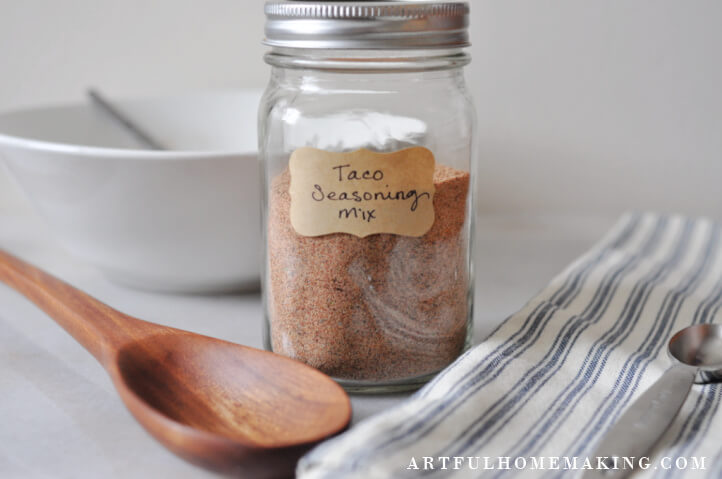 One of our family's favorite meals is taco salad (and we also love tacos!), so we always need taco seasoning.
With this easy recipe, you can avoid the chemicals, preservatives, and extra additives that may be lurking in commercial taco seasoning packets.
You can also use this mix to season chicken, burritos, soups, or anything else that needs a little extra flavor!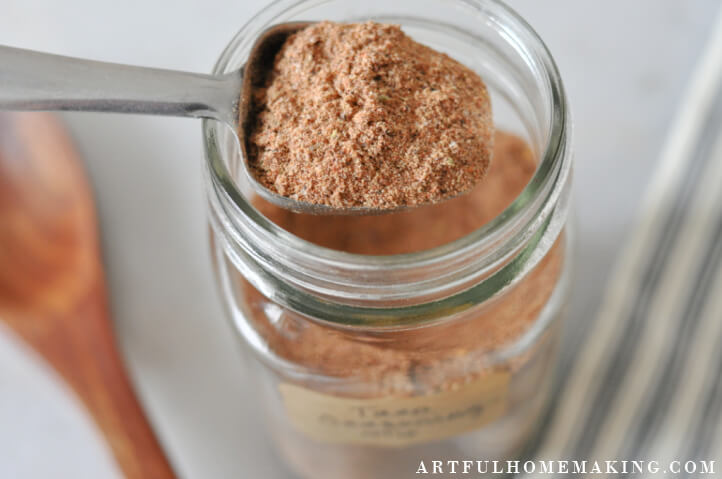 How Do You Make Taco Seasoning from Scratch?
Making this homemade taco seasoning is really a simple process. All you need are a few basic supplies and some spices.
We'll go over exactly how to make it below, but it's really just a matter of mixing some spices together in a jar!
This is another pantry staple that you can learn to make from scratch, with very little effort.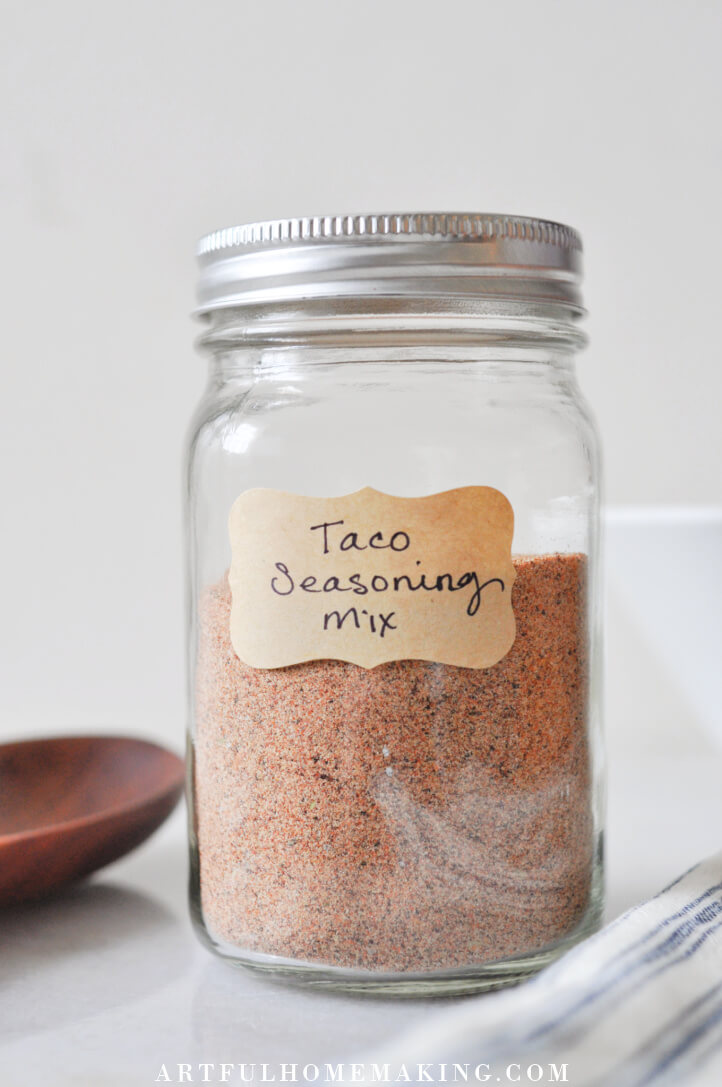 Affiliate links included below. Read my disclosure here.
Supplies Needed for This Recipe:
Small mixing bowl
Measuring cups and spoons
Mixing spoon
Jar for storage (I used a pint jar)
Label (optional—I use these)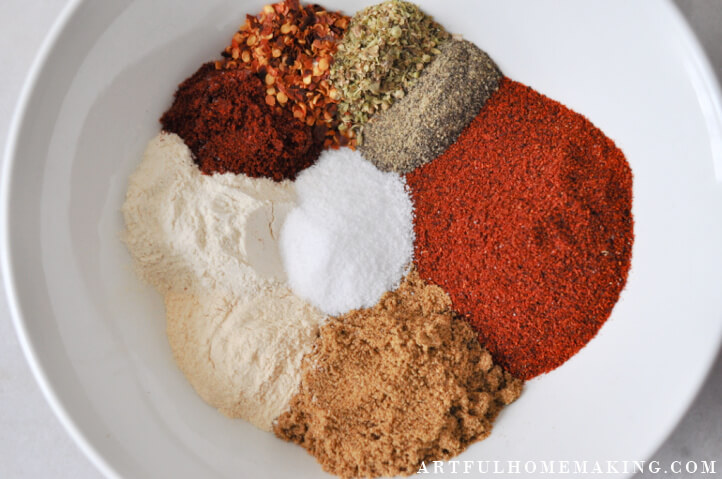 Ingredients:
To make this recipe, you'll need these spices:
Chili powder
Cumin
Onion powder
Garlic powder
Paprika
Salt
Black pepper
Red pepper flakes
Oregano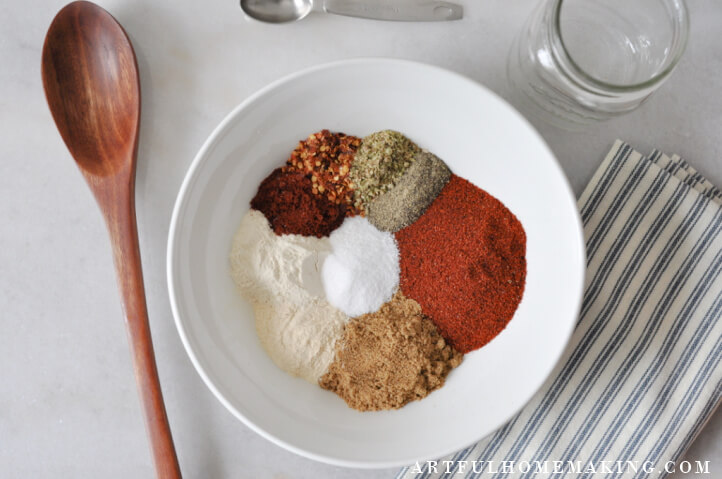 To Make It:
Add all the spices to a bowl or directly to the jar you're going to store it in. Stir the spices or put a lid on the jar and shake to mix together.
Add a label and store.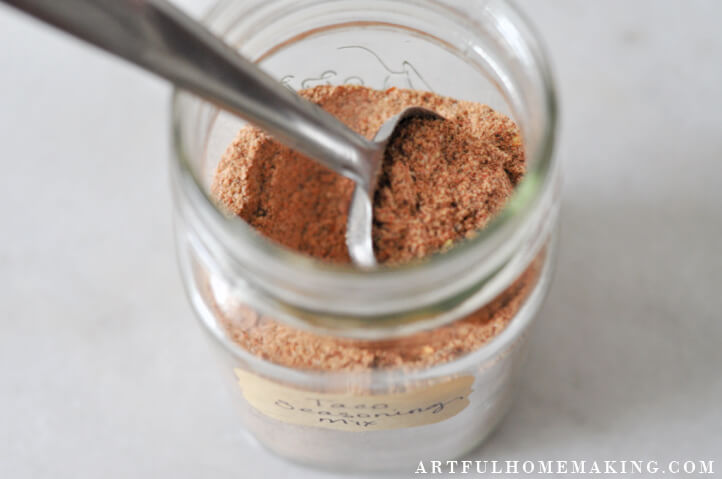 How to Use
Around two tablespoons of this mix are equivalent to one seasoning packet.
To use to season taco meat, add 2 tablespoons of the seasoning mix to 1 pound of cooked ground beef. Add about 1/2 cup water, and simmer.
Cook and stir, simmering until the excess water evaporates.
Feel free to use less than two tablespoons if you prefer a milder flavor.
Taco Seasoning Recipe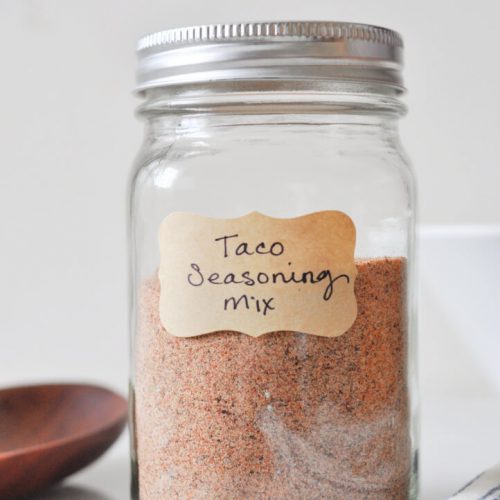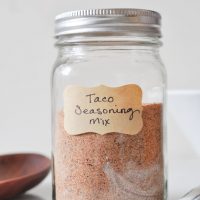 Print Recipe
Taco Seasoning Recipe
This homemade taco seasoning recipe is quick to put together. It makes a large batch so you'll always have some on hand!
Ingredients
1/2

cup

chili powder

3

tbsp

cumin

2

tbsp

onion powder

2

tbsp

garlic powder

1

tbsp

paprika

1

tbsp

salt

1

tbsp

black pepper

1

tbsp

red pepper flakes

1/2

tbsp

oregano
Instructions
Add all the spices to a small mixing bowl or a jar. Stir the spices in the bowl (or cover jar with a lid and shake).

Store in a jar or airtight container with a label.
Notes
About two tablespoons are equivalent to one taco seasoning packet.
To Use for Seasoning Taco Meat: Add 2-2 1/2 tablespoons taco seasoning to 1 pound of cooked ground beef, plus 1/2 cup water and simmer.
Related Posts
Pantry Staples to Always Keep on Hand