Healthy gingerbread cookies made with whole grains and honey are a favorite Christmas cookie at our house! We've been making these cookies for so many years. They're perfect for the holiday season.
One of our favorite Christmas traditions is making these classic healthy gingerbread cookies. They're sweetened with honey and molasses, and I usually use spelt flour to make them even healthier.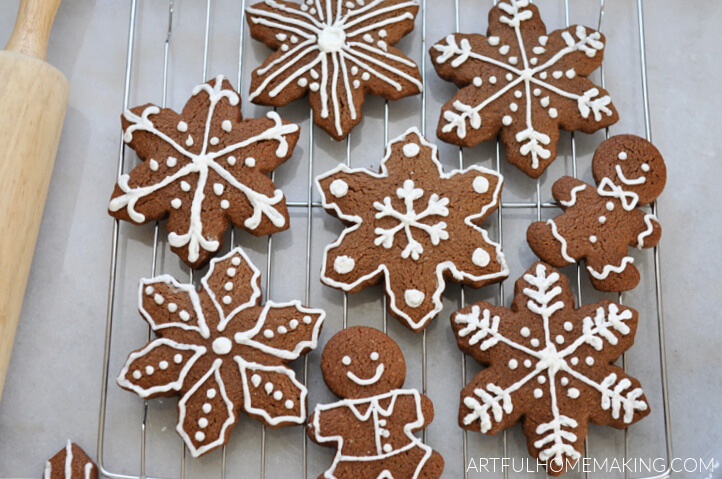 Healthy Gingerbread Cookies
If you're looking for healthier cookies to make this Christmas, give these a try! They're easy, and kids love helping to make them.
And, you don't have to reserve these only for Christmas. My kids love them all year long. When the kids were all little, we'd use the gingerbread man cookie cutter, and use raisins to make eyes, a mouth, and buttons going down the front of them.
They're so cute, and a healthy snack for kids, since they're sweetened with natural sweeteners.
For Christmas, I like to use a variety of cookie cutters, including a gingerbread man, a gingerbread lady, a little gingerbread person, and snowflakes. You can use any cookie cutters you'd like!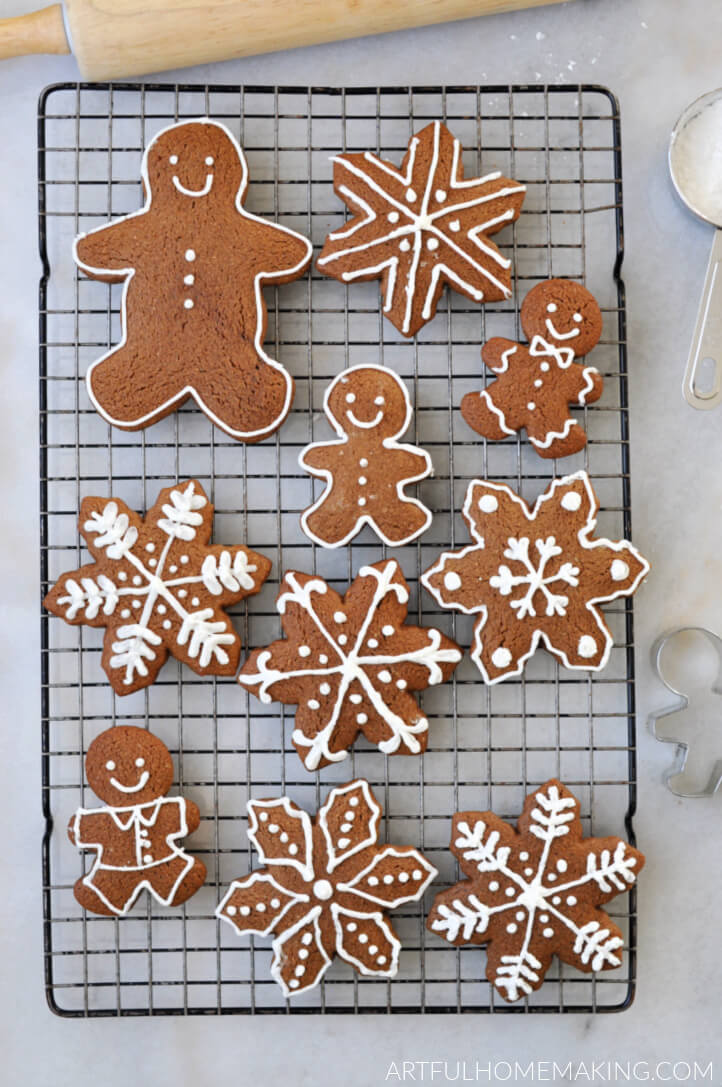 This post was originally published December 18, 2011, but I've updated the post with new photos and instructions.
Here's a photo from the past, of gingerbread cookies my kids and I made, decorated with just raisins.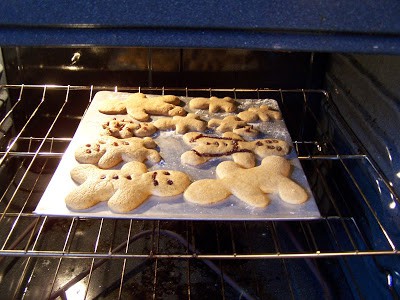 This post contains affiliate links, which means I may make a small commission at no extra cost to you. See my full disclosure here.
How to Make Healthy Gingerbread Cookies
In order to make these cookies a bit healthier, I use either whole wheat pastry flour or organic spelt flour. Whole wheat pastry flour gives you the health benefits of whole grain flour, but it creates lighter baked goods.
Spelt flour is a more ancient grain that still yields lighter baked goods. I usually use spelt, but feel free to use whatever you have on hand.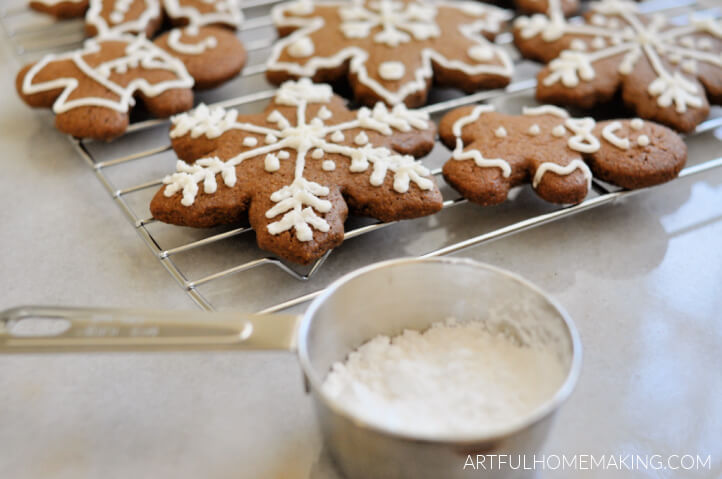 I use freshly ground flour that I grind myself, but you can also just buy pre-ground flour.
For the sweetener, this recipe uses honey and molasses.
My kids agree that these are delicious even without white sugar!
This recipe makes a very gingerbread cookie, with the perfect blend of ginger and spices.
How to Decorate the Cookies
When we make these for a snack, we just use raisins for decoration. This keeps the sugar content minimal.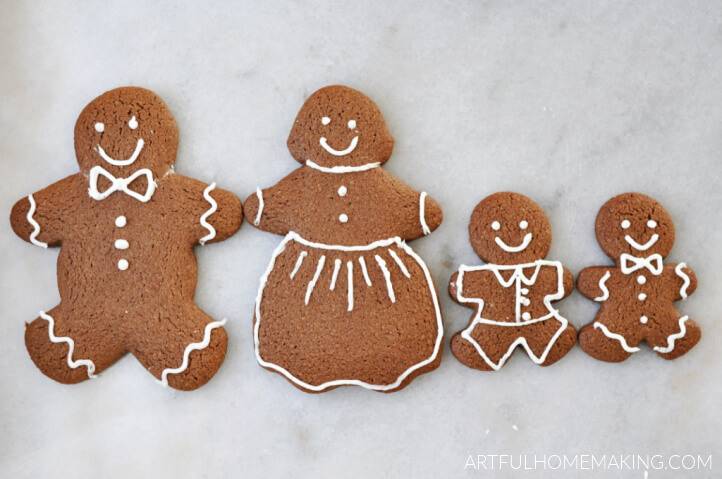 But when we make them for Christmas, we use either royal icing or a stiff buttercream to decorate. This gives them a classic gingerbread cookie look.
Decorating with royal icing or buttercream makes the cookies not as healthy, but so much prettier! That's why we save these options for Christmas or special occasions.
The royal icing dries harder and stays on the cookie a bit better than the buttercream, but either one works.
The gingerbread cookies in these photos were decorated with buttercream icing, since we didn't have all the ingredients to make royal icing. If you want to use royal icing, you can find the recipe in this post.
Buttercream Frosting
Here's the buttercream recipe we use:
Mix 1/3 cup softened butter and 3 cups powdered sugar together in a bowl with an electric mixer (add the sugar to the butter gradually). Stir in 1 1/2 teaspoons of vanilla and 1 tablespoon of milk.
Beat in another tablespoon of milk gradually. Add just enough of the milk to make the frosting smooth. If you accidentally get it too thick, add in more powdered sugar. Add the frosting to a plastic decorating bag with a tip, so you can pipe on the frosting.
Supplies Needed for This Recipe
Here are the basic tools you may need for making these gingerbread cookies.
Medium mixing bowl
Large mixing bowl (or Kitchen-Aid bowl)
Measuring spoons
Measuring cups
Kitchen Aid or electric mixer
wire cooling racks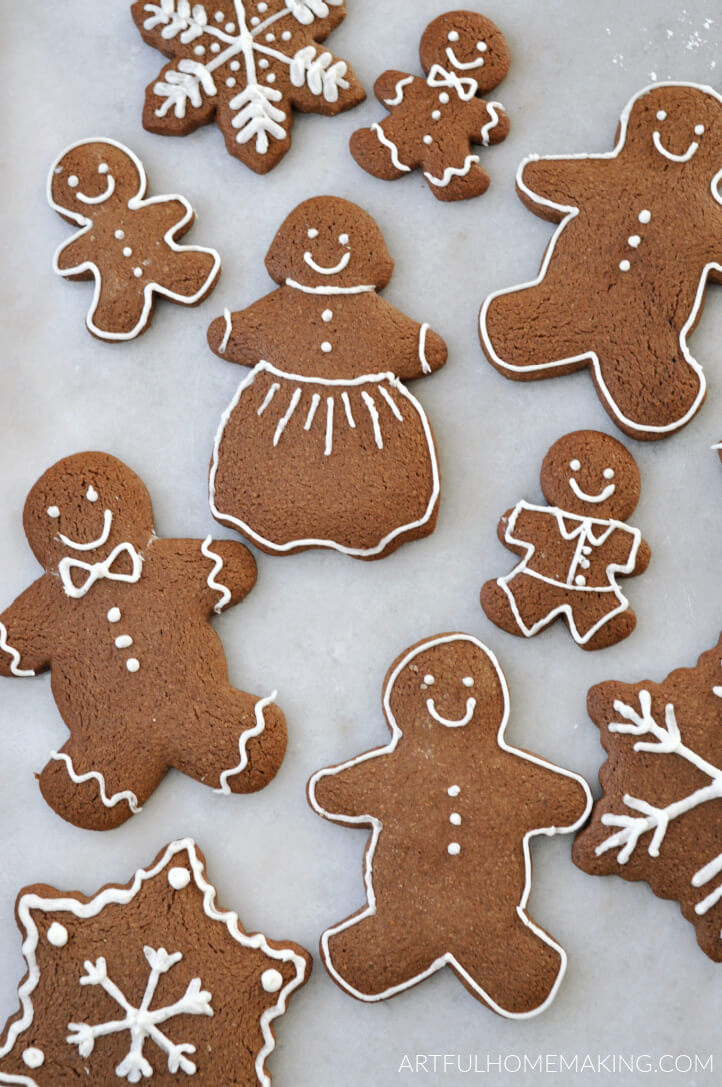 Gingerbread Cookie Ingredients
5 cups of  spelt flour (or whole wheat pastry flour)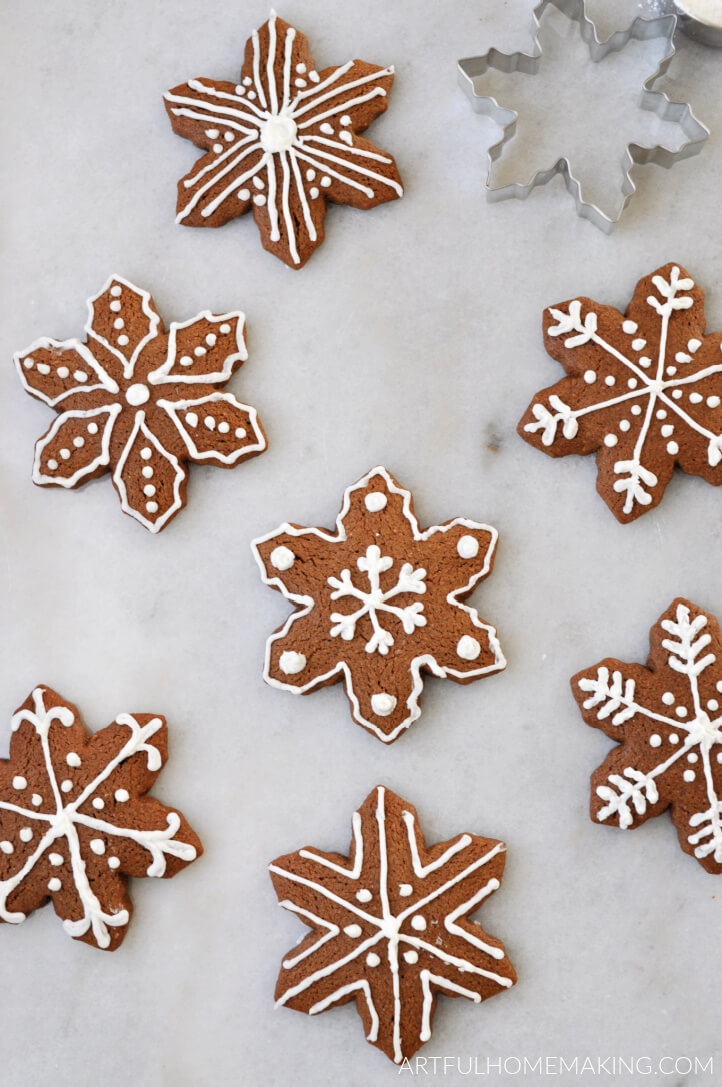 Print Recipe
Healthy Gingerbread Cookies with Honey
A healthy gingerbread cookie sweetened with honey and made with whole grain spelt or pastry flour. These classic gingerbread cookies are perfect for Christmas or a healthy snack!
Ingredients
5

cups

of spelt flour

or whole wheat pastry flour

2

tsp

ground ginger

2

tsp

ground cinnamon

2

tsp

ground cloves

1 1/2

tsp

baking soda

1

tsp

sea salt

1

cup

butter

(2 sticks, softened)

2/3

cup

honey

2/3

cup

molasses

1

egg
Instructions
In a medium mixing bowl, mix together the flour, ginger, cinnamon, cloves, baking soda, and salt. Set aside.

In a large mixing bowl, cream the butter with an electric mixer. Add the honey and molasses, and cream all together. Then add the egg, and mix well.

Add the dry ingredients to the butter and honey mixture in several batches, mixing well after each addition. If the dough becomes too stiff for the mixer, use a spoon to stir in the dry ingredients until smooth. The dough will be soft.

Divide the dough in half, and form each half into a round disc. Wrap each disc in plastic wrap. Put dough discs in refrigerator to chill for 1 hour.

After an hour (or dough has firmed up), remove one dough disc from the fridge and preheat oven to 375 degrees.

On a lightly floured surface, roll out the dough with a rolling pin to about 1/4" thickness. Cut out gingerbread cookies using cookie cutters.

Place gingerbread cookies on a cookie sheet and bake for 10-14 minutes, or until slightly brown around the edges. After removing baked cookies from oven, allow to cool on cookie sheet for a few minutes. Then remove from cookie sheet and transfer to wire racks to cool. Decorate completely cooled cookies with icing if desired.
Notes
This recipe makes about 32 cookies, depending on the size of cookie cutters used. 
If you want to keep these cookies healthier, you can add raisins for decoration before putting the cookies into the oven to bake.
Or, you can decorate with royal icing or buttercream.
Related Posts
Click on the photos to be taken to the post: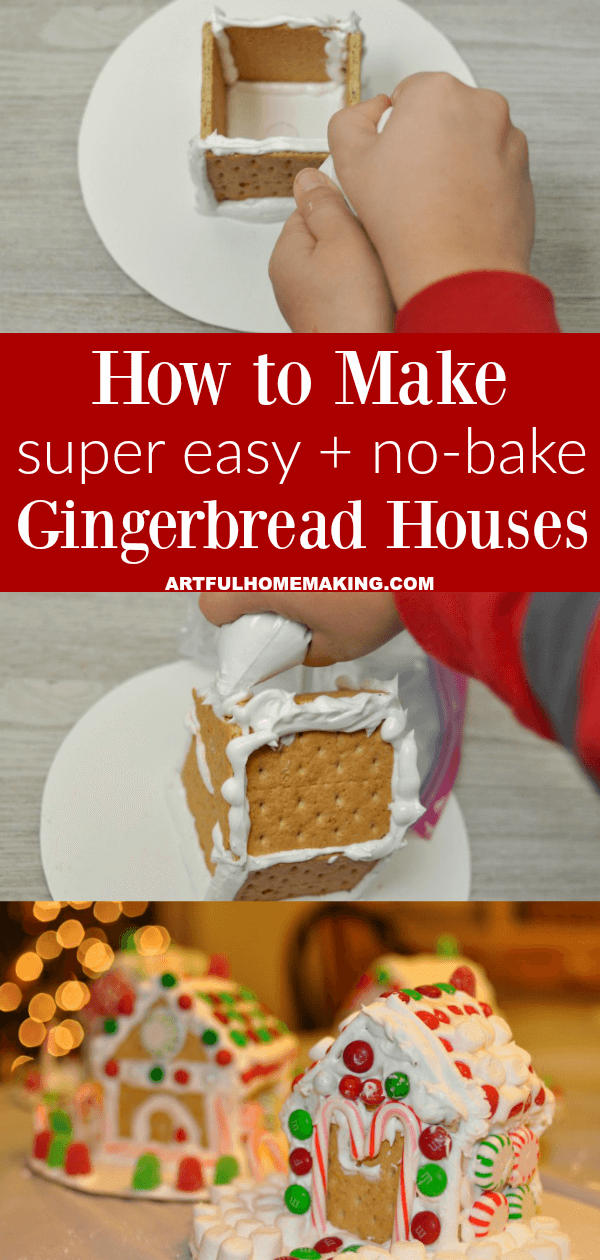 Super Easy No-Bake Gingerbread Houses