Pumpkin ice cream made with just a few simple ingredients.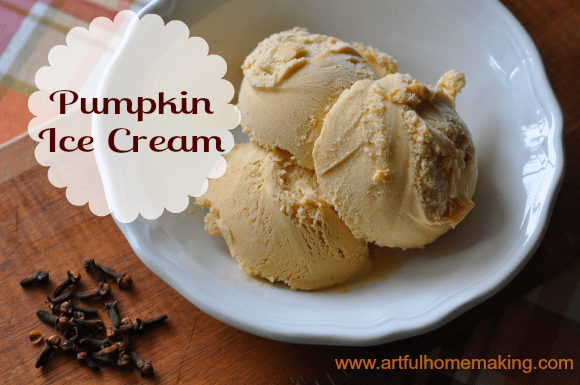 I've found that one way to show love to my family is through food.  And especially special treats!  When I suggested making this pumpkin ice cream, everyone got excited.  And it was super easy!
Pumpkin Ice Cream
Ingredients:
1.75 quarts vanilla ice cream, softened
3/4 cup canned pumpkin
1/3 cup brown sugar, packed
1/2 t. ground ginger
1/4 t. cinnamon
1/4 t. nutmeg
1 T. orange juice
Directions:
Place softened ice cream in a large bowl and set aside.
Mix remaining ingredients (in a different bowl) with an electric mixer on low speed.  Blend into ice cream with a spoon.  Stir until all ingredients are mixed together.
Spread ice cream/pumpkin mixture in a 9″ x 13″ pan.  Cover, and freeze.  It takes a long time to get it fully frozen, so I'd make it the day before if you're planning it for a special occasion.
Let soften slightly before scooping for serving.  Makes 8-10 servings.
This is one of the best ice cream flavors I've ever tasted!  And it's such an easy recipe to make with your children.  Enjoy!
Related Posts: