Easy Peppermint Bark with white chocolate and peppermint is so simple to make! With only three ingredients and easy instructions. This is a classic Christmas candy to make for friends and family this year.
We have a list of Christmas treats that we like to make every year, including cut-out cookies, gingerbread houses, and chocolate star cookies.
Easy Peppermint Bark
Peppermint bark is another Christmas candy that's become a favorite.
One of the things that's so wonderful about it is that it's so simple to make!
You can even use a microwave to melt the chocolate, but I prefer to use a double boiler for this. If you do use a microwave, it's even faster.
Every Christmas season we like to make treat boxes for our neighbors. It's a simple way to reach out and get to know our neighbors. It's also great because we get to make lots of treats without having to eat them all ourselves!
This easy peppermint bark is a great recipe to share with others. One thing to keep in mind, though, is that it's best to pack peppermint items separately. Otherwise, all of the cookies and treats end up tasting like peppermint!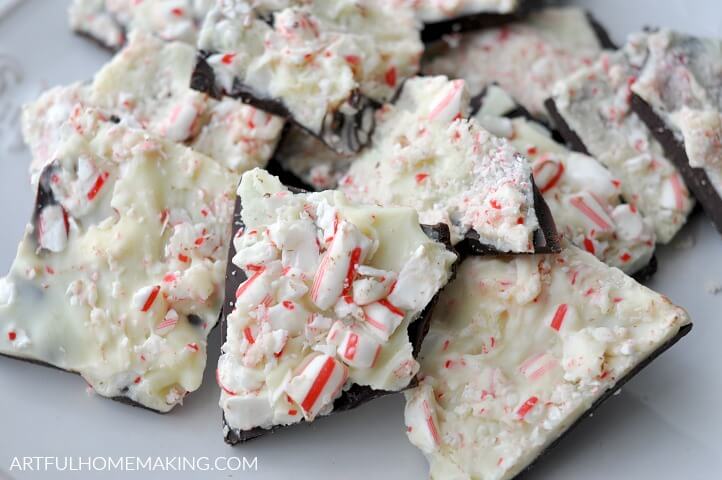 Supplies Needed to Make Peppermint Bark
Affiliate links included below for your convenience. Read my disclosure here.
12 ounces semisweet chocolate chips
12 ounces white chocolate chips
8 regular size peppermint candy canes
aluminum foil or parchment paper
double boiler (we have this one)
How Do You Make Peppermint Bark?
Making classic peppermint bark is super easy.
A few notes about this recipe.
You can either use a double boiler or a microwave to melt the chocolate in this recipe. It doesn't matter which method you choose. Either will work fine.
The process for making peppermint bark is pretty simple. For this recipe, you're just going to melt the semisweet chocolate layer first, then let it harden in the refrigerator or the freezer.
You don't want it to harden too much, because then the layers can potentially separate. Just leave it in the fridge for 10-15 minutes, or you can also put it in the freezer for about 8 minutes, just until it's starting to set (but not completely hard yet).
Then you'll melt the white chocolate and spread it over the semisweet chocolate and put it back in the fridge or freezer to harden.
This is such a fun recipe for kids to help with! My kids especially love crushing the candy canes with the rolling pin.
Complete recipe and instructions in the recipe card below:
Print Recipe
Easy Peppermint Bark with 3 ingredients
Easy peppermint bark with just 3 ingredients is easy to make and a delicious Christmas treat!
Ingredients
12

ounces

semisweet chocolate chips

12

ounces

white chocolate chips

8

peppermint candy canes
Instructions
Prepare a large cookie sheet by covering with aluminum foil, parchment paper, or waxed paper.

Place unwrapped candy canes in a large plastic zip-top bag. Crush with a rolling pin or bottom of a small saucepan until you have small pieces. Reserve about 1/3 cup of the crushed candy canes and set aside.

Melt semisweet chocolate chips in a double boiler or in the microwave. If you're using a microwave, heat in 15-second intervals and stir well each time until completely melted. Melt and stir until chocolate is completely smooth.

Pour melted chocolate onto the cookie sheet and spread it into a thin layer with a rubber spatula. Put the cookie sheet in the refrigerator while you melt the white chocolate. Leave in refrigerator for 10-15 minutes or until almost completely set.

Clean the double boiler and add the white chocolate chips, melting them until smooth (or use the microwave method). Add in all but the reserved 1/3 cup of the candy cane pieces and mix well into the white chocolate.

Remove the cookie sheet from the refrigerator and carefully spread the white chocolate over the semisweet chocolate in a thin layer. Sprinkle the 1/3 cup of candy cane pieces on top of the peppermint bark and place cookie sheet in freezer.

Let the bark completely cool in the freezer. Remove bark from the cookie sheet and break it into large chunks.
Thanks so much for stopping by!
Pin it for Later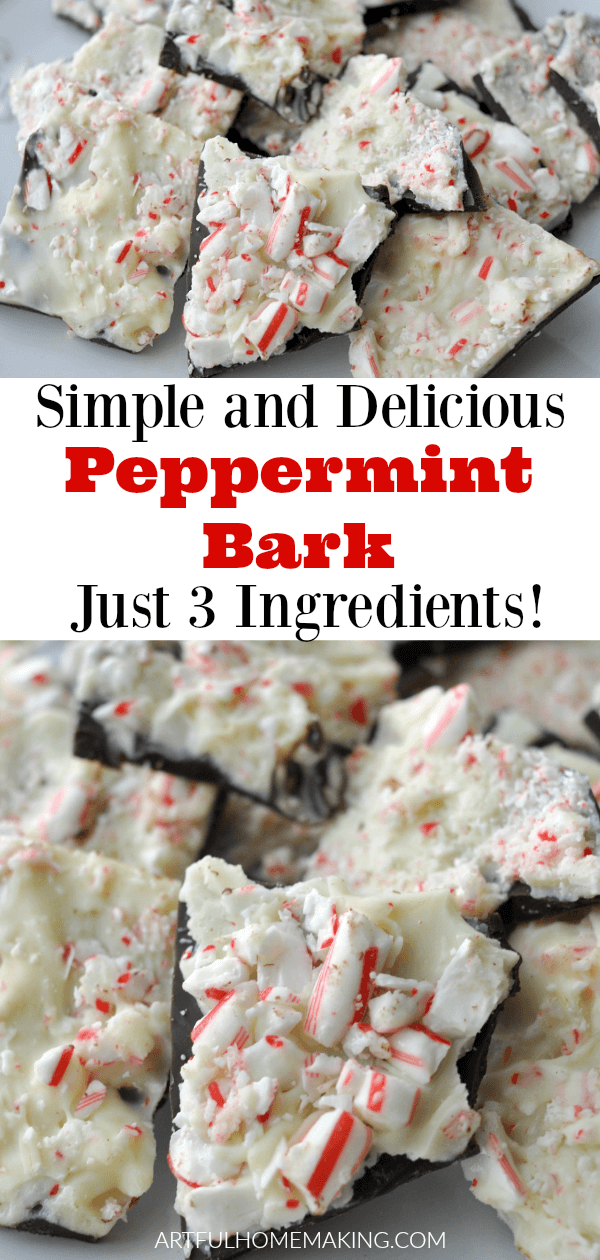 Related Posts
Click on the photo to be taken to the post!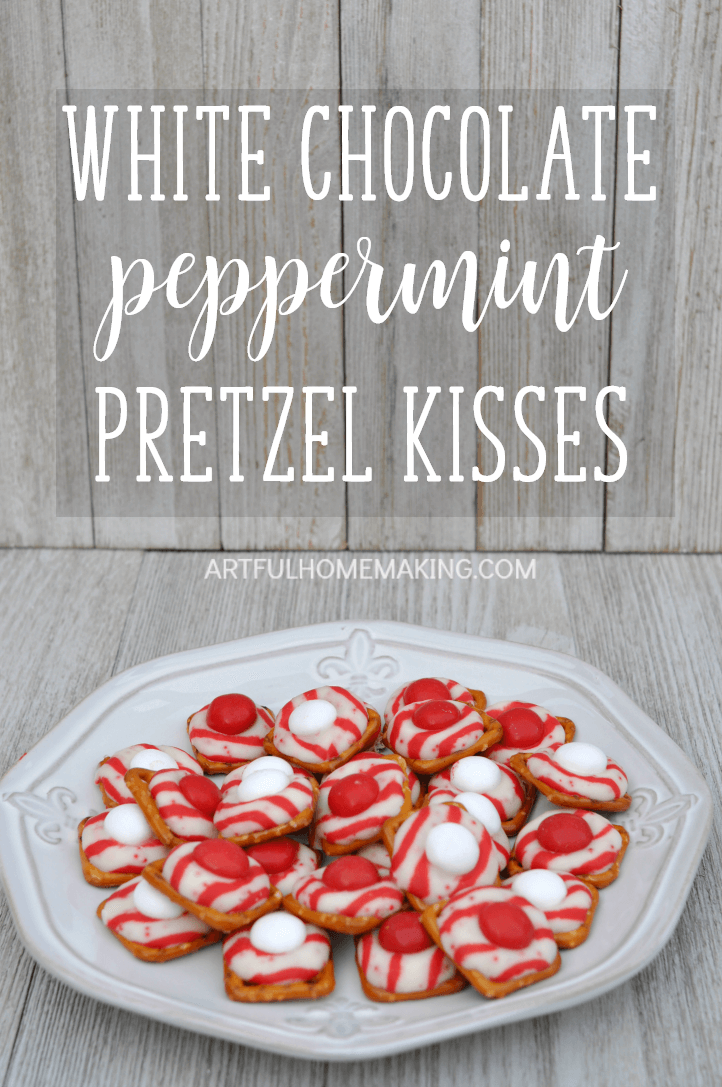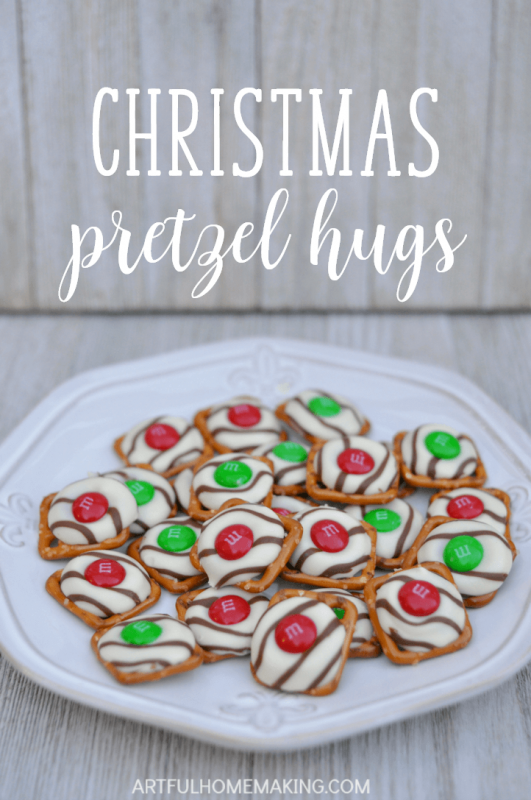 This post contains affiliate links. Read my full disclosure here. Sharing here.