Homemade tooth soap is easy to make with this simple tutorial.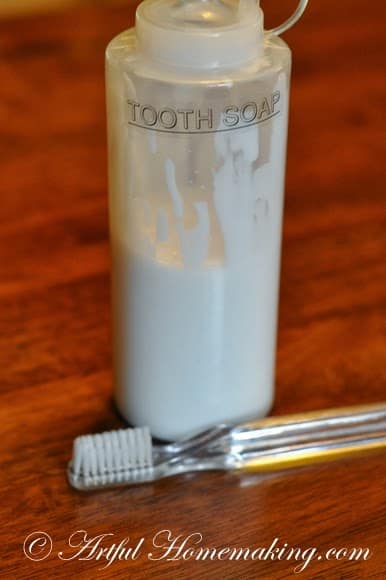 Brushing with Soap?
Affiliate links included below. Read my disclosure here.
Several years ago, we came across the idea of brushing teeth with soap rather than toothpaste.  We first tried a simple bar soap (a pure olive oil soap with all natural ingredients and no glycerine), but we didn't care for the taste, it didn't leave our mouths feeling very fresh, and we didn't like having to rub our toothbrushes across the bar of soap.
Then we tried tooth powders, but most of the ones we found contained mostly baking soda.  The constant use of baking soda on our teeth was causing the enamel to wear away, and just seemed too harsh and abrasive.
We then tried some
tooth soap shreds
, but we thought the taste was nasty.  And the cost was prohibitive, even though one jar will last
a very long time
(too long, in my opinion).
So, after some searching, I came across
this recipe
, and I think it might be what we've been looking for. At least so far, we are pretty happy with it.
How to Make Homemade Tooth Soap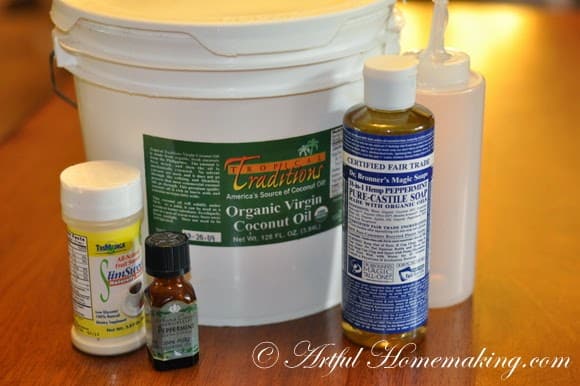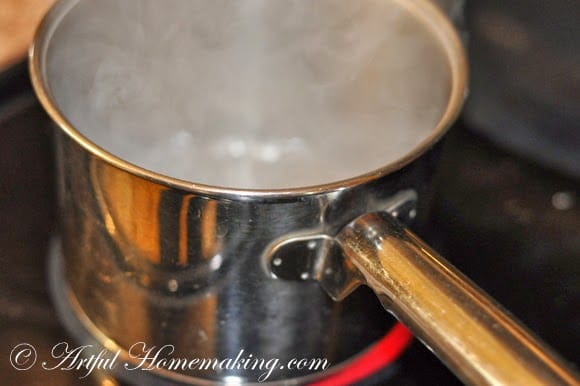 In a small saucepan, boil a small amount of water (like 1/4 to 1/2 cup–doesn't have to be exact, as you only need a couple of tablespoons).  Add 2 tablespoons of the boiled water to a food processor or blender.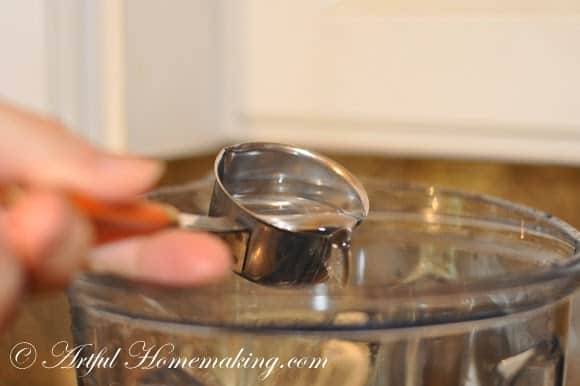 Measure the coconut oil (mine was already liquified, since it was quite warm in our kitchen: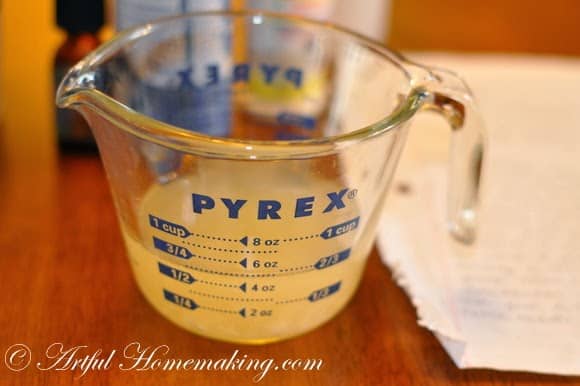 Add the coconut oil to the blender: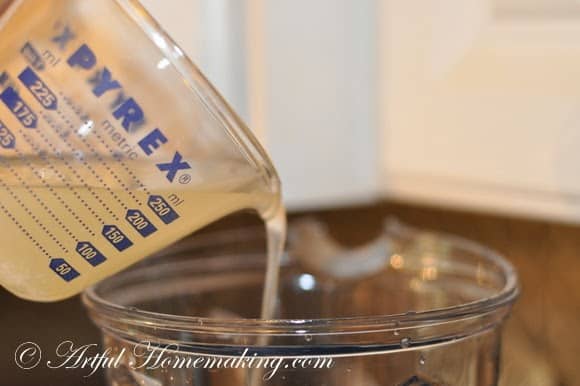 Add the 2 tsp sweetener (I used 2 tsp of Slim Sweet…next time I want to use Xylitol, but we were out of it this time.  Slim Sweet is an all natural sweetener made from Lo Han, a fruit found in China.)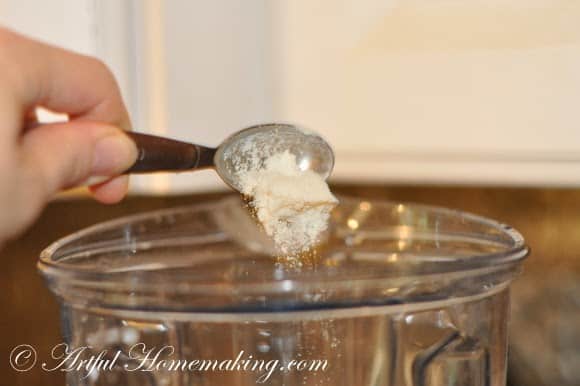 Add the 4 tsp castile soap:
And lastly, add the essential oil.  I only used 20 drops this time, but it didn't turn out to be as pepperminty as I would like, so I'll use a bit more next time.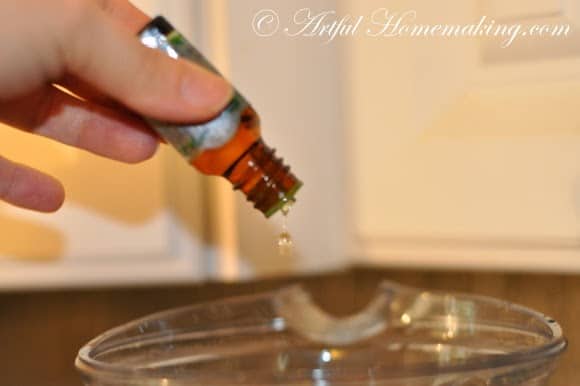 Turn on the blender and blend until frothy.  It only took a few seconds in the Vitamix.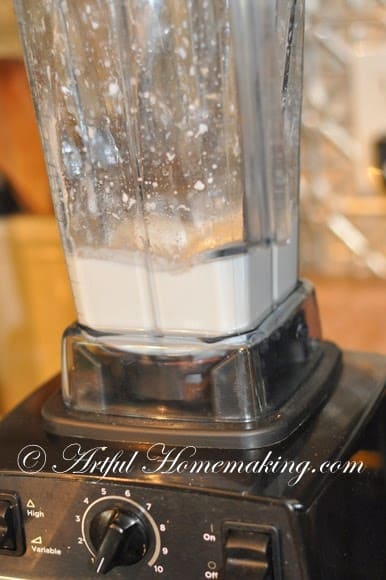 It kind of has the consistency of a toothpaste: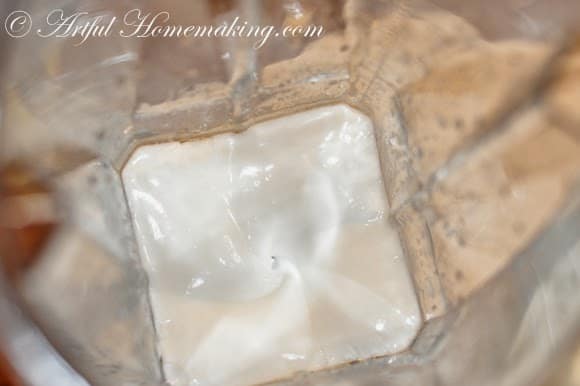 How to Use Tooth Soap
I searched high and low for a container to put this in…then I found
this condiment thing
.  I think you usually put mayonnaise or something in these.  I had this one just sitting in the cabinet, never used before, and it seemed like a good thing to use for tooth soap.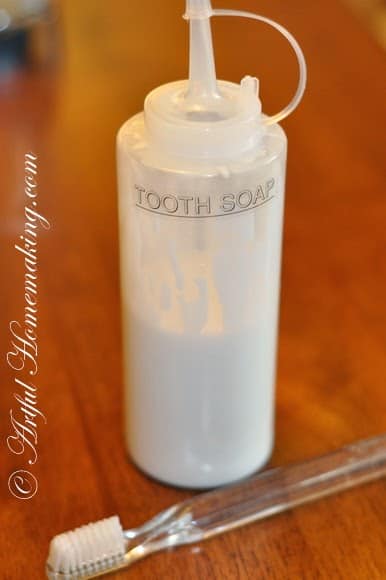 The tooth soap squeezes out really well: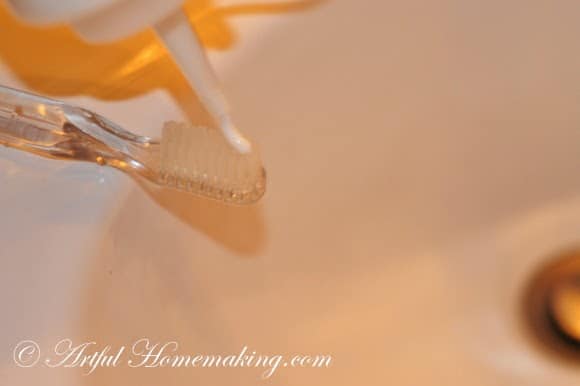 After using this for a week or so, we still really like my homemade tooth soap.  I can't say the taste is great, but it isn't terrible.
It isn't nearly as bad (in our opinion) as the tooth soap shreds.  But it does leave a slight soapy taste in your mouth for a few seconds until you rinse your mouth out really well with water.
After rinsing, my mouth feels clean and fresh, and my teeth feel so nice and smooth.  I do wish it had more of a minty flavor, so next time I plan to add more peppermint.
Another selling point for this tooth soap is that it is very inexpensive to make.
We already had the coconut oil on hand (it's a staple in our home), I've been using that one little bottle of peppermint essential oil for several years (I get bigger bottles for soap making), we already had the Slim Sweet, and the 4 teaspoons I used of the castile soap didn't even make a dent in what was in the bottle.
So, it's very cheap.  And I can afford to make another batch to keep in the main bathroom where the children brush their teeth (and even after making that batch, I will still have ingredients left over to make it many more times).
Anyone else use tooth soap?
Related Posts:
DIY Homemade Essential Oil Mouthwash Recipe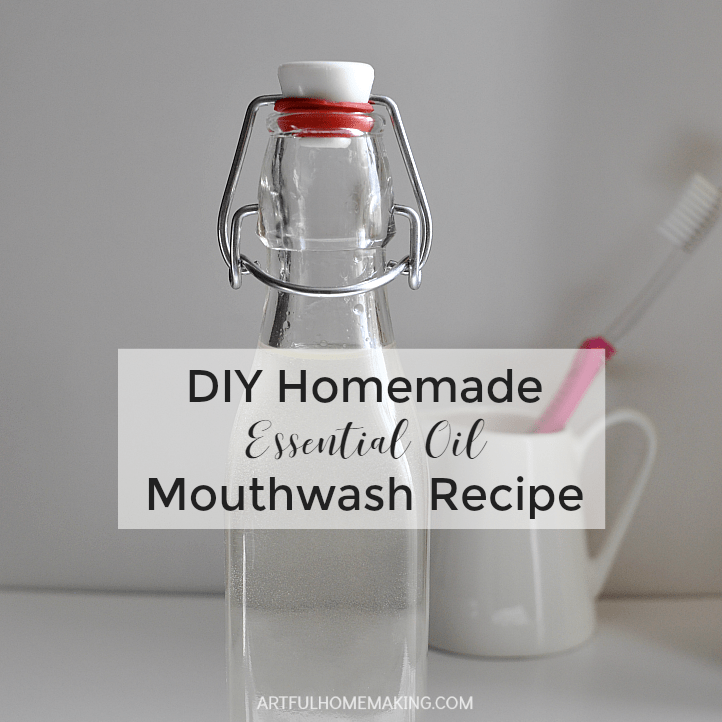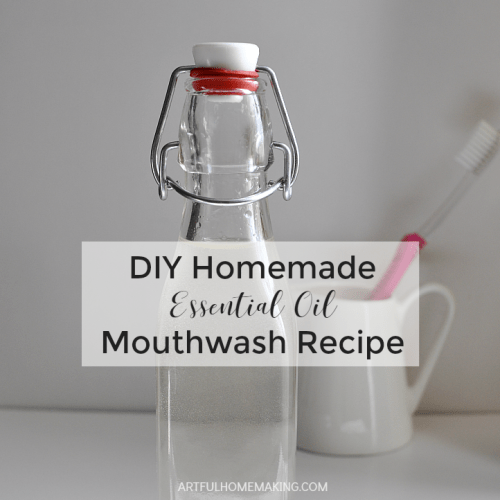 Homemade Coconut Mint Toothpaste
This post contains affiliate links. Read my full disclosure here. Sharing here.