This homemade wood butter recipe is perfect for all of your wooden spoons and cutting boards.
If you love using wooden utensils in the kitchen, you definitely need to make a batch of wood butter to keep them in good condition.
It's perfect for wooden cutting boards, charcuterie boards, spoons, butcher block counters, and many other wood surfaces.
And, it's so easy to make!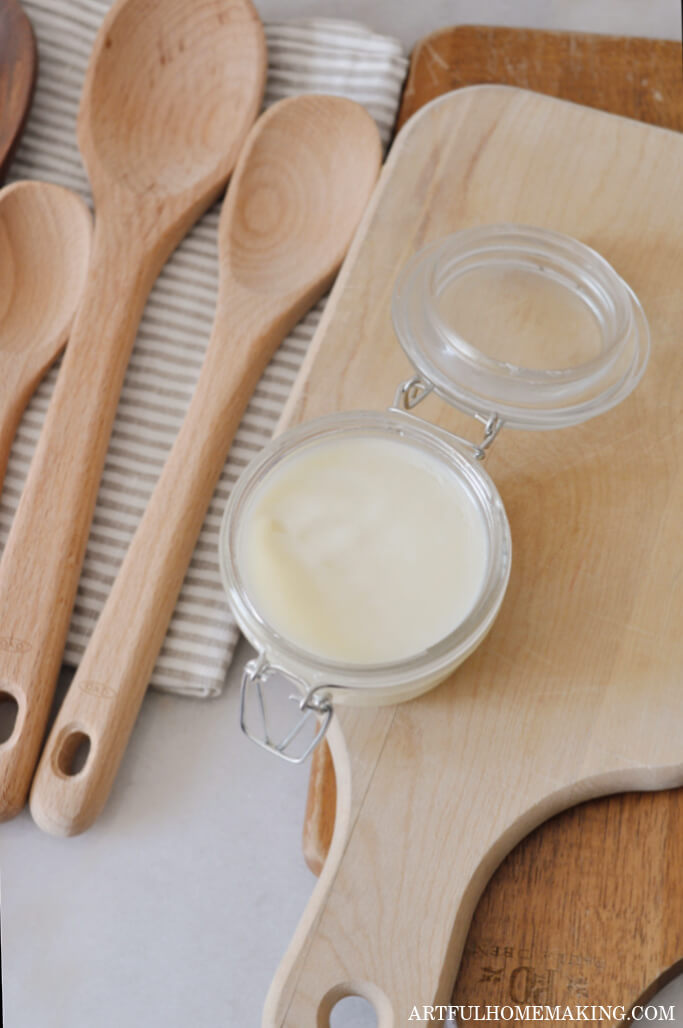 Homemade Wood Butter Recipe
This homemade wood butter is one of the easiest DIY projects ever.
It's easier than making homemade beeswax candles or comfrey salve (even though both of those contain some of the same ingredients and have a similar creation process).
But this recipe literally only takes minutes to make. It couldn't be simpler!
And it's truly a good use of those few minutes it takes to make! This is one of those DIY projects that you'll actually use.
Once I made my own homemade wood butter, I realized that this is a must-have kitchen staple.
It's something I always want to keep on hand for preserving and protecting my wooden kitchen items.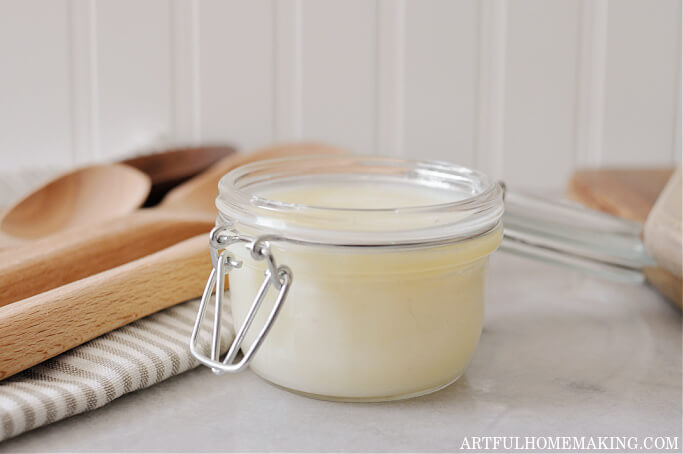 Why You'll Love This Recipe
I've already mentioned most of the reasons to love making your own wooden spoon butter (also called board butter).
Two of the main reasons I personally love it are: 1.) It's easy and fun to make, and 2.) It actually works!
Also, it takes care of a big concern I had in my kitchen for years—how to keep wood utensils in good working order.
If you use a lot of wooden kitchen utensils, you've probably also experienced dry, cracked wood.
If not properly cared for, wooden items can become overly dry and develop cracks from lots of use and repeated washing.
But this natural wood conditioner will solve that problem and keep your wooden utensils in top shape.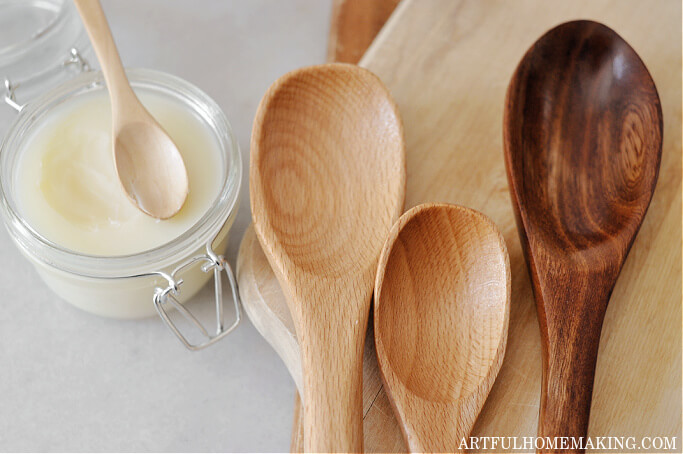 Affiliate links included below, which means I may make a small commission at no extra cost to you. Read my disclosure here.
Also, it's a great handmade gift idea for sharing with friends and family. Pretty much everyone has some wood items in their kitchen that could use a little love.
You could also combine it with a new wooden spoon or a cute cutting board (or add some of these easy knitted dishcloths!).
Another great reason to love this recipe is that it uses only natural ingredients (and no petroleum products).
You can't go wrong with all natural coconut oil and beeswax.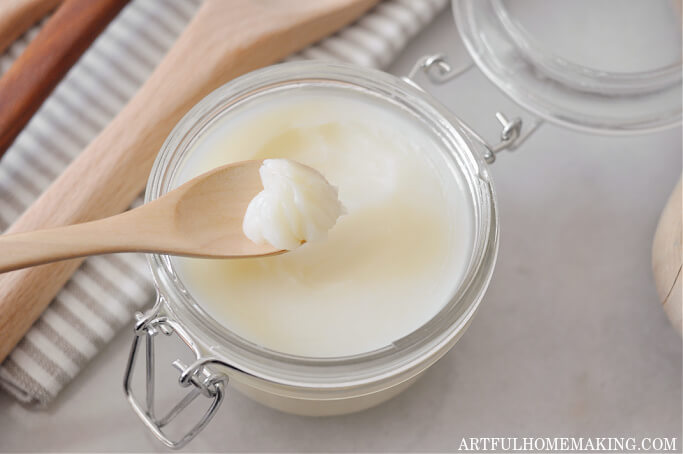 Homemade Wood Butter Tips
This recipe uses pure beeswax as one of the ingredients. You can use either white or yellow beeswax.  I usually use beeswax pellets, but you could also find a local beekeeper and get a block of beeswax from them. All you have to do is grate it or cut the block into smaller chunks before melting. Either way works great!
Coconut oil is what I use for this spoon butter recipe, but you can substitute other oils for the coconut oil (sunflower oil or other seed or vegetable oils). I just pretty much use coconut oil for everything (including seasoning my cast iron) because it's readily available in my kitchen.  It's one of my pantry staples I always keep on hand.
You can also add high quality essential oils if you want scent. I don't add this, however, as I don't find it necessary.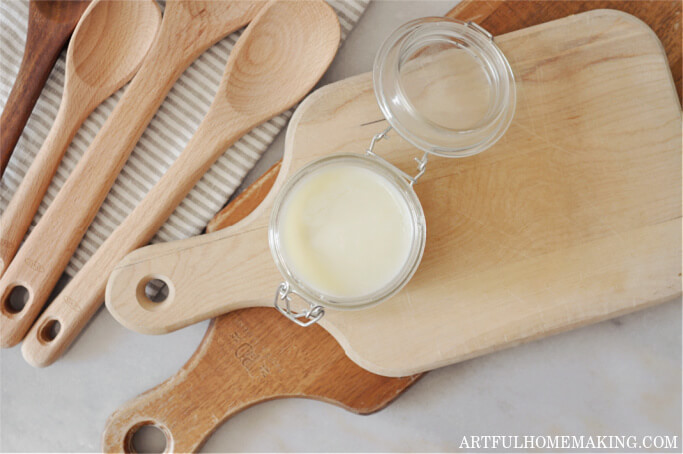 Supplies Needed to Make This Recipe
Homemade Spoon Butter Ingredients
You can find the full ingredient amounts and instructions in the printable recipe card at the bottom of this post.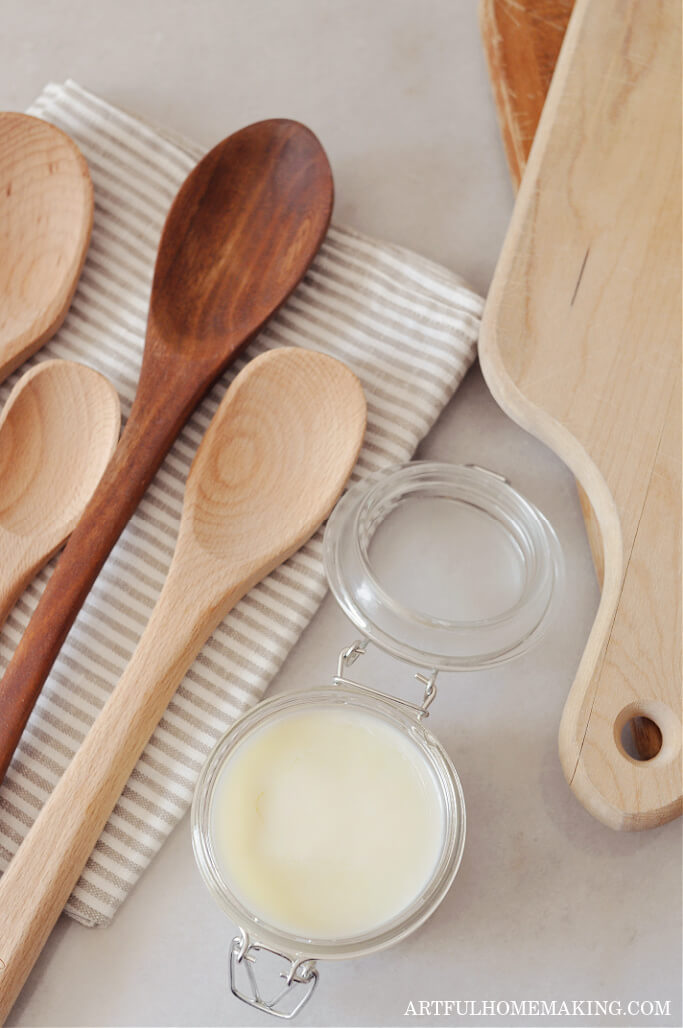 How to Make Homemade Wood Butter
1. Add the beeswax and coconut oil to a double boiler (or you can make your own double boiler by using a candle wax melting pot or mason jar in a saucepan).
2. Add a few inches of water to the saucepan and bring the water to a simmer over medium heat.
3. Allow the ingredients to melt, stirring with a wooden skewer or popsicle stick.
4. Pour the melted mixture into a small glass jar and allow to cool to room temperature. Once it has completely cooled, cover with a lid.
How to Use Wood Butter
To keep your wooden utensils in good order, always hand wash and thoroughly dry them.
Every few washes, use this wood butter to condition and form a protective layer over the wood.
Occasionally, clean your utensils with lemon juice or white vinegar to deep clean them, and then after they're dry, apply a new layer of this wood butter.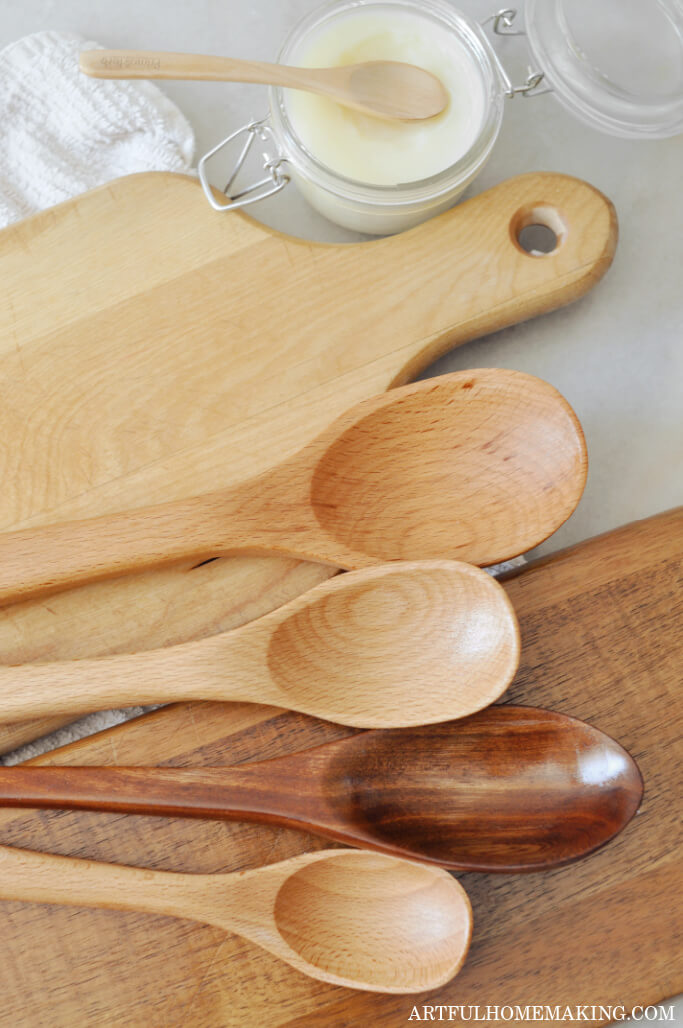 More DIY Recipes
Homemade Wood Butter Recipe
Print Recipe
Wood Butter Recipe
You can make your own wood butter with this simple DIY recipe.
Equipment
Candle wax melting pot

or double boiler

Wooden skewer

or popsicle stick
Ingredients
2 1/2

Tbsp

beeswax

white or yellow

1/2

cup

coconut oil
Instructions
Add the beeswax and coconut oil to a double boiler or candle wax melting pot.

Bring the water to a simmer over medium heat.

Allow the ingredients to melt, stirring with a wooden skewer.

Pour into a small glass jar and allow to cool to room temperature. Cover with a lid.

Apply finished wood butter to clean wooden utensils, rubbing into the wood. Remove any excess with a soft cloth. Use regularly to keep wood utensils conditioned.