My ten  item wardrobe for summer is filled with dresses this year! As a homemaker at home full time, I love the idea of wearing a house dress every day.
This year, I came up with an entire ten item wardrobe that's almost exclusively filled with dresses! I picked eight comfortable dresses for everyday wear, and one skirt and one top for other occasions. I also have a few extras, which we'll go over later in the post.
In addition to being fun to put together, my ten item wardrobe saves me so much time each morning! It also eliminates stress.
I love being able to just grab a complete outfit out of the closet each day, without any decision fatigue. No need to wonder what I'm going to wear. Just grab a dress and put it on. What could be easier!
Also, I want to note that dresses are not required. You can do this with any type of clothing you prefer.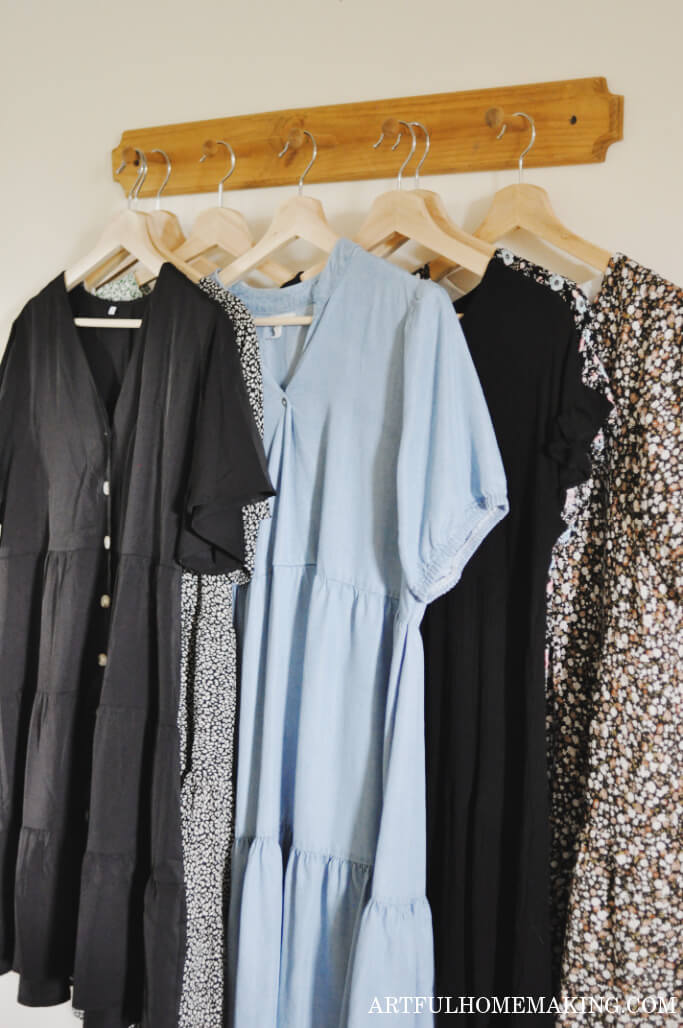 What is a Ten Item Wardrobe?
This post contains affiliate links, which means I may make a small commission at no cost to you. Read my full disclosure here.
A couple of years ago, I shared about my first ten item wardrobe (see that post here). Incidentally, that wardrobe was also full of dresses.
The idea behind the ten-item wardrobe came from Jennifer L. Scott's book, Lessons from Madame Chic. I read that book shortly after it came out, and I was so inspired by the idea of a simplified and yet put-together wardrobe.
A ten-item wardrobe is made up of ten core wardrobe pieces. Also, you don't have to adhere strictly to the number ten. The number isn't really that important. However, it provides a great starting place, and a framework for creating a simple capsule wardrobe.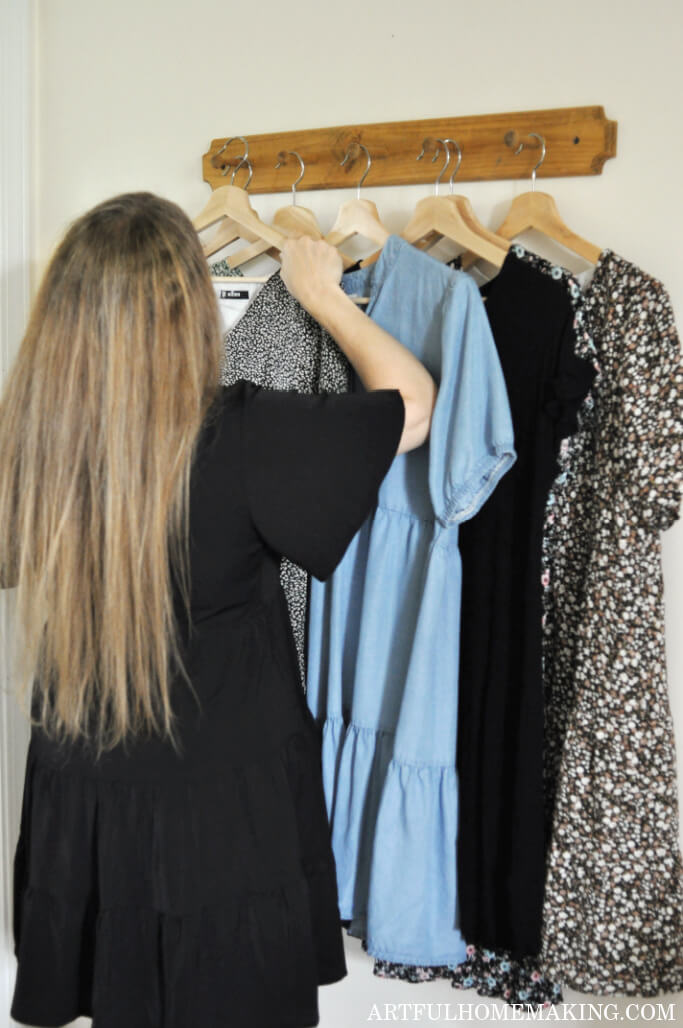 How a Capsule Wardrobe Simplifies Getting Dressed
A capsule wardrobe can simplify your life in so many ways! As I mentioned above, it eliminates decision fatigue in the mornings. You no longer need to put a lot of thought into clothing.
You've already carefully planned your clothing. That work is done! Now you can move on to more creative endeavors. That's one of my favorite things about it. No need to think about clothes on a daily basis anymore.
Also, since you've already got a plan for what you will wear each day, you no longer need to put time into shopping for clothing. This will save you time and money!
If deciding what to wear every day is a point of stress for you, I highly recommend trying a plan like this.
Another great thing about it is that it eliminates clothing clutter. Since you're working from a pre-planned group of clothing items, you can donate or give away all those pieces that no longer fit or aren't your favorite things to wear. Just keep what you love and what you feel good wearing!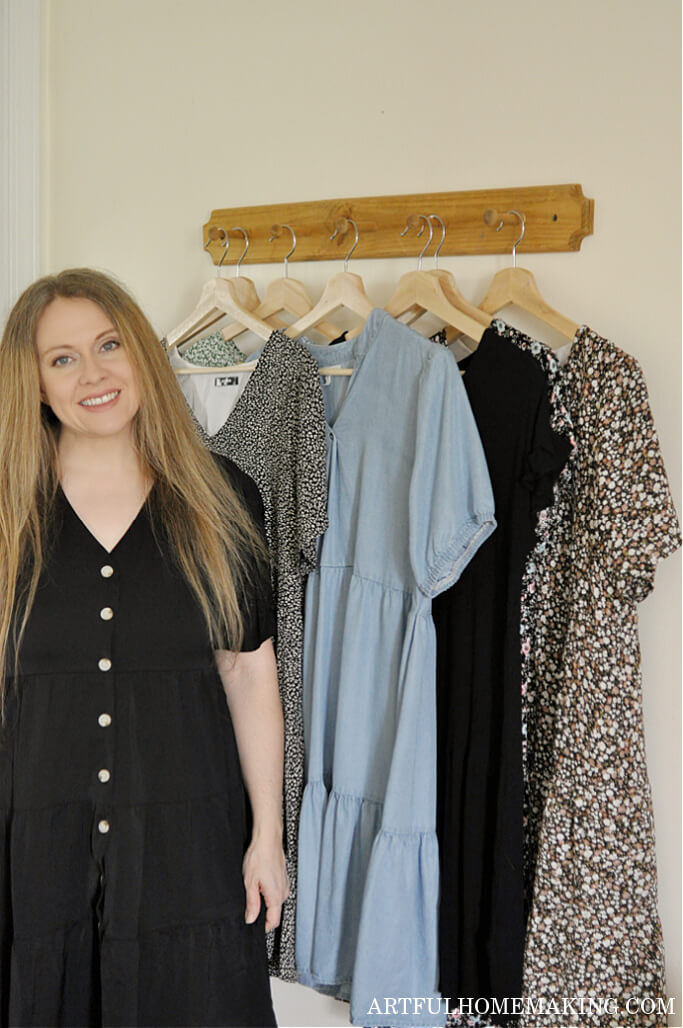 Watch the Video
Watch the video below for a walk-through and a try-on of each item!
My Ten Item Wardrobe
This year, one of my primary goals for my wardrobe was that it fit my current figure. I know that seems obvious, but I have some figure challenges that make finding clothing a huge trial.
Most of the dresses available out there don't fit my current body type. The dresses in my previous summer capsule wardrobe no longer fit, which made me sad, as I loved those dresses!
I also needed to find dresses that were affordable, so that also limited the selection quite a bit. My first choice for my clothing is always natural fibers like cotton and linen. I also love buying handmade.
However, I couldn't find any dresses in my price range that were handmade and/or made from natural fibers. I paid under thirty dollars for each of my dresses (the most affordable dress was only $16). I did notice some of the prices have increased since I bought my dresses this spring.
Also, none of these dresses have pockets, which are so useful. But that's where my aprons come in! If you throw on an apron with your outfit, you'll always have pockets available. See this post for how to make a cross-back apron, and this post for an easy half apron.
Here are the actual items in my summer capsule wardrobe this year. (To see a try-on of each item, watch the video linked in this post.)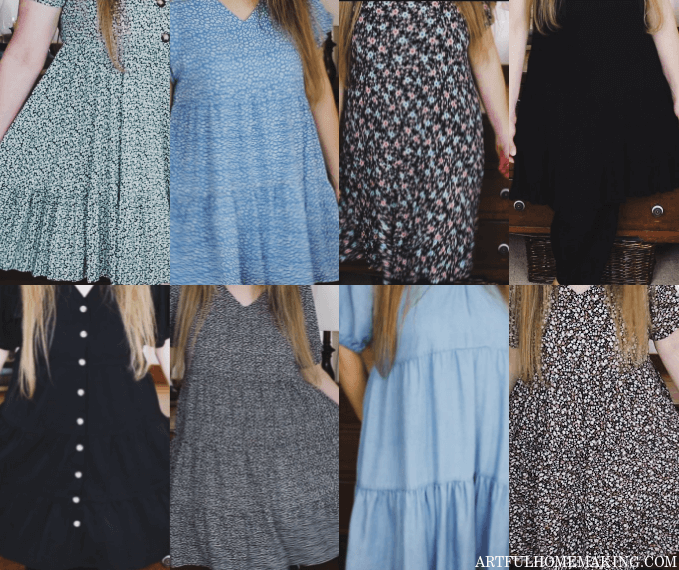 8 Dresses
Black Rayon Dress (the solid black dress appears to be sold out, this dress is similar)
Blue Chambray Dress (found on eBay)
For under my dresses, I wear either these knit bike shorts or these cropped leggings.
Not a wardrobe staple, but I also find this natural sunless tanning lotion useful when I don't have on the leggings!
1 Denim Skirt
I also have a denim skirt from The Mainstreet Exchange, which I love. They have the best denim skirts!
1 Black Wrap Top
And an Old Navy black wrap top (no longer available on the website), which was in my previous ten item wardrobe. It's one of the few things that still fits me, and it's a very useful top to have. I love wearing it with skirts.
Wardrobe Extras
The ten item wardrobe includes "extras," which are items that aren't part of the ten core pieces, but you still need them occasionally.
This year my extras include:
workout clothes
swimwear
a denim top that I wear occasionally
jeans and t-shirts for dirty jobs outside, like cleaning the chicken coop
a cardigan sweater for warmth on cooler days
a couple of skirts for special occasions (that I wear with the black wrap top)
I didn't mention shoes, because my everyday shoes are just black flip flops. I also have two pair of sandals (one black and one brown) that I wear for going out. These are the same sandals as from my last ten item wardrobe post. They're still nice since I don't wear them everyday, and they still work, so no need to replace them.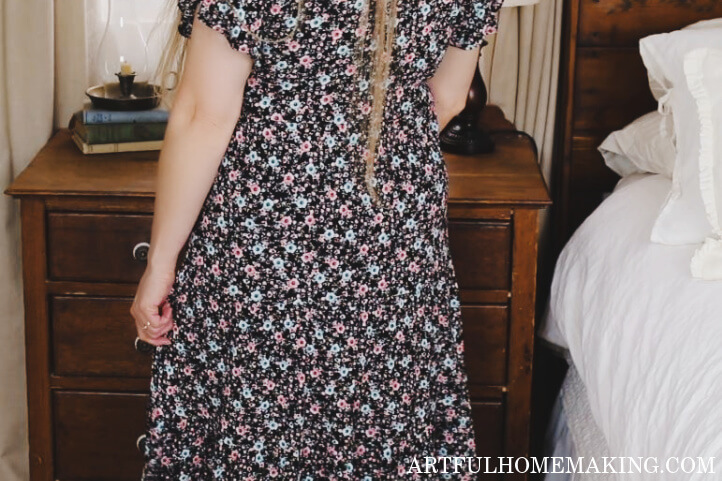 How to Simplify Your Closet
Clothing is one of those things that can cause unnecessary stress if we don't have a plan of some sort. Having a plan in place can uncomplicate  just about any area of life.
And coming up with a wardrobe plan doesn't have to be difficult. The general idea is to find clothing that you like and that you feel good in. And then only keep those items in your closet!
I personally prefer dresses, because they are the most comfortable for me these days, and I feel more put-together in them. But it doesn't have to be dresses. This plan will work with whatever you feel best in.
I have a friend who wears shorts every day in the summer. So, she has a few basic pairs of shorts that go with any color of top. Then, she found some tops that she loves the style of. She bought all the colors of the top to go with her shorts. This works for her summer wardrobe, and she's happy with it! And, it was simple for her to put together.
You could do the same thing with a basic skirt. Find a basic skirt that you like, and then find tops to go with it.
Some people like to stick with a particular color scheme, or with coordinating colors so you can mix and match. But this isn't required.
I hope this post has given you some ideas for how to create your own ten item wardrobe!
Related Posts
Thank you so much for stopping by!