Yesterday my 12-year-old daughter told me I was her best friend. And I was so happy I almost cried. Truly, that is the highest compliment I could have ever received from anyone regarding my
mothering
.
If cultivating friendship with your daughter is one of your goals also, keep reading for some ideas to nurture that relationship.
For as long as I can remember, I dreamed of having a daughter. I couldn't wait to have someone to share a special mother-daughter friendship with.
I dreamed of shopping trips, matching dresses, and late-night heart-to-heart talks.
God answered my prayer for a daughter, not once, but three times. I was so thrilled to have my own group of girlfriends to do life with!
Before I go any further with this post, I want to acknowledge that I have not been a perfect mother.
I've sinned against my daughters and had to ask for forgiveness. I've been selfish with my time and my attention. I've been
a bad example
when I wanted to be a good one. I have made
so many
mistakes.
One thing I love about being a Christian is that there's hope for you even when you've messed up. One of my favorite verses ever is 1 John 1:9:
If we confess our sins, he is faithful and just to forgive us our sins and to cleanse us from all unrighteousness.
Isn't that just the best news ever? Even when we sin, if we confess those sins to Him, He will forgive us and we can start over.
That doesn't mean there won't be consequences for our actions, but it does mean that there's hope.
There's hope for your relationship with your daughter. If you're a normal mom (and especially if you have teenagers!), you've probably made some mistakes and wish you could get a do-over on some things.
But don't let the "mom guilt" take over. When you wish you could go back and start over, go to your daughter, admit your wrongs, and start over together (I've had to do this many, many times!)
Below, I'm sharing some of the things I did "right" with my daughters. I originally wrote this post when my oldest daughter was 12, and
she's now 18
. And we're still close friends. My younger daughters are now 16 and 11, and I love investing in my relationship with them also.
Cultivating Friendship with Your Daughter
Daughters are such a special gift to us as mothers! Cultivating friendship with your daughter will be one of the best ways to invest your time. Here are some creative mothering ideas.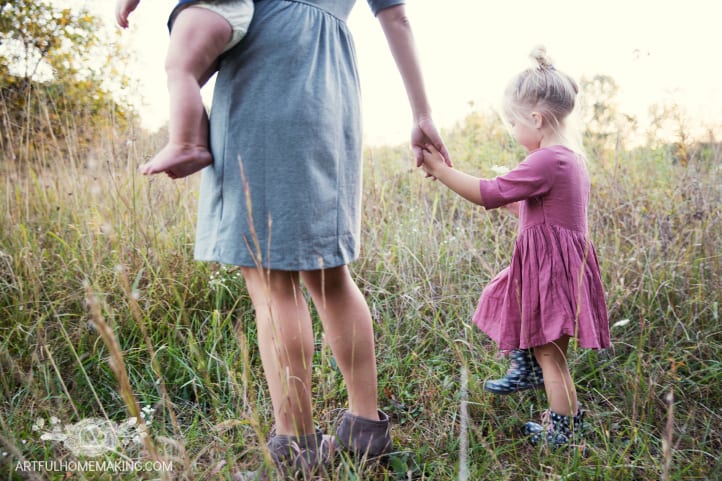 Start a Mother-Daughter Journal
When my oldest daughter was around 10 or 11, we started writing to each other in a journal. I would write something in it and then leave it for her to find on her bed. And then she would write something for me and leave the journal on my bed.
We did this for awhile, and we didn't keep up with it long-term, but I still feel like it was worthwhile. And I wish I would have continued it through the years.
Mother-Daughter Dates
Sometimes it's hard to really connect in the midst of busy family life. Sometimes you just need to get away together.
Whether you go on an overnight trip or just go out for ice cream, this is a surefire way to get to know your daughter better and spend some quality time together.
Here are some of the dates my daughters and I have enjoyed together:
Going out for ice cream
Shopping (they love special trips to the mall)
Going to a tea room (we included the grandmothers on these trips!)
Now that my daughters are getting older, coffee shops are on their list of favorite places to visit! Wherever you go, just being together is what's important.
Doing Projects Together
One of the things my daughters and I have enjoyed doing together is working on crafts and other projects. This can include a variety of activities such as:
One-on-One Time
Nothing can take the place of one-on-one time, especially in a busy household. There have been times when I can just sense that one of my children needs some time alone with me. Sometimes they just need to talk without their siblings around.
I love Sally Clarkson's idea of having tea with just one child. This is something I'd like to start implementing in my own home. I'm currently trying to create a space in my bedroom where I could do this more easily in our small home.
Relationships Matter
One thing I've learned as a mother is that good, healthy relationships don't just happen. They take lots of work, time, and nurturing in order to flourish.
Sometimes the relationship with a daughter can become strained, especially if we as mothers aren't careful with our words and don't take the time to nurture our relationships.
And let us not grow weary while doing good, for in due season we shall reap if we do not lose heart. ~Galatians 6:9
If we take the time today to value and invest in the relationship with our daughters, we will reap the beautiful fruit of a mutually beneficial and blessed relationship for years to come.
Related Posts:
What Elisabeth Elliot Taught Me About Motherhood
5 Ways to Be All There for Your Kids
---
Here are some of my favorite books about motherhood to encourage you on your journey: