Fall coloring page printables are a fun autumn activity! From leaves and acorns to pumpkins and apples, kids will love this collection of easy fall coloring pages.
When my kids were little, using coloring pages was always one of our favorite seasonal activities. It's fun to see how little ones can come up with some truly creative coloring designs!
Affiliate links included below, which means I may make a small commission at no extra cost to you. Read my disclosure here.
Fall Coloring Page Printables
These fall coloring pages are perfect for toddlers, preschool, or homeschool. Children love the fall themes of pumpkins and leaves. And none of these pages have anything scary, as is often found in many fall-time coloring books.
If you have a printer and a box of crayons, you have all you need to complete these coloring pages!
You can print off all the pages or just the ones you want.
Pumpkin Coloring Pages
Fall wouldn't be complete without pumpkins. I've included several pumpkin coloring page printables from which to choose.
Leaf Coloring Pages
We're blessed to live in a part of the country where leaves turn to gorgeous colors each fall. But even if you don't have colorful leaves where you live, kids will still enjoy these fall leaves coloring pages.
Acorn Coloring Pages
It's so much fun to watch squirrels scampering about in the fall, gathering up acorns and other nuts to hide away for the winter!  These acorn coloring pages are simple for little hands to color without difficulty.
Apple Coloring Pages
Few things reflect the warmth and coziness of fall like apples fresh off the tree! These apple coloring pages are perfect for a quick kids' activity.
Cornucopia Coloring Pages
The cornucopia is a symbol of bountiful blessings. A cornucopia coloring page can be a more difficult task for younger children, but is perfect for  older kids (or even adults!) who still enjoy coloring.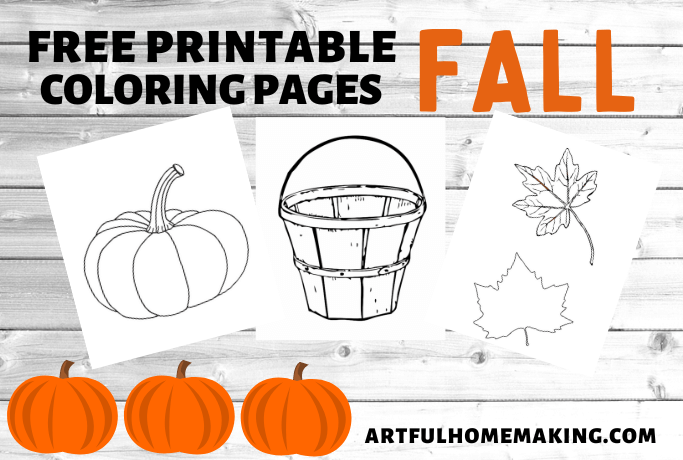 Print Free Fall Coloring Pages
Find the free printable coloring pages here!
I hope you enjoy these fun fall printables!
More Craft and Activity Ideas for Kids