Rainy day activities for kids, when you can't be outside! This list will help you answer the question of what to do when it's raining and you're bored at home!
This list of fun indoor activities will also be useful when you're stuck inside for any reason.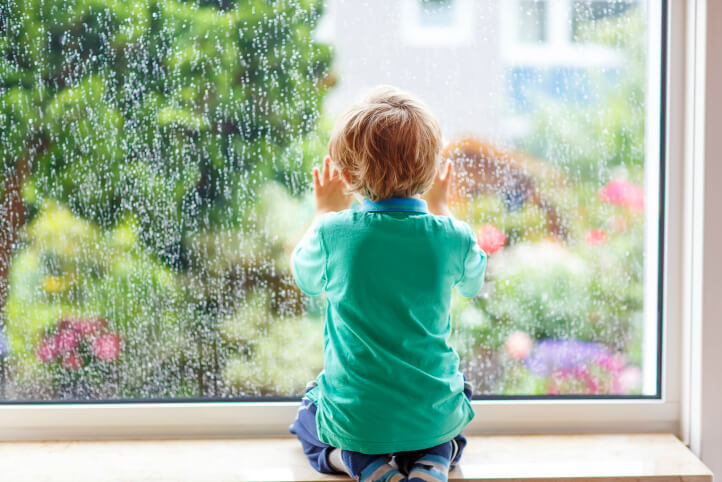 Rainy Day Activities Your Kids Will Love
I've included rainy day activities for younger kids as well as older kids and teens. Some of these activities will appeal to a broad range of ages, while others are more suited to specific ages.
As a mom of five, I've used many of these simple activity ideas on many rainy days through the years. With this list in hand, rainy days may become your favorite of all. There are so many fun memories to be made!
Here are some of our favorite rainy day activities.
This post contains affiliate links, which means I may make a small commission at no extra cost to you. Read my disclosure here.
1. Read Aloud
Reading aloud is one of our favorite rainy day activities! And, it's simple. Pick a book everyone will enjoy, cuddle up on the couch, and read together!
2. Make a Blanket Fort
When my kids were little, they seemed to constantly be making forts with blankets, sheets, pillows, and kitchen chairs.
Or, you could invest in a foldable teepee, like this one.
3. Bake Something Together
Many kids love to bake. Pick a favorite cookie recipe, a quick bread recipe, or anything that sounds good, and get in the kitchen!
4. Make Homemade Playdough
Have you ever made your own homemade playdough? This is the perfect rainy day activity! It's super easy, and it's cheap. Here's our favorite recipe.
5. Do a Science Experiment
Simple science experiments are great for rainy days. Make a baking soda and vinegar volcano, or try a simple science kit like this one.
6. Make Edible Playdough
Little children especially love making this edible playdough. They can help you mix it up, play with it a bit, and eat it!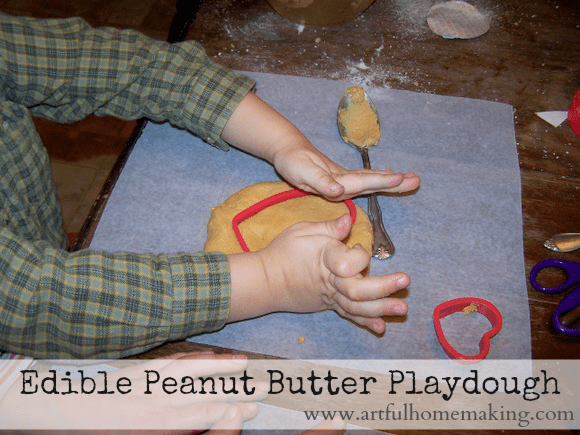 7. Watch a Movie Together
Rainy days are great days to watch a family movie. Movie night is even more fun snuggled up on the couch with some popcorn or another treat!
8. Play Board Games
When you can't get outside, that's a great time to break out the board games. Here's a list of some of the best family games to help you out.
RELATED: Favorite Board Games for Family Night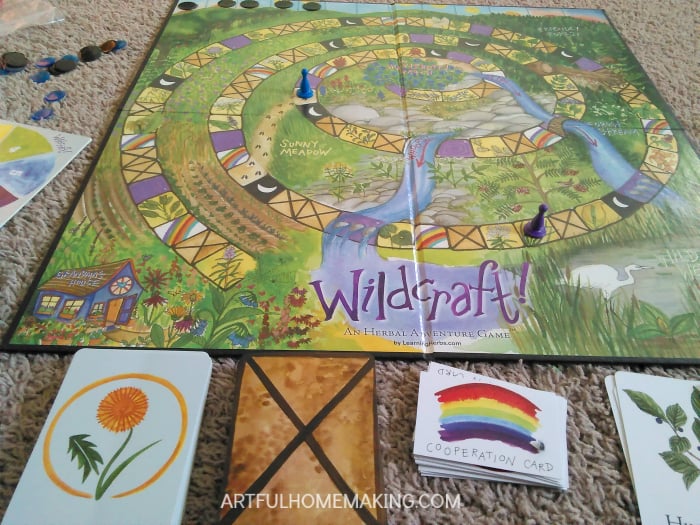 9. Make Slime
Slime is super fun and easy to make at home. There are many free recipes online. Or, try this kit.
10. Play Hide and Seek
Hide and Seek is easy to play in the house. Just pick one person to be "it," and have them count while everyone hides. Then let them have the fun of looking for the ones who are hiding!
11. Learn to Finger Knit
Finger knitting is easy and requires nothing but your hands and some yarn. Here's a book that shows you how.
12. Play Dress Up
One of our kids' favorite "toys" was the dress up box. Through the years, we would look for old prom dresses, hats, purses, capes, and jewelry at garage sales and thrift stores. These were perfect for the kids to dress up in.
If you don't have a dress up box, don't worry! Just let them dress up in mom's (or dad's) clothes.
13. Make Butter
Making butter is easy and fun. My kids loved this activity. Learn how here.
When my kids were little, we would just put some cream in a jar and take turns shaking it until it turned into butter. It's simple, and it works!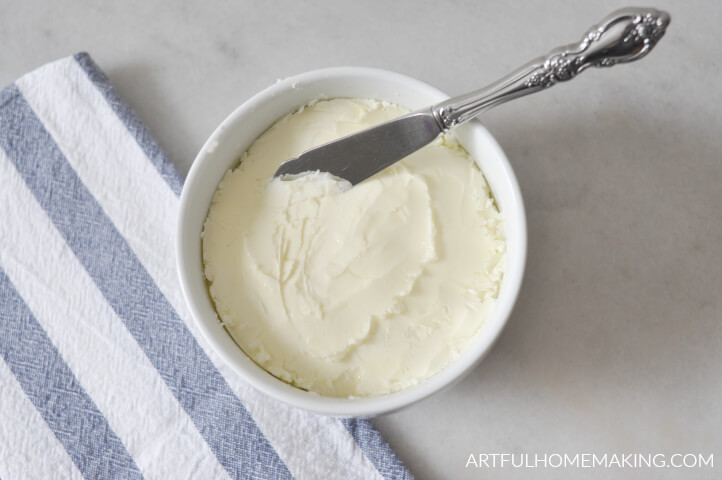 14. Paint with Watercolor Paints
We love watercolors! This activity is appealing to both younger and older kids. For free watercolor art lessons, these videos are our favorite.
15. Write and Illustrate a Story
Kids love coming up with their own story and then illustrating it. This can be as simple as writing it on paper, typing it on the computer, or use one of these kits to make a real bound book.
16. Put Together a Puzzle
Puzzles are fun for everyone! If your kids are old enough, it's fun to get a large puzzle and let the whole family work on it together.
17. Have a Tea Party
My kids always loved our many tea parties when they were little. We would often invite their dolls and stuffed animals. My older kids still enjoy tea parties (just without the stuffed animals!).
You can also try a Poetry or Literature Tea Party with your favorite books or poetry.
RELATED: Poetry Tea Time Ideas and Resources
18. Make Homemade Doughnuts
I remember making homemade doughnuts with my parents when I was a girl. I love being able to share this activity with my kids. Here's the recipe we usually use.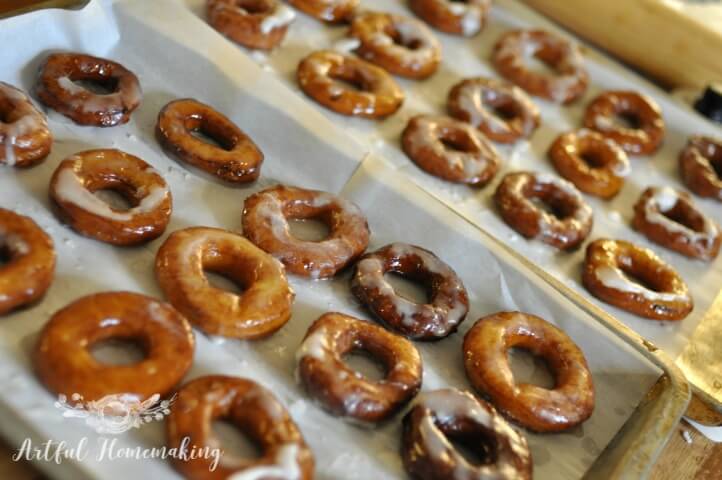 19. Have a Pizza Party
Make your own homemade pizza, and add whatever toppings you like!
20. Listen to Audiobooks
Audiobooks are great for the whole family. Here are a few of our favorites.
21. Learn to Tie Knots
Here's a kit that will show you how.
22. Have a Scavenger Hunt
Have a scavenger hunt for your kids in the house!
23. Make and Film Your Own Movie
This rainy day activity has kept my kids busy for hours through the years! They come up with their own characters and plot, get out the dress up box, and film their movie. They're amazingly good, and so entertaining to watch (especially years later!).
24. Play Card Games
For younger kids you can try simple games like "Go Fish," (this set contains six different card games) while older kids might enjoy something like Dutch Blitz.
25. Make Paper Airplanes or Boats
Look up a video on YouTube and see whose paper airplane flies the best! Origami boats are are also fun.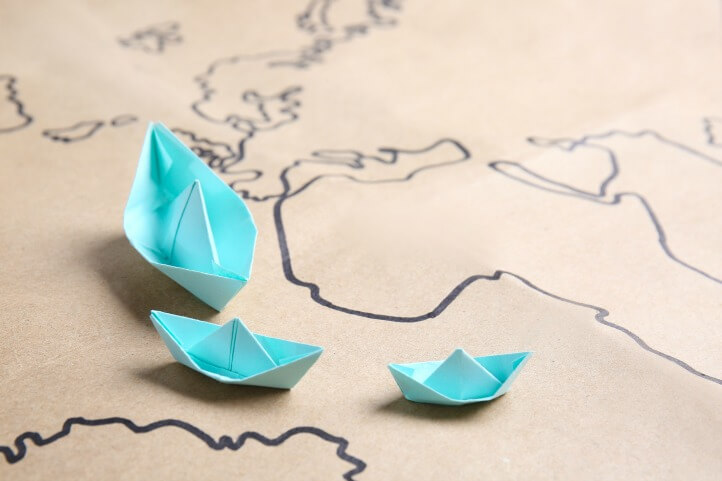 26. Play with Legos
Legos can keep kids busily occupied for a very long time. My boys especially love creating stop motion animation with their Legos.
27. Dye Something
Tie dye t-shirts, shoes, hats, scarves, or anything! One year we tie-dyed matching t-shirts for the whole family and then wore them on our camping vacation. 🙂
28. Make a Scrapbook
This is another activity that can be simple or involved. If you want to keep it simple, just staple some plain paper together and add photos, stickers, or whatever you like. Or, you can invest in an actual scrapbook (here's a kit) if you prefer a longer-lasting version.
29. Play Old Fashioned Games
Play some old fashioned games like "I Spy," "Simon Says," "Duck, Duck, Goose," "Charades," or "Red Light Green Light." If  you haven't played these before, Google them to find out how to play!
30. Make a Car Mat
Get a roll of large paper and draw a town with roads, trees, and stores. Then put it down on the floor and drive matchbox cars on it. Or, you could also get one of these to just unroll for instant playtime.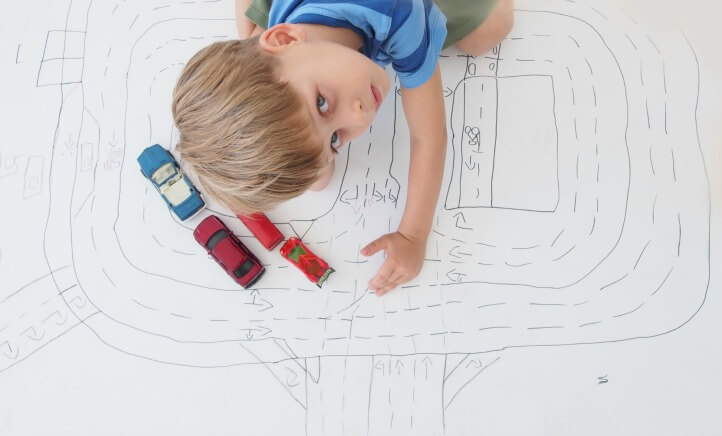 31. Write a Letter to Grandparents
Rainy days are the perfect time to write letters. Grandparents love getting letters from their grandchildren! If you don't have grandparents to write to, pick another family member, a friend, or adopt a grandparent at a local nursing home.
32. Make Salt Dough
Use this simple recipe to make salt dough figures or ornaments. It's just 4 cups of flour, 1 cup of salt, and 1 1/2 cups of water. Mix the ingredients, create your ornaments, and then bake at 275 degrees F. More detailed instructions can be found online.
33. Knit a Dishcloth
For older kids, try this easy beginner knit dishcloth pattern.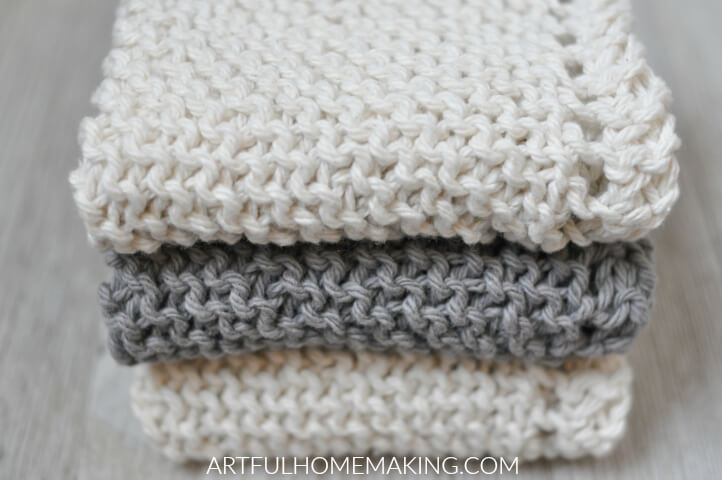 34. Learn to Crochet
Learning how to crochet is fairly simple, too. Try one of these kits to make it easier.
35. Learn to Sew
Grab some fabric and a sewing machine, and you can learn how to sew your own items. You can find tutorials online, or try this beginner sewing book.
RELATED: Simple Doll Skirt Tutorial
36. Make Your Own Candy
Pick a candy recipe to try, and make it together. One year we had fun with these homemade lollipops.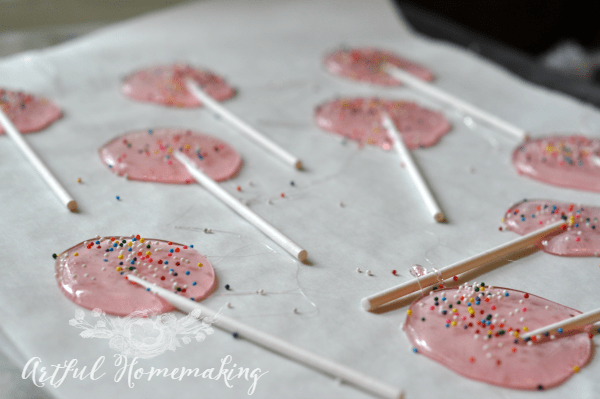 37. Look Through Photo Albums
Looking through photo albums has to be one of the best rainy day activities! Kids usually enjoy this, and it's free!
38. Make Popcorn
Make homemade popcorn on the stove, with an air popper, or in the microwave.
39. Create an Obstacle Course
Create an obstacle course through the living room (or another part of the house) with string, pillows, or other items. Younger kids will think this is the funnest thing ever!
40. Make S'mores
Make s'mores indoors!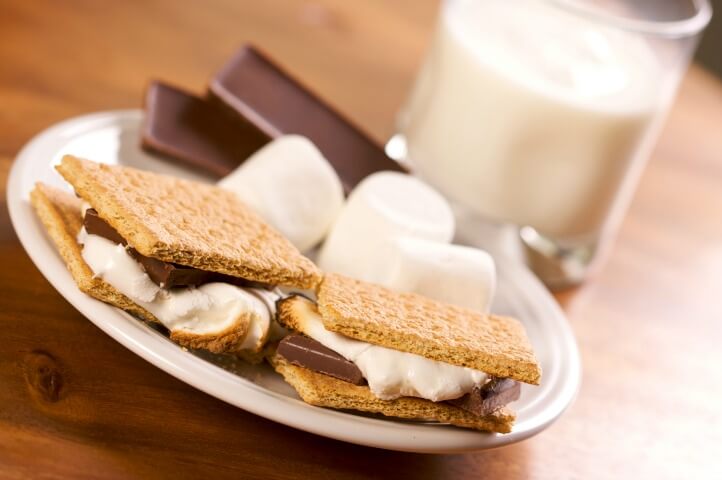 41. Camp Out in the Living Room
Gather the sleeping bags, blankets, and pillows, and have a camp out in the living room.
42. Make a Rain Gauge
Make a simple rain gauge to measure the amount of rain in your area.
43. Make Homemade Granola Bars
My kids love making these easy homemade granola bars (especially if we include chocolate chips!).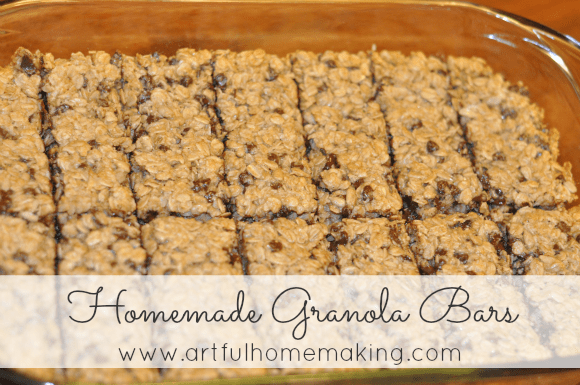 44. Create a Terrarium
Bring the outdoors in with a simple terrarium.
45. Have an Indoor Picnic
When you can't go outside, lay a blanket on the living room floor, make some picnic food, and enjoy an indoor picnic!
Bonus: Make Homemade Finger Paint
Need another creative idea? Try finger painting! This homemade finger paint recipe is non-toxic, and easy to make!
What other rainy day activities would you add to this list?
Pin This Post for Later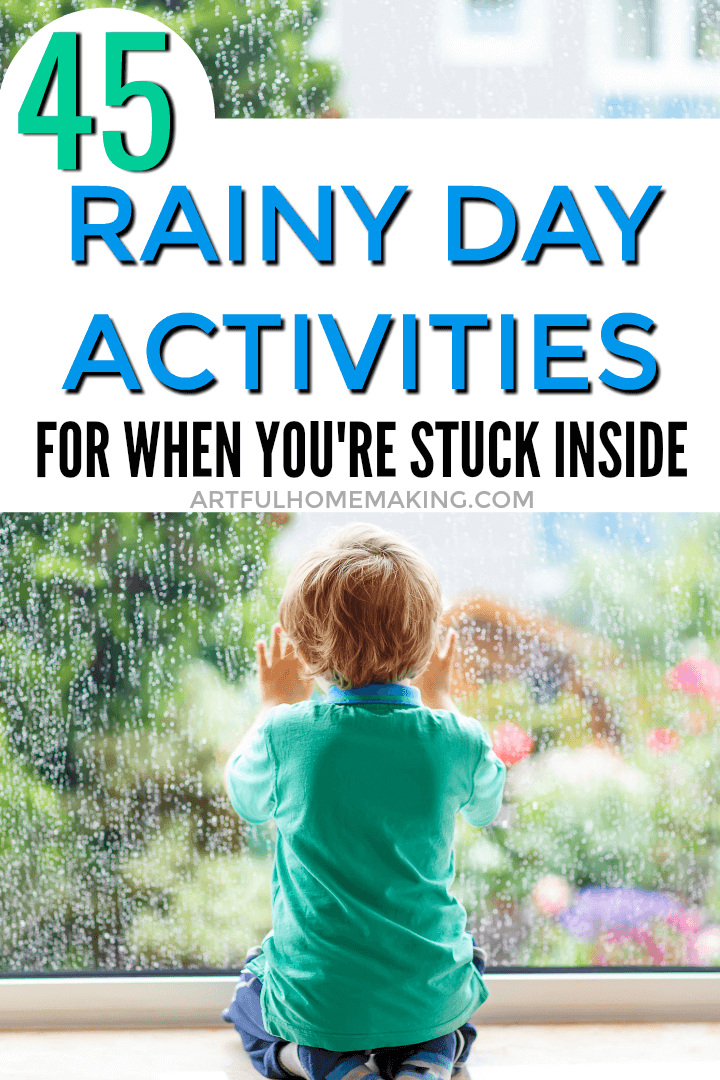 Disclosure: This post contains affiliate links. Read my full disclosure here. Sharing here.