Today I'm sharing our Charlotte Mason classical homeschool plan for this school year! Even though I mainly focus on homemaking here, every year I like to share our homeschool curriculum choices.
It has become an annual tradition to share our homeschool plans and all the books we're looking forward to using for the year.
I know this post is coming a bit later than usual (I usually aim for early August, at the latest!), but I'm still super excited about this school year!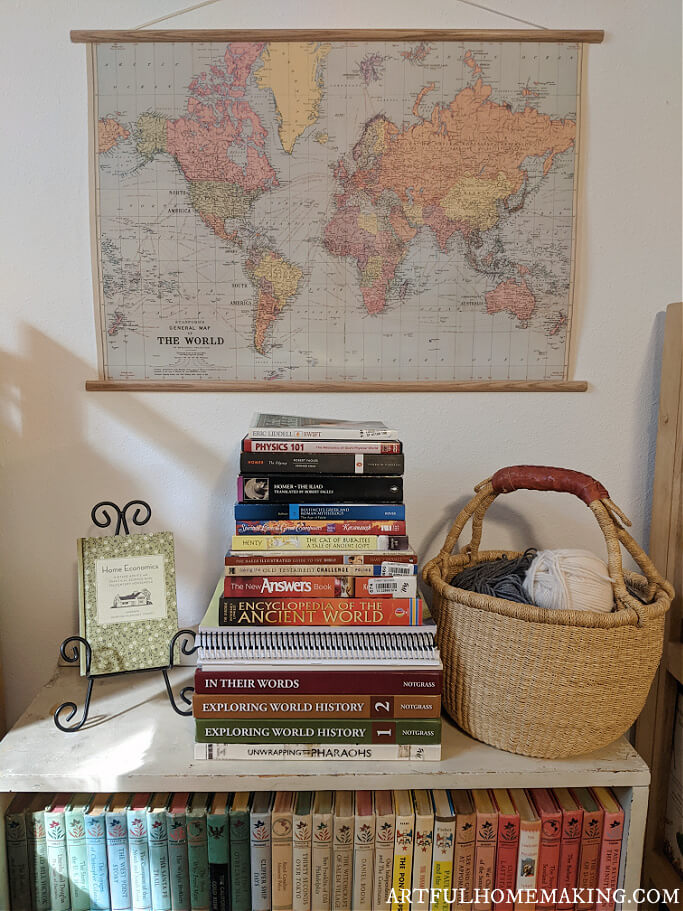 Our 20th Year of Homeschooling!
Especially since this is our twentieth (yes, 20th!) year of homeschooling! I can hardly believe so many years have passed since we first started educating our children at home.
What a beautiful, challenging, and blessed journey it has been.
I would definitely do it all over again! And I really, really wish I still had some little ones to teach this year. But even though our children are no longer little, my youngest and I are still doing plenty of reading aloud, and I'm also throwing in some picture books (because I love them so much!).
Our three oldest children have graduated from our homeschool, and they are off on their own adventures (one in college, one working full-time in the medical field, and one working while pursuing further training in their chosen career field).
This year we just have two students, one in 11th grade and one in 7th grade. Below, I'll share all about our homeschool curriculum choices. But first, let's talk about what I mean by "Charlotte Mason classical homeschool."
What is Charlotte Mason Classical Homeschooling?
Before my first baby was even born, my husband and I found a set of Charlotte Mason's Original Homeschooling Series books (the "pink books") at a church rummage sale (for a few dollars!).
I was so intrigued by what I read in Charlotte's books.
After The Original Homeschooling Series (the pink books), I discovered A Charlotte Mason Companion at our first homeschool convention, which we attended when our oldest was about 2 years old.
A Charlotte Mason Companion led me to For the Children's Sake.
When my children were little, I tried to follow Charlotte Mason's ideas as much as my busy schedule would allow.
We studied nature as a way of life. We did handicrafts. We read tons of living books. We focused on short lessons.
As my children grew older and moved into the middle school and high school years, we needed more rigorous lessons.
Pretty soon, we were combining Charlotte Mason's ideas with some classical and textbook learning (especially during the high school years). And we never lost our love for learning with living books.
That's pretty much how we've been homeschooling for the past several years, and our homeschool curriculum choices reflect that (see last year's curriculum for an example).
For more about what curriculum we've used through the years, see the list below.
Homeschool Curriculum We've Used
Charlotte Mason Classical Homeschool
A Charlotte Mason classical homeschool focus works well during the upper grade levels. And we've been especially aided on this journey by My Father's World.
My Father's World focuses on combining the best of Charlotte mason, classical education, and unit studies, all with a Biblical focus.
We've been using My Father's World for the past few years, and I really love it for high school. It lays out everything you need to do to make sure you're covering everything you need to cover. And they are a great help in creating a high school transcript!
However, I must admit that I rarely follow the plan exactly as it is written, especially for the middle school grades.
For high school, we just use the guidebook and all the suggestions. This plan works well for my current high school student (it may be a bit rigorous for some learning styles/personality types).
But for middle school, I pick my own resources for language arts and science, and I leave out some of the creative projects.
Charlotte Mason Classical High School
So, this year (like last year), we're continuing with My Father's World for my daughter in 11th grade.
My daughter is a great independent learner, and she is able to stay on-track with her heavy high school workload.
My Father's World encourages independent learning in the high school years, and that's a big help to me, as it frees me up to work one-on-one with my younger student.
We do have a scheduled meeting on Friday afternoons to discuss school work and how the week went (and to make sure all the work was completed). And of course I am always available for questions any time.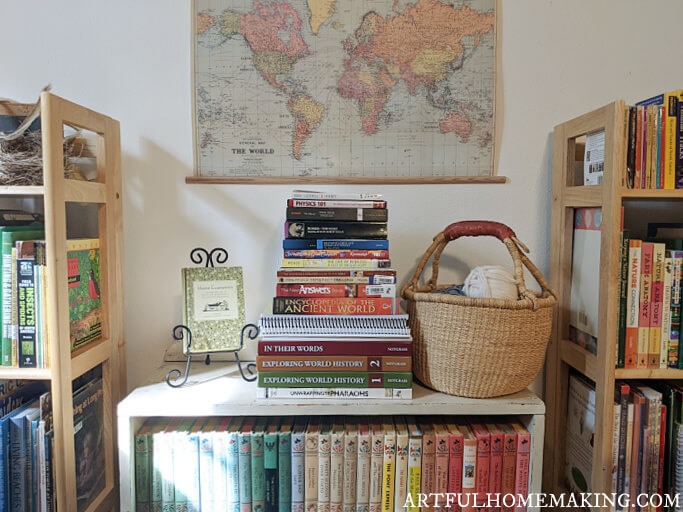 Here's what she's using this year:
History/English/Bible
The My Father's World high school program integrates history (including government, economics, and geography), English, and Bible.
Also, all needed language arts including composition (writing instruction and assignments), grammar, literature analysis, and reading lists are included.
This year we're studying Ancient History and Literature.
Math
Last year we started using CTC math, and we decided to continue it again this year for both students. My 11th grader is doing Algebra II, and loving every second of it (not really loving it, but pressing on!).
Science
This year we pulled a resource off our homeschool shelves and decided to use it for science when we realized how much money it would save to just use what we already have!
My daughter already has two other science requirements taken care of (with labs), but she needed to do physics this year. We had this Physics 101 DVD set one of her siblings had used, and it seems like a perfect choice!
Foreign Language
My daughter has already been learning Spanish with Duolingo, and she's going to continue that this year.
Art
We have great plans of doing some painting together this year! In the past, we've loved doing watercolor painting together (see what we used last year here). We may continue with that, and we're also hoping to do painting with acrylics.
Music Appreciation
We had so many resources sitting on our shelves that were perfect for creating our own music appreciation course! With a daughter in college studying for a music degree, we're not lacking for music resources here!
We have a complete set of classical composer CDs, some composer game cards, and several books about composers and music appreciation. We decided this would be another great elective for her to pursue this year.
Home Economics
I've never really done a formal Home Economics course with my daughters before. I guess I figured they already knew how to cook and clean and do many other homemaking skills since they've learned that in our day-to-day lives.
But this year, I realized it would actually be a good idea to give this subject the attention it deserves, with a formal class.
I'm in the process of putting together a home economics course for us to follow, and if it works well this year, I'll try to remember to share what we did.
One book I'm planning to use is this out-of-print book called Home Economics (thankfully I was able to find an affordable copy). It's such a cute little book. I have several other books I'm considering, but I'll share those in their own post once I figure it out (and if I can remember!).
More Homeschool Inspiration
Charlotte Mason Classical Middle School
Here's what my son in 7th grade will be using this year for his Charlotte Mason classical homeschool curriculum.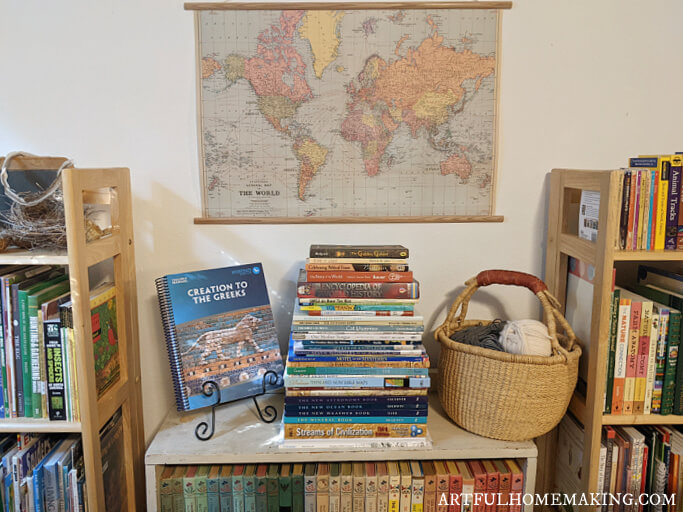 History/Literature/Bible
Just like last year, we're continuing with My Father's World, but modified a bit. I usually eliminate a lot of the crafts and cooking (unless it's a cooking project I know he'd really enjoy), and as I mentioned above, we choose a different science and language arts plan that works better for us.
This year we're studying ancient history with Creation to the Greeks.
Math
He'll be using CTC math this year. With two kids in the program, there's a family discount, and that makes it an affordable option.
Science
For science, we're using Master Books again. This is a set of science books his older siblings used, so again it was a substantial savings to be able to use what we already have. And also, I love these books!
In addition to the Master Books set, we also have a couple of  units of The Good and The Beautiful science that I'm planning to go through with him.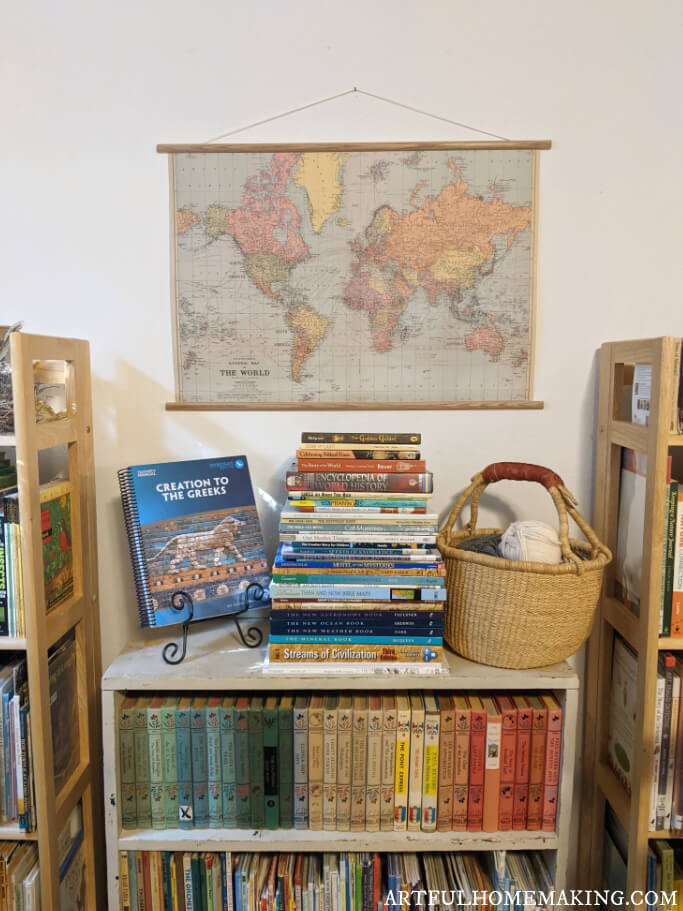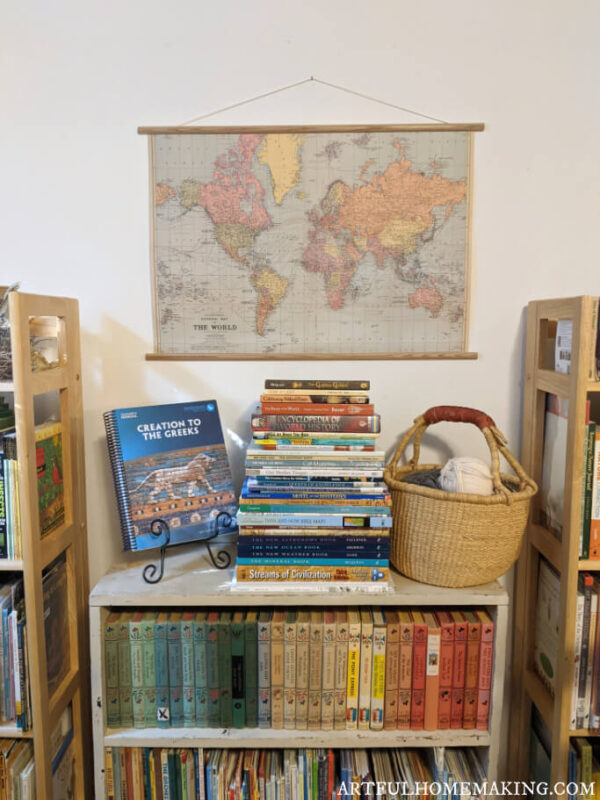 Language Arts
For grammar, we're using Our Mother Tongue. I've been considering this book for so long, and this year felt like the time to use it.
Vocabulary is included in the MFW guide, using English from the Roots Up, focusing on Greek and Latin word roots.
Handwriting is still a thing for us at this point, and we're continuing to use The Rhythm of Handwriting, which we also used last year.
For spelling, I'm using an IEW resource that's been sitting on my shelf, and I'm going to try it this year.
Our writing program is something I'm creating myself, and I'll share about that later if it works out! 🙂
Foreign Language
My kids all enjoy Duolingo, and we're continuing to use it this year to learn Spanish.
Electives
Here are some of the elective courses we're planning to continue/pursue:
Computer programming
Cooking
Music appreciation
Art
Charlotte Mason Classical Homeschool Curriculum
I hope you've enjoyed hearing about our Charlotte Mason classical homeschool curriculum for this year! Have you ever used any of these resources? If you're also a homeschooler, I'd love to hear what curriculum you're using in the comments!
Pin This Post for Later