Fall date night ideas to help you have a romantic and cozy date!
Fall is one of my favorite seasons, for so many reasons. Cooler weather, colorful leaves (in many parts of the country), and comfort food make fall such a cozy time of year.
Fall Date Night Ideas
When the weather is changing and the leaves are falling, it's the perfect time to plan some special couple time. Here's a list of creative date ideas to inspire you!
These are some of the best fall date night ideas we've come across.
This post contains affiliate links, which means I may make a small commission at no extra cost to you. Read my disclosure here.
Go Out for Coffee
Fall is the perfect time to go out for a seasonal treat at the local coffee shop. If you love pumpkin-flavored treats like pumpkin spice lattes, now is the time to take advantage of their availability!
Make Fall Treats at Home
If you're not in the mood to go out, why not stay at home and make your own festive fall treats?
Try these homemade pumpkin spice lattes, or one of these Starbucks Copycat Recipes you can make at home!
You'll save money, and you'll get to enjoy the fun of cooking together.
Go Apple Picking
In early fall, our family loves to go apple picking. Why not make it a special treat just for the two of you to enjoy together?
Head to the Pumpkin Patch
The pumpkin patch isn't just for kids! There are so many fun things for adults to enjoy as well.
Go on a hay ride, get lost in the corn maze, and pick out some fall decor like mums and pumpkins.
You can also usually enjoy some delicious fall baked goods and treats!
Take a Walk in the Park
Get out and enjoy the beautiful fall weather with a walk in the park! If you want to make a day of it, bring a picnic to enjoy together.
Go for a Drive
In many parts of the country, fall means the leaves are changing! Go for a long drive in the countryside to enjoy the fall colors.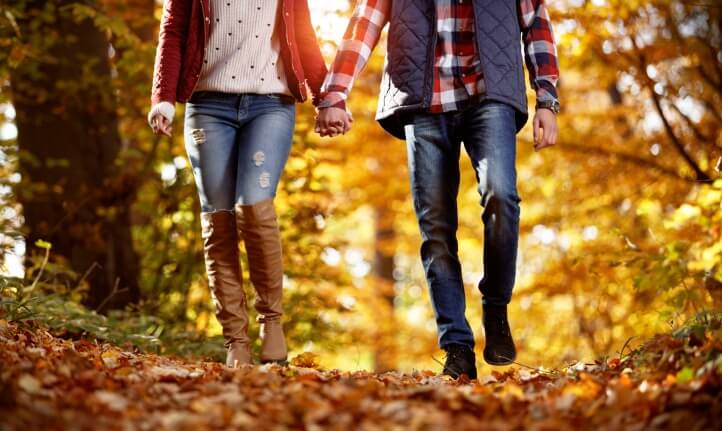 Take a Hike
Fall is a beautiful time to be outdoors. The weather is cooler, the leaves are changing, and the sun is out. It's the perfect time to take a hike together!
Go to a Fall Festival
So many towns and cities have fall festivals this time of year. Check around your area to see if there's one nearby.
Often there will be music, crafts, and lots of good food to enjoy!
Visit a Nearby Town and Go Antiquing
One of our favorite things to do on a date is to visit antique shops and flea markets. It's fun to drive to a nearby small town and look for treasures at the local antique mall.
Have a Game Night
Get out your favorite board games and have fun! Some of our favorite games for date night that work well for two players are: Scrabble, Jenga, Boggle, and Ticket to Ride,
Put a Puzzle Together
If you enjoy doing puzzles, try working a puzzle together while you munch on fall snacks. Try this easy Harvest Candy Corn snack mix.
Watch a Movie
If you'd rather just stay home, why not watch a movie together? Go all-out and make it festive by having popcorn and apple cider. Or try this easy apple dip with apple slices!
Cuddle up together under a cozy blanket, and this will be the best fall at-home date night ever!
Have Fun!
I hope these fall date night ideas have given you some inspiration. Let me know if you have other ideas for fun fall dates!
Related Posts:
Pin This Post for Later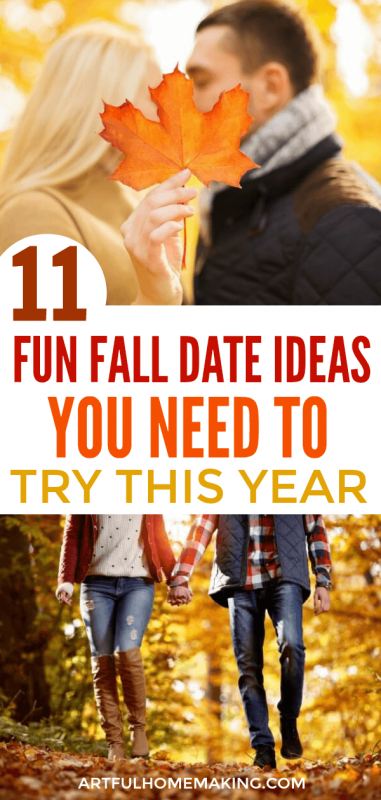 This post contains affiliate links, which means I make a small commission at no extra cost to you. Read my disclosure here. Sharing here.