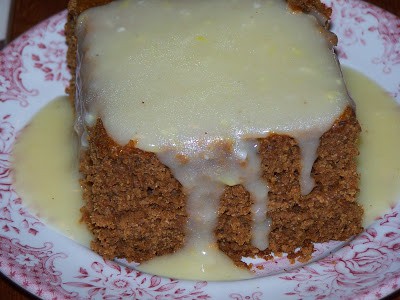 Maple-Yogurt Gingerbread
2 1/4 cups whole wheat flour
2 tsp baking powder
1 tsp baking soda
1 tsp powdered ginger
1/2 tsp cinnamon
1/4 tsp ground cloves
1/3 cup oil
1/2 cup maple syrup
1/2 cup molasses
1/2 cup yogurt
2 eggs
Preheat oven to 350°. Oil a 9″x9″ baking dish (or 18 muffin tins). Combine dry ingredients in a large mixing bowl. Combine wet ingredients in a smaller bowl. Add wet ingredients to the dry ingredients and mix until well blended. Pour into the baking pan and bake about 30 minutes. Bake cupcakes for 20-25 minutes. Serve warm with lemon sauce.
Lemon Sauce
2 Tb cornstarch
1 1/2 cups water
1/3 cup honey
1 egg
1/4 cup lemon juice
2 tsp grated lemon rind
1 Tb butter
dash of nutmeg
In a medium saucepan, mix the cornstarch with a small amount of the water; stir until dissolved. Add the remaining water, honey and egg. Blend well and heat over medium heat, stirring until the mixture comes to a boil. Remove from heat and add the rest of the ingredients. Spoon it generously on servings of gingerbread.
We love this recipe, and it just says "Autumn" to me. Last week my daughter helped me make this, and it was so delicious! The recipe originally comes from the
Hearth and Home cookbook from Karey Swan
(which is a great cookbook, by the way!). I have re-written a small part of the recipe instructions to make it easier to understand. ♥