Planning a homeschool graduation party? Here's what we did to make my daughter's high school graduation special.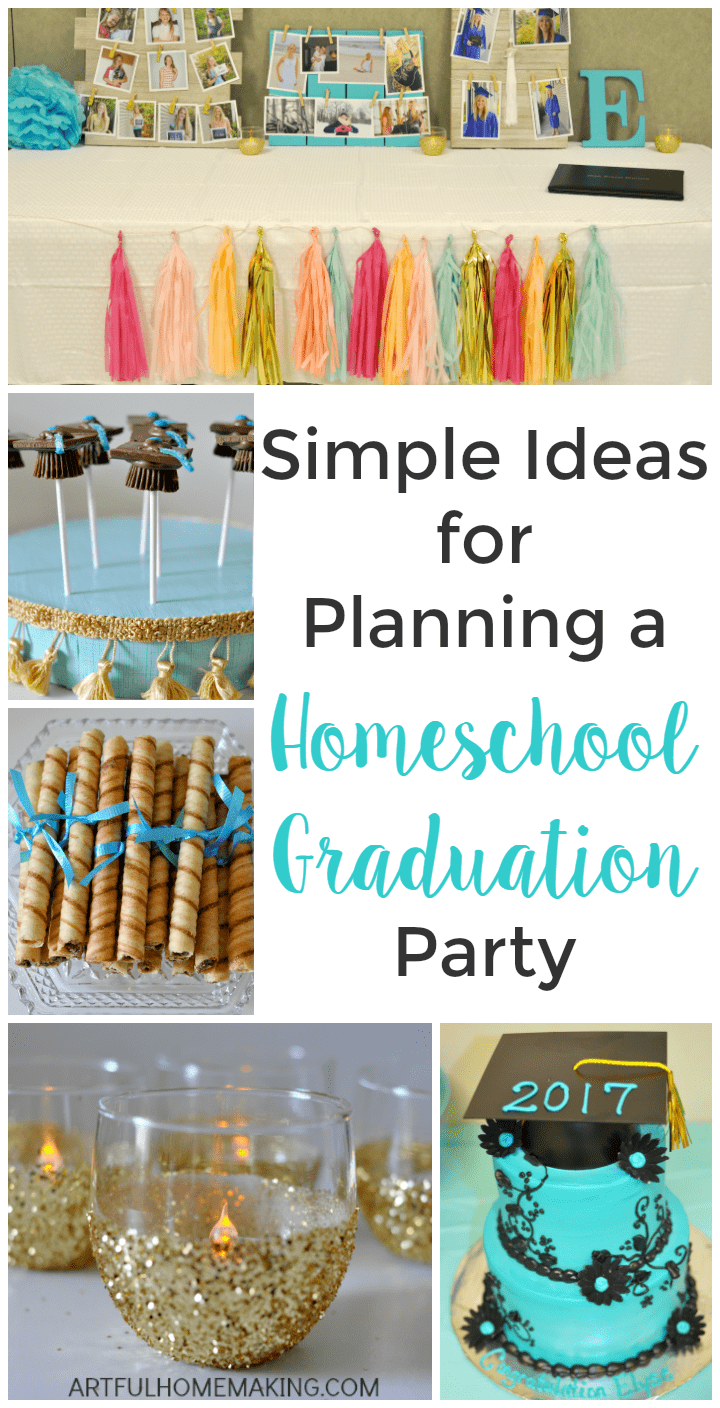 This past weekend marked a milestone for our family. We've been homeschooling for 14 years, and our oldest child just completed her high school studies.
I still remember teaching her to read as if it were just yesterday. All the books, crafts, and school projects are now just a happy memory for me.
We wanted to do something special to mark the completion of her high school studies. Some homeschool families are part of a co-op or homeschool organization that hosts a graduation ceremony, but we don't have anything like that. So, we decided to plan a special homeschool graduation party to celebrate.
Homeschool Graduation Party
A homeschool graduation party can be as elaborate or as simple as you'd like. Our first preference would have been to host the party at our house, but we have a small house and our friends have large families. 🙂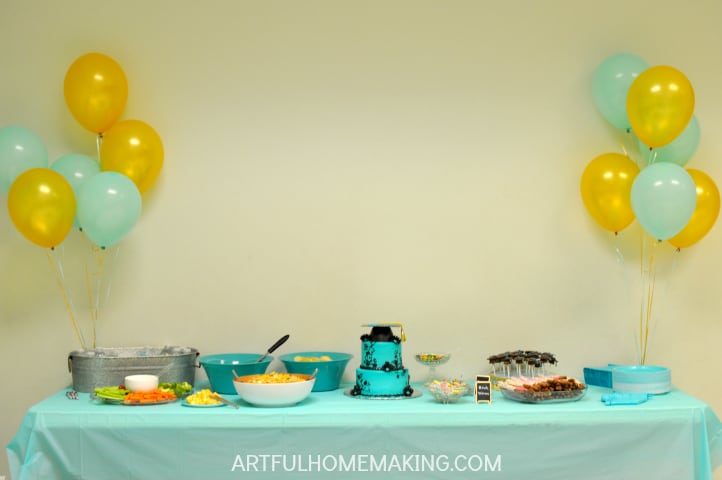 We decided the next best thing would be to use our local community center. It was inexpensive to rent, and it has a kitchen, a banquet room, and a gym for the kids to play volleyball or basketball. We wanted this to be a casual event, and we wanted all the kids to have fun!
Party Food
Since we needed to keep costs down, we decided not to serve a full meal, but to just have snack food, cake, and drinks.
We had so much fun planning and making food for the party.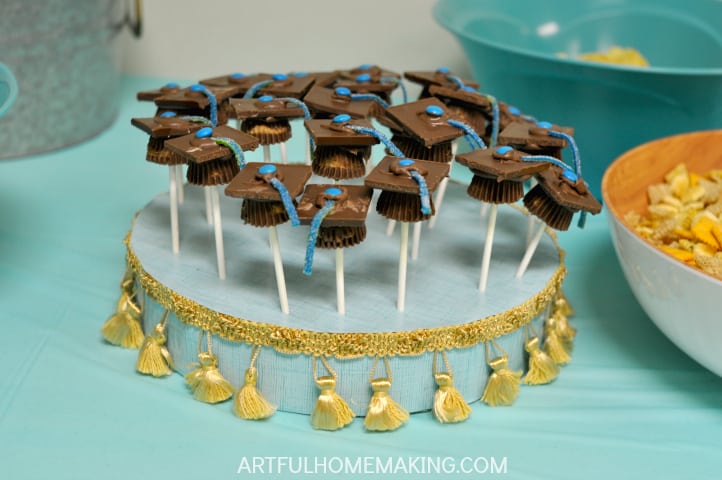 Our favorites were these graduation cap pops and the diploma cookies.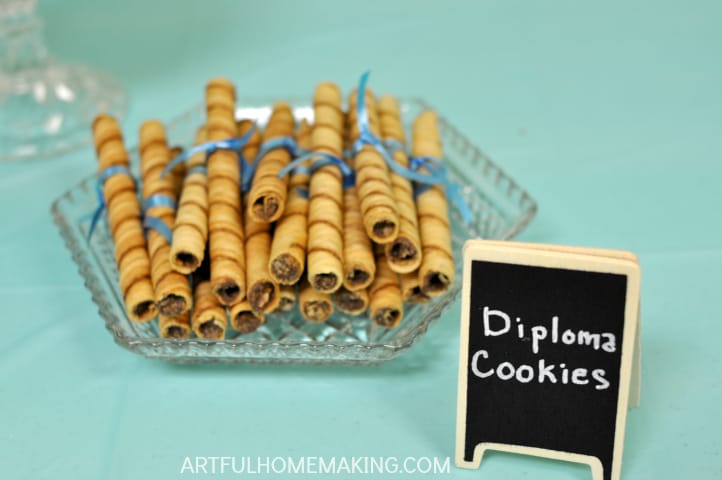 To balance out all the sugar, we also made fruit kabobs, a vegetable tray, and chex mix.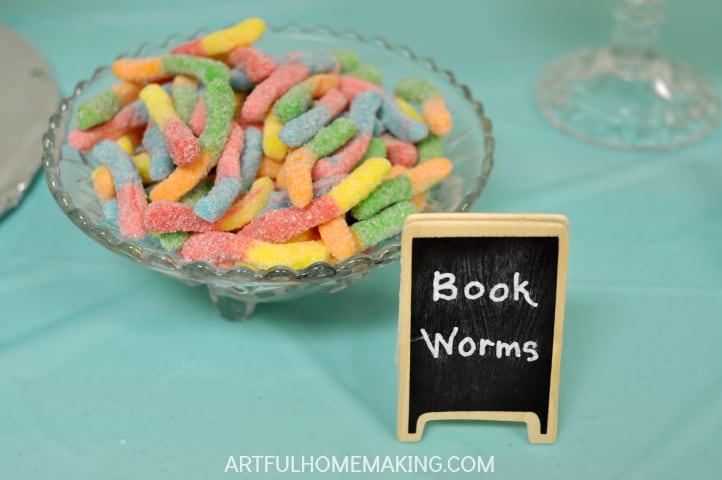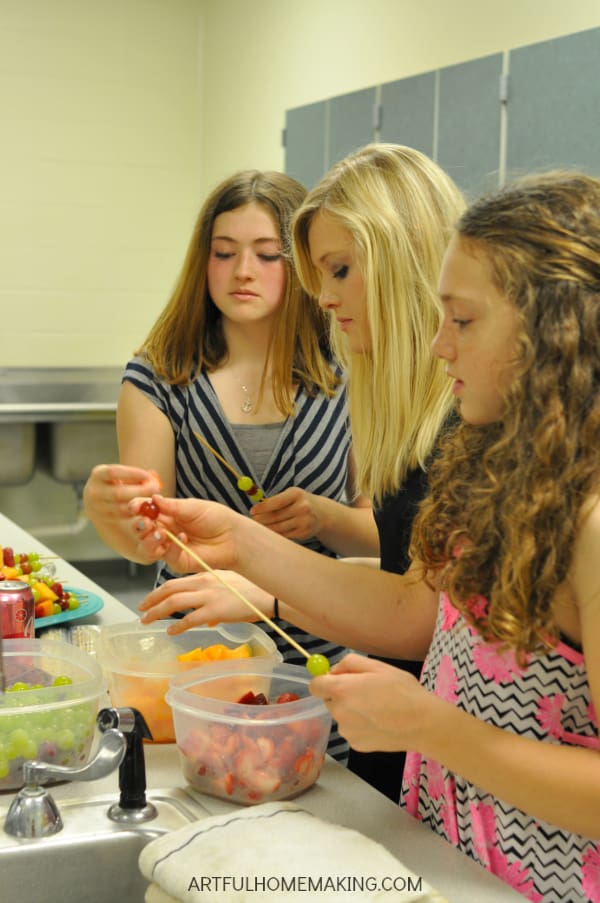 The Graduation Cake
My daughter found a photo online of the cake she wanted, and we took it to a local cake artist. The cake turned out almost exactly like the photo!
My daughter was thrilled with it.
Party Decor
This post contains affiliate links. For more information, see my disclosure here.
My daughter really, really wanted to have a photo booth. We originally planned to use this inexpensive backdrop, but then we found out that we weren't allowed to hang decorations on the wall.

We ended up buying this gorgeous backdrop and this backdrop support stand. It worked really well, and the pictures turned out great!
I set up a table for a few photo displays and my daughter's diploma (which we got from HSLDA).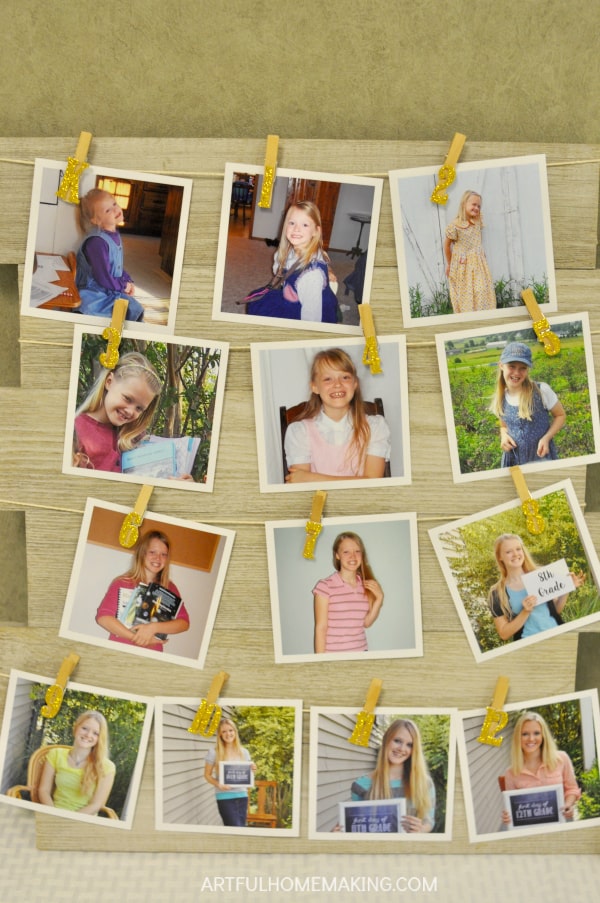 For the first photo display, I found a photo of her for each grade. Since they all varied in size and location, I cropped each one into a square and added a white border. This gave the photos a cohesive look.
I stuck a small gold foam number sticker (and a "K" for kindergarten) to mini clothespins and hung each photo on a piece of twine. I thought this turned out so cute!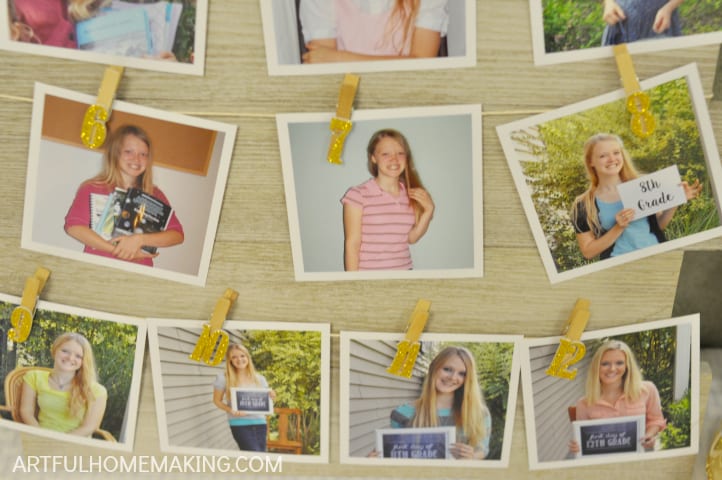 We bought a cap and gown (also from HSLDA—if you're a member you get a discount!), which we only used for photos. Since it was barely used, I'm hoping it can be passed down to her siblings. Then we'll just need to reorder the diploma and tassel for each child.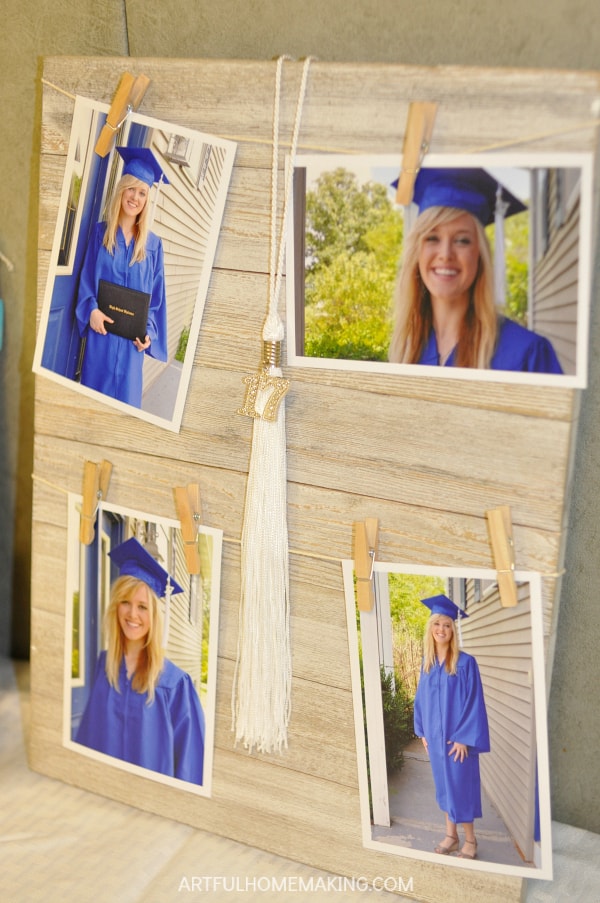 We painted this photo board an aqua/teal blue color to match the letter "E" on the table, that we also painted (the board, paint, and letter came from Walmart).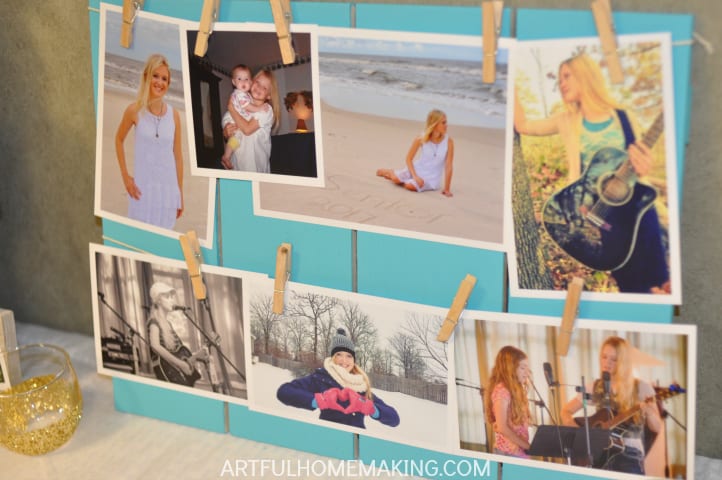 I also added a tassel garland to the front of the table. I couldn't find one that matched exactly, but we loved these colors, so we went ahead and used it.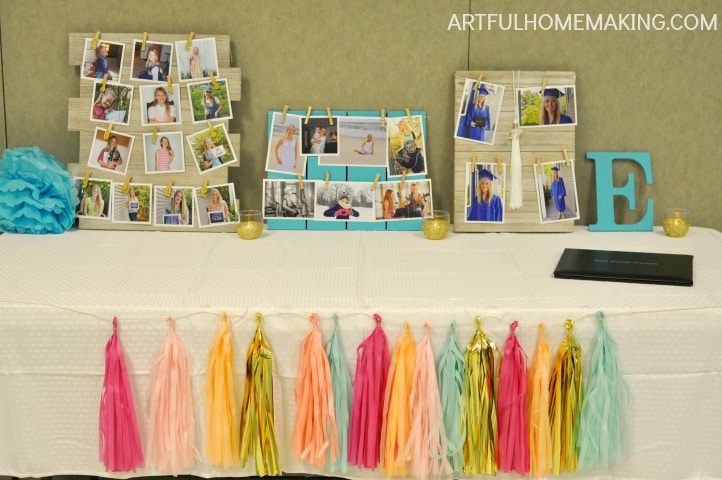 We also made glitter votive cups and put battery-operated tea lights in them (since I didn't know if candles were allowed at the community center).
Gift and Guest Book Table
We set up a gift table in the entryway to the banquet room.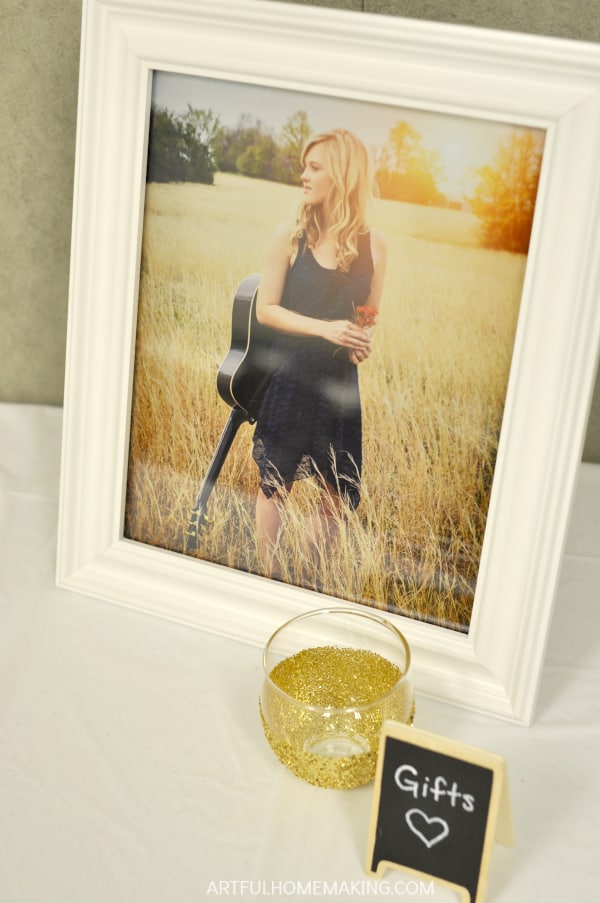 This table included framed photos from her senior portrait session, a box for cards, and an autograph photo mat for the guests to sign (in place of a guest book).
The photo mat is such a cute idea. We framed it and she has it hanging in her bedroom.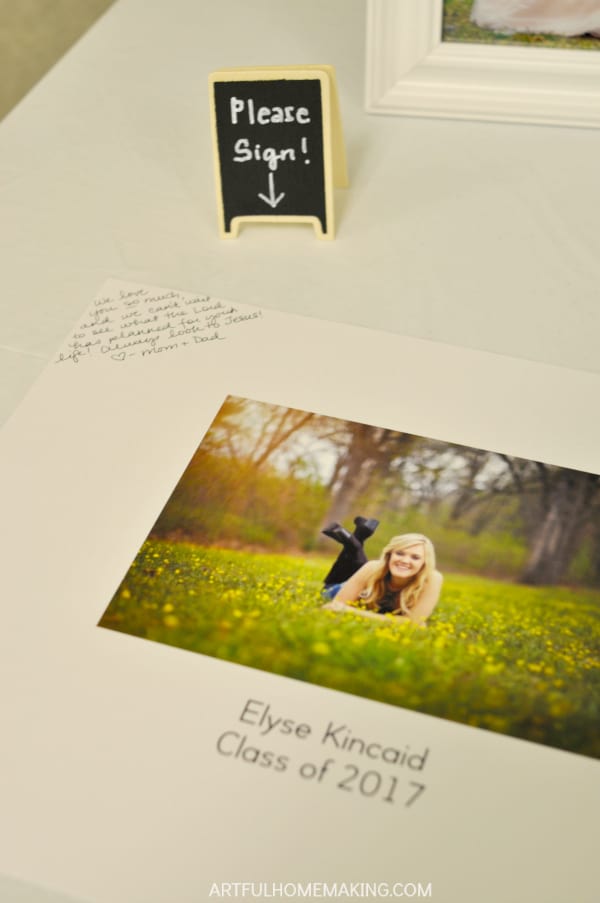 Since we weren't supposed to hang anything from the walls, we attached this congratulations banner above one of the doorways.
A Sweet Ending
My daughter was very happy with her homeschool graduation party, and several of the guests told me what a great time they had.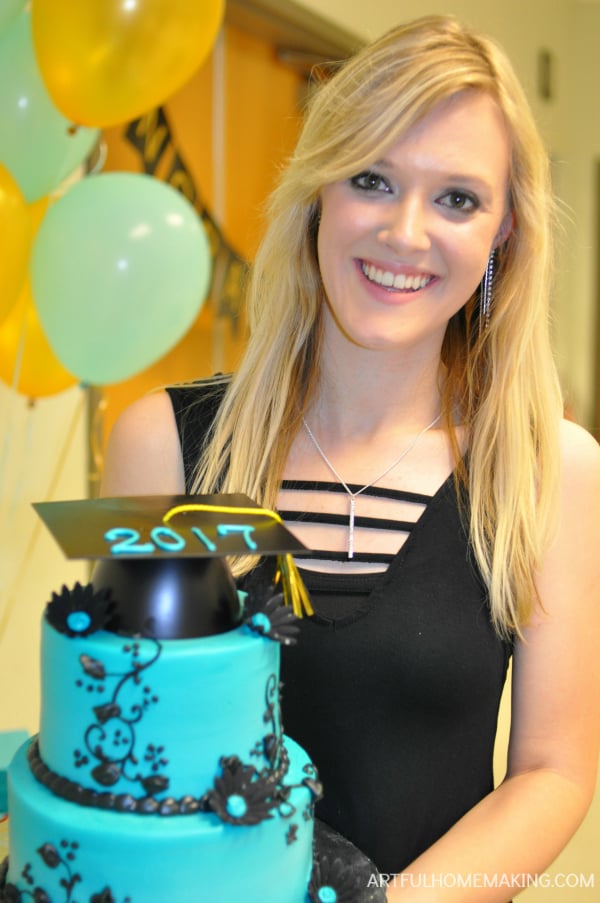 I felt like it was a sweet ending to her homeschool days, and I'm so thankful we were able to give her a fun grad party. Now we're looking forward to seeing what the Lord has for her in the coming years!


Related Posts:
What I Wish I Had Known When I Started Homeschooling
How to Thrive as a Homeschool Mom (Even if You're an Introvert)
Disclosure: This post includes affiliate links.  Read my full disclosure here. Sharing this post here.