Since we've been talking about makeup in this week's Mom Makeover challenge, I thought it would be fun to give you a peek inside my makeup bag. I always love talking makeup with friends!
I have a confession to make. Are you ready for this? Okay, here goes.
I never leave the house without at least minimal makeup.
Not even when I'm "just going to Walmart." (My husband always says, "Why do you need to wear makeup? It's just Walmart." It's kind of a joke between us, because we both know I'm not even going to Walmart without makeup on.)
Before you judge, let me tell you a little bit of my story.
See, I've dealt with acne my whole life. Even in my 40's, I'm still dealing with acne.
Usually most people can't tell, because as long as I use Benzoyl Peroxide twice a day, I don't have breakouts.
And, believe me, I've tried every natural acne cure known to man: salicylic acid, coconut oil, essential oils, bentonite clay, green clay, manuka honey, gluten free diets, dairy-free diets, etc. You name it, I've probably tried it. And none of it works.
After I've totally messed my skin up with all that natural stuff, I always go back to my Benzoyl Peroxide, and after a few weeks, my skin clears back up.
So, because I have less-than-perfect skin, I wear makeup whenever I go out.
And before you imagine a heavily-made-up woman, sometimes people can't even tell that I have any on (in fact, one of my daughter's friends said to her, "Your mom doesn't wear makeup, does she?" My daughter said it's because I don't wear enough 🙂 ). Mostly I just try to even out my skin tone, cover blemishes and scars, and try to look a little brighter.
My Makeup Bag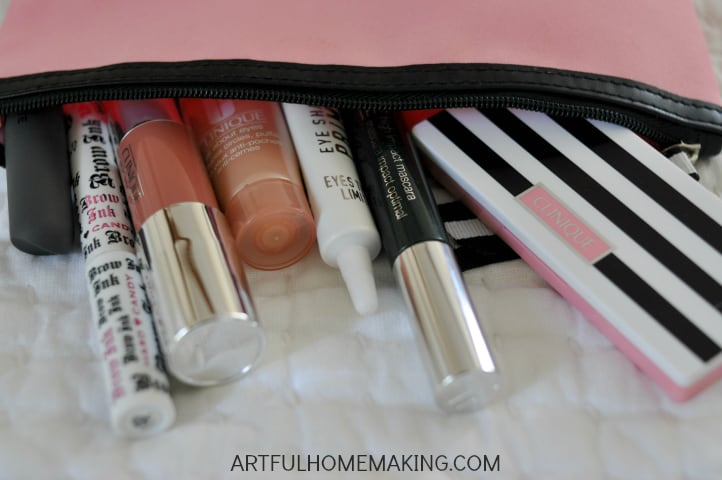 This past Christmas, my mom surprised me with this adorable pink and coral makeup bag from Clinique that was filled with new makeup!
Inside the bag was eye shadow, blush, lip gloss, eye liner, two mascaras, and eye cream. It was such a fun gift!
I've been wearing Clinique makeup since I was about 13, when my dermatologist recommended it to me. During my teen years, I also used their skincare line, but now I just use my homemade soap, rose petal witch hazel toner, and Neutrogena On-The-Spot Acne Treatment.
Everyday Makeup
I don't wear a lot of makeup for everyday. My goal with my everyday makeup is to look like I'm not wearing any. 🙂
Whenever I'm staying home for the day, I usually give my skin a break from foundation and just wear lip liner, lipstick, and lip gloss. Sometimes I add mascara and brow ink (because for some reason my eyebrows have faded with age!).
If I think there's a possibility I might be seeing someone other than family, I'll go ahead and put on concealer, foundation, and some eye makeup.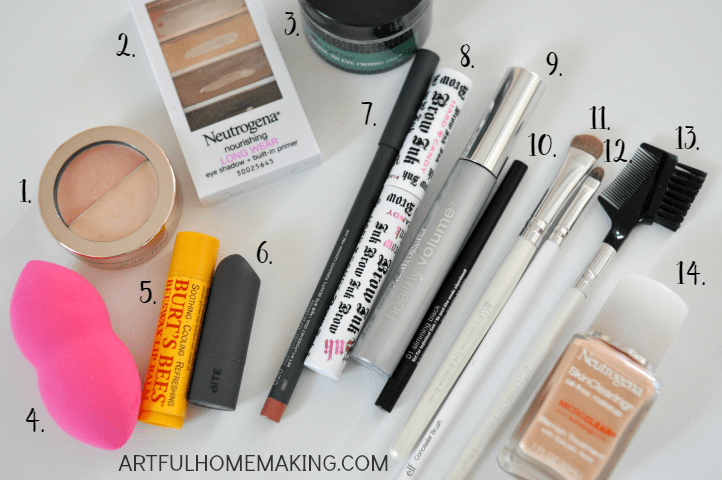 What I Wear for Everyday
This post contains affiliate links. Read my disclosures here.
Going Out Makeup
As I mentioned above, I never leave the house without at least minimal makeup on. But whenever I'm going somewhere, I'll put forth a bit more effort, especially with my eye makeup.
Mostly it's the same products, but I do add in a few things.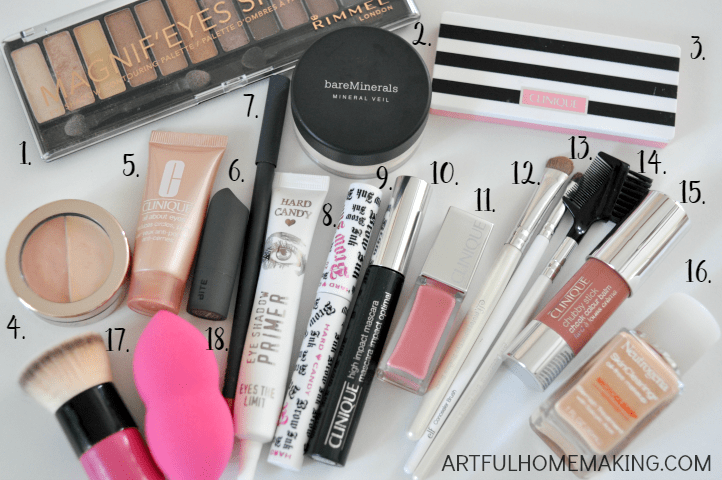 What I Wear for Going Out
Why So Few Natural Choices?
Honestly, I would love to switch all my makeup over to more natural things. However, there are a few things that have prevented me from doing this.
Number one, I've got the acne issue. I've never been able to find a natural foundation or moisturizer that doesn't cause me to break out. So, I feel like I have no choice but to continue on with Neutrogena and Clinique.
Number two, performance. I've tried many natural makeup products in the past, but most of them were a disappointment. The company that I've stayed with the longest is Cowgirl Dirt. I especially love their eye firming cream, the lipstick, and the lip gloss. My girls also love their body glitter. If you know of a natural makeup company with products that perform like professional makeup, I'd love to hear about it!
And the final thing that has prevented me from totally switching over to all-natural makeup is cost. Most of the makeup I've purchased is fairly inexpensive (the Clinique makeup listed above was a gift from my mom). Many of the natural makeup companies are more expensive and have high shipping fees.
I'd love to hear what your favorite makeup is. Let me know in the comments!
---
Other Posts in The Mom Makeover Challenge series:
This post contains affiliate links. Sharing here.