How to be consistent with Trim Healthy Mama and stay on-plan!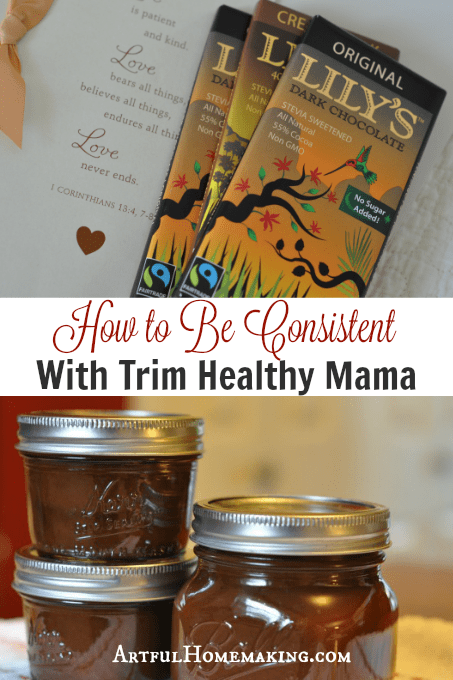 Even with the best of intentions, we won't realize our goals unless we actually do the work. It's relatively easy to make a list of goals for the new year. It's another thing altogether to actually make those goals happen. To do the work and stay consistent.
One of my goals for this year is to gain greater health and strength. The action steps I have planned to implement that goal include exercising regularly and eating a healthy diet. Specifically, I'd love to make at least 90% of my meals comply with the Trim Healthy Mama guidelines.
Lately I've been eating whatever we had on hand. And most of it hasn't been Trim Healthy Mama-friendly (too many carbs and sugars!). All because I didn't have a plan. The new year started with a round of colds for everyone, and I've had a hard time getting back on track. But now I'm ready to get serious about pursuing the action steps for this goal.
Eating the Trim Healthy Mama way doesn't come naturally to most of us, and there are several new ideas to learn. Even though it isn't hard once you get the hang of it, it still requires some thought and advance planning.
How to be Consistent with Trim Healthy Mama
Here are a few tips that really help me to be more consistent with Trim Healthy Mama:
1. Tab your book.
If you have the new cookbook and plan book this isn't as necessary, because they've got the plan in one book and then a separate cookbook. I have both of those books (they're wonderful—read my review here), but I still refer to the original book all the time, and it really helps to add tabs to the pages so you can easily find what you're looking for.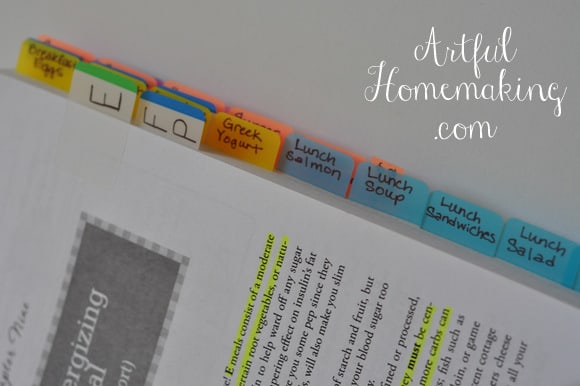 2. Make a binder for Trim Healthy Mama meal inspiration.
You know all of those wonderful THM recipes you've got pinned (here's my THM Pinterest board!)? They're so much more useful when you print them off and add them to your THM binder! Or maybe you'd like to try them first and then only add the ones that you really liked. Having a binder dedicated to THM has been so helpful to me! I love flipping through it for inspiration.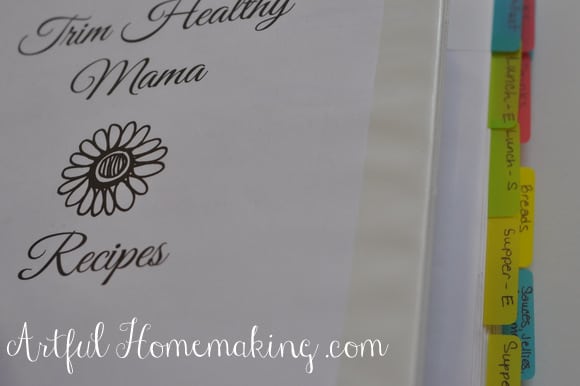 3.  Plan meals in advance.
This is probably kind of obvious—but if you don't plan in advance, there's no way to stay consistent with this program. I think this is probably the biggest hindrance I've had to staying on plan. It's such a simple thing but so necessary! And cooking for the freezer makes this even easier. I think it's about time I scheduled another freezer cooking session!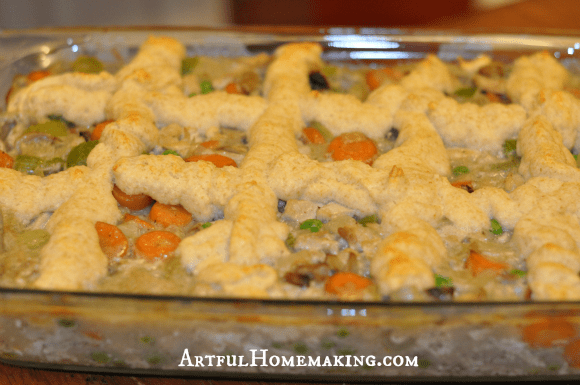 Chicken Pot Pie from the new cookbook—a new favorite recipe!
4. Schedule a time to make snacks and desserts for the coming week.
Without snacks and desserts it's soooooooo hard to stay on plan! The times when I've been the most consistent with THM  have been the times I had some on-plan chocolate in the freezer and some snacks made up ahead of time. (And some Lily's chocolate doesn't hurt, either!)
I actually have a time set aside on my schedule for doing this. I'm hoping it helps me to be more diligent in getting it done.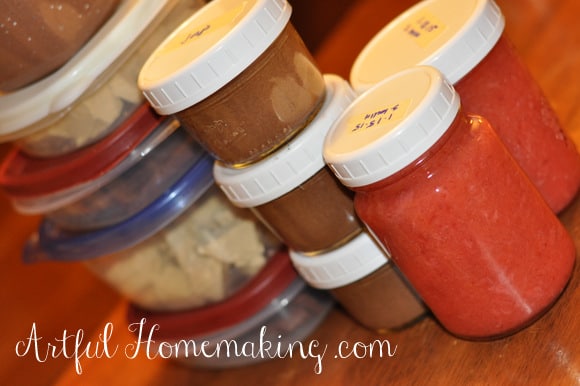 Snacks and desserts made ahead for the coming week.
5. Keep THM staples in your kitchen.
Having a kitchen stocked with on-plan sweeteners, flours, and other ingredients makes mixing up a quick snack or smoothie a snap! I try to keep stevia, Gentle Sweet, Sweet Blend, and Baking Blend on hand all the time.
6. Join the THM Facebook group.
This group has been so inspiring and helpful to me! I love seeing all of the inspiring testimonies come through my Facebook feed, and it's often a great source of new recipes.
Hopefully this will be the year that I'm able to stay on plan 90% of the time! 🙂 How about you? Do you have any tips for how to be consistent with Trim Healthy Mama?
This post contains affiliate links. Read my full disclosure policy here. Sharing here.