How to install a beadboard kitchen backsplash yourself and save money! Our DIY beadboard backsplash tutorial.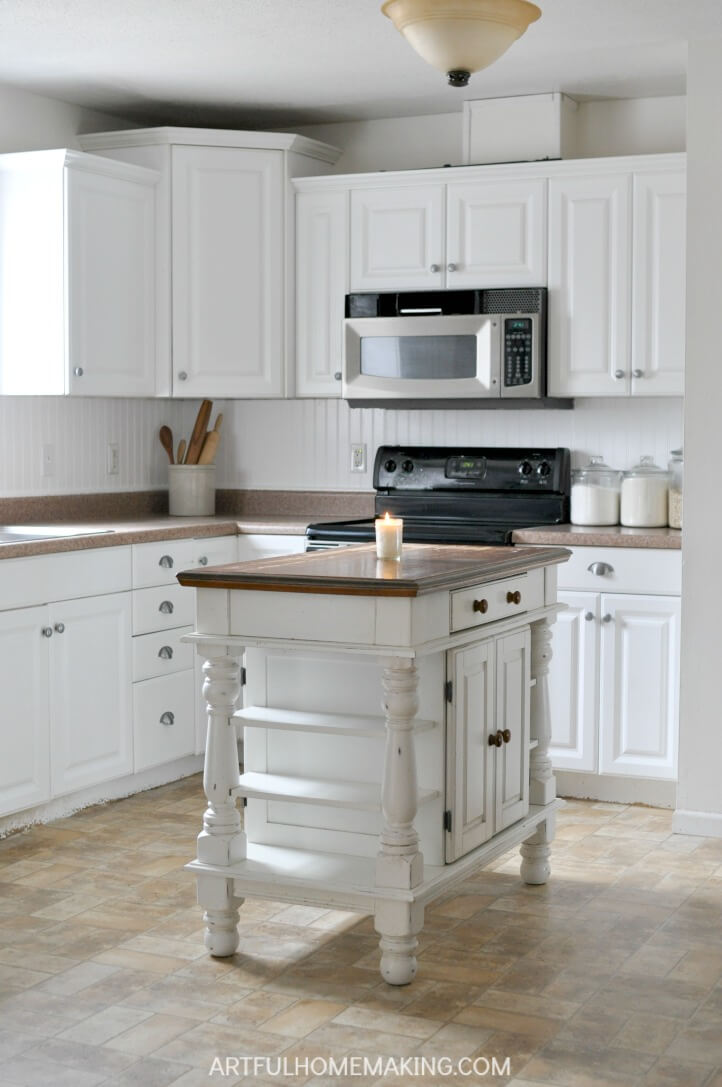 When we moved into our current home over seven years ago, the kitchen was painted a brick red.
At the time, I was into a rustic, country look, and I was thrilled with our new kitchen.
But this little country kitchen has only one window (the one over the sink), and then a little bit of light comes in from the back door, which also has a window.
The main thing I started to really dislike about our kitchen back then was that it was dark. Very dark.
And if there's one thing I love, it's lots of natural light.
You can get a glimpse of what our kitchen looked like before in this post.
Since we couldn't afford a complete kitchen remodel to add more windows, I decided to paint everything white to try to lighten it up.
Even though I had planned to paint a long time ago, we didn't get to it until June 2016 (you can see the before and after pictures here).
Tin Backsplash
When we moved in, the previous owners had installed a new tin backsplash. It was very "country," and I loved it.
But with time and child dishwashers, the tin started to rust, despite the fact that we regularly sprayed it with a protectant spray.
I considered painting the tin white, but the area around the sink had started to wear away entirely, and it was crumbling off the wall. The only thing to do was remove it.
Before we started painting the kitchen, we pulled off part of the tin backsplash because it was covering a part of the wall I wanted to paint.
You can see the photos of the tin backsplash being removed here.
One Year Later
Life was busy and it took us a whole year to finish the job of removing and replacing the tin backsplash. But it was finally gone.
We painted the kitchen in June 2016, and we didn't get a chance to work on it again (because of time and money constraints) until last summer (August 2017).
When we finally got it all removed, this is what it looked like: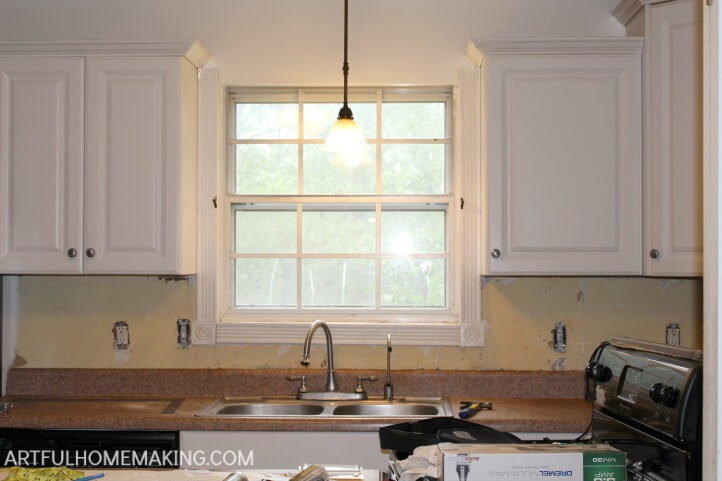 Underneath the tin was a layer of some sort of stick-on vinyl backsplash.
We didn't have a lot of money to spend on a backsplash, so I thought I might be able to just paint the backsplash wall area to make it look neater.
But I realized that was going to be impossible, because the surface wasn't at all smooth after we removed the vinyl. Before painting, the whole thing would need to be resurfaced.
What I really wanted to do (future goals) is install white subway tile (because I love the look and it would be so much more durable), but that was out of our budget.
Not only that, in the not-too-distant future our countertops will need to be replaced due to becoming a bit warped because of water exposure (again, child dishwashers! 🙂 ).
So, even if we could have gone with the tile, it wouldn't have been a wise move right now. We needed something less permanent.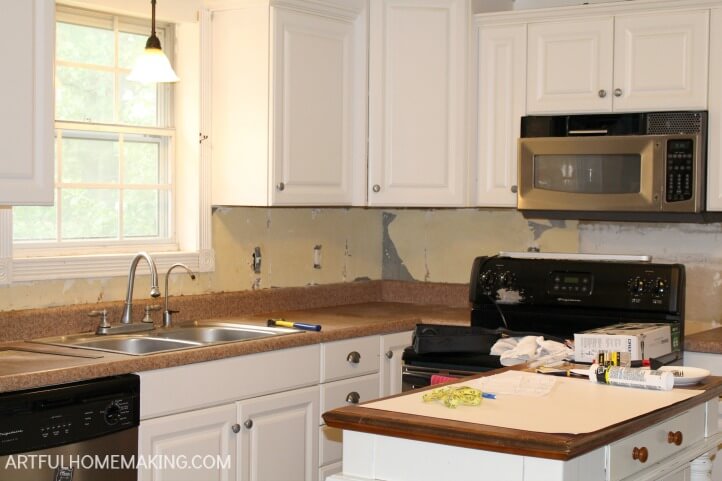 We needed something that would be inexpensive and relatively easy to install. And that's when we decided on a beadboard backsplash!
We were able to do the whole area with one sheet of beadboard, which only cost us $19.99.
And it was something my husband could do himself, which saved us even more money.
Below, I'll give a breakdown of the supplies we used and the instructions we followed, in case you'd like to know how to install a beadboard kitchen backsplash for yourself!
Affiliate links included below for your convenience. Read my disclosure here.
How to Install a Beadboard Kitchen Backsplash
Supplies Used:
One sheet of wood beadboard $19.99
Quarter Round Trim
Screwdriver
Measuring Tape
Spackle
Paint
What We Did:
1. First, we measured the area to figure out how much beadboard we would need.
2. Then, we went to Home Depot to buy the beadboard. We asked them to cut it to size for us, but they refused, saying they didn't make individual cuts. In the end, the only thing we could get them to do was cut it in half for us so that it would fit in our vehicle (we had a minivan full of 7 people, and we had driven an hour and a half just to get there).
3. Several days later, my husband began cutting the beadboard into the pieces he would need. He used a jigsaw and the dremel for this.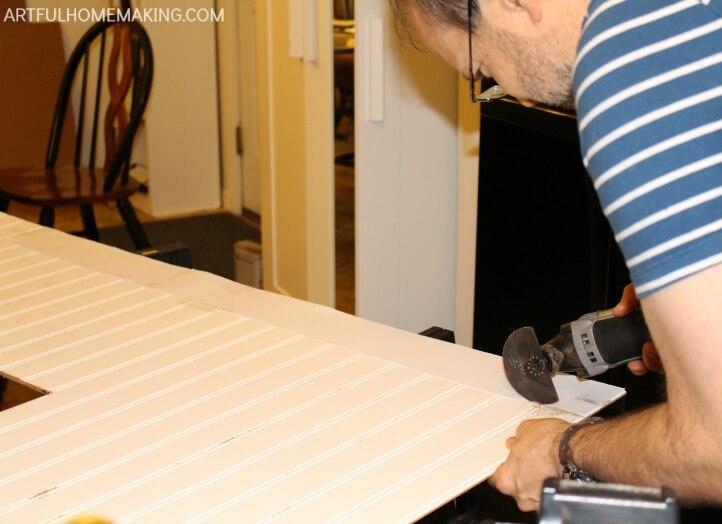 Since he had never done a remodeling project like this, he was a bit concerned about making a mistake (I'm so thankful for his willingness to learn new things!).
In order to eliminate the possibility of making a wrong cut, he used poster board to make a pattern. This way, he knew exactly where to cut out the holes for the light switches and electrical outlets.
4. We had a piece of trim around the window that had fallen off when we removed the tin backsplash. Before getting started with installing the beadboard, he first reattached the window trim with the brad nailer.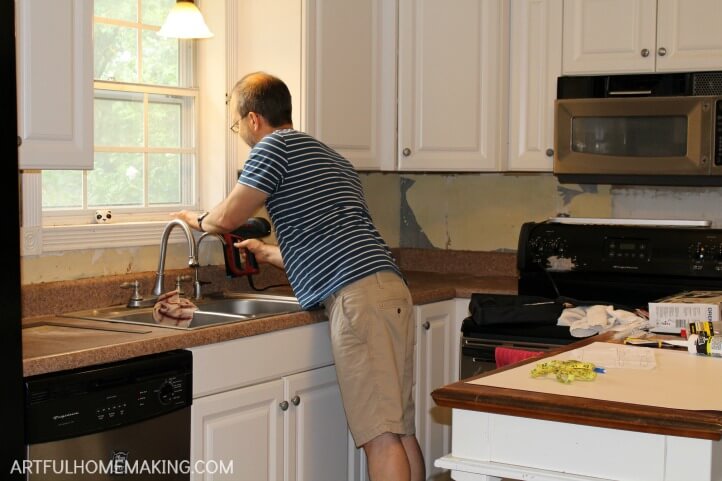 5. The next day, after cutting out each piece of beadboard, he used the brad nailer to attach it to the wall.
6. After getting all the beadboard attached, he then used the quarter round trim to finish it off.
7. The next step was to fill in the little spaces between the trim and the beadboard and the trim and the counter with white caulk.
8. We used spackle to fill in some of the grooves where two pieces of beadboard were joined, then we sanded off the spackle.
Painting Beadboard
Our beadboard backsplash stayed partially finished until last week, when I decided it was finally time to paint it!
So, from the time we started this simple project, it's now been about a year and a half! That's crazy! 🙂
I used this Behr Premium Plus Ultra semi-gloss paint with the hope that it would be very durable and washable.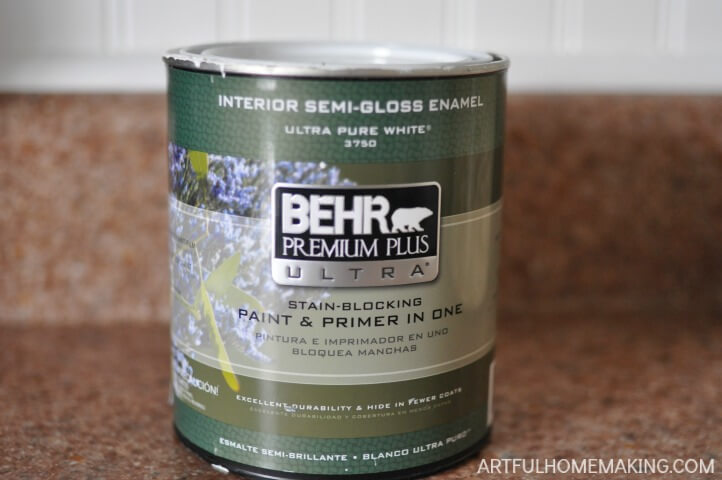 Finally Done!
For most people, this project could be completed in a weekend, but we've had so many circumstances preventing us from finishing.
We're all so relieved that it's finally done!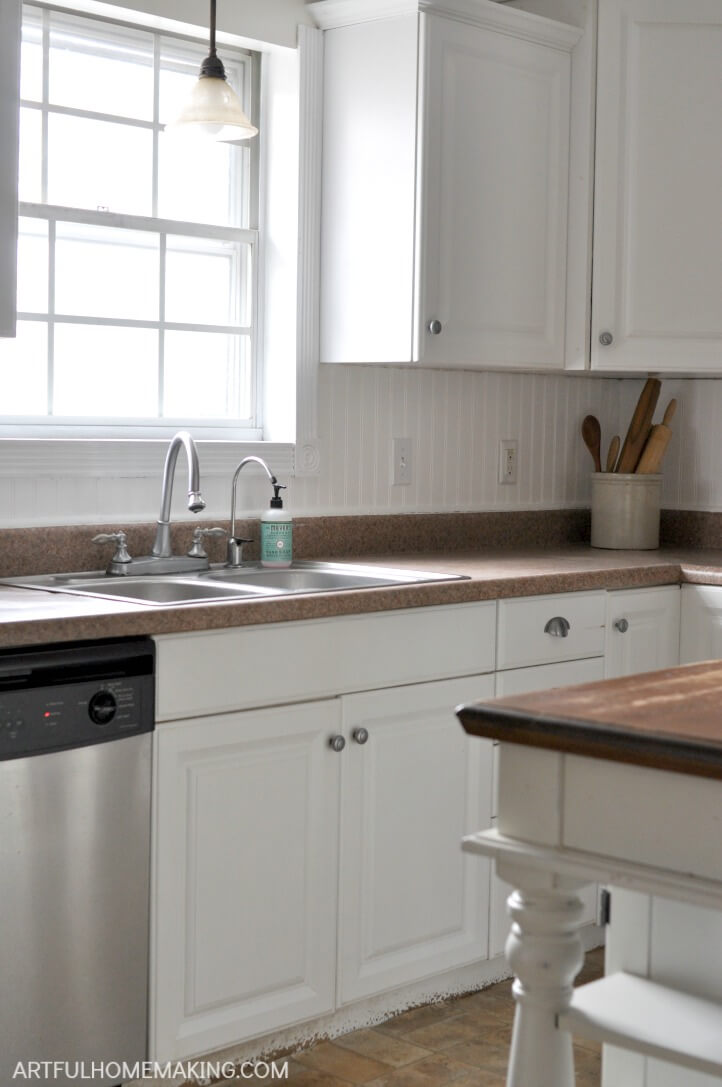 We still have a few other simple projects for the kitchen that we'd like to do.
If you look closely at the photo above, you'll see that we also need to paint the bottom of the cabinets (where they join the floor). Another thing on my to-do list for this spring/summer!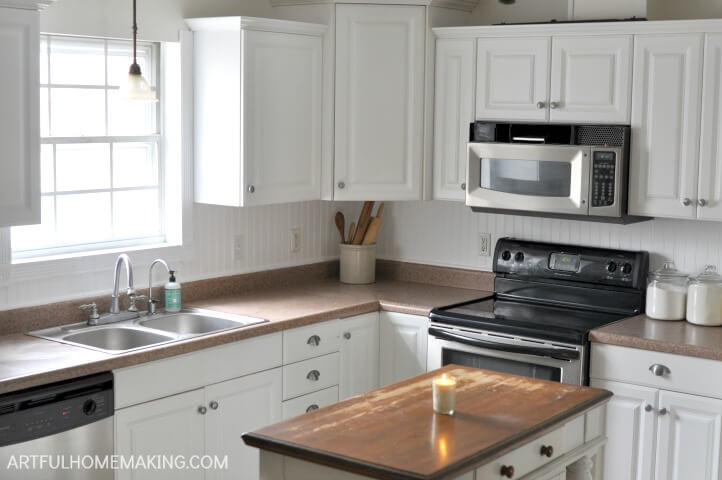 Also, the grill came off the front of the microwave (which was here when we moved in). And the handle came off the door some time ago. I keep hoping we can just get rid of the microwave and put a shelf in its place.
Although now that we've finished the beadboard, I'm not going to be too quick to tear anything out anytime soon!
You  can see in these photos that I'm still using my homemade soy candles (find the instructions for how to make soy candles in this post).
I have always loved farmhouse style, and I was so thankful that our kitchen already had white cabinets and cute drawer pulls when we moved in.
Seven years ago, when we moved here, I wasn't sure how well the white cabinets would hold up to five children, but they've been surprisingly durable. I kind of love them now.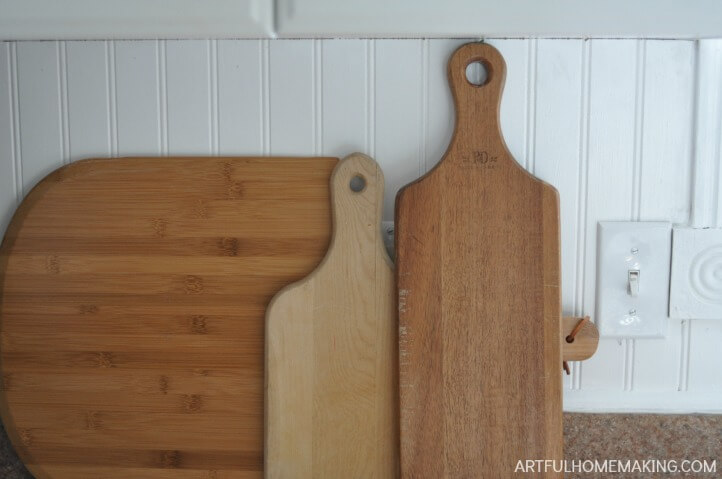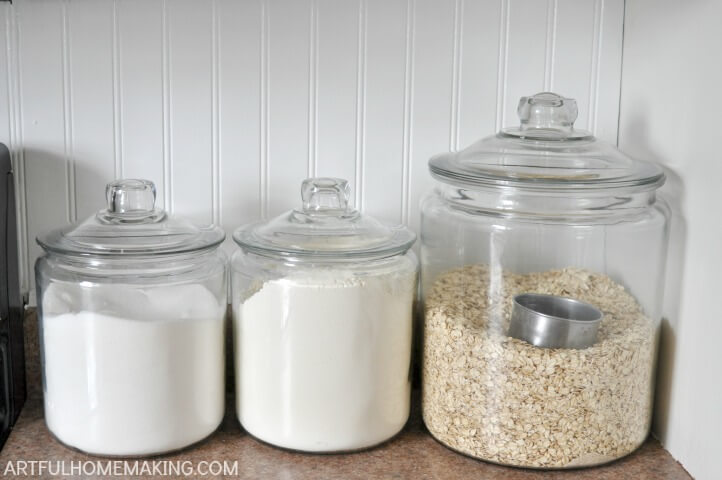 I found this old antique crock at a flea market about 20 years ago, and it's still one of my favorite things.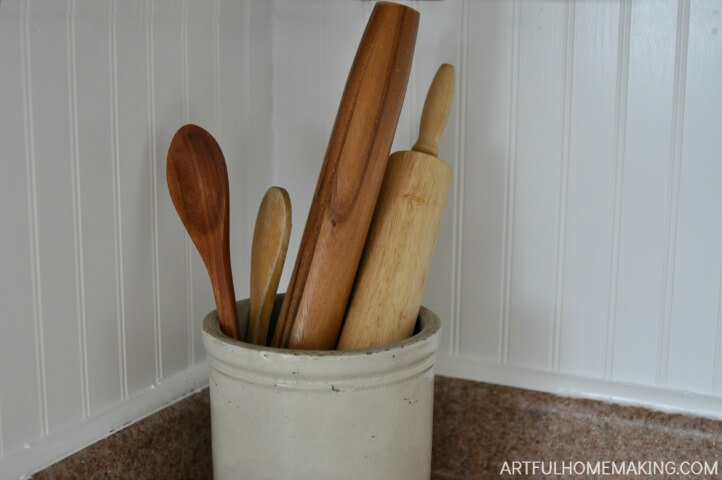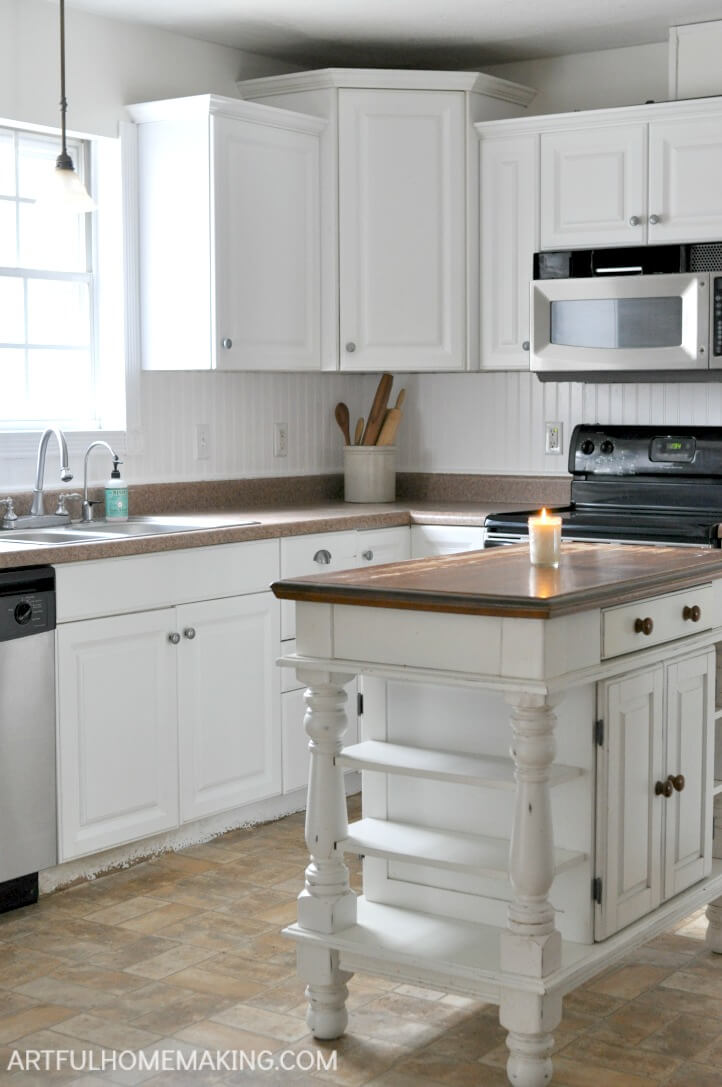 Hopefully these instructions for how to install a beadboard kitchen backsplash will be helpful to someone!
Supplies Used in This Project
One sheet of wood beadboard $19.99
Quarter Round Trim
Screwdriver
Measuring Tape
Spackle
Paint
Other Items in Our Kitchen
Related Posts: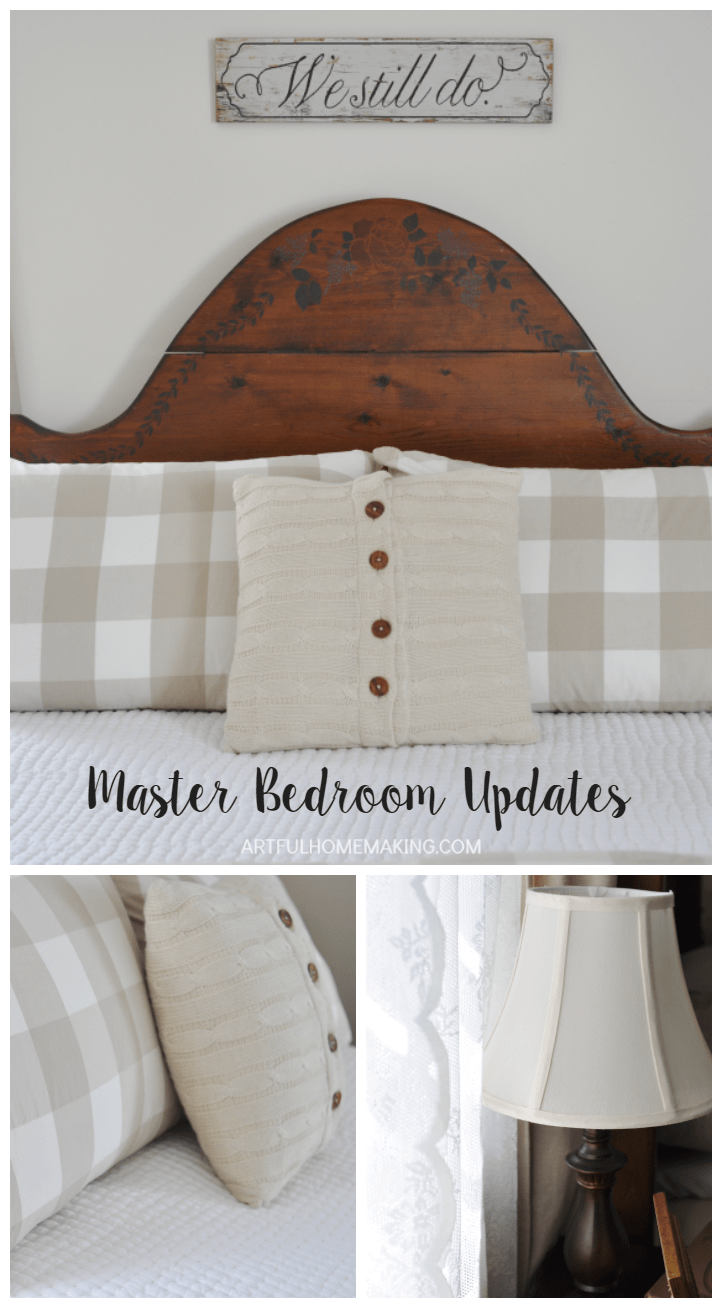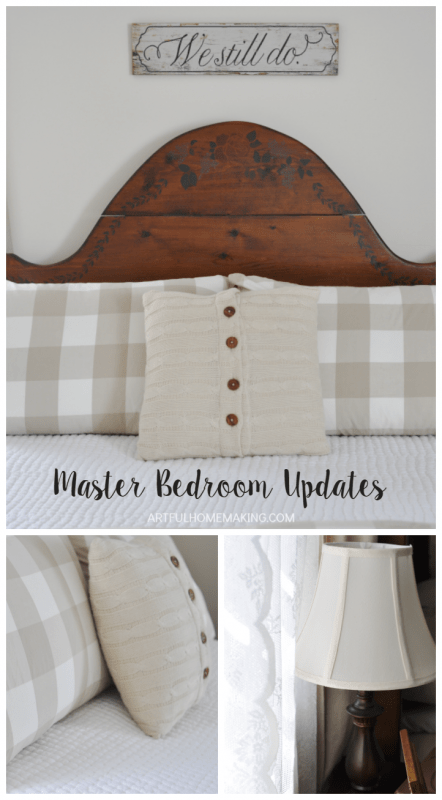 Farmhouse Master  Bedroom Updates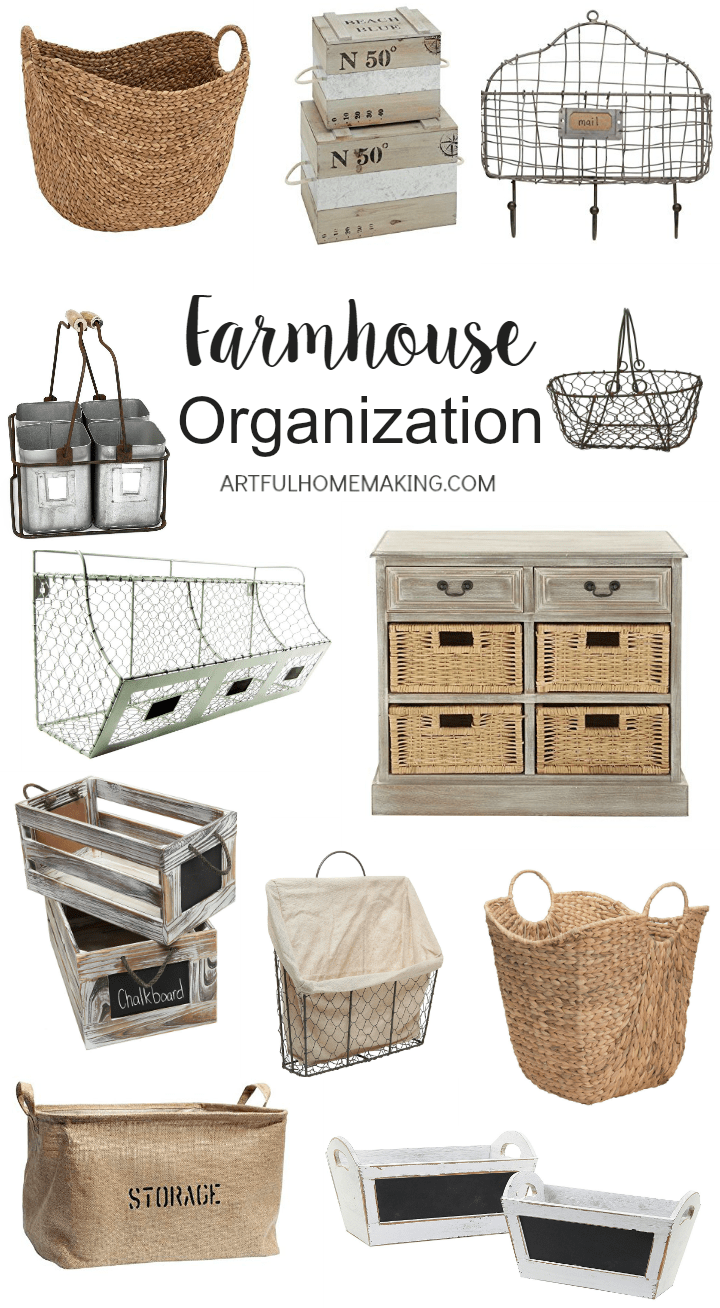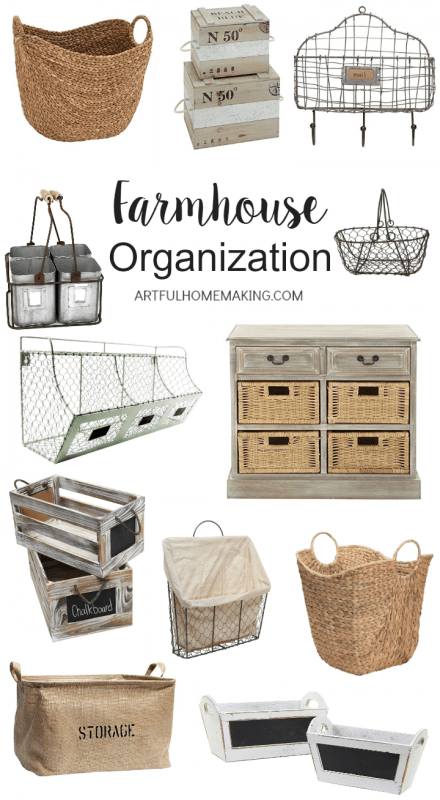 Farmhouse Style Organization and Storage Solutions
Pin This Post for Later!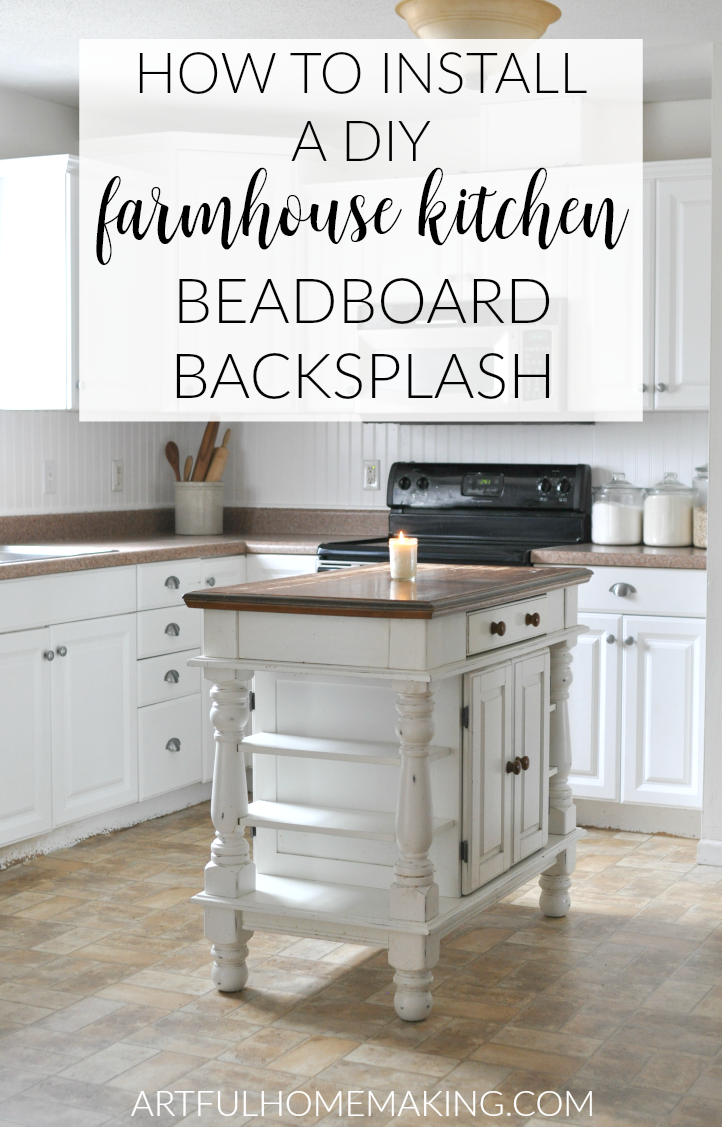 This post contains affiliate links. Read my full disclosure here. Sharing here.