Wouldn't you love to only have in your closet what you love to wear? Let's go through our closets and create a stay-at-home mom capsule wardrobe that will simplify things!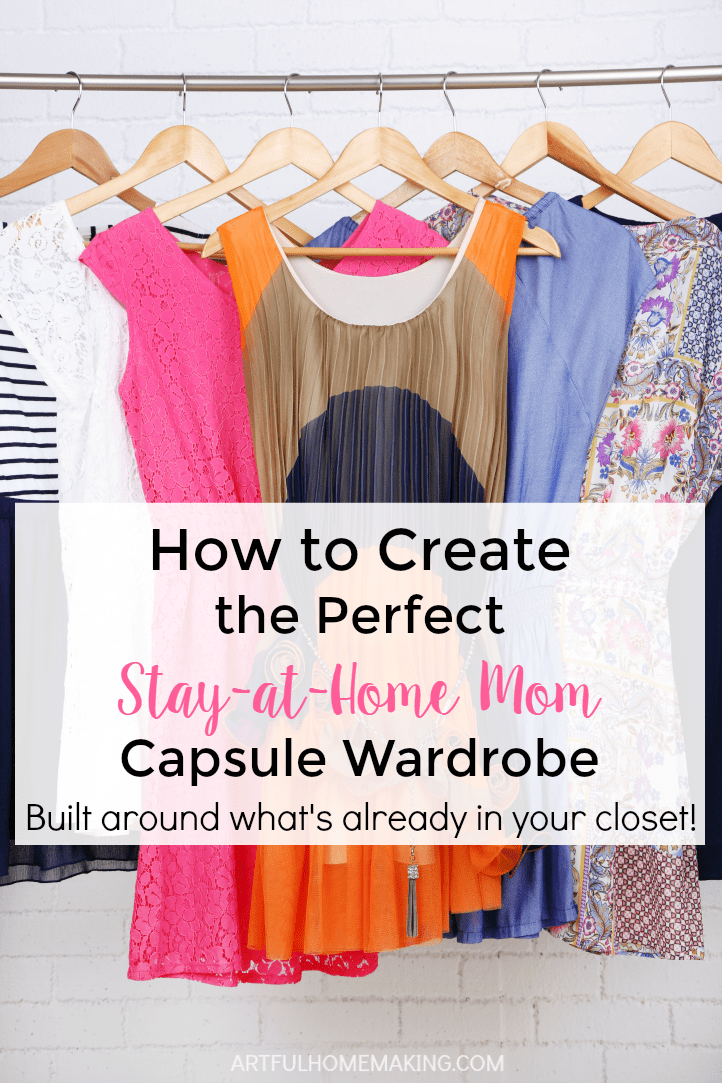 This post is part of the Mom Makeover Series. Read the introduction here, Day 1 here, Day 2 here, and Day 3 here.
So far in our Mom Makeover, we've talked about being kinder to ourselves and thinking truth, getting more sleep, and how to fit exercise into your busy schedule. Today we're going to overhaul the closet!
The Struggle
Once we become stay-at-home moms, we often forget about our appearance. We rationalize that it's just our husbands and children, so why should we bother? And sometimes, we just can't find the time to do more than throw on some sweatpants or even stay in our pajamas!
As a mom of five, I totally get it. Life as a mom can be chaotic, and sometimes there are just more important things than getting dressed up.
And then there's the fact of changing mom bodies. I don't know about you, but my body looks nothing like it did when we married! After I had my first child it changed a bit. But it wasn't until after my fourth that my body changed so much that I hardly recognized myself in the mirror! Finding clothes that fit right and look halfway decent is an ongoing struggle for me.
Why Clothes Matter
We could just throw our hands up in weariness and say that it doesn't really matter what we wear anyway. But is that true? Does it matter what we wear?
Consider this. If I put no thought into my appearance when I'm at home, but I make an effort when I go to church or to an appointment, or out to lunch with a friend, what message does that send to my family? Doesn't it seem to convey the message that other people are more important than my family?
If I tell everyone how much I value my home and family, and yet I go around looking tired and disheveled and sloppily dressed, what message does that send?
Making an effort to look nice can increase your motivation, your energy level, and your mood.
When we get up and get dressed in something nice, it can change the whole course of the day! Try it—it works!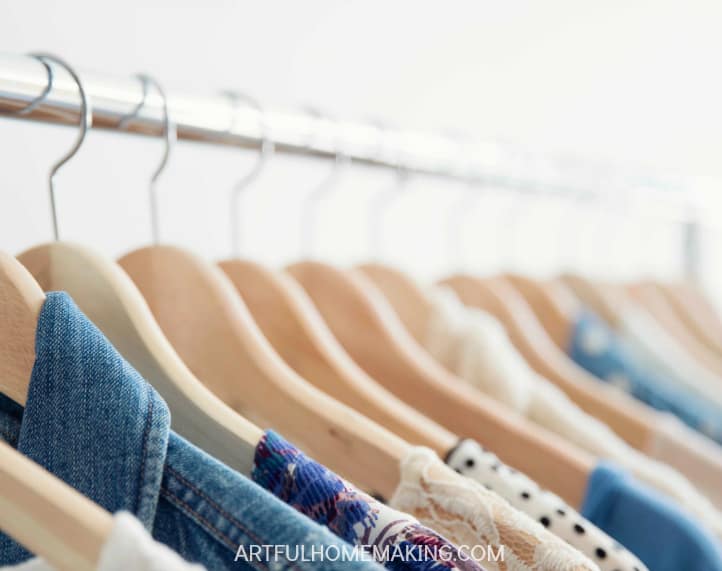 The Dream Wardrobe
Affiliate links included below. Read my disclosure.
Wouldn't it be nice if you had a simple wardrobe full of clothes that you actually liked to wear? A wardrobe that only included items that fit and looked nice and were also comfortable?
That sounds like the dream wardrobe, right? Does it even exist?
We probably all have at least a few items that we gravitate toward every time we get dressed. I know I do. And I also realized that I was saving all my "nice" clothes for when I would go out, because I didn't want to mess them up.
I'm thinking it's time to go back to wearing aprons! The point of an apron is to keep your nice clothes looking nice. I often forget to put my apron on, but I'm going to make more of an effort to remember to grab one so that I can wear my nicer clothes! These are the cutest aprons!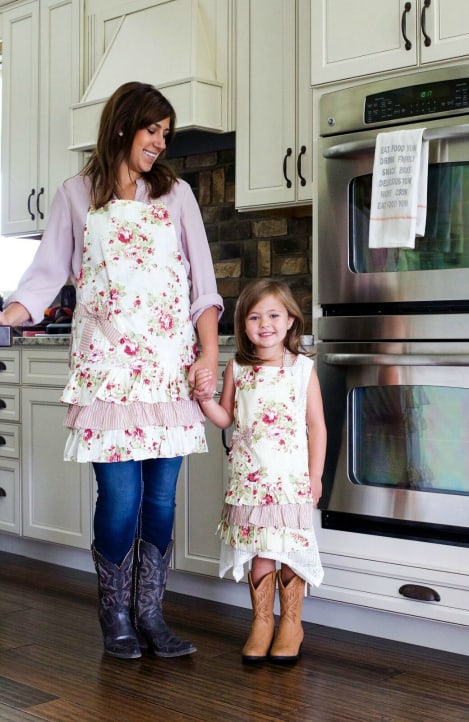 So, let's go through our closets and only keep the things we actually want to wear. We will probably end up with fewer items in the closet, but that's okay! At least there's not going to be anything in there that you can't stand! 🙂
Stay-at-Home Mom Capsule Wardrobe
So, are you ready to make a capsule wardrobe? Ideally, there will be items that can be worn interchangeably with the other items, which will make each thing you keep more versatile.
Here are the steps to take (following Marie Kondo's method):
1. Remove everything from the closet and dresser drawers.
Wherever you store your clothing, remove it and make a big pile. (Before you get started, make sure you set aside enough time to finish the job!)
2. Pick up each item of clothing and decide if you want to keep it.
In her book, Marie Kondo says to ask yourself if the item "sparks joy" or not. If it does, keep it. If it doesn't, get rid of it. If you need to try it on, go ahead and do that. I almost always have to try everything on before I can make a decision!
Here are some questions to help you make a decision:
Does it fit?
Is it something you feel good in?
Is it something you already wear regularly?
If the answer to any of these questions is no, go ahead and get rid of that item.
3. See if you can make more than one outfit with each item of clothing.
The beautiful thing about capsule wardrobes is that they are simple! Your goal is to have things that will go with other items. For instance, have one basic cardigan in a color that will go with all of your dresses. A denim jacket is very useful for this, too, because it can be worn with almost anything.
Try to pick shoes in a color that will go with more than one outfit.
While you're trying things on, think about your life and the kinds of clothes you feel good in and that work well for you.
Try to make outfits for your everyday clothing, as well as outfits for church, and going out. This will be your capsule wardrobe.
Keep a pad of paper with you so you can make note of any deficiencies in your closet. If there's something you need but you can't afford it right now, consider selling some of your clothes on eBay or consigning them with ThredUP.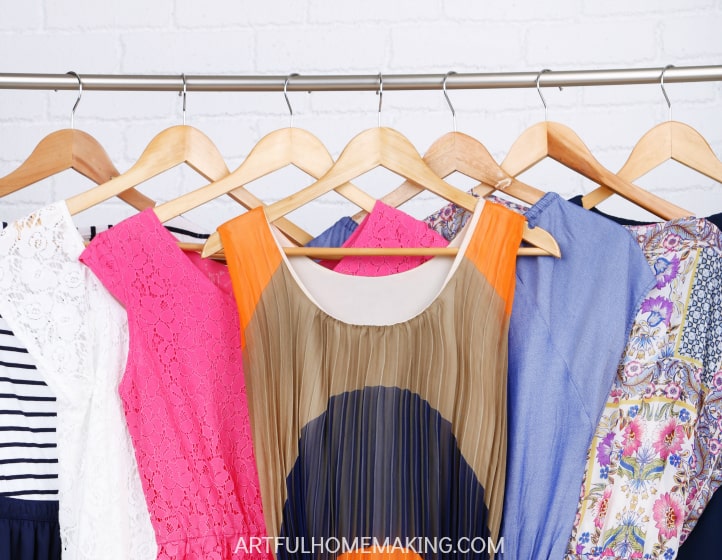 4. Put everything away.
Put everything you're keeping back in the closet neatly. Put the clothes you're not keeping in a bag to donate or sell.
Don't forget about accessories!
Go through your jewelry and only keep what you know you'll wear. If you have a necklace you never wear because it's just not your style, go ahead and give it away or sell it.
I don't wear many accessories on an everyday basis, but I do wear stud earrings every day. They're simple and yet pretty.
Stay Positive
Don't get discouraged when you're going through your closet. If you're like me, and you aren't the size you'd like to be, don't let that discourage you. Find what works with your body type and come up with some cute outfits that help you look your best.
Another thing that has the potential to get you down is not having the money to buy what you'd really like to wear. Girl, I get this one, too. Just make the most of what you have and be the best you you can possibly be! Contentment and a cheerful smile go a long way towards making us more beautiful!
Mom Makeover Project #4:
Set aside some time to go through your closet and get rid of everything that doesn't work for you. Make outfits for everyday wear as well as other occasions. That way you'll never have to look forlornly into your closet again!
---
Other Posts in This Series:
Day 1: It All Begins in Your Mind
Day 2: 9 Reasons Why You Should Get More Sleep (and how to sleep better)
Day 3: 11 Ways to Fit Exercise Into Your Life When You're a Busy Mom
Day 4: How to Create the Perfect Stay-at-Home Mom Capsule Wardrobe
Day 5: 4 Tips to Help You Update Your Look
Day 6: Cultivate the Art of Delight
This post contains affiliate links. Read my full disclosure. Sharing here.