Have you been feeling burned out as a mom? Let's recharge your life with the mom makeover series!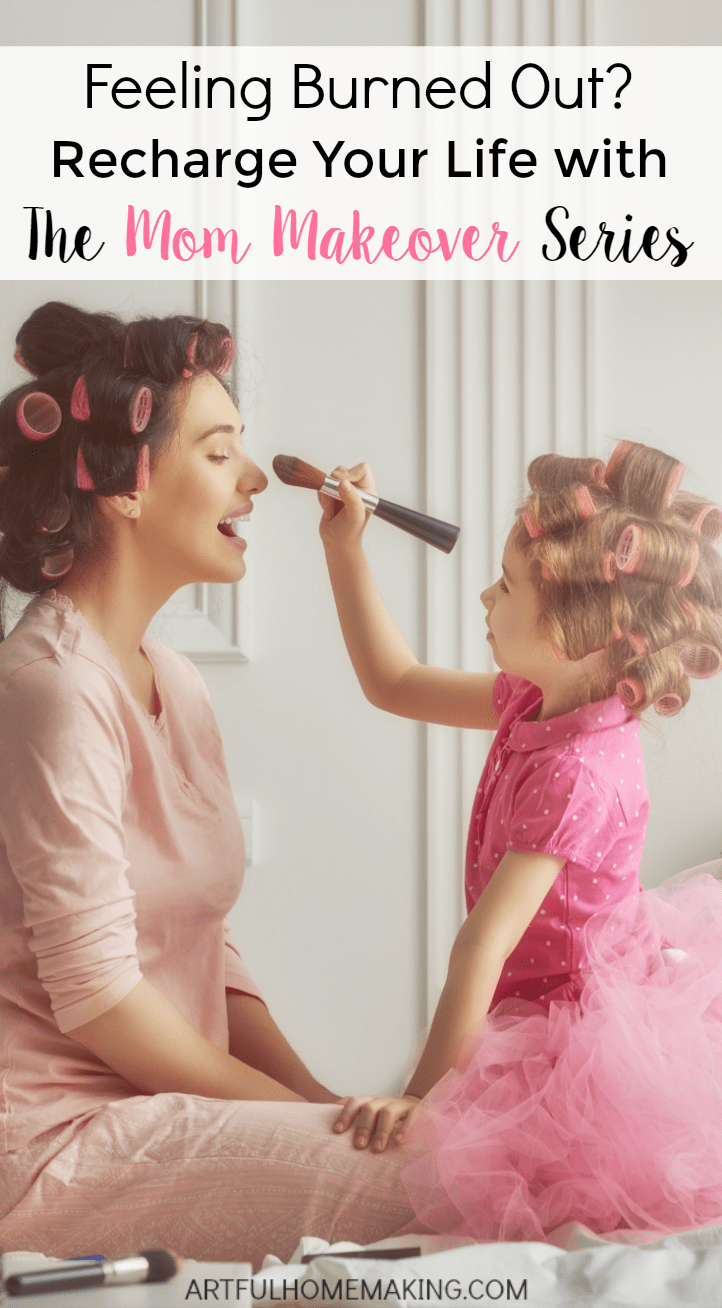 This is the first post in a series. Read the next post (Day 1) here.
My Story
A few years ago I caught a glimpse of myself in the mirror as I was rushing from one mom activity to the next.
And I realized I had let myself go.
The eyes that looked back at me in the mirror were tired. I was 25 pounds from my ideal weight, my hair wasn't styled, my face was makeup-less, and my clothes were out of date and unflattering.
Before becoming a mom, I took care of my appearance. I made regular appointments to get my hair trimmed and styled, I wore makeup every day, and I chose my clothing with care. (I also got more sleep!)
After becoming a mom, I stopped styling my hair, hardly ever wore makeup, and exchanged my tailored dresses for loose-fitting, baggy clothes.
And I noticed that my appearance had a direct impact on my confidence level. I actually started feeling afraid to answer the door, because I knew I looked so frumpy!
Something had to change.
It was time to put a little bit of effort into my health and my appearance. I needed a mom makeover.
Isn't That Selfish?
Sometimes as moms, we get the idea that it's selfish to focus any time or spend any money on ourselves.
We continue to put our health and our appearance last, until one day we find ourselves burned out and depressed.
I used to feel like it was noble of me to put myself last and never do anything for myself. But then I noticed several places in the Bible where Jesus went away by himself to pray and be refreshed.
And after he had dismissed the crowds, he went up on the mountain by himself to pray. When evening came, he was there alone…  ~Matthew 14:23
I've always been encouraged by the fact that even Jesus needed some alone time.
This is important for us as moms. We need to make sure we're finding time to invest in our spiritual growth.
Then there are other passages that talk about how we are to love others as we love ourselves.
And he said to him, 'You shall love the Lord your God with all your heart and with all your soul and with all your mind. This is the great and first commandment. And a second is like it: You shall love your neighbor as yourself.'  ~Matthew 22:37-39
How can we do that if we're constantly neglecting our own needs?
For no one ever hated his own flesh, but nourishes and cherishes it, just as Christ does the church…  ~Ephesians 5:29
My Mom Makeover
After realizing how desperately I needed a makeover, I started taking steps to renew my health, my mind, and my wardrobe.
I focused on getting more sleep, reading more, and managing my stress. I started putting more thought into the outfits I chose and making sure to at least put on some lipstick or lip gloss. And it made a huge difference in how I felt about myself and how I approached my homemaking.
Whenever I'm taking care of my health and my appearance, I feel more confident and capable of handling the challenges that come my way. I also feel more like a professional in my homemaking and motherhood career.
Even though it's what's inside that's most important, the outside still matters because that's all others can see when they look at us! When they see us neglecting our appearance, they might assume we aren't very capable or intelligent. Or they might think we don't value our role as mother and homemaker.
Taking care of your health and dressing neatly and attractively actually gives more dignity to whatever you put your hand to.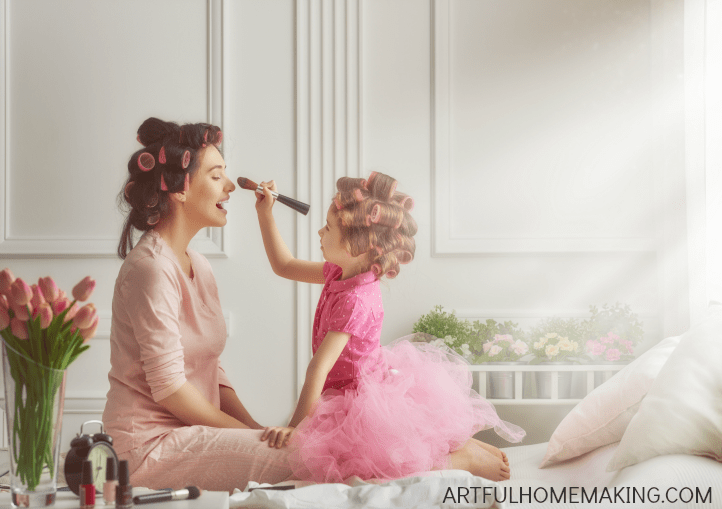 Introducing the Mom Makeover Series!
For the rest of this week and part of the next, we're going to be discussing some key ways to give yourself a mom makeover and start taking care of yourself again!
We'll begin with the heart and then move into some more practical areas. At the end of each post, we'll have some action steps to work on, to help implement these ideas and turn them into habits.
This mom makeover series is meant to bless and refresh you so that you will have the energy and motivation to bless your family and others. You can't give what you don't have, and sometimes we need to take some time to refill our cup so we have more to pour out.
I hope you're as excited as I am about this series! Your husband and your children will appreciate having a wife and mother who is well-rested, energized, and attractively dressed!
Are you needing a makeover? Tomorrow we'll get started with the first step toward a more vibrant you!
Other Posts in This Series:
Day 1: It All Begins in Your Mind
Day 2: 9 Reasons Why You Should Get More Sleep (and how to sleep better)
Day 3: 11 Ways to Fit Exercise Into Your Life When You're a Busy Mom
Day 4: How to Create the Perfect Stay-at-Home Mom Capsule Wardrobe
Day 5: 4 Tips to Help You Update Your Look
Day 6: Cultivate the Art of Delight
Sharing here.