A joyful mom is a beautiful mom. One way to have more joy in your life is to cultivate the art of delight.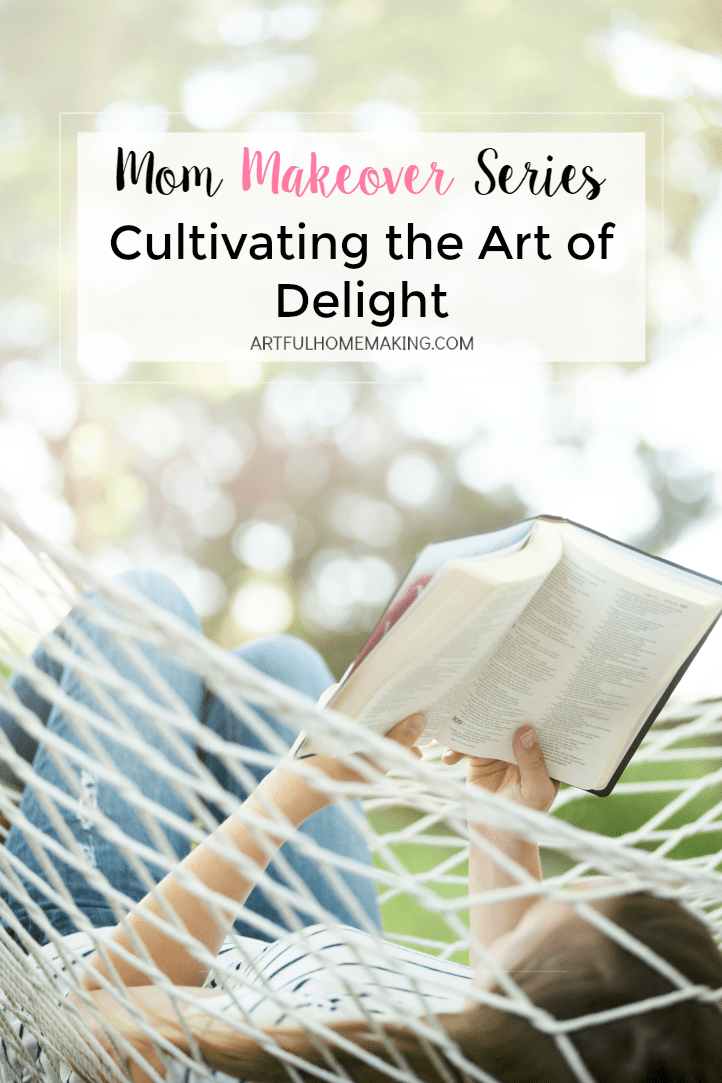 This post is part of the Mom Makeover Series. Read the introduction here, Day 1 here, Day 2 here, Day 3 here, Day 4 here, and Day 5 here.
This is the final post in The Mom Makeover series! So far we've talked about the importance of our thoughts and words, why we need to make sleep a priority, how to fit in some exercise when you're already super busy, how to build a capsule wardrobe, and some tips for updating your look.
Today we're going to be talking about the role of delight in the life of a busy mom.
Cultivate the Art of Delight
Recently, I met a very busy mom. She has a very large family, and she is understandably very tired. The weariness in her eyes made me feel sad.
During the course of our conversation, I discovered that she doesn't ever have any time to herself. She occasionally gets away to fellowship with other moms, and she enjoys that. But she doesn't have any time built into her busy schedule for just doing something that brings her pleasure on a daily basis.
I know another mom of many who makes time to nurture her own soul. She reads books, makes quilts, cooks gourmet meals, and just enjoys life. Talking to her is refreshing and uplifting. She exudes life!
We all have our own struggles and sorrows and difficulties to deal with. We can't all be joyful all the time. Motherhood is challenging. Life can be disappointing.
All the more reason to cultivate the art of delight!
When you make time to be alone with the Lord, to read a good book, to make something creative, or plant a flower garden, your soul will be refreshed and you'll return to your mothering with a renewed energy.
If you haven't been making time for delight in your life, here are some ideas to get you started.
1. Delight in the Lord.
It all begins with this. When we make sure to spend regular time with Jesus, we gain peace, joy, and an eternal perspective.
Delight yourself in the Lord, and he will give you the desires of your heart.  ~Psalm 37:4
If you want to be a joyful woman who loves life, put Jesus first and delight in him!
2. Make time to read good books.
When you have small children, it can be difficult to find time to read. I used to read during naptime or before going to sleep at night. A page here and there can add up to a whole book finished!
Now that my children are older, I'm busier than ever, but I'm still making time to read. I read in the morning before starting school, I read during my kids' piano and gymnastics lessons, and I read before bed. I know of some moms who read while they're exercising on the treadmill. Be creative, and you might find you have more time to read than you thought!
You'll be the same person in five years as you are today except for the people you meet and the books you read.  ~Charlie 'Tremendous' Jones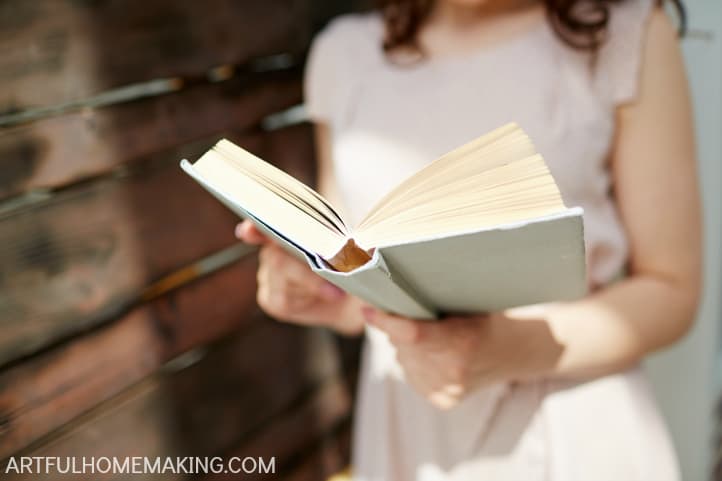 3. Pursue something you enjoy.
I know you don't have a lot of free time (or maybe you don't have any at all!), but making time for something that inspires you can help you be a better mom.
If you enjoy painting, sewing, knitting, gardening, taking photos, baking, or some other creative activity, then make time in your schedule for it.
Don't go crazy and focus all of your time, money, and energy into a hobby. That's not what I'm advocating. Stay balanced and have a time for everything.
Having a creative outlet can inspire you, reduce your stress levels, and make you a happier mom.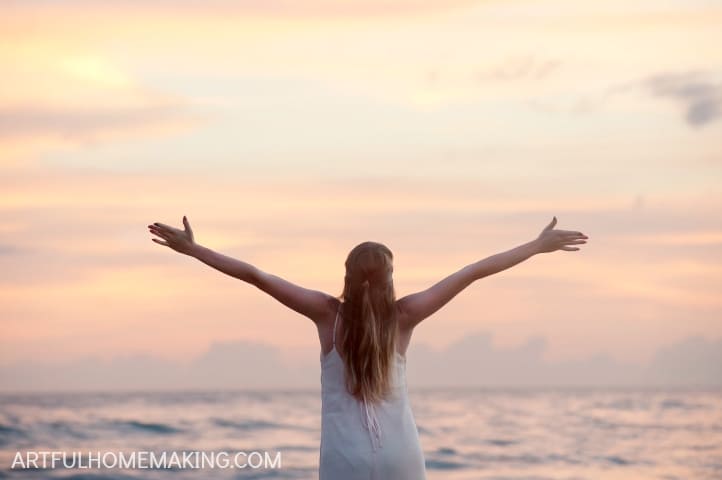 4. Don't lose the wonder.
You know how our children are amazed by the most ordinary things? How they wonder at everything?
We need this as moms. This is something our children can teach us.
Find joy in walking in the rain. Marvel at a sunset. Exclaim over the beauty of a flower. Blow dandelion seeds with your toddler. Walk barefoot in the grass. Be surprised by ordinary things and excited just to be alive.
And calling to him a child, he put him in the midst of them and said, 'Truly, I say to you, unless you turn and become like children, you will never enter the kingdom of heaven. Whoever humbles himself like this child is the greatest in the kingdom of heaven.  ~Matthew 18:2-4
Life is a gift, and God has created so much beauty for us to enjoy. Take delight in the everyday, mundane things that make up life as a mom.
Mom Makeover Project #6:
Take a look at your daily schedule and see if it's time for a revision. When you revise it, make sure to make time for cultivating delight in your life. That might look like reading in the afternoon during naptime, taking a quilting class, or being more diligent with Bible study. Whatever that looks like for you, be sure to make nurturing your soul a priority!
Conclusion
This is the final post in the Mom Makeover Series! And now, I'm thinking we need a Mom Makeover Challenge to put some of these ideas into practice! Stay tuned for the Mom Makeover Challenge, which I hope to do soon.
---
Other Posts in This Series:
Day 1: It All Begins in Your Mind
Day 2: 9 Reasons Why You Should Get More Sleep (and how to sleep better)
Day 3: 11 Ways to Fit Exercise Into Your Life When You're a Busy Mom
Day 4: How to Create the Perfect Stay-at-Home Mom Capsule Wardrobe
Day 5: 4 Tips to Help You Update Your Look
Day 6: Cultivate the Art of Delight
Sharing here.