Wood slice Christmas ornaments are a rustic touch for your tree or to add to a gift! They're easy to make with a simple wood burning tool.
Wood Slice Christmas Ornaments
This post contains affiliate links, which means I may make a small commission at no extra cost to you. Read my disclosure here.
If you love the look of wood and twine, you'll love these simply beautiful handmade wood slice Christmas ornaments!
It literally only takes a few minutes to make one of these, if you stick with a simple design.
I ordered a set of pre-cut wood slices that came with twine for hanging. This made it so easy to just take a wood slice out of the box and start creating.
You can also make your own wood slices from a branch, but we decided to take the simple route. You'll see just how easy these are to make!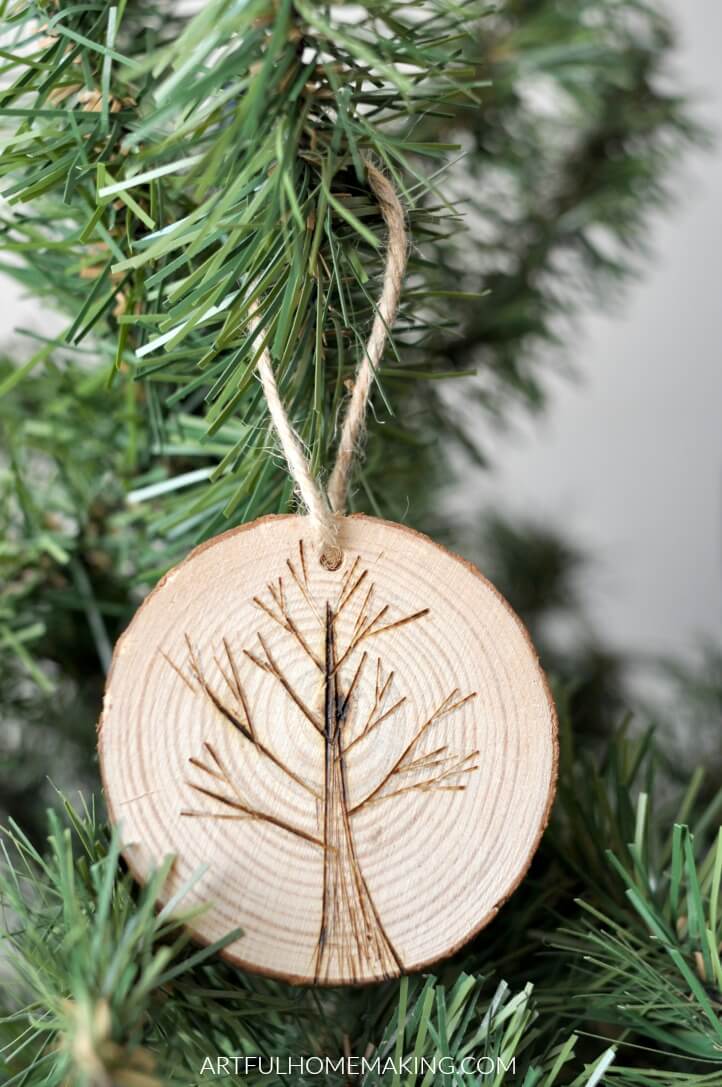 Handmade Christmas Ornaments
I've always been drawn to handmade Christmas ornaments. For many years my children and I have made some sort of ornament together.
Sometimes it was painting simple wooden shapes, or sewing felt by hand. Several times it was homemade cinnamon ornaments.
Regardless of the materials used, handmade Christmas ornaments always seem the most special to me!
I love getting out the box of Christmas ornaments and remembering the happy hours spent creating them with my children.
Handmade Christmas ornaments won't be perfect, and that's part of their charm!
After I made my first batch of these ornaments, I made some with my children, and we had so much fun with them!
My kids are older (my youngest is 10), so I probably wouldn't do this project with very young children, as the tool does get very hot.
Supplies You'll Need
You don't need many supplies to make these easy wood slice Christmas ornaments. Here are the things you'll need: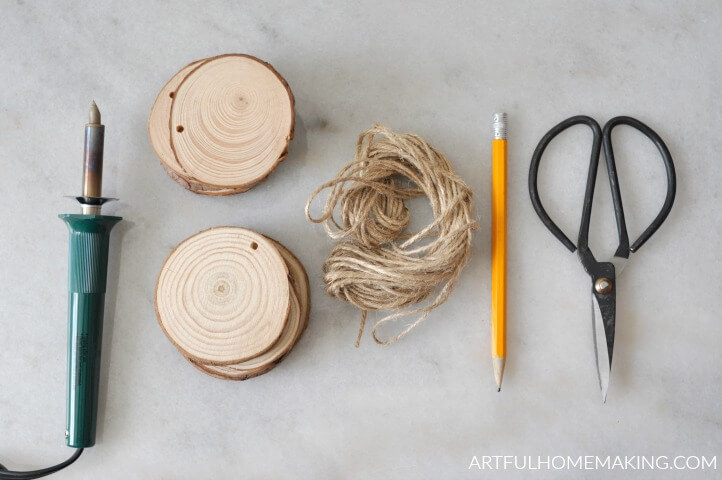 How to Make Wood Burned Christmas Ornaments
Do exercise caution when using the wood burning tool, especially if children are around. The tool gets very hot and can cause burns if not careful.
Making these rustic wood slice ornaments is a simple process. Especially if you choose a simple design!
I decided to use a basic snowflake design, which I drew on by hand. The reason I chose snowflakes is because they only contain straight lines.
It's easier to do straight lines with the wood burning tool. Curved lines are more complicated than straight.
Here are the steps I followed to make my ornaments.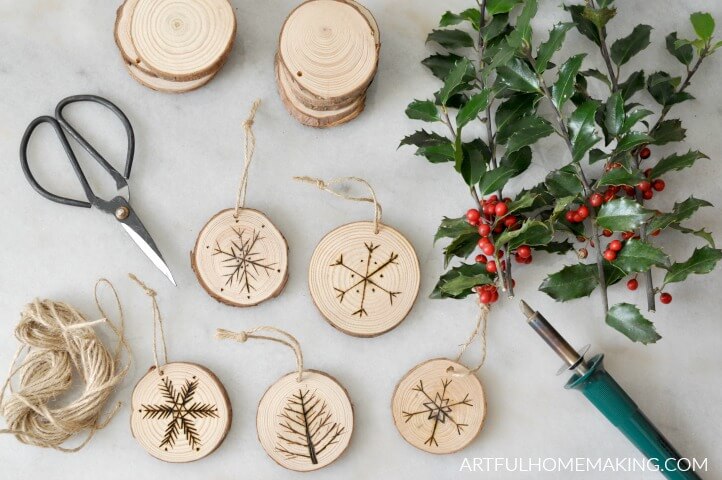 1. First, I used a pencil to draw on the design. I just made a simple snowflake with straight lines, which made it easier. And I also made a couple of trees.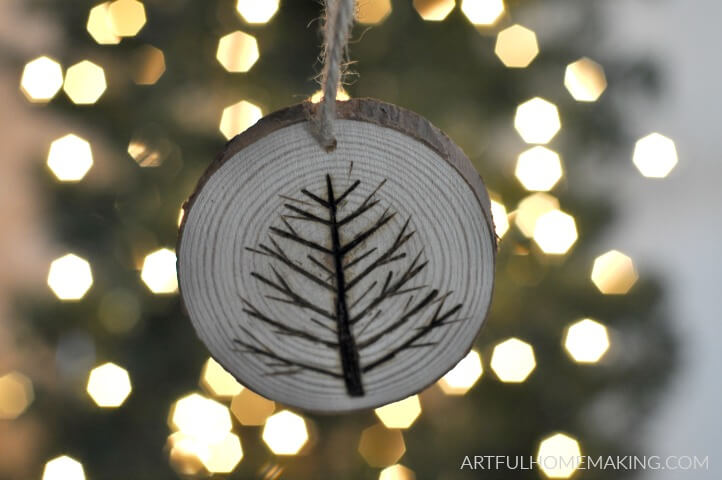 2. Then, after the wood burning tool was heated up, I traced the pencil lines with the tool, which burns and etches the design into the wood. You'll have to try different techniques to figure out how to get the look you want.
I made a design on both sides of my ornament as I was trying to get the hang of it.
3. After you have the design the way you want it, cut a piece of twine or ribbon to use as a hanger. Thread the twine through the hole, and tie.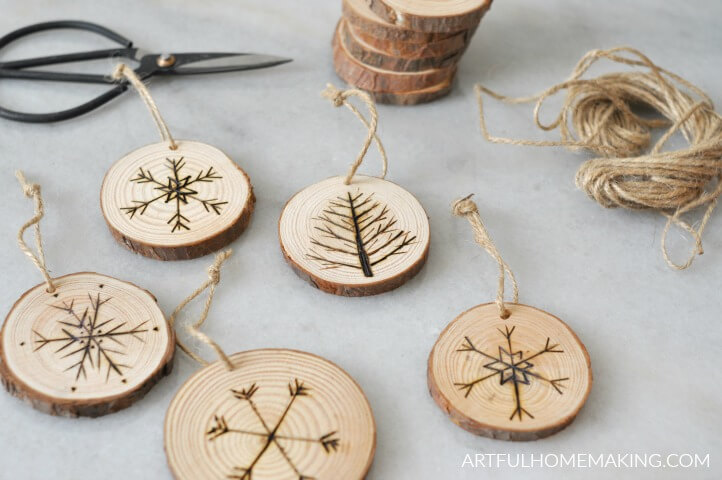 That's all there is to it! Now your ornament is ready to hang or give as a gift.
I hope you enjoyed learning how to make these wood slice Christmas ornaments! Thanks so much for stopping by!
Supplies Needed for This Project
Related Posts:
Pin This Post for Later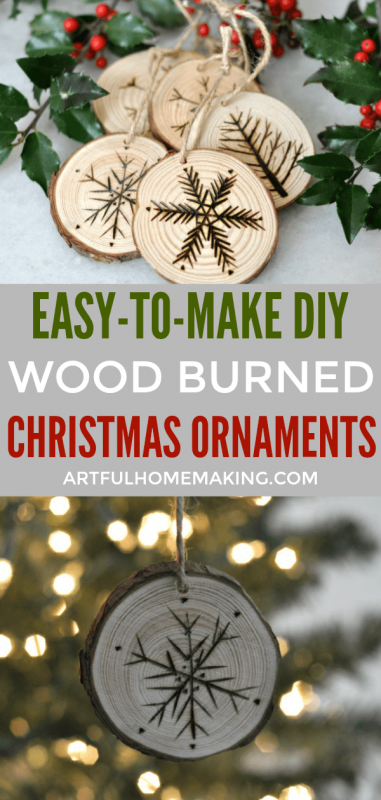 This post contains affiliate links, which means I make a small commission at no extra cost to you. As an Amazon Associate I earn from qualifying purchases. Read my disclosure here. Sharing here.