The best marriage advice we've learned after 20 years of marriage!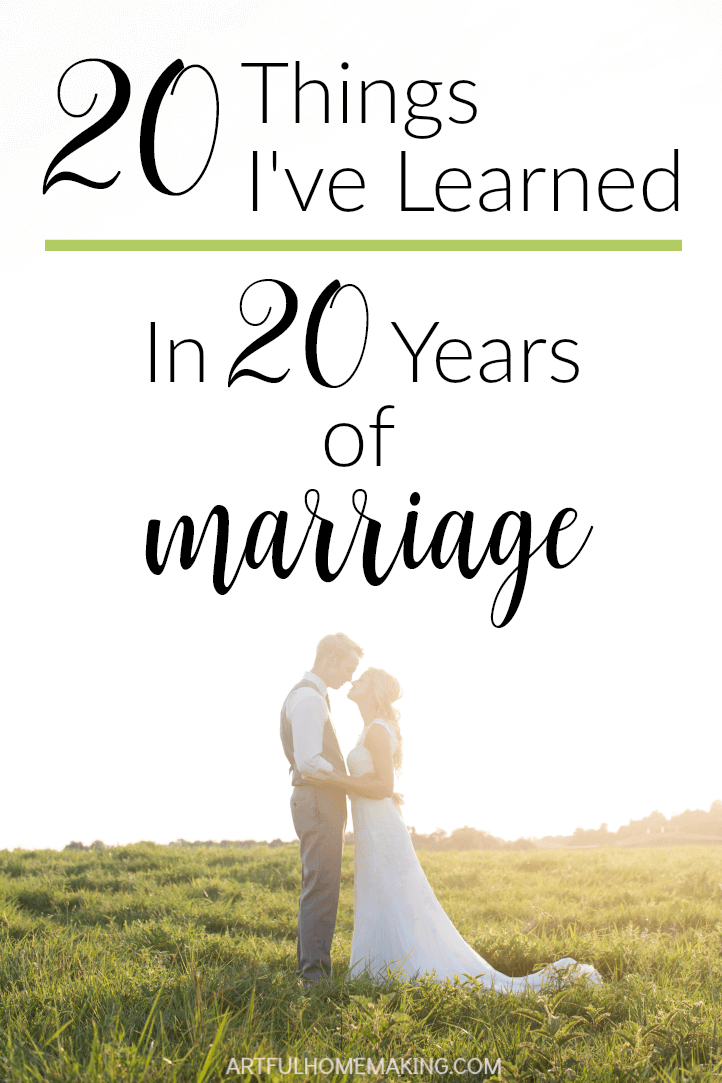 Last month my husband and I celebrated 20 years of marriage! It hardly seems possible that we've been married for 20 years. Time goes by so fast.
We've been through so much together. Good times, bad times, sickness, birth, death, and ordinary days in between.
There have been mistakes and heartaches and trials and asking and receiving forgiveness.
So much goes into a marriage to make it successful. We've had our share of hardship. But we always knew we'd stay together until death parted us.
The Best Marriage Advice
Today I'd like to share the best marriage advice we can give to younger couples. Here are 20 things I've learned in 20 years of marriage.
This post contains affiliate links. Read my disclosure here.
1. Don't Compare Your Husband to Someone Else's
This will eliminate so much discontent in married life! Be grateful for the man you married.
2. Practice Gratitude
This follows number 1. Cultivate a grateful attitude regarding your spouse.
3. Never Stop Dating
Be sure to make date night a priority! It doesn't matter if you go out or plan a date night at home. Just be sure that you're spending some alone-time together on a regular basis! (Click here for our favorite budget date night ideas.)
4. Pray for Your Marriage and Your Husband Daily
Prayer is so important, during the good times and the bad.
5. Be Sure to Pray Together
"Unless the Lord builds the house, those who build it labor in vain." ~Psalm 127:1
6. R-E-S-P-E-C-T
If you're a wife, you probably already know how important respect is in a marriage. I think it works both ways (husbands and wives should respect and show honor to each other), but men really feel loved when they're being respected, and that doesn't usually come naturally to us as women.
7. Forgiveness is Crucial
As Ruth Bell Graham said, "A happy marriage is the union of two good forgivers."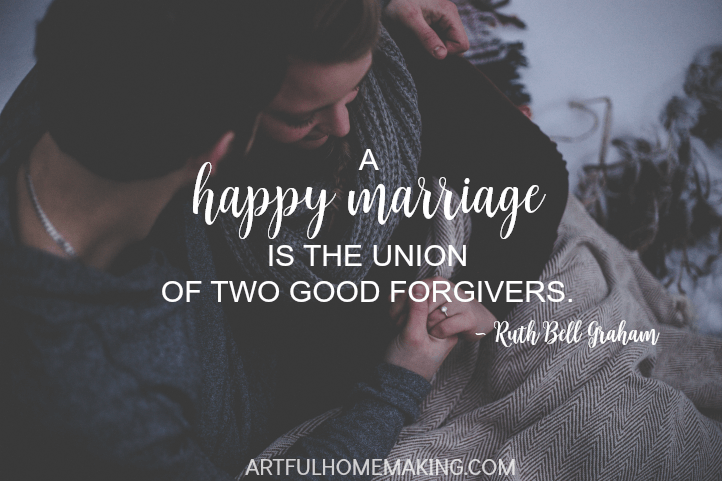 8. Nurture Your Friendship
Nurture the friendship you have with your husband. If that means less time for outside friendships, that's okay! Consider your husband to be your best friend.
9. Laugh Regularly
Laughter is so therapeutic, especially when you're going through something difficult.
10. Kiss Often
Now that we have teenagers, it's so fun to watch their reactions when we kiss in front of them! 🙂 Kissing never stops being important.
11. Serve Each Other
There are so many opportunities to serve each other in a marriage, and it makes the relationship and the memories even sweeter.
12. Die to Self
If you need a lesson in how to "die to self," marriage will give you plenty of opportunities!
13. Speak Words of Love and Affirmation
Words are so powerful, especially in a marriage relationship. We've been amazed what a difference it makes when we make an effort to speak positive, loving words to each other.
14. Let the Hard Times Draw You Closer
As I mentioned at the beginning of this post, we've been through our share of hard times. When hard times come (and they will), our natural inclination is often to let the tension form a wedge between us.
We've learned that it doesn't help to pull away from each other, and that the hard times can draw us even closer and make our relationship stronger.
15. Get Away Together
We hardly ever get to do this, but whenever we've had the opportunity to get away together, we always come back to our everyday life refreshed and more in love than ever.
16. Discover His Love Language
Finding out your husband's "love language" can really help you learn to show love in a way that's meaningful to him. You can take the assessment here, or get the book (which just happens to be on my reading list this year!)
17. Don't Keep Secrets from Each Other
Having open, honest communication is key to a strong marriage.
18. Make Intimacy a Priority
Enough said.
19. Don't Bring Up Past Mistakes
This is so damaging to a marriage relationship.
20. Do All Things with Love
"Let all that you do be done in love." ~ 1 Corinthians 16:14
"Above all, keep fervent in your love for one another, because love covers a multitude of sins."  ~ 1 Peter 4:8
Best Marriage Advice Ever
In addition to the twenty things I've learned in our twenty years of marriage, I'd like to add one more. A sweet elderly friend named Marge (who has been with the Lord for several years now) wrote this sage bit of advice on a piece of paper at my bridal shower:
Never bring up a difficult matter until a good meal has been served and eaten.
We all laughed at Marge's advice, but there's a lot of wisdom in that simple sentence. If only I would have taken it to heart more often through the years, we might have resolved some of our differences much quicker!
---
What advice would you add to this list?
Related Posts: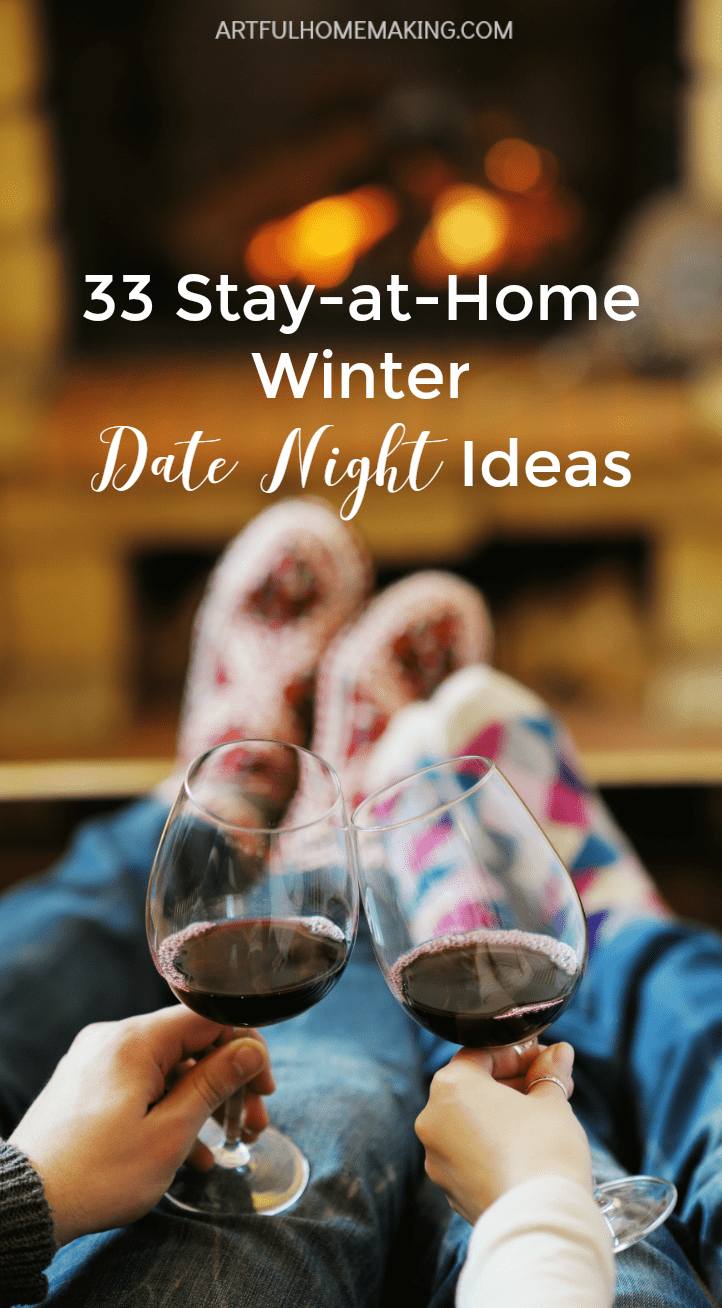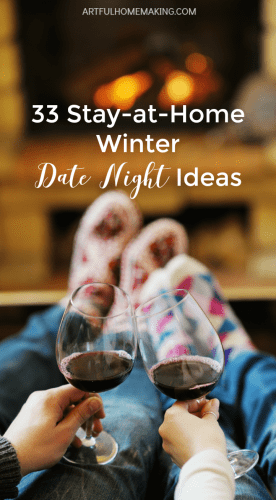 33 Stay-at-Home Winter Date Night Ideas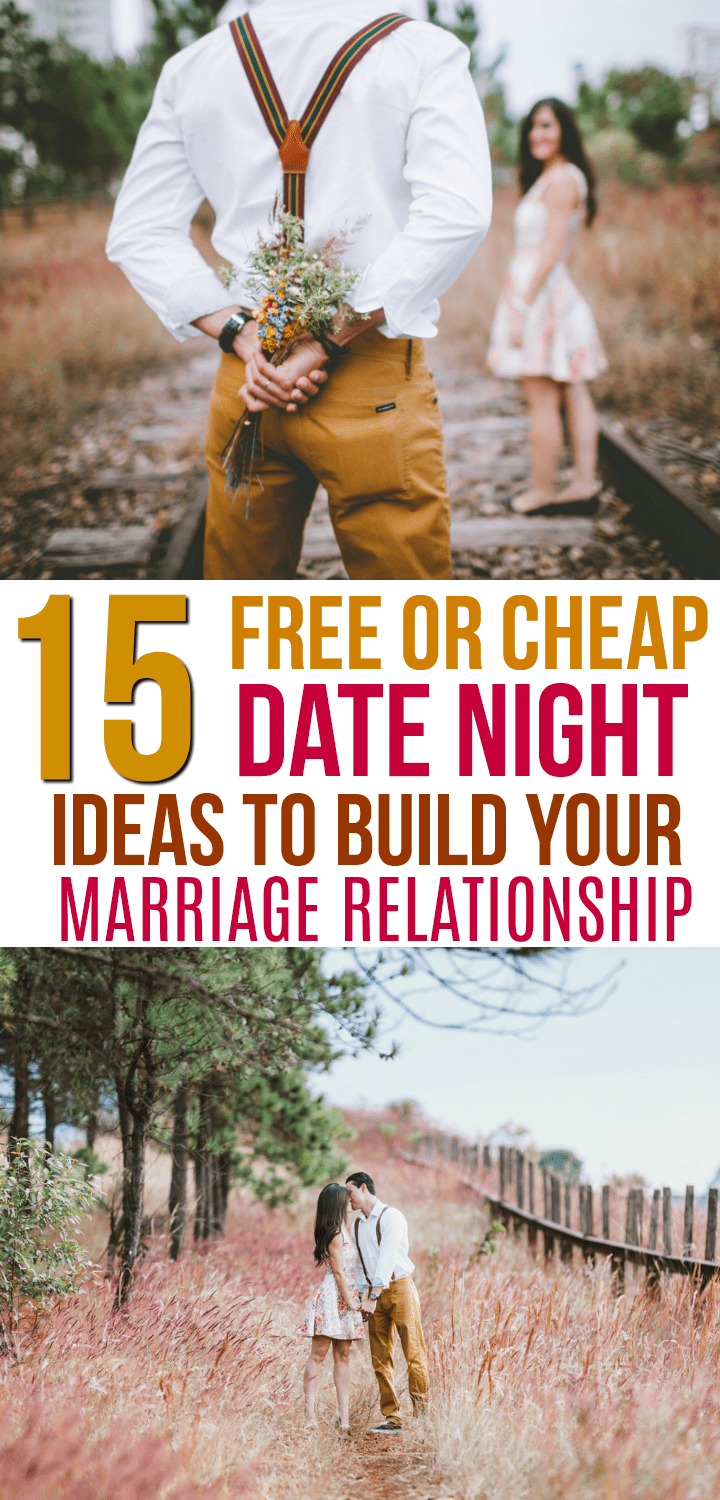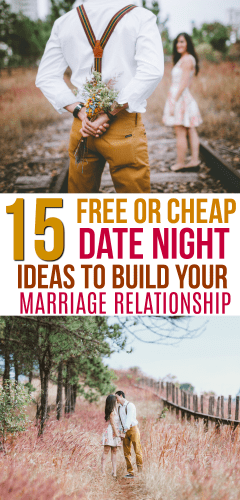 15 Free or Cheap Date Night Ideas
Disclosure: This post contains affiliate links. Read my full disclosure here. Sharing here.