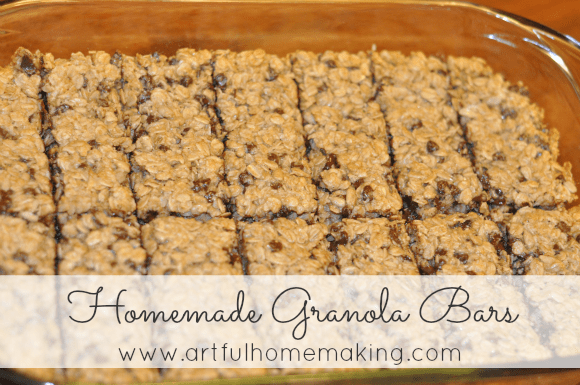 My children L-O-V-E granola bars! And we can find them pretty inexpensively at the local discount grocery store. The only trouble is, the ingredients are not that great. And, it's so fun to make your own! This recipe is easy enough that kids can make it themselves!
Ingredients:
1 cup butter, softened
1 cup honey
4 1/2 cups rolled oats
1 cup whole wheat or spelt flour
1 tsp baking soda
1 tsp vanilla
2 cups of add-ins: mini semi-sweet chocolate chips, chopped walnuts, dried fruit, sunflower seeds, coconut, etc. (Add whatever you want! For the batch pictured above, I used semi-sweet chocolate chips, coconut, and sunflower seeds.)
Directions:
Preheat oven to 325 degrees. Grease a 9″x13″ glass baking dish with butter.
In a large mixing bowl, combine butter and honey and mix well (I just use a plastic or wooden spoon to mix.)
Add the oats, flour, baking soda, and vanilla and mix well.
Stir in the add-ins by hand.
Pour the mixture into the baking dish and press it firmly into the pan (and you can even use your hands for this part!).
Bake at 325 degrees for 15-20 minutes or until golden brown. They won't look or feel "done," but instead they will still be very moist. Don't worry, they'll harden as they cool.
Allow the bars to cool for at least 10 minutes before cutting into bars. Let them cool completely before removing and serving. They can be stored at room temperature or you can even freeze them for later use.
*If you want your granola bars crispier, slice the fully baked bars and spread them apart slightly on a cookie sheet. Bake t hem again at 200 degrees for 30-60 minutes until crispy but not browned.
Disclosure: This post contains affiliate links.