Our household tends to run more smoothly when we have systems in place to ward off the inevitable chaos that comes from having five children and two adults home all day. Here's the cleaning schedule we're currently using.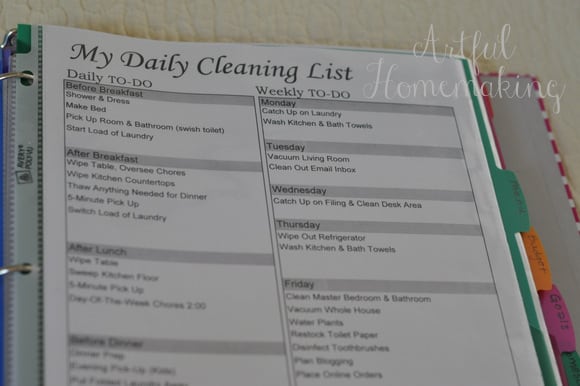 After sharing about my new homemaking binder, I received some questions about my exact schedule, routines, and cleaning lists. Last week I shared my schedule and routines, and today I'm sharing my cleaning plan.
 Again, this isn't something that works out perfectly, it's just what I aim for. Also, my five kids help out a lot! Some of these chores our children are responsible for, and some of them I take care of myself.
I've gleaned lots of my ideas from many different time management books, websites, and just figuring out what works for our family through the years. I recently changed a few things on my cleaning list, so there may be some items that are different from what you see in the photos.
Our Cleaning Schedule
Daily
Make beds
Pick up
Laundry every day
Dishes
Sweep floor
Clean kitchen
Weekly
Monday: Catch up on laundry, wash kitchen and bath towels
Tuesday: Vacuum living room
Wednesday: Catch up on filing and clean desk area
Thursday: Wipe out refrigerator. wash kitchen and bath towels
Friday: Whole house cleaning, dust, vacuum, mop, water plants, change sheets, restock toilet paper, disinfect toothbrushes, place online orders
Saturday: Make ahead food for Sunday/guests, prepare for Sunday (get out clothes, shoes, etc.), Plan Menu (here's a free meal planning printable), plan homeschooling, print chore charts and schedule checklists
Monthly
Wash walls throughout house
Clean and sweep garage
Clean all windows
Clean outside of cupboards
Vacuum/Clean out van
Dust baseboards
Vacuum edges of all rooms
Vacuum furniture
Clean door handles (we sometimes do this weekly)
Organize/declutter pantry
Dust blinds
Flip/rotate mattress
Go through papers and file/purge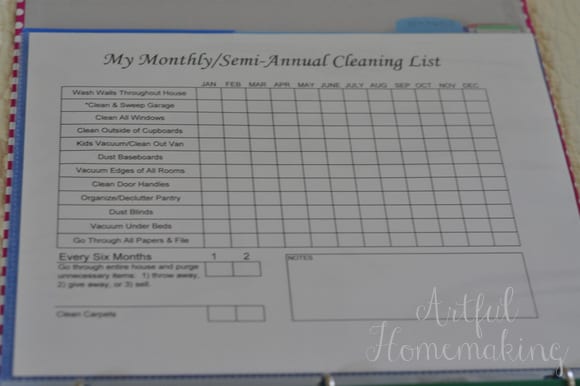 Semi-Annually
Go through entire house and purge unnecessary items
Clean Carpets
Yearly/Spring Cleaning
Clean/dust bed frames and air mattresses
Vacuum mattresses
Wash all curtains and window treatments
Vacuum under beds and furniture
Thoroughly clean out and straighten all closets and dust/vacuum
Thoroughly clean refrigerator and freezer and organize
Clean out kitchen cupboards and drawers and wipe out
Clean light fixtures
Touch up trim paint around doors/paint bedroom doors
There are other jobs that I do on an as-needed basis. When I notice something needs cleaning, organizing, or straightening, I add this task to my weekly list, or try to fit it in somewhere that month. Switching out seasonal clothing fits into this category. I also have a "yearly/spring cleaning" list that I add to as I see things that need to be cleaned or organized.
Through the years, I've come to see that everyone has different ideas about cleaning and how often certain tasks should be performed. I'm always learning and revising my lists!
Related Posts: