No matter what stage of life you're in, it's so helpful to have a daily schedule and routines that help your day flow more smoothly. Today I'm sharing what's currently on our schedule.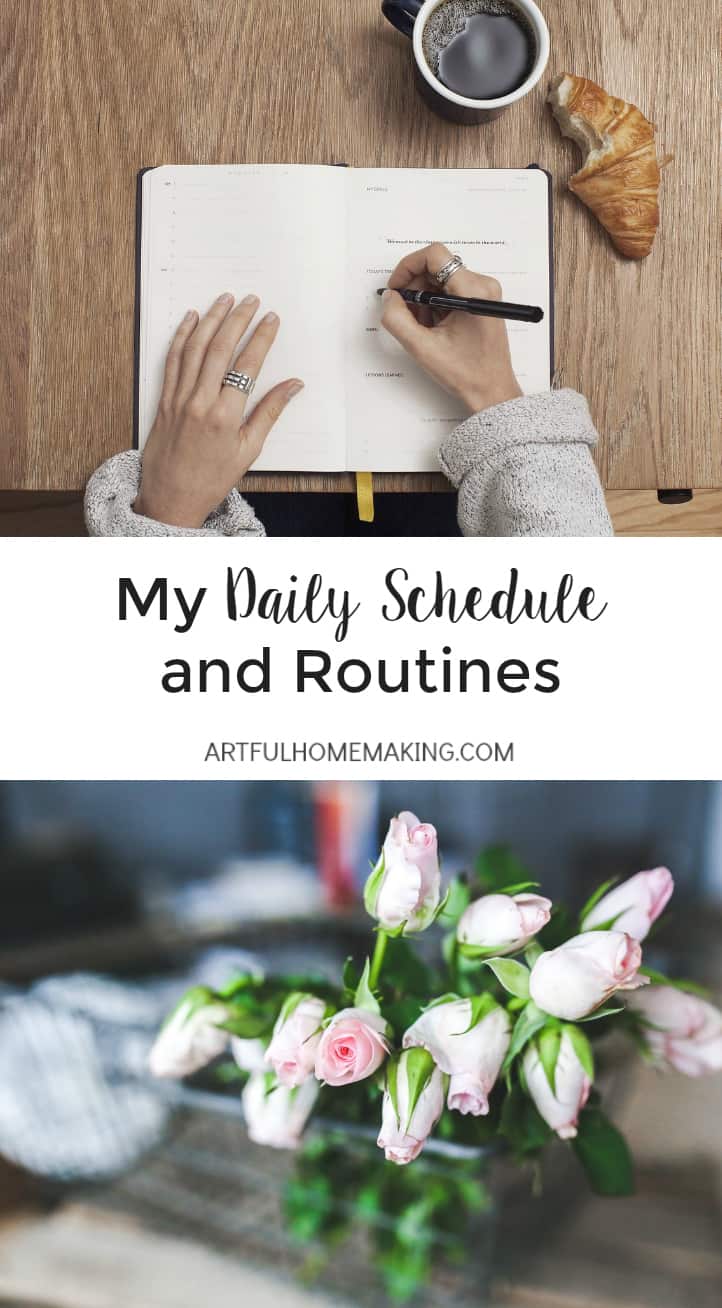 After I shared about
my new homemaking binder
the other day, I received a reader request to see my actual schedule and routines. I know how helpful it can be to look at the way someone else has their day set up, so I thought I would share mine here.
Keep in mind that these schedules and routines are my "Lord-willing" plans, and not every day goes according to plan or schedule (Not.At.All). Especially not this summer–I've hardly had one day that was predictable or scheduled. I'm hoping next month will be calmer and we can get back to our usual schedule, even though it's nice to have a break from the schedule sometimes, and we've enjoyed some unplanned and spontaneous fun this summer, too!
Daily Schedule and Routines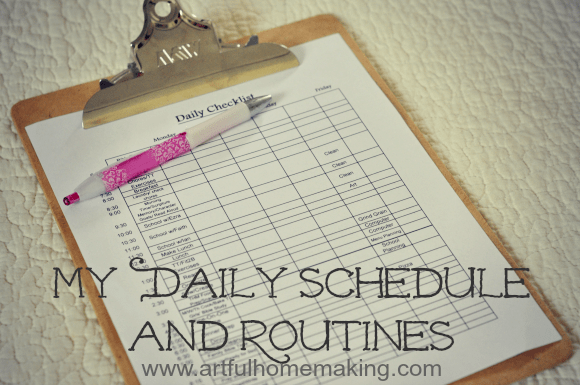 My Daily Schedule (Monday through Thursday)
6:30     Get up/Read Bible/Pray/Memorize
7:00     Shower/Dress
7:30     Make Bed/Pick Up Bedroom/Exercise/Start Laundry
8:00     Eat Breakfast
8:30     Brush Teeth/Switch Laundry/Check Chores (kids are cleaning kitchen while I do this)
9:00     School Time
12:30   Lunch
1:00     Projects (exercise, read, sew, email/blog, organize, etc.)
3:30     M/W/Th: Bake or make snacks; Tuesday: Girls' Bible Study
4:00     One-on-One Time with one child (each child has their own day–we just have fun!)
5:00     Dinner Prep with one child as a helper
6:00     Dinner
6:30     Dinner Cleanup
7:00     Family Bible Time
7:30     Start Evening Routine (see below)
8:30     Pray with girls/talk
9:00     Finish Evening Routine, time with husband
10:30   My goal is to be sleeping by now, but it doesn't always happen! 🙂
Friday Schedule
The Friday schedule is similar to the above schedule, except that we clean the house during the  usual school time. Everyone has specific chores for Friday's Cleaning Day. My goal is also to have an art project planned for after cleaning time. We usually use Fridays as Family Night, and the goal is to plan something fun to do together that night (games, watch a movie, etc.). We also love to make homemade pizza on Fridays.
Morning Routine
Read Bible/Pray/Memorize Scripture
Drink water (and take herbs if necessary)
Swish toilet
Shower/Dress/Hair
Make Bed/Straighten Bedroom
Check calendar and to-do list
Leave bedroom with a load of laundry, take to basement and start a load
Breakfast/Take Vitamins
Brush Teeth/put on lip gloss
Clear Table and wipe down
Oversee Chores/Check Chores
Make sure lunch and dinner are planned and meat thawed.
School Schedule: Bible memory, Read Aloud (all together), individual tutoring
Evening (Before-Bed) Routine
The Before-Bed Routine is the most important routine of the whole day." ~

FlyLady
1. Clean up the house before going to bed
Living room–pick up and put away things: toys, dishes, clothes, shoes, etc.
Kitchen–clean it up, shine sink, put away dishes in drainer, wipe down counters
Dining room/eating area–clear the hot spots (table, bookshelf, china hutch, etc.)
Entrance–straighten front door area and hallway
2. Think about tomorrow before going to bed
Check calendar/planner
Start to-do list for tomorrow
Think: "What can I do tonight that will make tomorrow morning easier?"
Start breakfast–some things can be started the night before, but have a plan and get out needed items (we keep bread in the freezer, so I might set bread out to thaw)
Think about meals (

check menu

) and get out ingredients to thaw.
Get out books/art supplies needed for school tomorrow, if necessary
Lay out clothes for tomorrow
3. Get ready for bed
Read something encouraging/uplifting
Meditate on scripture and pray
Write in journal
Brush teeth, wash face, etc.
Go to bed at a decent time, preferably the same time every night (10:30 is my goal)
Some Thoughts About Schedules
As I mentioned at the beginning of this post, the schedule and routine I've shared here is the way I'd
like
for each day to flow. But it
often
 usually doesn't work out that way. Still, I find it helpful to have a schedule in place to give me something to aim at.
Don't get discouraged if your schedule doesn't work perfectly!
Mine never does, and I've been making schedules for the past fifteen years! Some days I'm able to stay on schedule (
here's an example of one of those days
), and other days I just have to go with the flow.
Sometimes the schedule doesn't work because it needs some adjustments.
Recently, I realized I was trying to get up too early. It just wasn't working. Life has been crazy, we had been staying out late at various social functions, and I had been struggling with adrenal fatigue. I realized it was better to just get up later and feel rested than trying to force myself to get up at a super-early time that worked for me when I was young, single, and childless, but doesn't work too well now.
Make a schedule that reflects your life and priorities.
I've got two teenage daughters who make breakfast every morning. I'm blessed, right?! Your children may be younger, so you may need to be in charge of breakfast at this time in your life. If you're
suffering with morning sickness
, right now a strict schedule probably won't work for you. Don't compare yourself to someone else,
be thankful for the blessings in your life right now
, and make your schedule/routine work for you.
It's not about perfection.
I schedule things into my life in an effort to accomplish my most important goals and priorities. Like spending one-one-one time with my children, having daily read-aloud time, etc.
Somehow putting it in the schedule gives me a tangible way to get closer to accomplishing these goals. Even if I don't accomplish all of my scheduled goals every day, at least I'm accomplishing more than I would without the schedule!
Related Posts: