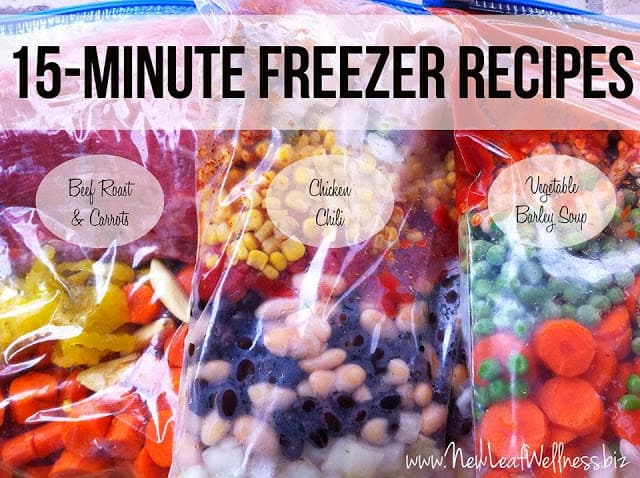 Recipes from 15-Minute Freezer Recipes eBook (photo by Kelly McNelis of The Family Freezer)
As a busy mom, my freezer and slow cooker are two of my favorite modern conveniences.  I love the way they enable me to prepare food in advance and preserve meals for future busy times.
I love using my slow cooker to make chicken broth and store it in the freezer!
Affiliate links included below, which means I may make a small commission at no extra cost to you. As an Amazon affiliate I earn from qualifying purchases. Read my disclosure.
That's one of my favorite food preservation projects, and I make it regularly.
I've also made pizza crust for the freezer, frozen muffins for quick and easy breakfasts, and cookies freeze great, too.
My slow cooker has saved me so much time, also.  In addition to the chicken broth, I also make refried beans, a variety of soups, and other main dishes in it.
It gives me a happy feeling to see my slow cooker filled with our evening meal, knowing I won't have to scramble at the last minute to figure out supper!
Imagine using your freezer and slow cooker together to simplify your meal planning and preparation.  That's just freezer meals are all about!
You put all the ingredients in a plastic freezer bag and then freeze it.
When you're ready to eat it, you simply take the bag out of the freezer to thaw the night before. Then you drop it all in your slow cooker (this is the slow cooker I use) and let it cook all day!  I LOVE this concept!
Here's a sample recipe from Kelly's eBook that looks amazing (recipe shared with permission as part of The Ultimate Bundle Sale):
Chicken Chili
(pictured above and below)
Ingredients:
1 medium yellow onion (one cup), chopped
1, 15 oz can black beans, drained and rinsed
1, 15 oz can cannellini beans (white kidney beans), drained and rinsed
1, 14.5 oz can diced tomatoes with green chiles, undrained (medium heat)
1, 14.5 oz can petite diced tomatoes, undrained
1 cup frozen medley of green and red peppers and onion strips
1 2/3 cup frozen corn
4 cloves garlic, minced
1 tablespoon paprika
2 teaspoons ground cumin
1 1/2 teaspoon oregano
3 teaspoons chili powder
1/4 teaspoon crushed red pepper
1 pound boneless, skinless chicken breasts, cut into 1-inch pieces
Prep:
Place onion, 2 cans of beans, 2 cans of tomatoes, frozen pepper medley, and corn into a gallon-sized plastic freezer bag.
Add garlic and seasonings.
Add chicken.
Remove as much air from the bag as possible, and lay bag flat in freezer.
Cook (when you're ready to eat it!):
Thaw bag overnight in refrigerator.
Dump contents of freezer bag into slow cooker and cook on low 10-12 hours or until chicken is tender.
This recipe fits in a 4-quart slow cooker.  If yours is larger or smaller, you may need to alter the ingredients, and/or cooking times.  We have a 6 quart slow cooker, so I plan to increase the ingredients a bit to feed our family of 7.
As I mentioned above, I love my slow cookers.  I have two slow cookers, a 6-quart and 7-quart. Some days I have both of them going at the same time!
Here's another recipe by Kelly McNelis (shared with permission as part of The Ultimate Bundle Sale):
Shredded Barbecue Chicken
(in the slow cooker)
Ingredients:
1 pound boneless, skinless chicken breasts
1 cup ketchup
2 tablespoons Worcestershire sauce
1 tablespoon plus 1 teaspoon brown sugar (or sucanat/Rapadura)
1 tablespoon chili powder
1 1/2 teaspoons hot sauce
1 1/2 teaspoons curry powder
Directions:
Create homemade barbecue sauce by combining ketchup, Worcestershire sauce, brown sugar, chili powder, hot sauce, and curry powder.
Add chicken breasts to your slow cooker and top with barbecue sauce.
Cover and cook on low for 8 hours.
Shred chicken and return to slow cooker to mix with remaining barbecue sauce.
Serve.  It's delicious served on a toasted bun with Mango Coleslaw (recipe below).
Bonus Recipe!  Mango Coleslaw
Ingredients:
1, 16 oz bag shredded green cabbage and carrots (coleslaw mix)
1 mango, peeled and shredded (about 1 cup)
1 cup mayonnaise
1 tablespoon honey
1 teaspoon apple cider vinegar
1/2 teaspoon salt
1/4 teaspoon black pepper
Directions:
Combine all ingredients.  (You can make this the night before serving and store in the refrigerator.) This goes along well with the Barbecue Chicken recipe above.  Some people even like to put this on top of their barbecue sandwich!
I'm inspired to make more of an effort to utilize my slow cookers and freezers.
Do you set aside a day to do freezer cooking?  Do you use your slow cooker?
For more recipe inspiration, Subscribe by email or follow me on Facebook.
Related Posts: